Tour A Tropical Fantasia: The 2020 Kips Bay Palm Beach Decorator Show House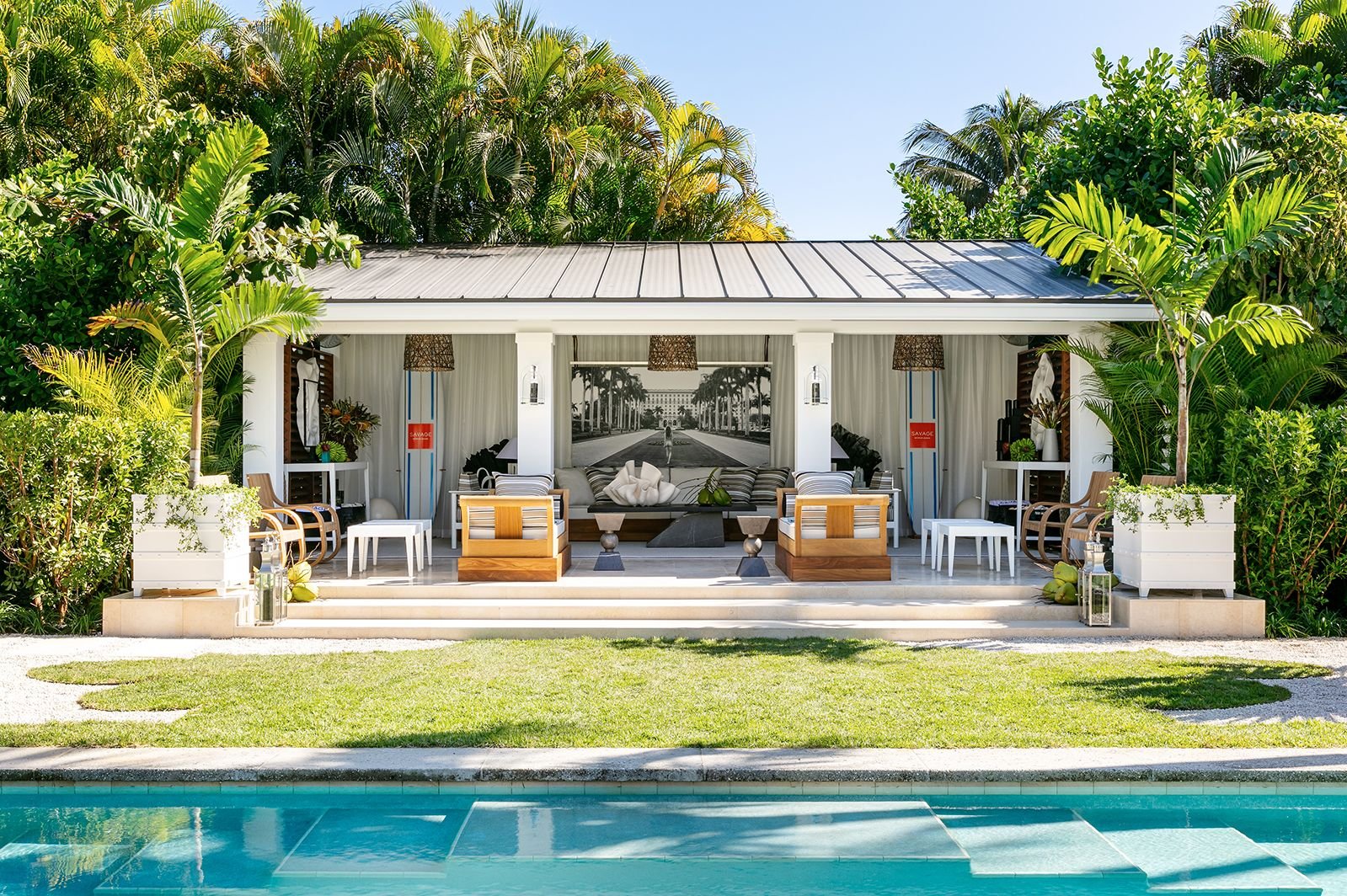 Nashville's Jonathan Savage of Savage Interior Design's "Cabana Hideaway" at the 2020 Kips Bay Decorator Show House Palm Beach. Photo by Nickolas Sargent Photography
Now in its third year, the Kips Bay Decorator Show House Palm Beach has hit its stride, with a group of 19 extraordinarily talented firms transforming the Palm Beach estate "Bamboo Hill" into an ebullient expression of design, Palm Beach style. The sprawling 8,751-square-foot South African/Dutch colonial home built by famed decorator Lars Bolander includes an expansive loggia adjoining the great room, a pair of casitas, a pool and pavilion, and an outdoor dining terrace adjacent to the kitchen, along with lush tropical gardens on nearly an acre of grounds. This year's edition of the event features the work of an exciting mix of talents – big names, boutiques firms and rising stars, including Branca, Suzanne Kasler Interiors, Savage Interior Design, Kevin Isbell Interiors, Lucas Studio, Baltimore Design Group, and Sarah Magness Design.
The Show House will run through March 1st; hours are Monday through Saturday 10am – 4pm and Sunday 11am – 4pm at 260 Palmetto Lane in West Palm Beach. Proceeds benefit the Boys & Girls Club of Palm Beach County and the Kips Bay Boys & Girls Club in the Bronx.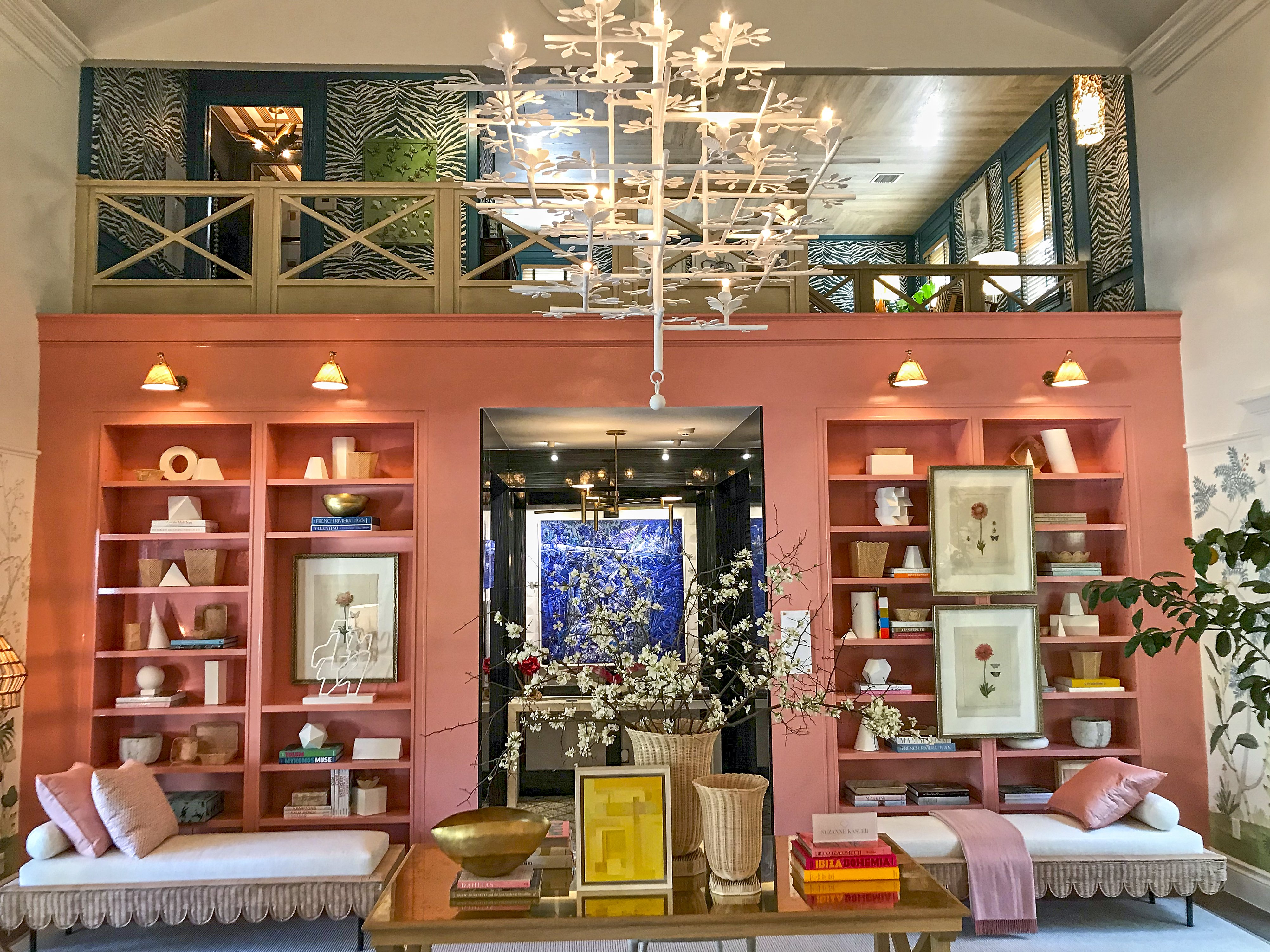 Above and below: Classic Palm Beach shell pink is layered throughout Suzanne Kasler's double-height great room, along with an entire wall of built-in bookcases swathed in the iconic hue, which are styled with white sculptural accents. "San Souci" by de Gournay wall covering wraps the lower portion of the walls, hand painted with the designer's custom color choices, featuring an unusual and delightfully fresh white background. Kasler injected architectural interest to the cavernous upper level of the room with mirrored oeil-de-boeuf faux windows and a pair of white plaster Water Lilies chandeliers by Paul Ferrante. Rattan, bamboo, white linen, vintage pieces and new designs from Suzanne's own collections are arrayed in intimate conversations groups, interspersed with greenery and accessories in natural materials. Photos by Sandor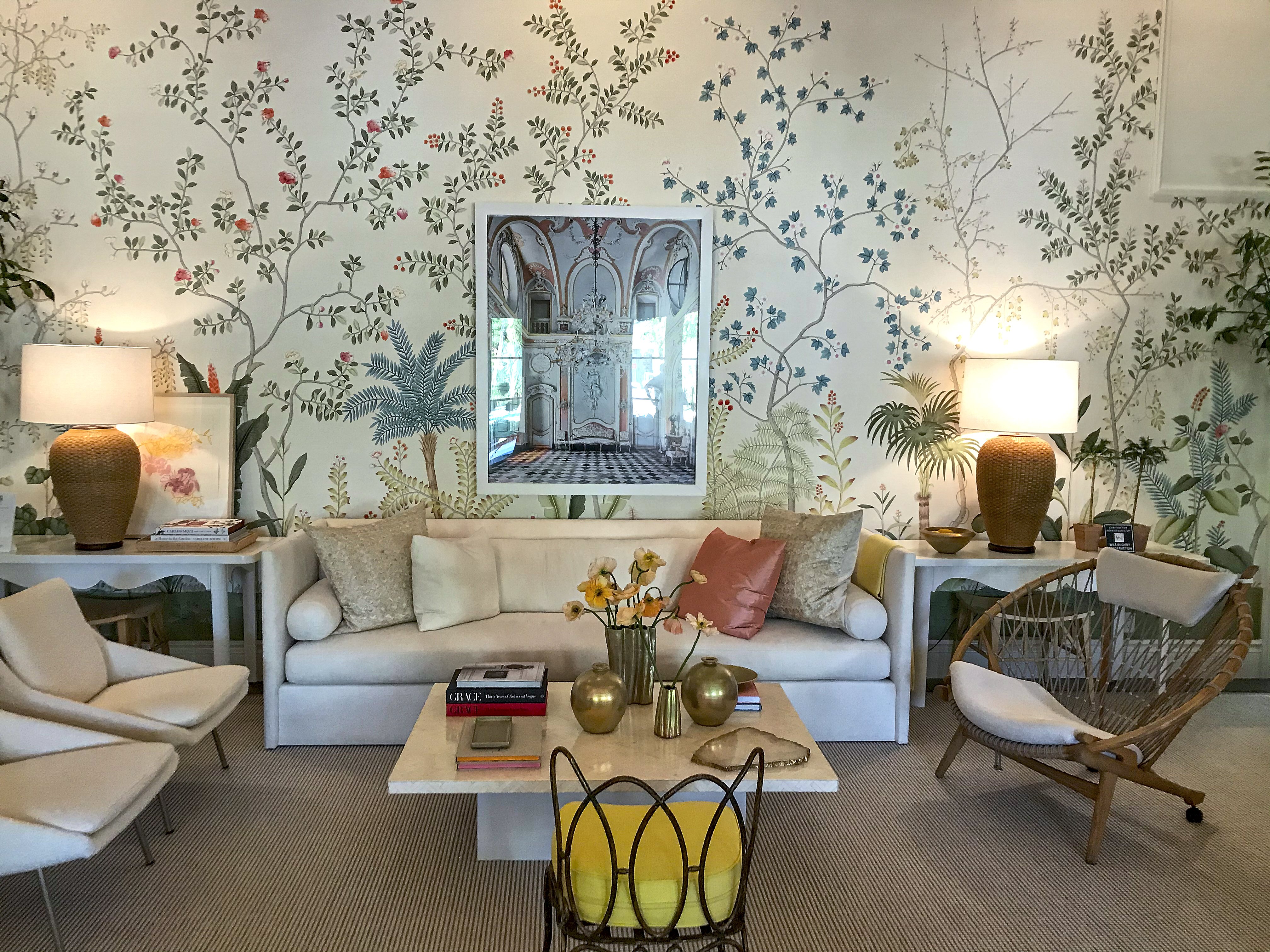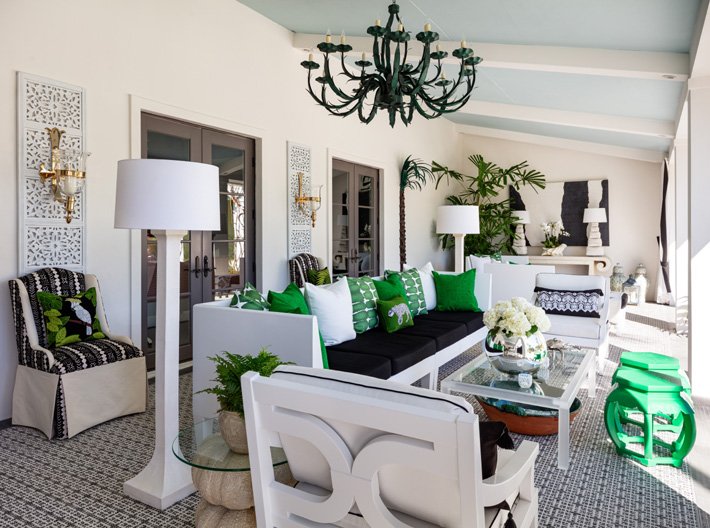 Stretching 50 feet across outside the great room and foyer, the loggia by Sherrill Canet is designed in shades of green with black and white. Furnishings are arranged in clusters, with a dining area, conversation groups, and seating positioned to admire the gardens and pool. In a nod to southern heritage, the ceiling is painted haint blue, which is thought to keep ghosts and/or mosquitos at bay. Insects and haints aside, it's a charming tradition and adds a breezy feel to the space. Photo by Nickolas Sargent Photography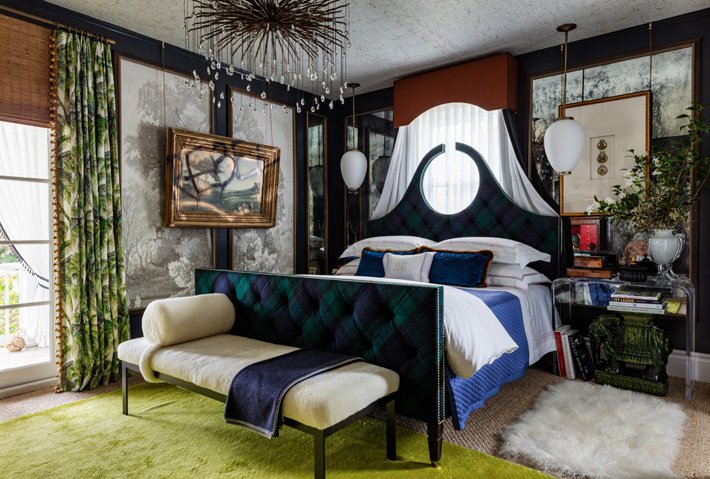 Robin Gannon of Lexington, Massachusetts-based Robin Gannon Interiors eyed the lush vegetation climbing outside and was inspired to title her guest bedroom "It's A Jungle Out There." Old-world civility and edgy modernity are contrasted, with Colonial-era Africa motifs including palm tree-patterned curtains with bamboo shades, a leopard print upholstered stool and a ceramic elephant, and antiques pieces mix it up with references to the urban jungle — graffitti-splattered artwork and a darkly dramatic chandelier. With an unfortunately positioned window on the only wall suitable for a bed, she designed a broken-pediment headboard to let light through from the window, which was styled with a pelmet and flowing curtains for a tented canopy effect. Photo by Nickolas Sargent Photography


Designer Alessandra Branca's impeccably fresh blue-and-white master bedroom suite features a wall covering from her own collection with de Gournay, inspired by Portugal's iconic azulejos tiles. The design encircles the lower portion of the room and frames the windows and French doors, creating trompe l'oeil architectural detail. An antique Venetian settee and a pair of 18th-century Louis XVI fauteuils are combined with vintage pieces, which include a Lucite and brass Karl Springer table and a pair of Maison Jansen gueridons, both from Iconic Snob Gallery. The bed, bed valance and bed linens are from her own line, Casa Branca. Contemporary art and photography were selected to pull the room into a more contemporary feeling. Photo by Nickolas Sargent Photography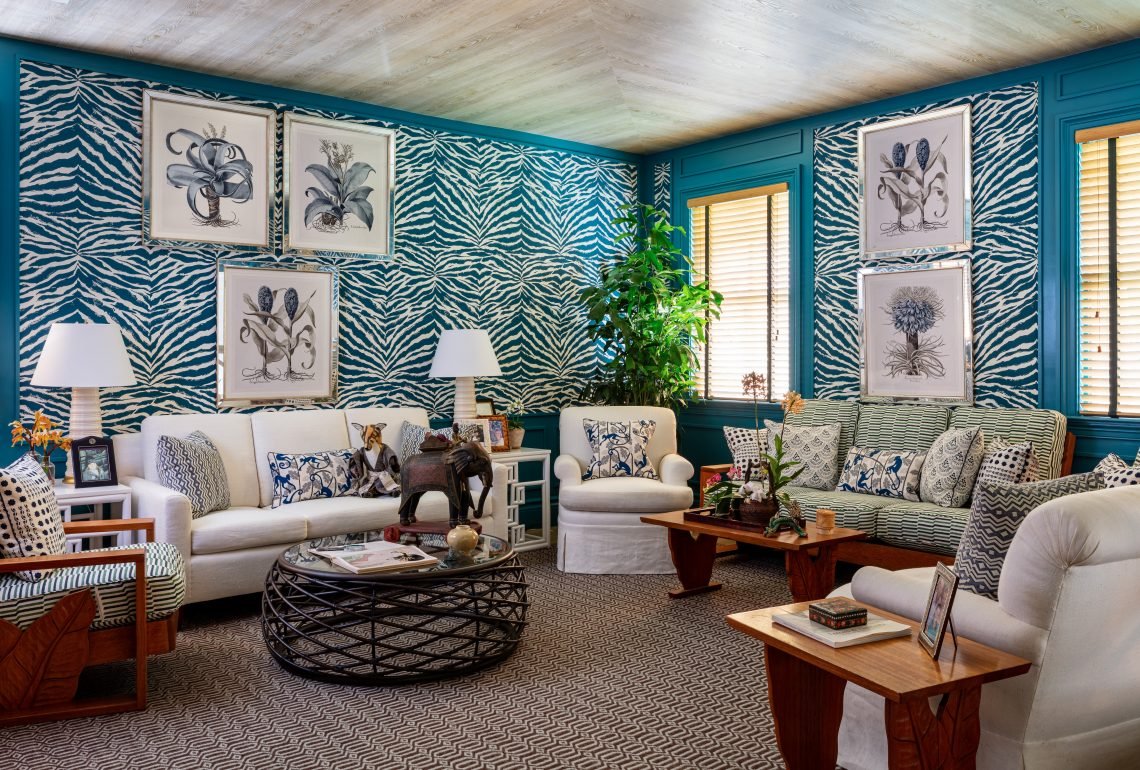 When Leta Austin Foster first set eyes on her loft space overlooking the great room, it sparked a memory of Jim Thompson's house museum in Thailand. The railings, she thought, looked similar, so why not create an exotic Asian-themed retreat, but in fresh Palm Beach hues? Hawaiian Mission furniture made of Koa wood with carved tropical leaves is combined with upholstered pieces in white, to pop off the vivid backdrop of teal and cream animal print wallpaper and teal woodwork. The ceiling is wallpapered as well, in a cerused oak pattern. A rattan glass-topped coffee table, botanical prints of exotic plants, and Asian accessories all add to the tropical ambiance. Photo by Nickolas Sargent Photography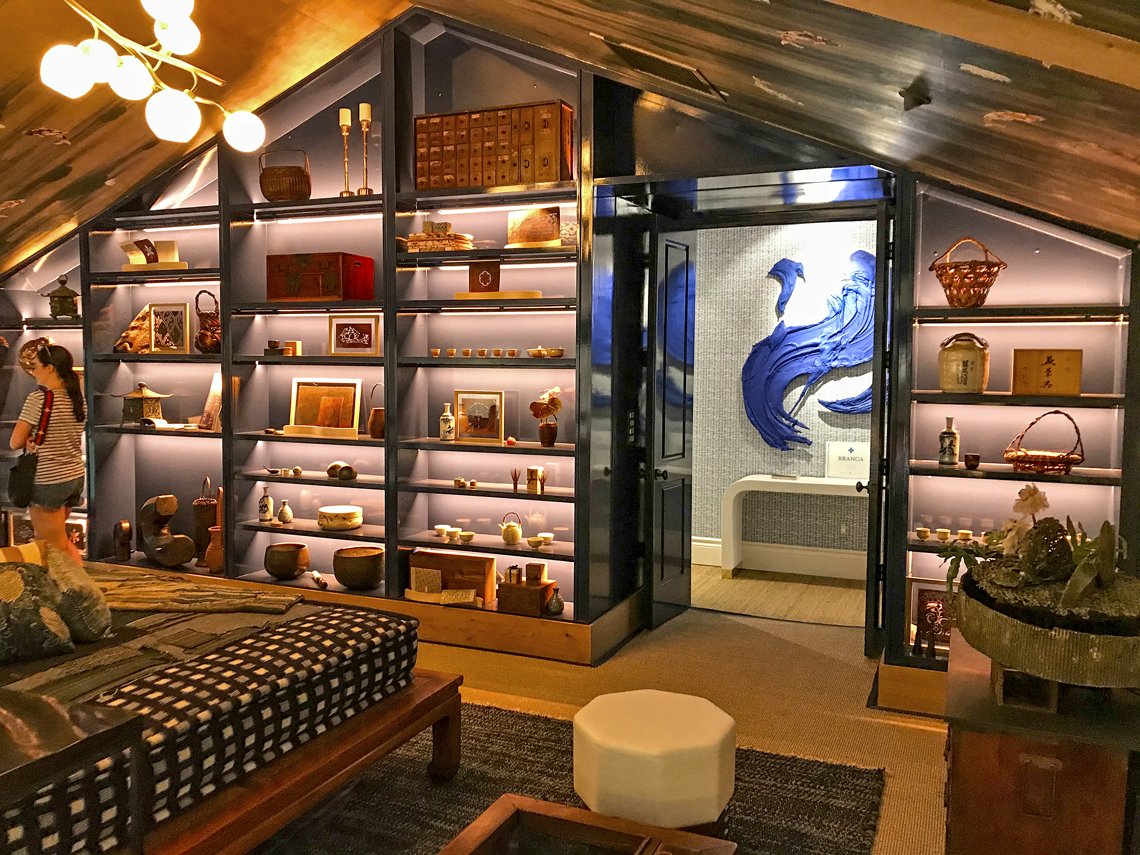 Also overlooking the great room, on the opposite end from Leta Austin Foster's, is a second loft space designer Sarah Magness dubbed the "Mindfulness Retreat." She was inspired, she recounts, by its peaked ceiling which reminded her of the Edo architecture she saw during the four years she lived in Japan. A wall of shelves is styled with antique Japanese baskets, tea pots, sake flasks and sewing boxes. An oversized daybed is centered below a light sculpture by glass artist Jeff Zimmerman, which hangs from a ceiling covered in custom designed, hand-painted wallpaper by Gracie depicting a koi pond. Photo by Sandor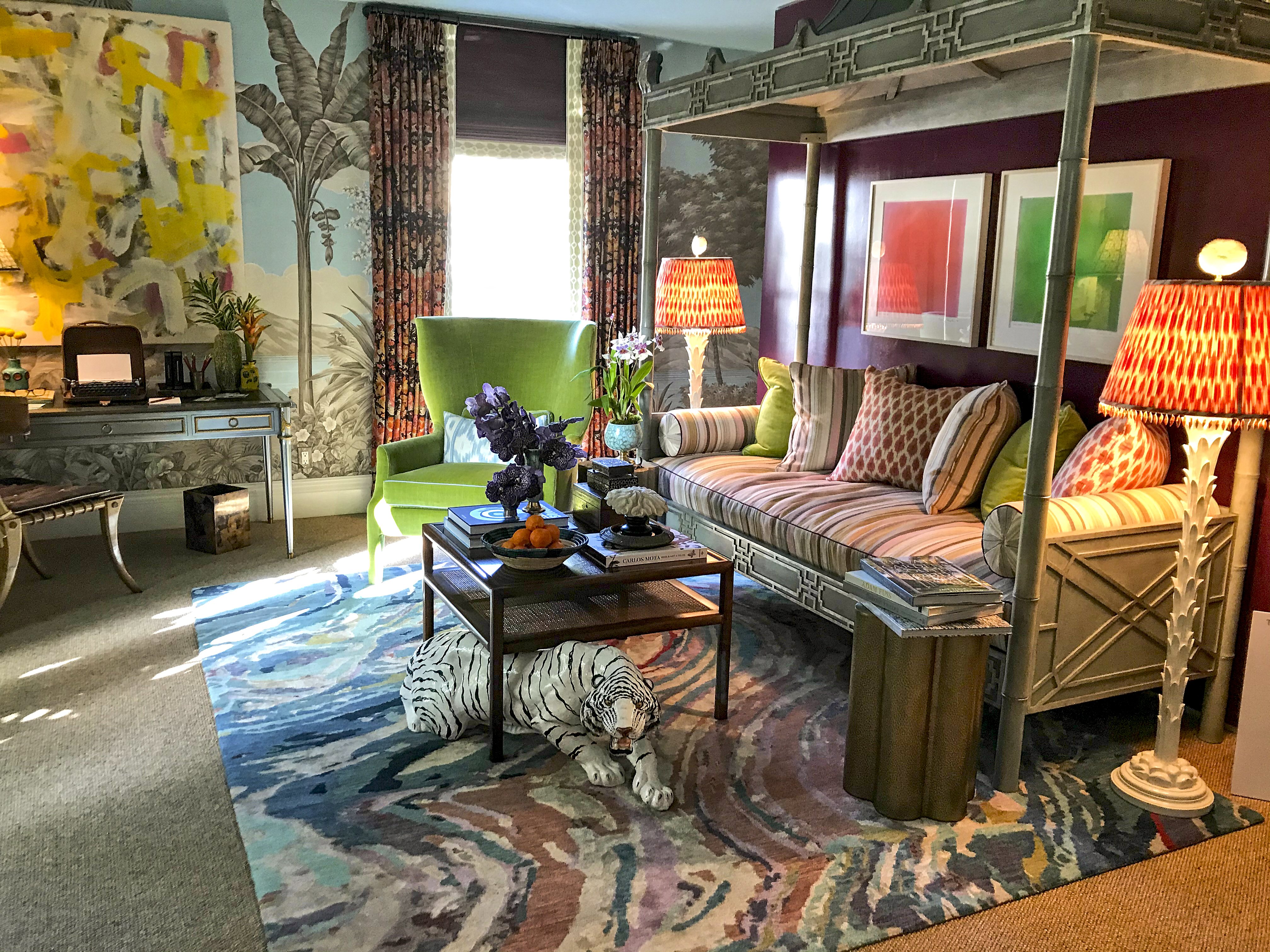 A guest suite was reimagined by Kevin Isbell as a writer's retreat and homage to Hemingway, who was a frequent visitor to South Florida. Walls are enveloped in a custom hand painted tropical landscape in sepia tones against a cerulean blue ground by Gracie Studio. An exotic pagoda-style daybed from designer Michelle Nussbaumer's Ceylon at Cie is flanked by a pair of plaster palm tree lamps. A writer's retreat isn't complete without a desk, and this 1960s stainless steel, brass and leather beauty by John Vesey is from Liz O'Brien. We spy a crouching tiger, but are still looking for the hidden dragon. Photo by Sandor
Keith Baltimore of Baltimore Design Group created a spa-like retreat, naming his guest casita "The Sanctuary." Furnished with a pair of custom upholstered massage beds and driftwood tables, the mood is meditative, with dreamy distant mountain-patterned wallpaper and gauzy drapery. Photo by Sandor
A closeup of Jonathan Savage's "Cabana Hideaway," inspired by the designer's travels in the French West Indies. Fine art photographer Nathan Coe's image of a nude model striding toward iconic Palm Beach hotel The Breakers sets a slightly decadent mood. Savage had louvered teak panels installed on the sides of the pavilion, creating a sense of mystery with shadows and light. Photo by Sandor



Left: Alizee Brion of Light on White designed an entrance that extends the exterior green space into the interior by creating an indoor garden. A custom terrazzo-pattered carpet leads through a hallway painted with a custom mural of palm branches by artist Austin Kerr. Installed on a deep green wall is Valeria Nascimiento's Botanica ceramic wall sculpture, and below, the Tao console table, one of several pieces of white marble furniture from the firm's new Objets furniture line that are interspersed along the space. Right: Partners for the master bathroom and closet spaces, architect Tom Kirchhoff refined the the flow of the master bathrooms and closets, which designer Betsy Wentz then transformed into a vibrant celebration of color and pattern. The wallpaper seen here was her first selection, and Betsy built her palette from there, a virtuoso balancing act combining the scale and tone of 11 different wallpapers with nearly as many patterns in the fabrics and carpet. Photos by Sandor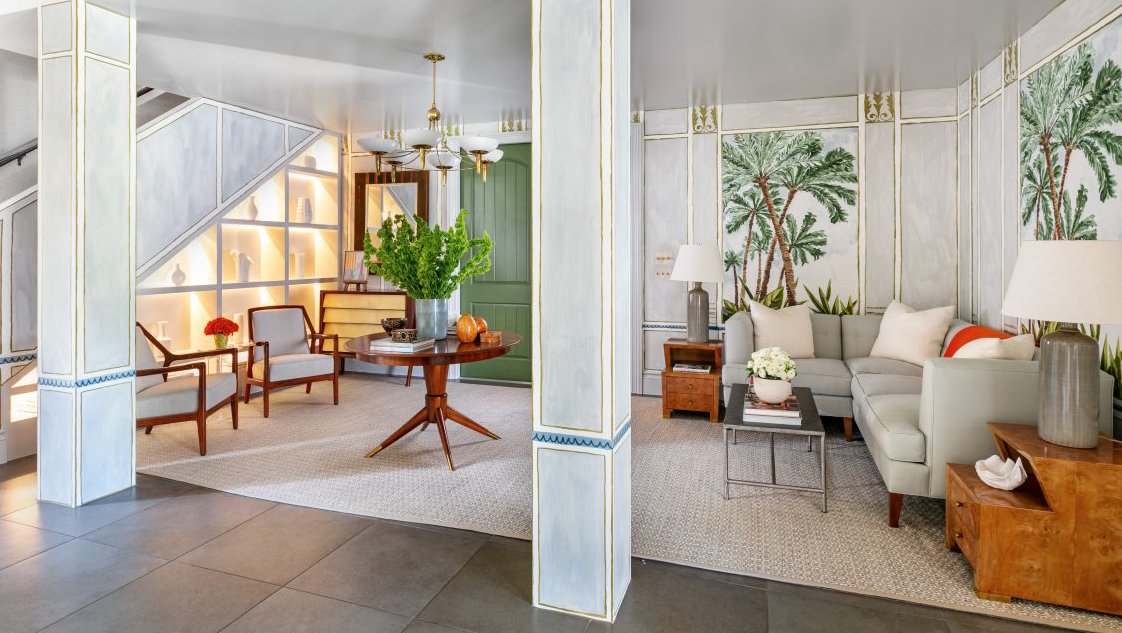 Father and daughter team Brian and Alexandra Brady of Brady Design transformed a somewhat cramped and awkward area into an airy foyer. Wallpaper and decorative paint were used to create architectural features in the elegant formal entrance to the great room. The lack of a view, or windows, for that matter, was resolved with palm tree-laden vistas on panels of Jim Thompson Fabrics wallpaper. The space under the staircase was transformed into a focal point with a custom bookcase that displays a collection of sculptural German pottery. Most of the furnishings are on loan and available from
Gary Rubinstein Antiques
, including a pair of 1950s walnut armchairs by
Carlo de Carli,
Swedish Modern center/dining table by
Erno Fabry,
1960s chandelier by
Tommi Parzinger,
pair of burled maple 1950s end tables by
Edmond Spence,
and a 1950s Italian mahogany and parchment commode by
Vittorio Dassi.
Photo by Nickolas Sargent Photography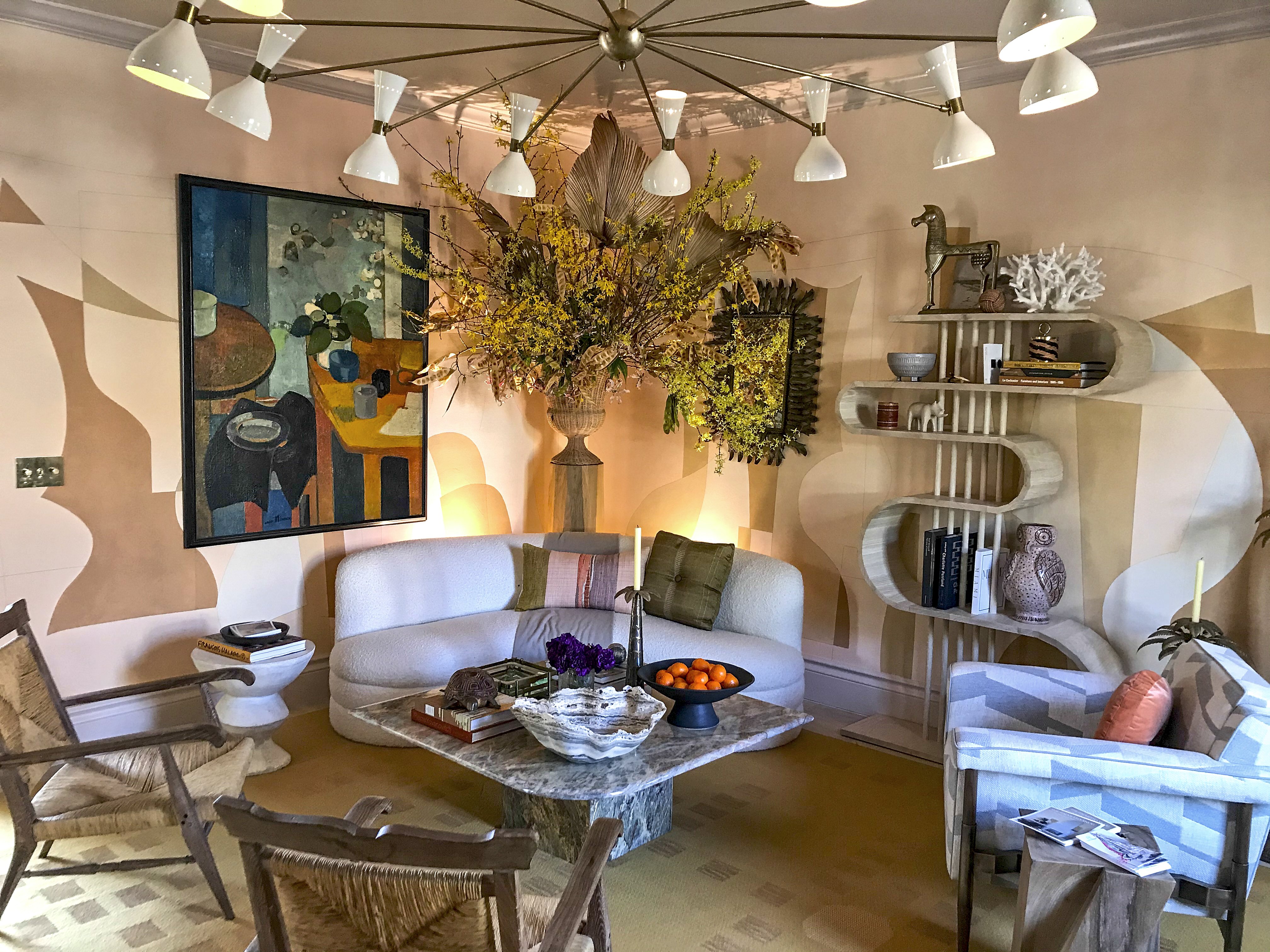 Joe Lucas, designer at his eponymous from Lucas Studio, transformed a guest suite bedroom into his "Palmetto Snug," envisioning it as a place to take a nap, relax or catch up with a few friends. Abstract patterned wallpaper in sandy tones from Fromental was the starting point, with a visually rich mix of vintage furnishings and sculptural custom pieces that achieves an artistic bohemian ambiance. Photo by Sandor


Javier Fernandez of Transitional Designs created dramatic spaces within a restrained palette of black and white by injecting bold patterns, eye-catching artwork and contrasting textures. Linen poufs trimmed in fringe, feathers and pom poms are aligned against the vestible wall, and striking pattern play animates a powder room. Photos by Sandor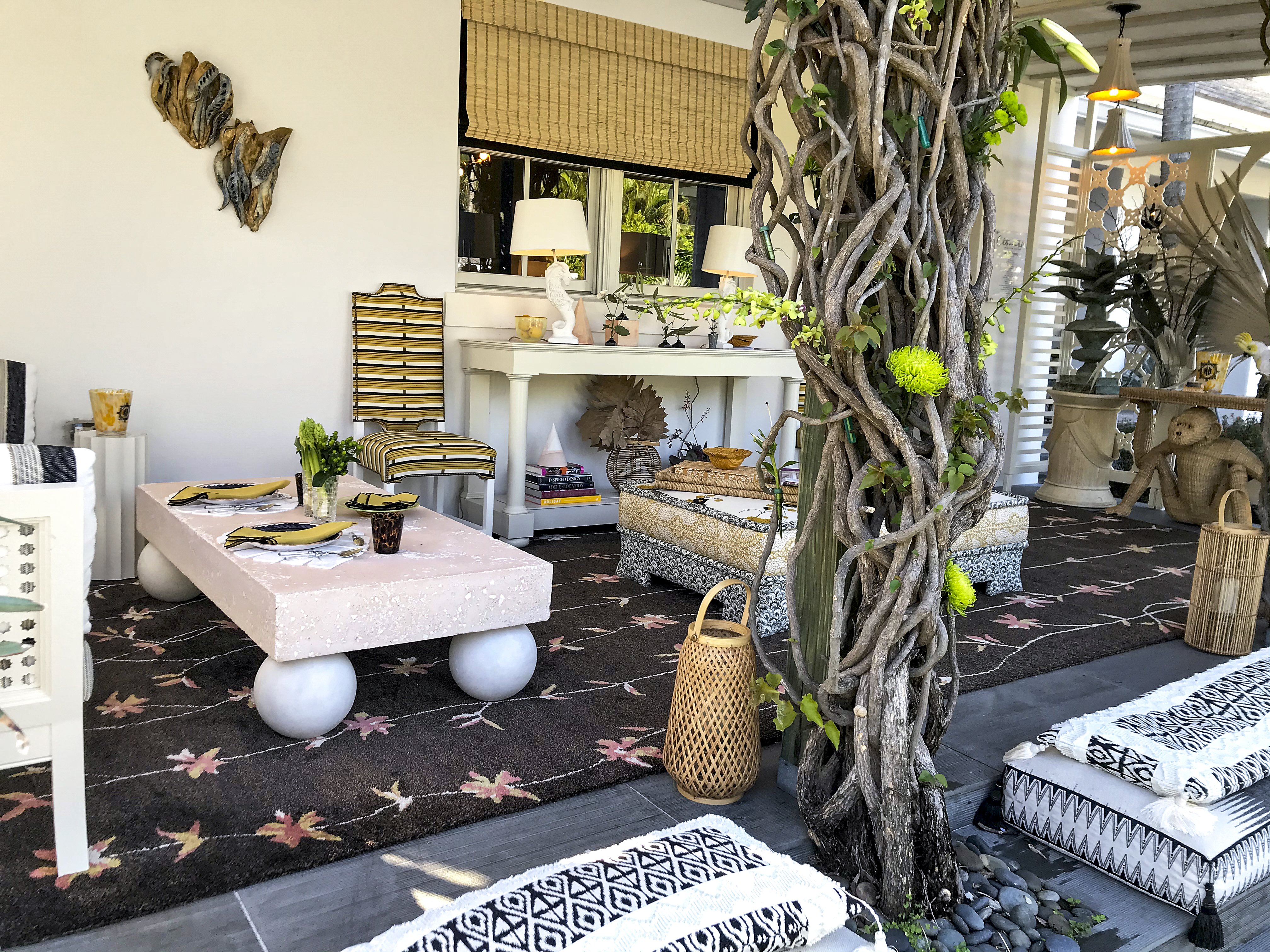 Located off the kitchen, Colette Van Den Thillart's alfresco dining terrace entices diners to pull up an ottoman and enjoy. Black and gold patterned textiles and tropical-themed accessories are combined with crisp white furnishings and a custom rug with a flowering vine motif. Photo by Sandor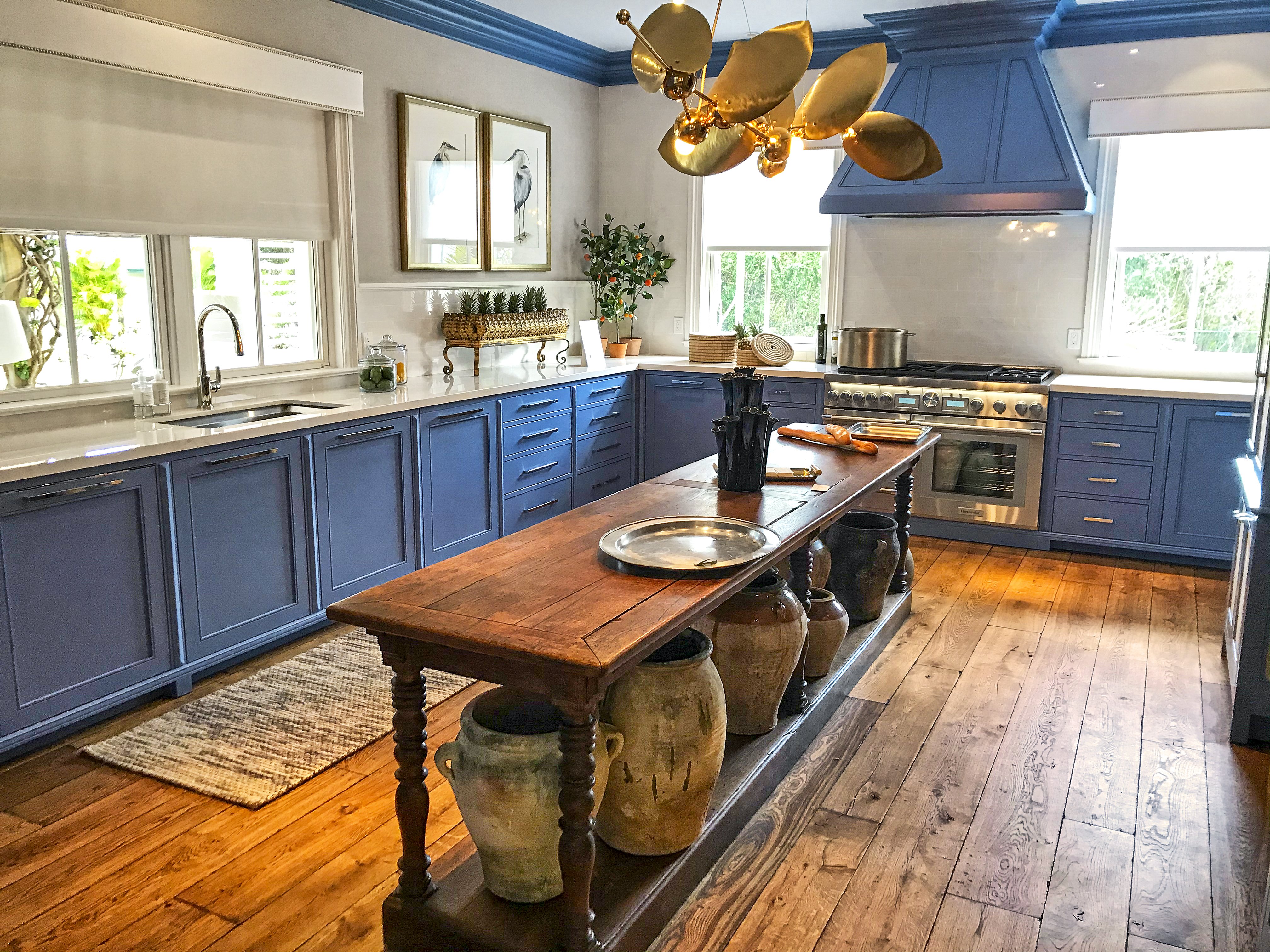 Giant olive jars from Spain are clustered beneath an antique tailor's table in
Sarah Blank's
kitchen. Not shown, a very special wine cellar, which she transformed from what was previously a pantry. Photo by Sandor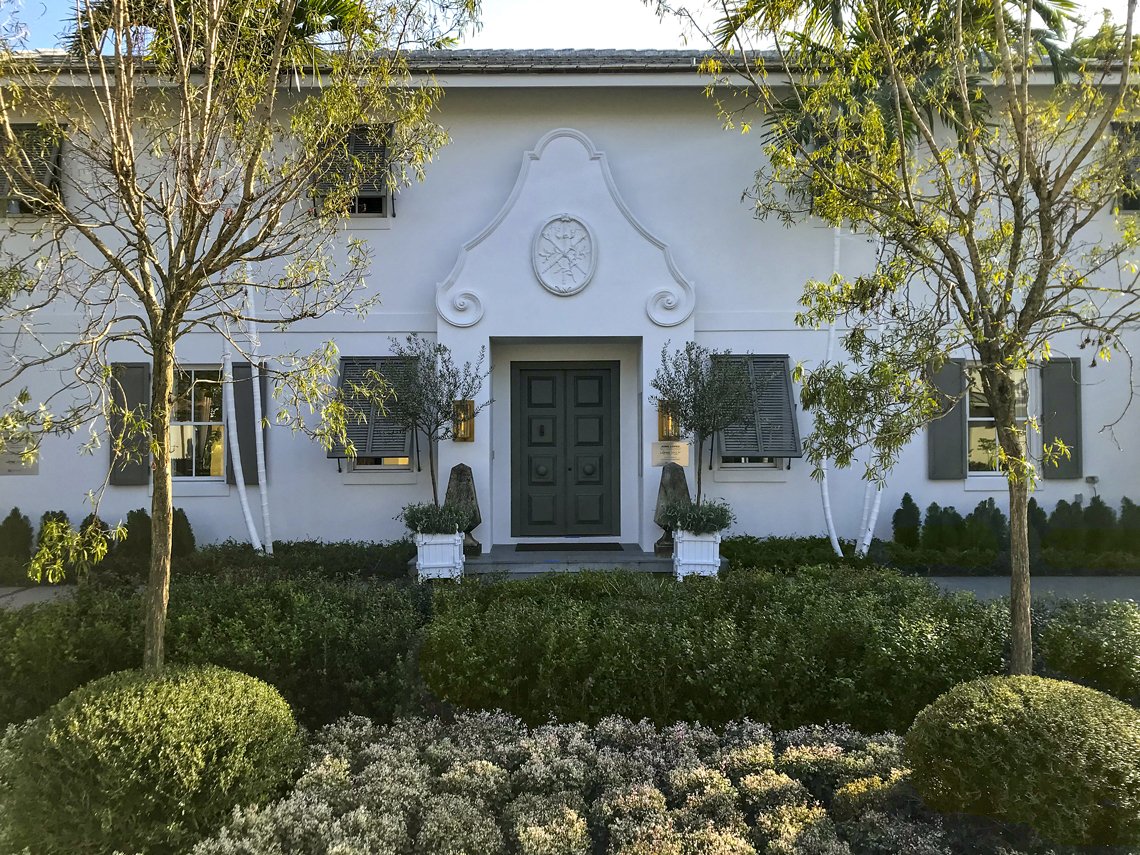 An elegant, stately garden at the front of the house is the work of Jobe Lopez of Lopez Group. The trunks of palm tree clusters flanking the front entrance were painted white to blend with the purity and symmetry of the facade. Photo by Sandor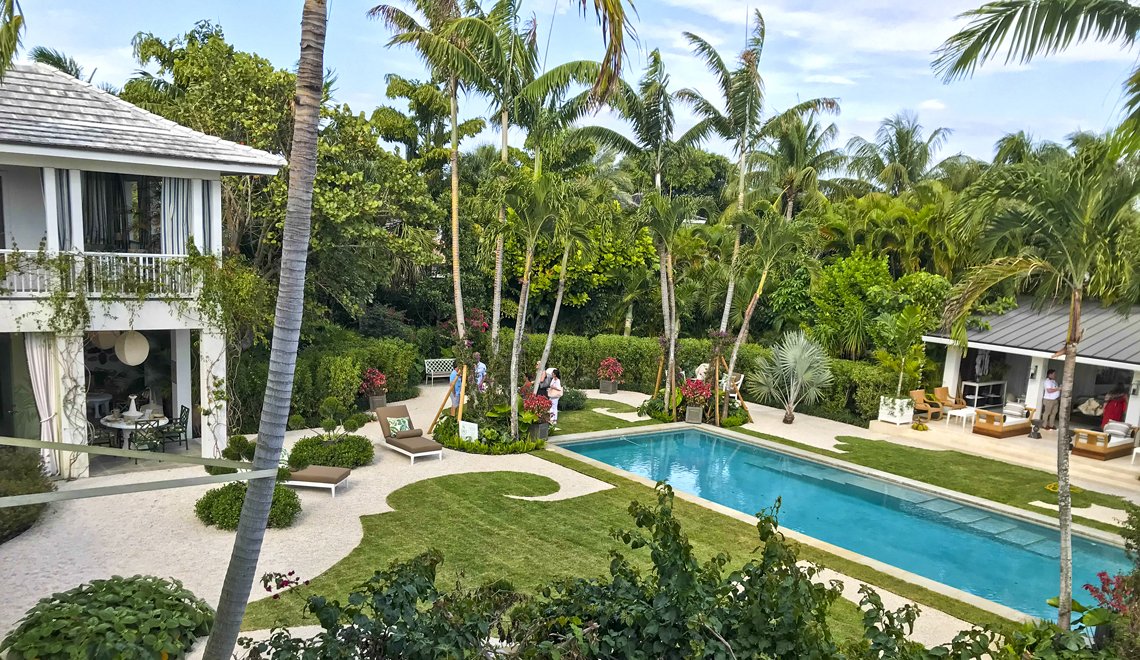 Mario Nievera and Keith Williams of Nievera Williams Design were inspired by the Mughal garden style. Decorative flourishes and arcs were designed in beds and paths of gravel to contrast with the lawn areas. The existing lush plantings were tamed and refined for a look more tropical oasis than jungle, and a new patio space around the pool was added. Photo by Sandor
Congratulations to all the designers:
front garden: Jobe Lopez, Lopez Group Inc., Palm Beach, FL
entrance: Alizee Brion, Light on White, Miami Beach, FL
guest suite: Joe Lucas, Lucas Studio Inc., West Hollywood, CA
guest suite: Kevin Isbell, Kevin Isbell Interiors, New York City and Los Angeles, CA
foyer: Brian and Alexandra Brady, B. Brady Design, Southampton, NY
great room: Suzanne Kasler, Suzanne Kasler Interiors, Atlanta, GA
loggia: Sherrill Canet, Sherrill Canet Interiors, Ltd., Locust Valley, NY
hallway and powder room: Javier Fernandez, Transitional Designs Inc., Boca Raton, FL
kitchen: Sarah Blank, Sarah Blank Design Studio, Greenwich, CT
dining terrace: Colette van den Thillart, Colette van den Thillart Interior Design, Toronto, Canada
north study: Sarah Magness, Magness Design, New York City
master bedroom: Alessandra Branca, Branca Inc., Chicago, IL
master bathroom and closet: Tom Kirchhoff, Kirchhoff and Associates, Jupiter, FL in collaboration with Betsy Wentz, Studio B, Sewickley, PA
south study: Leta Austin Foster, Leta Austin Foster & Associates, Palm Beach, FL
bedroom: Robin Gannon, Robin Gannon Interiors, Lexington, MA
pool pavilion: Jonathan Savage, Savage Interior Design, Nashville, TN
guest casita: Keith Baltimore, Baltimore Design Studio, Port Washington, NY
main garden: Mario Nievera and Keith Williams, Nievera Williams Design, Palm Beach, FL