10 Pioneers of Modern Scandinavian Design
candinavian designers have contributed so much to 20th-century design that it is difficult to fully and accurately do justice to their importance and reach. We live, all of us, in some way in the long shadow of their extraordinary vision and talent — from the playful, geometric patterning of Maia Grottel and Mariimekko to the legendary Hans Wegner and his reinterpretation of cold functional modernism, which transformed the prevailing home furnishings style to a focus on warmth, simplicity, and excellent craftsmanship.
| | |
| --- | --- |
| | |
| | Rare easy chair "Bukkestole" by Hans Wegner, in "Wegner Red" with tilting canvas back and canvas seat, chrome bolts. Produced by Johannes Hansen, Copenhagen, Denmark 1959. From Collage 20th Century Classics on Incollect. |
Form follows function in Scandinavian design, but is frequently defined by an organic, even humanistic approach to modernism. Practicality was probably the most defining element — furniture, lighting and objects always were comfortable and stable, elegant in appearance, and made to the highest standards of construction. Denmark was the center of the movement, with a coalescence of talent around Kaare Klint, who headed the furniture school at the Royal Danish Academy of Fine Arts, and where many top Scandinavian designers taught or studied. For this reason, Klint is often referred to as the "father of Scandinavian design."
It is tempting to believe the stories of the origins of Scandinavian design as a kind of 'immaculate conception' — an indigenous Nordic design style born of scarcity during and after World War II and a return to the traditions of craft-based design using wood and other natural materials. The history is one of influence and evolution, as many of the shapes and forms that came to define what we think of as 'Scandinavian modern design' have documented roots in designs from different cultures and centuries — the high modernism of the Bauhaus, and of Ludwig Mies Van der Rohe and Le Corbusier with their emphasis on functionalism. So, too, were English and Chinese furniture: Wegner's 'Wishbone Chair', a classic design from 1949, with a splayed back splat, has its formal origins in 17th-century Chinese furniture.
text continues below
The iconic and endearing Papa Bear chair and ottoman by Hans Wegner for A.P. Stolen, Denmark, 1951. From De Angelis on Incollect.
Hans Wegner was among the most successful of the Scandinavian furniture makers. His original pieces of furniture are bought and sold through many dealers and also at auction. Trained as an architect and carpenter, Wegner designed more than 500 chairs, not to mention numerous sofas, tables, desks, lights and a variety of interior objects. Most, if not all, were executed in natural materials, especially in wood with a signature accent on simplicity of style and easy comfort. His chairs are icons of 20th century design, such as his famous "Shell" chair, from 1963, with its convex shape for comfort. His designs often took inspiration from design history: his "Papa Bear" chair designed in 1951 is a fanciful remodeling of the traditional English wingback chair, while the "Wishbone Chair" (1949) and the "China Chair" (1944) take inspiration from Ming dynasty Chinese furniture. The most prized designs among collectors are early pieces, produced in collaboration with furniture maker Johannes Hansen.



Left:

Paavo Tynell for Idman, Finland, K2-12 opaline glass and brass pendant, circa 1950s. Many of his designs include references to the natural world, and here, the brass center band with charming star-shaped perforations evokes the night sky. From

Bloomberry

on Incollect. Right: Paavo Tynell's Nordic masterpiece, the Snowflake Chandelier for Taito Oy, Helsinki, Finland. Brass mesh snowflakes swirl over a bowl of polished brass pierced by myriads of light pinpoints. Many custom versions were produced; the original dates from 1946. Photo courtesy

Donzella

.

The impact and influence of Paavo Tynell on interior lighting design in homes all over the world over the past century cannot be overstated, even if, today, it is his famous hand-made custom Snowflake Chandeliers that command the most media attention as well as enormous prices in galleries and at auction. Tynell was an industrial and commercial lighting designer with a background in metalworking who began his long, successful career producing custom lighting for buildings for Scandinavian architects. In 1918, with colleagues, he founded his own design firm Taito Oy, the first industrial producer of lighting fixtures in Finland and for the next half century they designed and produced dozens of practical, simple, elegant, affordable lighting products that were sold internationally. His perforated metal pendant lamps were an especially popular product. So too were his range of floor lamps, including the Model 9602 floor lamp designed in 1938 with a narrow stem of metal wrapped in rattan supporting brass details and a broad, conical raffia or wicker shade; and the 1940s Model 9609 lamp in which three brass feet support an adjustable cone-like lampshade. His lamps are sensual, simple, elegant, functional, the hallmark of everything Tynell produced.






Left:

The Hunting Chair was inspired by examples of medieval Andalusian furniture Børge Mogensen saw while traveling in southern Spain. Model 2229 was designed for Fredericia Stolefabrik in 1950. From

Wright Now

on Incollect. Right: Børge Mogensen's Spanish Chair was designed following his inspirational 1958 trip to Spain, where he saw rustic seating using tanned saddle leather. The eminently practical designer created a chair with buckles to tighten the leather which stretched over time and extra wide armrests for a drink or book. Spanish Chair Model 2226, 1958 for Fredericia Stolefabrik, Denmark. From

Denmark 50

on Incollect.
Børge Møgensen designs may not be immediately identifiable to the general public but nonetheless have filtered into the pantheon of 20th-century design as part of the overall international appreciation of Danish mid-century furniture, with its emphasis on comfort as well as functional, simple forms. He completed training as a carpenter and as an architect and his furniture is on the whole geometric and somewhat more casual in contrast to the structured if organic shapes and forms found in the work of his colleagues Hans Wegener and Arne Jacobsen. His "Spanish' armchair, designed in 1958 for Fredericia Stolefabrik & Dahlman is his most recognizable design and is a much-prized item among collectors, especially early, individually numbered models between 1959 and 1962 that are made of solid oak and with hand-stitched adjustable leather straps for the back and seat. The design was inspired by traditional seating construction used in Spain — Møgensen saw similar chair designs on a trip through Spain. Other important chair designs include the low-riding "Hunting Chair" with an exposed wooden frame made of oak, leather and brass from 1950 and a prototype for mass-manufactured folding, casual sports or beach chairs. The Model 2254 or "Sled" adjustable lounge chairs have inspired generations of deck chairs.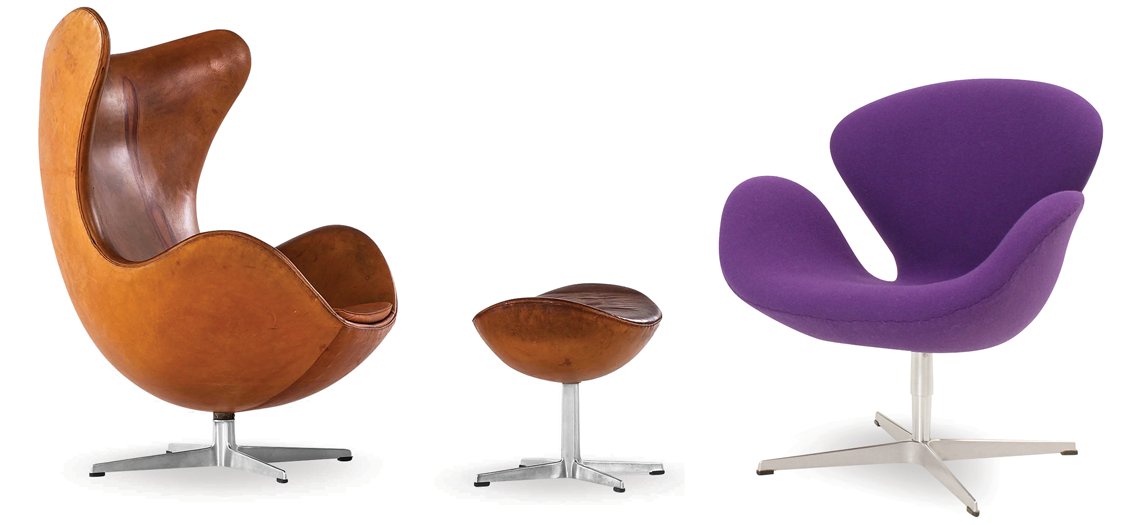 Left:
T

he iconic, unmistakably futuristic Egg chair was created by Arne Jacobsen for the SAS Royal Hotel in Copenhagen, the first skyscraper in Denmark. Designed to look like a cracked egg, it is curvaceous, organic form promises comfort, and it delivers. Produced by Fritz Hansen since its introduction in 1958. From

Studio Schalling

on Incollect.
Right:
Arne Jacobsen's Swan chair for Fritz Hansen, 1958. Designed for the lobby and lounge areas of the SAS Royal Hotel in Copenhagen, for which he also served as architect. Jacobsen felt that the spinning function of the chair would allow guests to observe the comings and goings in these public areas, and add to the liveliness of the atmosphere. Unusual for the time, the chair has no straight lines, only curves. Photo courtesy
Against
.

Arne Jacobsen was an architect and also a designer and designed a wide range of interior furniture with an eye keenly attuned towards efficiency and practicality in all areas of a design — his designs are creative but simple, the choice of shapes, forms and even construction materials oriented commercially to enable mass production. His use of industrial materials and new technology made his designs both original and affordable and led to great popularity worldwide. Seating is where Jacobsen really excelled — he created some of the most iconic chairs of Scandinavian design including the "Egg Chair," the "Swan Chair", and the "Ant Chair" which was inspired by the work of Charles Eames after Jacobsen bought one of his plywood chairs and placed it in his studio to study. Jacobsen's chairs were all designed for Fritz Hansen, who also produced the "Sevener" or Model 3117 series of chairs in various materials — a versatile, brilliantly simple swiveling chair on wheels with a winged back splat and similar seating base designed in 1955. "Sevener" is one of the best-selling chairs of all time and is still in mass production under a license along with many of Jacobsen's other signature chair designs.



Left:

The highly acclaimed NV-45 armchair designed by Finn Juhl with cabinetmaker

Niels Vodder

. The seat and back float above the wooden frame, to distinguish the "supporting" elements (the frame) from the "supported" elements, an innovative approach that broke with tradition and resulted in a very light, fluid and organic form. Presented at the Copenhagen Cabinetmakers Guild Exhibition in 1945. From

Flavor

on Incollect. Right: The Chieftan Chair is considered Finn Juhl's most powerful work, a masterpiece of modern design. Described by a critic at the 1949 Cabinetmakers Guild Exhibition where it debuted as being . . . "so lively that it seems trembling with vitality," the design of the horned, shield-shaped back and armrests appear to have tribal influences, bringing a bold and dynamic presence to this piece. From

TFTM

on Incollect.

The words simple and functional apply to the work of many Scandinavian designers. But when it comes to Finn Juhl they mean something else entirely: he was a design maverick among his peers, blessed with the same avant garde attitude as Jacobsen when it came to design concepts and yet firmly committed to the core principles of Scandinavian mid-century design including the use of natural materials and fine craftsmanship. His "Pelican Chair" designed in 1940 and still in production today after more than 80 years, is a radical piece of organic contemporary sculpture, Surrealist in its conception with an anthropomorphic shape that gracefully and warmly embraces the sitter. The reception of his work was initially somewhat frosty, but over time was proven popular as well as influential, because it took Scandinavian design in a more playful direction. Juhl had a conventional early career, studying architecture and design and then working briefly as an architect before establishing his own design firm in 1945 — the same year that he released his NV45 lounge chair designed for Niels Vodder, with a free-floating, suspended back and seating area on a seemingly detached, fluidly organic wooden frame that is widely regarded as a quiet revolution in the history of chair design. He completely detached the base and back of the chair from the supporting frame. This became a signature element in subsequent designs like his 1954 elegant but no less inventive "Spade" armchairs, with a slatted wood back and seat support suspending loose upholstered cushions. Juhl was also one of the first Scandinavian designers to experiment with color which can be seen in a range of cabinets and credenzas that remain highly prized today.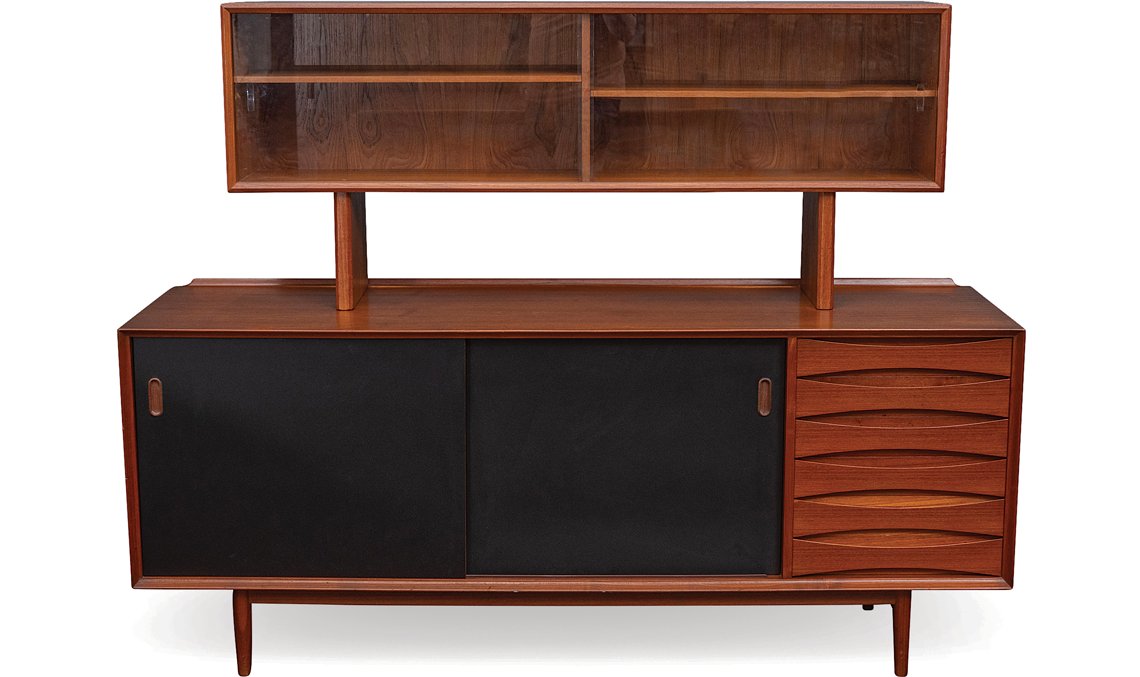 Sleek, teak, and mid-century to the max, Credenza Model 29 with rare floating hutch by Arne Vodder for Sibast Møbler, Denmark, 1959. From
De Angelis
on Incollect.
Vodder's Credenza 29 in rosewood with colored panels that reverse to rosewood. The original model was winner of a Gold Medal at the 1958 Milan Triennale design awards. From
Studio Schalling
on Incollect.

Trained as an architect and cabinetmaker, Arne Vodder is admired first and foremost for his Model 29A sideboard made inf rosewood, often accented with colorful reversible door panels. It is one of Vodder's most popular and recognizable designs, shown at the Milan Triennale in 1957 where it won First Prize. Finn Juhl was his teacher at the Royal Danish Academy of Fine Arts, and became his mentor, friend and later his business partner in the production of furniture. Vodder had an important solo career as a designer for Fritz Hansen, France & Søn and Sibast Mobler among other furniture companies. His designs are in the manner of Juhl — generally simple, functional, and geometric in appearance, though Vodder always insisted that his work was inspired by natural forms. He worked primarily in wood, primarily rosewood and teak. The designs lend themselves well to office environments, and his furniture was chosen by Jimmy Carter for the White House, and for the offices of President Anwar Sadat of Egypt and Pope Paul VI.

Left:
Model 42 Z-Chair by Kai Kristiansen for Schou Andersen Mobelfabrik, Denmark, 1957. Light and elegant, Hans Wegner pronounced this chair as being "beautiful from all angles." Designed for comfort with a tilting, floating backrest and tapered armrests, long enough to provide support, but short enough to allow easy access around a dining table. From
Modern Hill Furniture
on Incollect. Right: Kai Kristiansen was a master of understated, graceful design, and his dining chairs are some of the most elegant in the Scandinavian modern genre. Dining chair Model 31 designed in 1956 was produced by Schou Andersen Mobelfabrik, Denmark. This example in teak with original period fabric. Photo courtesy
Studio Schalling
.

Kai Kristiansen is another Danish designer with a background in cabinetmaking who studied with Kaare Klint at the Royal Danish Academy of Fine Arts in Copenhagen. Some of his designs have been in production for more than six decades with Danish manufacturers Fritz Hansen, Magnus Olesen, and others, and include his Model 31 and Model 42 dining chairs made originally of teak and rosewood with leather seats for Schou Andersen and that are instantly distinguished by their gentle gratefulness as much as the simplicity of design — qualities which carry over into all of his designs for chairs, desks, cabinets, shelving and more. He preferred to work in teak as well as rosewood, much like his contemporaries, with an attention to craftsmanship in the form of invisible joins and a fluidity of lines. This made his designs challenging to produce as well as expensive and therefore some of his most creative designs went out of production. His Model 42 dining chair from 1956 with an ergonomic curved backrest and short, angular arm rests remains a classic of 20th century design, as does his No 121 "Paper Knife" lounge chair in teak, designed for Magnus Olesen, with its long, gentle sloping armrests and slightly arched backrest for comfort.



Left:

Jens Risom's Model 666 Side Chair designed for Knoll in 1941. Birch with cotton webbing from surplus WWII parachute straps. From

Moderne Gallery

on Incollect. Right: A modern angular profile and wedge-shaped top distinguish Jens Risom's Model T.539 Magazine Table. The ledge at the rear serves as a magazine rack, positioned to accommodate taller publications (remember Life and Look magazines?). Designed for Knoll in 1949. From

Open AIr Modern

on Incollect.

Jens Risom has a special, unusual place in the history of Scandinavian design. He achieved success early in his career and is one of the few serious designers to have been profiled both in the pages of the New York Times as well as in Playboy! He almost single-handedly introduced Scandinavian design to the United States after emigrating to New York in 1939, then in 1942 in collaboration with Hans Knoll, he designed his first furniture collection and launched the Knoll furniture company. Risom went on to found his own company in 1946 and over the next half century contributed a catalog of outstandingly innovative and memorable designs to 20th-century furniture. His designs remain true to tradition — functional, understated forms expertly crafted expertly, but Rison paid more attention to comfort and casual ease in design as well as manufacturing. It was his signature use of strapping that sets him apart from his peers. He first experimented with nylon straps during World War II when materials were scarce, to create his famous Knoll Model 666 Side chair. The straps were interwoven to form a tight cross hatching design which was structurally sound, comfortable and aesthetically pleasing. He integrated the strap concept into many other designs including lounges, chaises, chairs, stools. His other popular designs include several desks and a magazine table from 1949.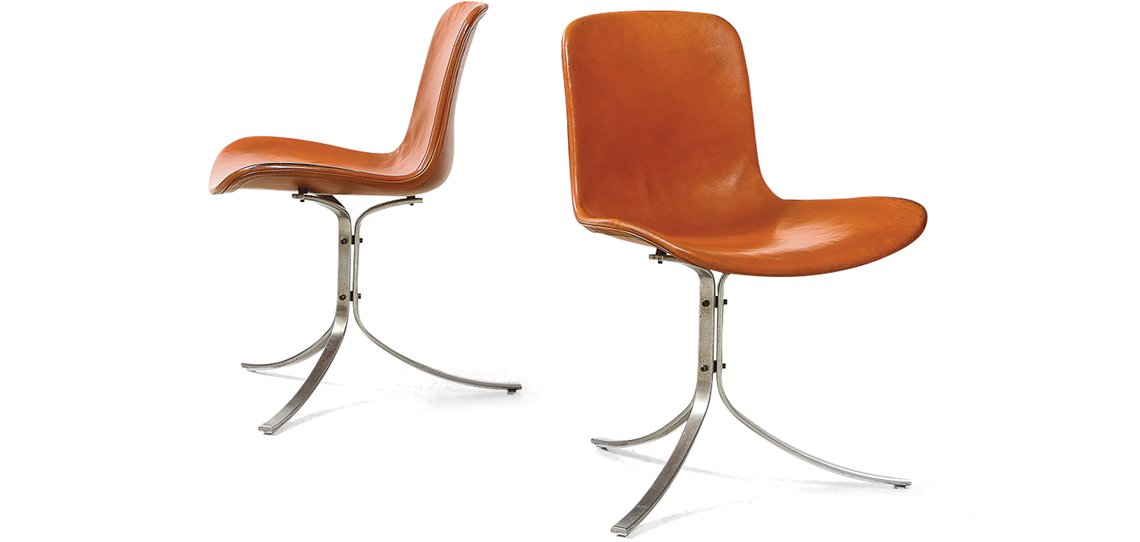 PK9 Chair by Poul Kjærholm for E. Kold Christensen, Denmark, 1960. Kjærholm's designs are notably distanced from the warm, craftsman-based aesthetic of his forebears in Scandinavian modern design, but convey the same clarity of expression and dedication to uncompromising quality. He became known for his rigorously pared-down style, incorporating steel in an elegant, fluid fashion. From
Donzella
on Incollect.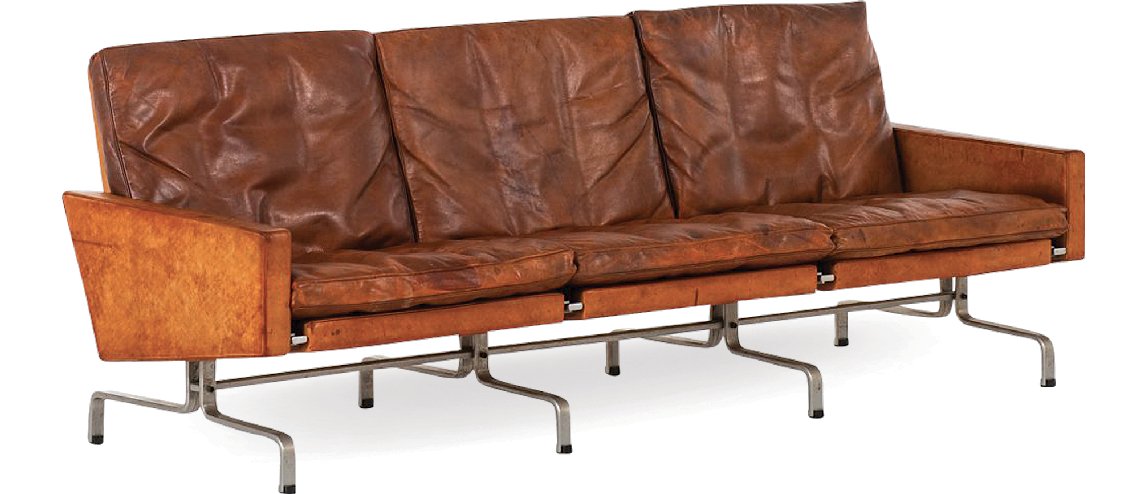 A rare sofa model PK-31/3 3-Seater sofa in original cognac leather upholstery and matte finish steel frame. Poul Kjærholm's modular PK31 series included an armchair in a perfect 76cm cube and 2 or 3-seater sofas, created by connecting the individual seating units to a steel bar base. Such was Kjærholm's desire to preserve purity of form that the individual modules can be seen when viewed from the back. Produced by E. Kold Christensen, Denmark, 1958. From Studio Schalling on Incollect.
Poul Kjaerholm is unique among the mid-century Scandinavian designers because his work is distinguished by his use of a steel component to contrast with natural materials such as leather, wood and cane. Kjaerholm embraced not only industrial materials but industrial production methods over traditional Scandinavian hand craftsmanship, both to enable mass manufacturing of his designs and because he was interested in the structural properties of steel, which allowed him to create thinner, finer supports for his designs. This can be seen in his now famous PK31 lounge chair and sofa produced by E. Kold Christensen, or his PK61A Coffee table with glass top, the PK35 lounge chair, or his PK9 and PK12 chairs combining leather upholstery with curved steel bases. His use of steel sets him apart from his peers aesthetically, along with an uncompromising minimalism — there is nothing extraneous in his furniture, exemplified in his sleek PK 22 Chair for Fritz Hansen.



Left:

An icon of twentieth-century Space Age design and the world's first molded plastic chair, the cantilevered Panton Chair was conceived in 1959, and after a series of experiments with materials and manufacturing processes, was presented to the public in 1967. Verner Panton for Herman Miller/Vitra. Photo courtesy

Original in Berlin

. Right: Designed for a restaurant in Denmark, Verner Panton's Cone Chair was the result of his quest to design a chair with a unified form. He eliminated traditional chair legs in favor of a low, swiveling base to create a futuristic profile that is surprisingly comfortable. Created in 1958 for Vitra, Denmark. From

Chris Howard Antiques & Modern

on Incollect.

Plastic is the signature element in the numerous designs of Verner Panton, one of Denmark's most innovative 20th-century designers. Panton understood and also benefited from years of innovation on the part of his Danish design colleagues, especially Arne Jacobsen, with whom he began his career as an apprentice in 1950 before founding his own design studio in 1955. But he quickly forged his own, wildly distinctive path as a designer inspired by new materials and technology in the field of molded plastic and in so doing, in terms of availability and price point, made Scandinavian design accessible to a worldwide population. His "Panton Chair", an instant masterpiece of modern design conceived in 1959 and produced serially by Vitra in 1967, still in production, is widely regarded by design historians as the first fully formed molded seat made from a single durable piece of injected plastic. The flexibility of the material coupled with the cantilevered design make it incredibly comfortable as well as versatile. Injection molding allowed designs to be manufactured in a range of colors and sizes, including the conical "Cone Chair," which was designed in 1958 as part of the furnishings conceived for the restaurant his father managed.

text continued from above
Many historians point to the true origin of Scandinavian design as stemming from something else entirely: bad weather. Harsh, long winters with little to no daylight, trapping people inside for months at a time, inspired Scandinavian designers of the 20th century to create practical, simple but cozy furniture in natural materials and uncluttered interiors in muted, uniform colors designed to maximize natural light and warmth. The design style was first presented internationally at the Triennale di Milano exhibition in 1947 and was an instant success. Scandinavian design as a global brand was born.
Furniture pieces and home accessories were later showcased in the US and Canada in an important 1954 traveling exhibition, from which the term "Scandinavian design" is believed to originate. The exhibition promoted the idea of Scandinavian design as "democratic", given its appeal to everyone through products that were practical and relatively affordable. The idea of a design movement that the public could enjoy and access for their home was embraced by 1950s America and later worldwide.
Minimal, functional and beautiful, Scandinavian design has found favor the world over with its emphasis on clean lines and comfort. In the drive to simplify our environments with fewer, finer things, the timeless appeal of this elegant, yet accessible aesthetic ensures it will continue to be welcomed into homes for a long time to come.