Bruce Bierman Designs a Chic Eco-Friendly Hamptons Home
| | |
| --- | --- |
| | |
| | Bruce Bierman |
Designed by Bruce Bierman Design
Photographs by Axel Dupeux
An inspiration for all who aspire to have a simpler, more streamlined home, while maintaining a sophisticated and comfortable ambiance; "living clean" is the at the heart of these interiors. The clients purchased this spec house, and enlisted Bruce Bierman Design to banish the sterile "spec look" and create custom interiors that reflected their values and that celebrated natural beauty. Working in close tandem with the client, great care was taken to utilize natural and organic materials, with color schemes crafted to enhance and direct the flow of energy. Bierman Design layered pieces by contemporary and midcentury designers, selecting profiles with simple, elegant lines. Whenever possible, vintage furnishings with original upholstery were chosen, and their authenticity adds to the intrinsic honesty of the design intent. The client's collection of works from avant-garde and emerging artists contributes elements of drama, irony and mysticism, and make for lively conversation starters. The results speak for themselves — this home radiates a sense of harmony and well-being.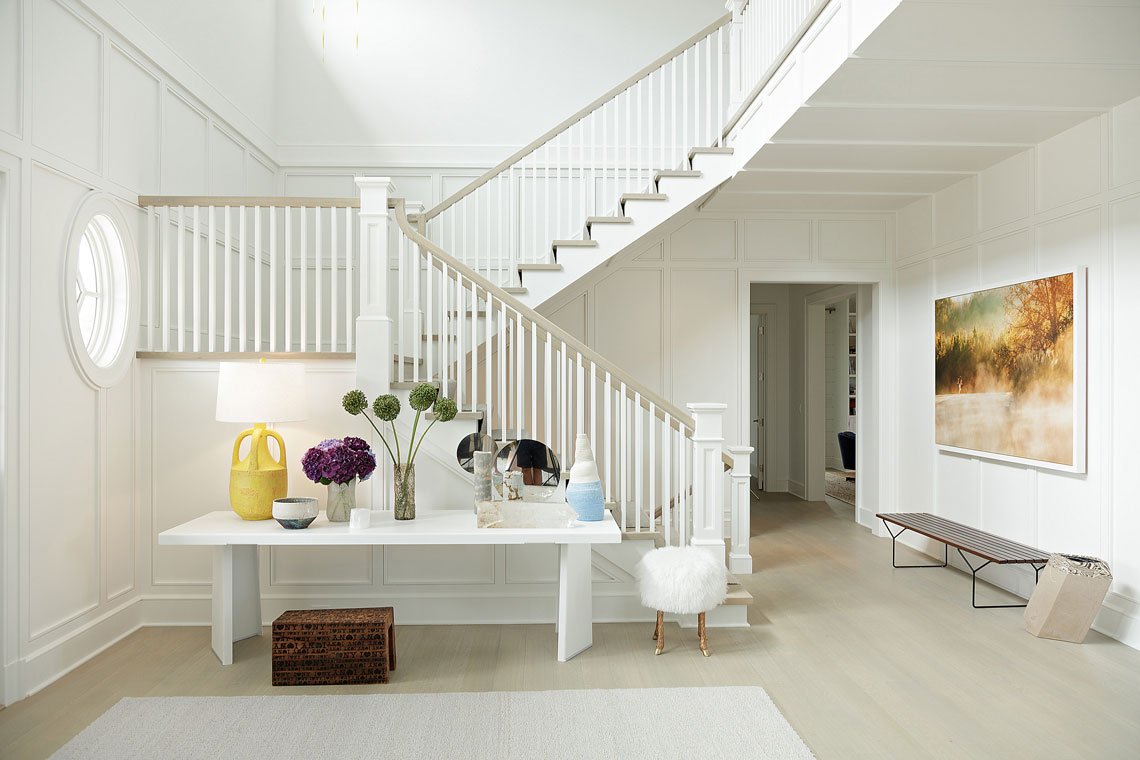 The entryway traditionally sets the tone for the home, and this one is no exception. Bright, airy and eclectic, with an appealing mix of styles: a Pied de Bouc stool by Marc Bankowsky with bronze legs and Mongolian lamb seat sits to the right of a "Pallas" console by Konstantin Grcic. The console is styled with a vintage pottery lamp, ceramics from the client's collection, a composition piece of circular mirrors and an enormous quartz crystal. A dreamy c-print by Ryan McGinley titled Misty Nowhere is grounded by a vintage teak bench by Harry Bertoia for Knoll International, 1952. The ceramic vessel is by Brooklyn artist Cody Hoyt.



Right: An expanse of clerestory windows floods the entryway with light. The floors are bleached oak mirrored by a chandelier of reclaimed oak hanging above. Left: The mudroom is host to a vintage 1960s Swedish oak bench with original upholstery in an energizing 1960s hue. A painting by Jeppe Hein from the "Frequency" series was made with watercolor pigments using vibrations from a Tibetan singing bowl. And yes, that's a plastic 5-gallon bucket, a practical touch that reflects the client's down-to-earth lifestyle.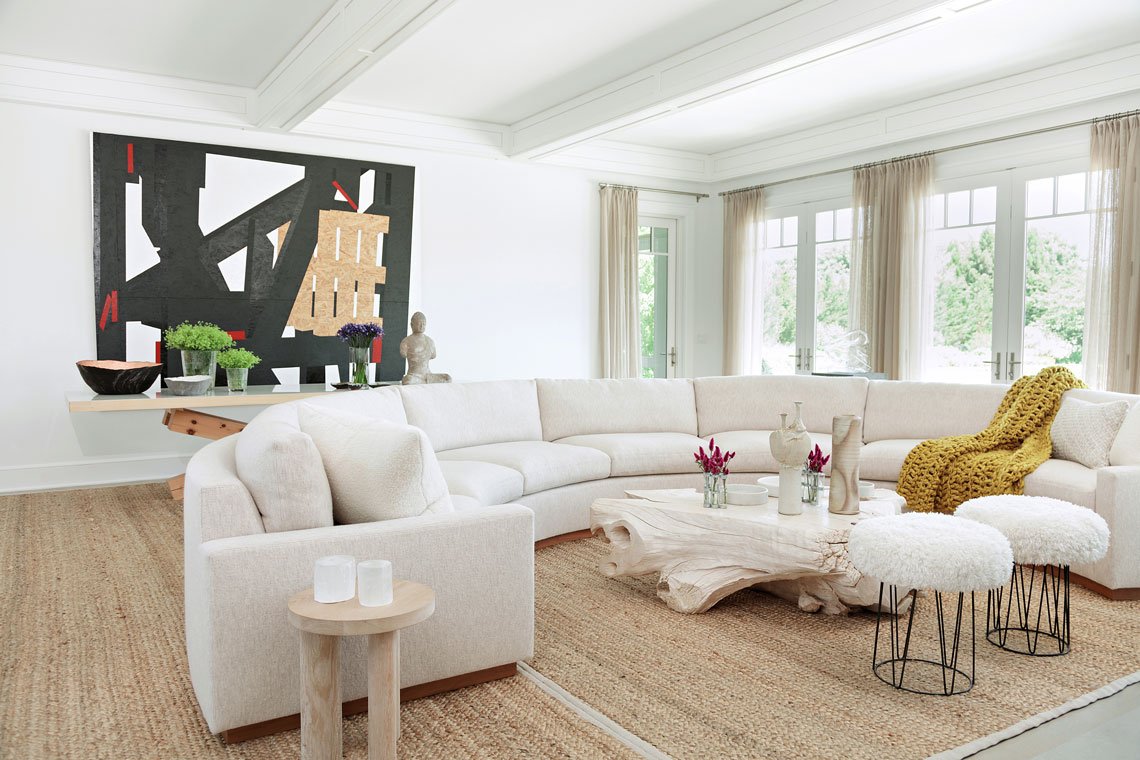 The ultra-serene living room is punctuated by an bold and arresting painting by Johannesburg-based artist Serge Alain Nitegeka titled Fragile Cargo X: Studio Study 1. Nitegeka is a former refugee from the war-torn African nation of Burundi, and his works explore the themes of forced migration and physical barriers, with humans as the "fragile cargo." It hangs above the Catapult Table by Robert Bristow and Pilar Proffitt, constructed of reclaimed timbers with a lacquer top. The table is styled with harmony-enhancing elements: arrangements of greenery and flowers, a pair of handsome vessels, and an Amida Buddha. To balance the linear feel of the ceiling beams and the painting, an oversized curved sofa encircles an organic St. Barts weathered teak cocktail table by Andrianna Shamaris. A pair of vintage midcentury wire stools with fluffy sheepskin seats can be drawn up to the fireplace nearby.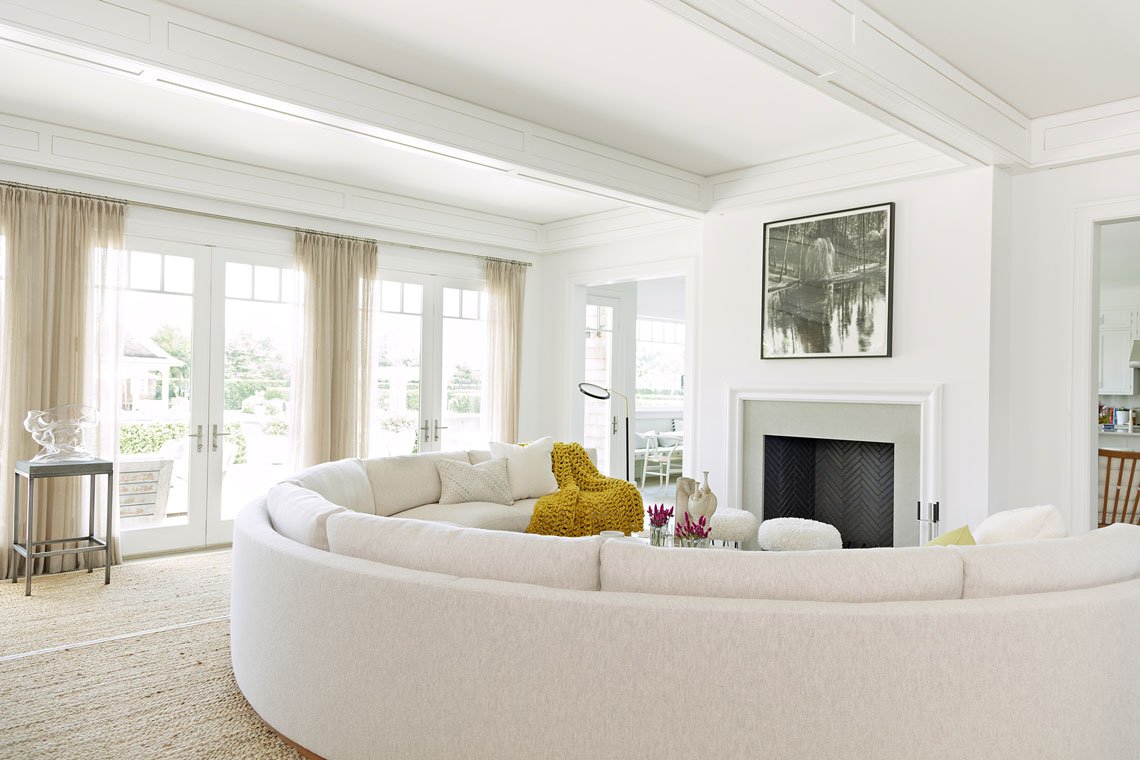 Covered in one seamless swath of Holland & Sherry fabric, the custom sofa circles the fireplace, which has a simple surround of limestone. A charcoal landscape drawing above the fireplace is by April Gornik. French doors run the length of the room, framed by ivory sheer linen curtains. They lead to a covered deck space and can be opened to invite refreshing summer breezes. A biomorphic glass sculpture is positioned to catch and reflect light.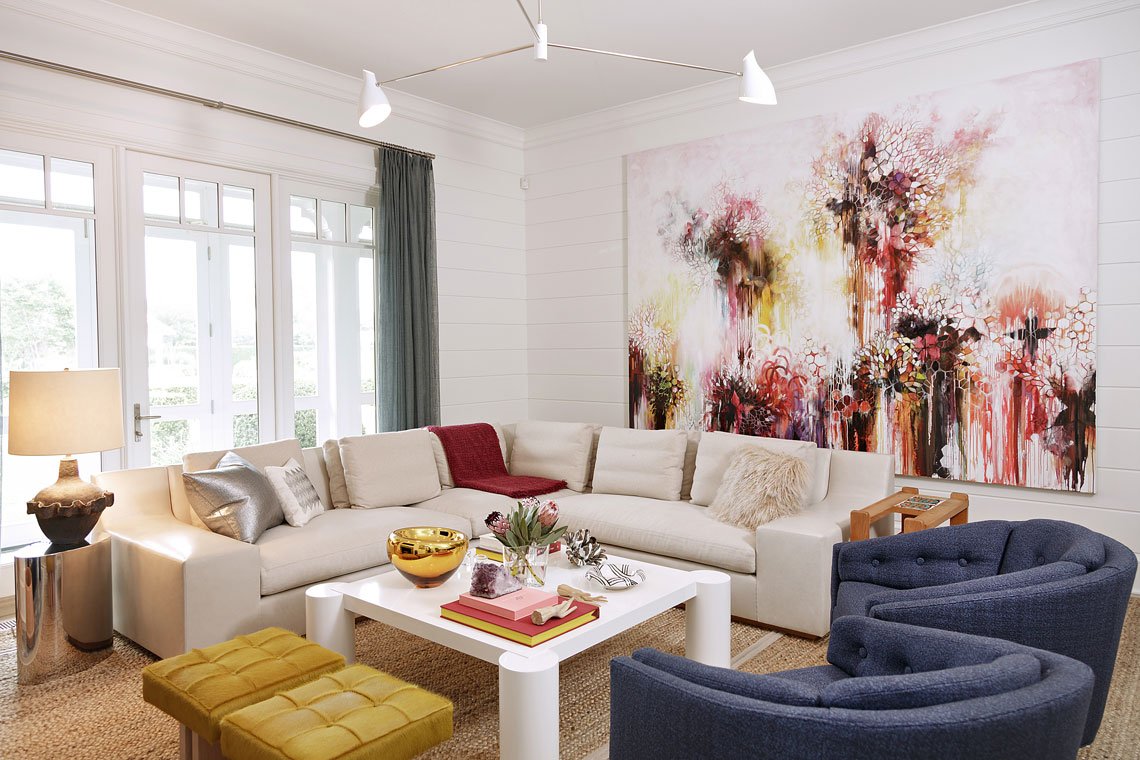 A large-scale work titled New December by Steven Bindernagel, composed with bursts of warm jewel tones, establishes the color palette for the den. The design team echoed the effect of the painting by creating islands of colorful textiles amidst a sea of neutrals. Vintage midcentury Milo Baughman swivel chairs were covered in a richly-textured indigo fabric accented with button tufting detail. A mustard yellow hair-on-hide by Kyle Bunting for Holly Hunt covers a pair of handcrafted stools, which tuck up to a vintage midcentury coffee table. Green-gray sheer linen curtains and a carmine red throw were selected to add their sparks to the scheme.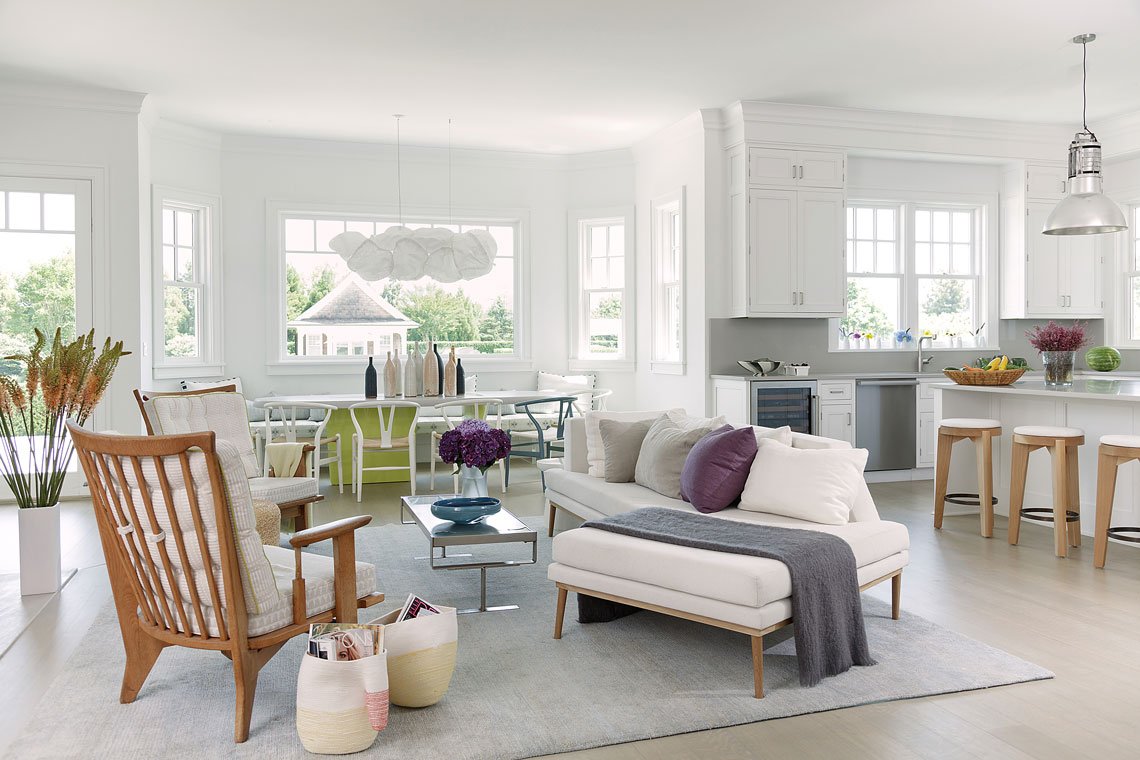 A family-friendly sitting area is conveniently situated between the kitchen and the casual dining area; a perfect place to keep the chef company. The homeowner grows and cooks much of what the family eats, so this is area is a hive of activity. A pair of vintage Grand Repos oak lounge chairs by French midcentury designers Guillerme et Chambron, a chic 1960s French steel coffee table and a custom sofa with angled chaise detail create a convivial spot to await the offerings .


A pair of prints with composed montages of layered digital images by artist Brandon Lattu are dramatically positioned for maximum impact, creating a more dimensional effect than if hung conventionally, side-by-side.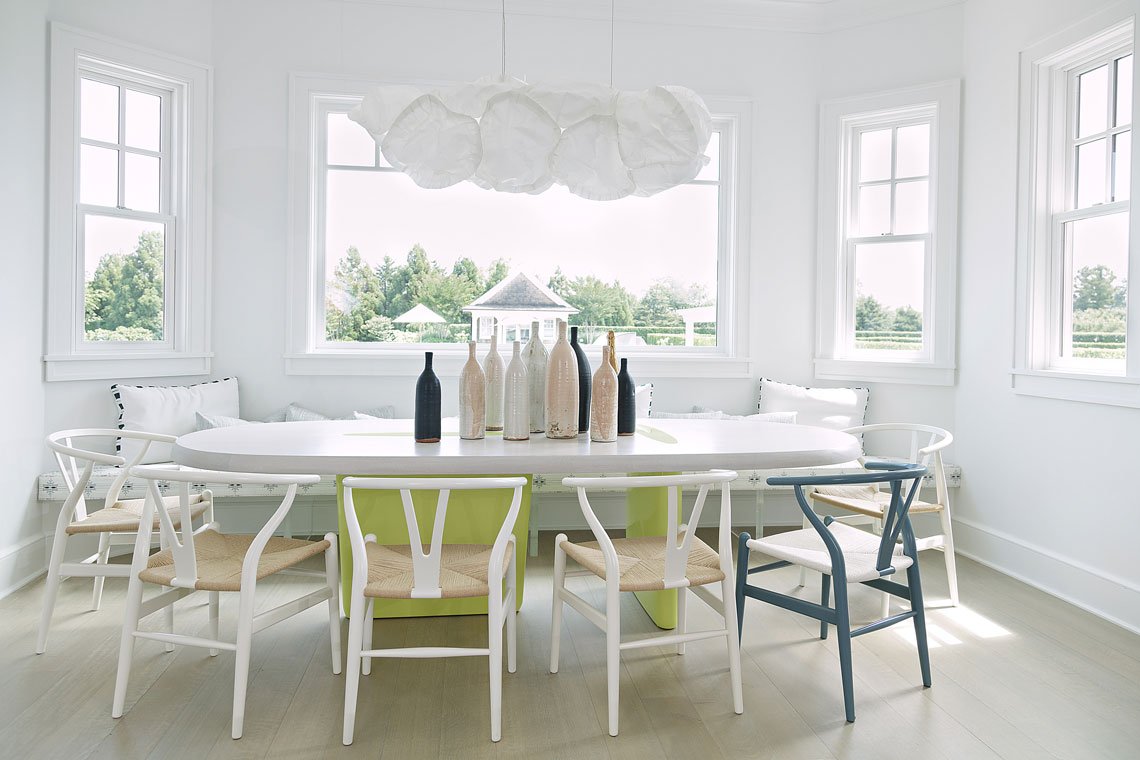 Blurring the lines between inside and outside, the casual dining area virtually floats in a pool of bright light, with Frank Gehry's Cloud pendant light suspended over an oval custom oak and lacquer dining table. A banquette window seat and Hans Wegner's Wishbone chairs provide ample room for diners. A collection of earthenware bottles forms a sculptural centerpiece.
The seldom-used formal dining room was repurposed to become a festive and fun home bar and lounge. After more than 20 versions of the design were considered, this playful mix has the perfect ambiance and has become the clients' favorite room. The rare vintage 1966 Kingston sofa is by British furniture designer William Plunkett. Part of a modular suite named The Plunkett Plan, the pieces were batch produced in limited quantities with strict quality control standards, adding to both their desirability and scarcity. The sofa is joined by a 1960s coffee table by French ceramic artist Roger Capron.




Left: Mood lighting sets the tone with a fluorescent pink-lined dome ceiling light by Ingo Maurer. A rare Jacques Adnet armchair circa 1950, with original leather upholstery, is paired with a contemporary iridescent fiberglass Emerald side table by Achille Salvagni. Right: A pair of vintage midcentury Frederic Weinberg wrought iron barstools with a custom bar designed by Bruce Bierman Design, constructed of bleached and greyed walnut with cement tile, and a base of blackened steel. The photo sequence hanging behind the bar, reminiscent of Muybridge's classic motion studies, is by Robin Rhode.



A table by Belgian designer Willy Ballez of travertine marble and glass, designed circa 1970. The bleached walnut stools are a custom commission by Bierman Design, upholstered in peacock blue linen. The photograph is by Israeli artist Leora Laor, Untitled #100 from the Wanderland series. A trio of ceramic pieces is by Ian McDonald, who was recently named artist-in-residence of the ceramics department at Cranbrook Academy of Art.





An Akari Light Sculpture by Isamu Noguchi is suspended over a serene expanse of neutrals, evoking an almost meditative calm. Ombre stripe curtains in tones of gray, combined with natural wood finishes and organic fabrics are soothing to the senses. The rug is custom crafted from hand-spun South African mohair.



Left: A simple and elegant bedroom for the client's son, with off-center artwork and a tone-on-tone paint treatment to create visual interest, while keeping the furnishings deliberately minimalist. Right: Bold colors and graphics and souvenirs from trips to exotic destinations make a funky kid's room! An entire wall of cork holds a collection of posters and artwork selected by the client's son. The unusual carved wooden hand chair is a souvenir from a trip to Bali. A vintage 1960s Verner Panton Peacock Lounge Chair with original cushions, and a custom floor cushion, created with a souvenir textile from the floating islands of Uros on Lake Titicaca, are fun for lounging around with friends.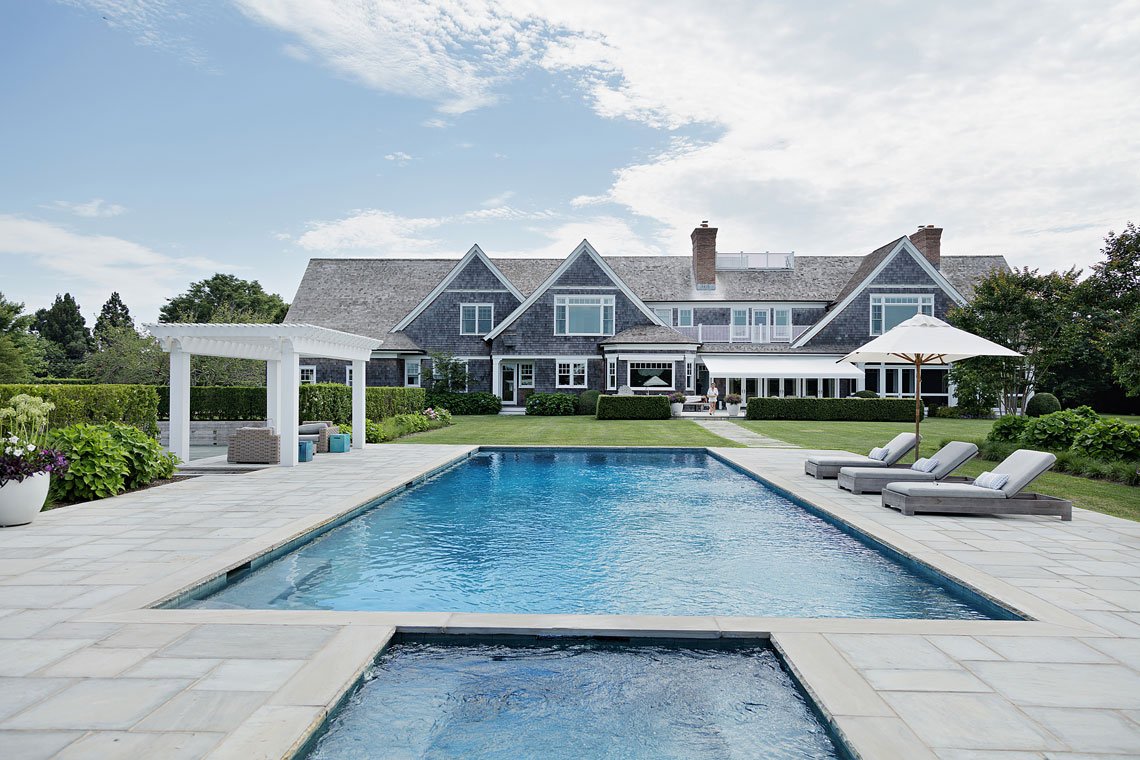 Bluestone surrounds the pool and spa area, with a pergola-shaded seating area and lush grounds, including a substantial vegetable garden tended by the client. The exterior is a very traditional shingle style, complete with widow's walk, and is an appealing contrast to the contemporary style of the interiors.
To view the entire project click here