Designer QnA: Jennifer Cohler Mason on fun with the fifth wall, her design DNA and growing up in a Baldwinesque home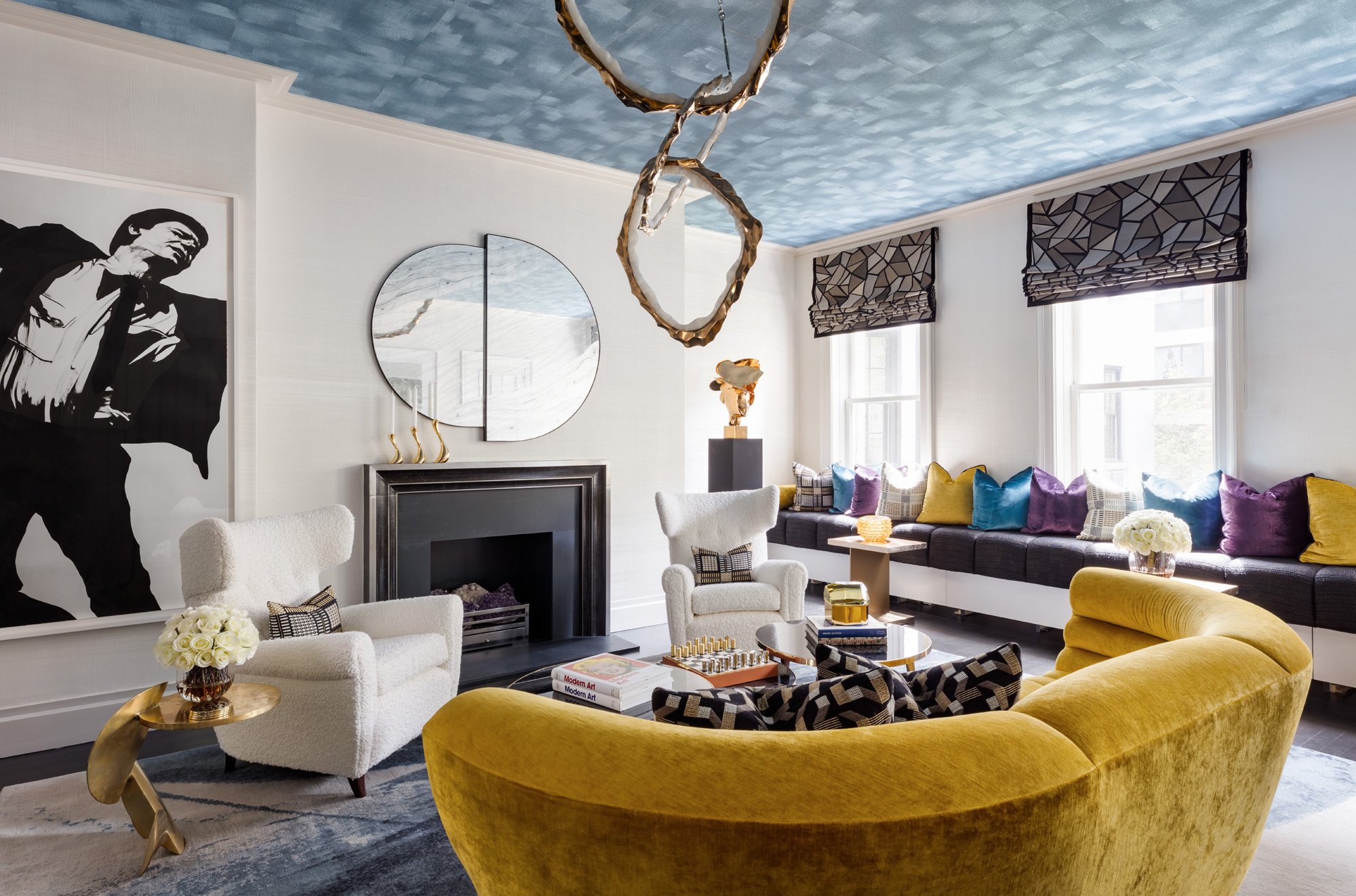 Jennifer's sitting room created for the 2019 Kips Bay Decorator Show House was a standout, with bold statement art by Robert Longo and Manolo Valdés flanking the fireplace, a rich color palette of saturated jewel tones, and dotted with gleaming mixed metals and gem-like accent pieces. An églomisé mirror from Dune hangs over the fireplace, facing a topaz channel-tufted Racetrack Sofa from Todd Merrill Custom Originals. Mid century Italian armchairs from Guy Regal enclose the seating group, and at the center, a trio of brass and deep purple glass-topped tables from Ghiró Studio, courtesy of Donzella. Dangling above, Markus Haase's bronze and quartz Circlet chandelier, from Todd Merrill Studio. A channel-tufted banquette runs the length of the window wall, lined with pillows in topaz, sapphire and amethyst. Precious bibelots are scattered throughout - amethyst geodes glint from the fireplace, and an assortment of handcrafted Toso Vetri D'arte gem-cut Murano glass and brass boxes from Cosulich Interiors and Antiques are positioned to catch and reflect rays of light. Photo by Nickolas Sargent

| | |
| --- | --- |
| | |
| | Jennifer Cohler Mason |
Jennifer Cohler Mason creates interior spaces that are a harmonious mix of contemporary and classic elements. Her interiors have a distinctive, comfortable elegance that truly reflect each client's personal aesthetic and lifestyle.
Throughout, Jennifer's approach is highly collaborative, involving not only each client but also an extraordinary group of carefully selected artisans and craftspeople – including lighting designers, cabinetmakers, weavers, painters, upholsterers and others who contribute their well-recognized talents to each of Jennifer's unique projects. But it is Jennifer who is intimately involved with each of her firm's design projects down to the last detail.
Jennifer's background as a fashion designer informs her eye for fabric, tailoring, and proportion, all of which are integral to creating warm, comfortable living environments for her clients, each with an inescapable attention to detail. Jennifer's style, both engaging and fluid, is always anchored by the inherent beauty of fine materials craftsmanship, quality and value. She is passionate and committed to her work and design, finding endless inspiration in art, photography, fashion, and travel.
Jennifer's work has appeared on HGTV, DIY Network, CBS-TV, and designer show houses as well as in numerous US and international publications.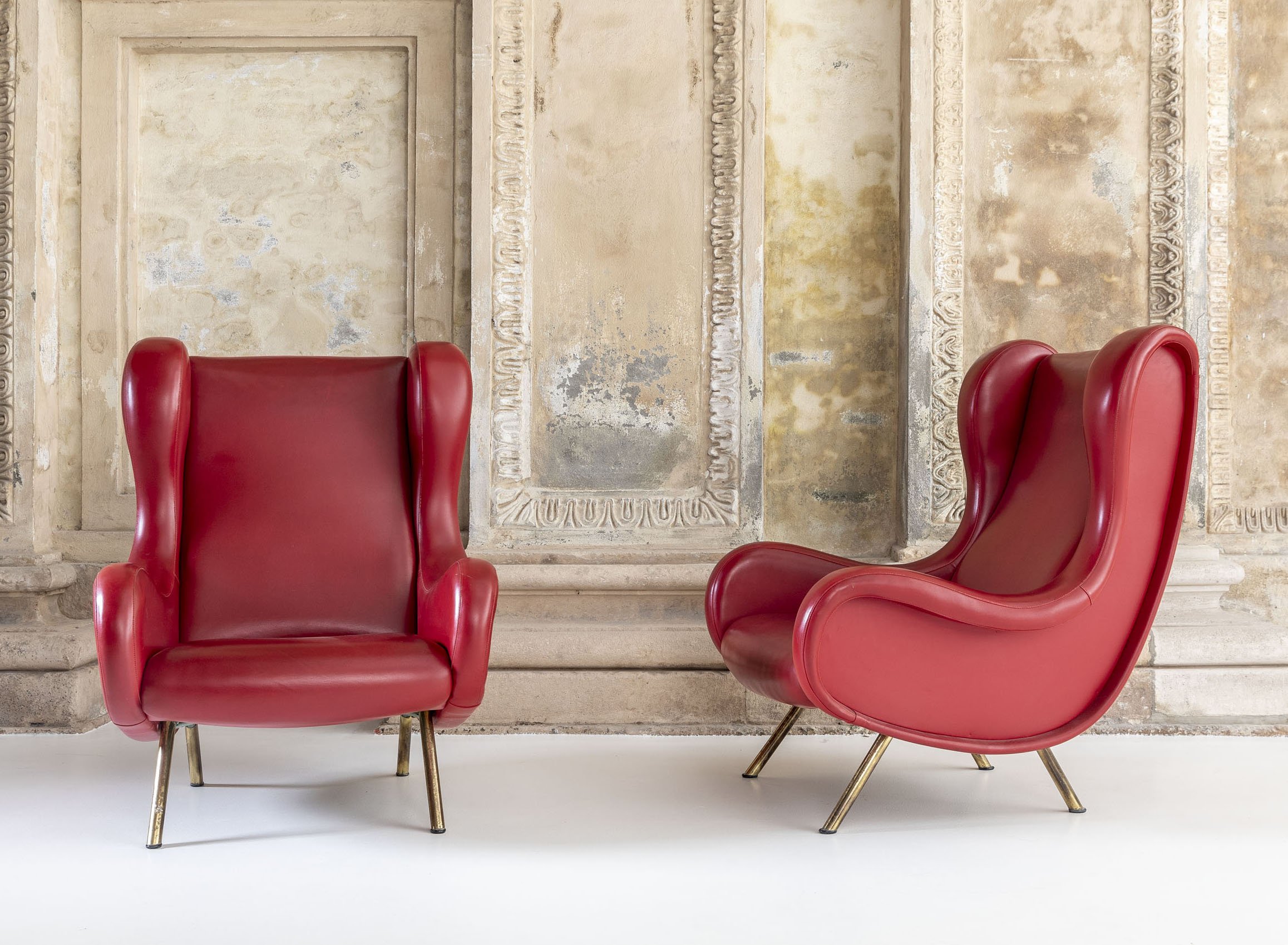 Among Jennifer's Incollect favorites –Marco Zanuso's
1960s "Senior" armchairs in their original carmine red faux leather upholstery, available from Volumnia.

Jennifer curated a collection of her personal favorites from the offerings on Incollect, and her choices reveal a love for bold and generously-proportioned sofas, including a pair of vintage 1970s Paul Evans settees with his iconic Cityscape mixed-metal patchwork design and acid green deeply-tufted upholstery from 20cdesign. Another pick is Vladimir Kagan's vibrant cinnamon 70s-designed party sofa, the three-piece Omnibus sectional, which consists of a daybed, L-shaped sofa, and a High-Low, all of which can be configured together or individually, offered by Todd Merrill Studio. She often uses sensually sculpted Italian lounge chairs in her interiors; the carmine faux-leather (original 1960s upholstery) "Senior" armchairs by Marco Zanuso for Arflex from Volumnia caught her eye, along with pair of perky lemon yellow mohair velvet "Perla" armchairs by Guglielmo Veronesi, circa 1950s and available from L.A Studio. Her taste in tables ranges from the spare and biomorphic – Lobel Modern's set of 3 polished steel Karl Springer free-form coffee tables, to the elegant – Maison Jansen's black lacquer and nickeled brass end tables offered by Galerie Canavése, to the glitzy limited edition "muebles bijoux" turquoise inlay and bronze-and-brass tables, by Kam Tim for Maison Rapin. As a former fashion designer, Jennifer loves to layer on the "jewelry" in a room, so sparkling statement lighting is a must. She likes a splashy contemporary Italian sputnik chandelier in brass with purple Murano glass globes from Cosulich Interiors & Antiques, and a fun, colorful vintage Angelo Lelli floor lamp with 8 branched lights featuring red, light blue and yellow perspex shields offered by Donzella. See all of Jennifer Cohler Mason's picks for her favorite mirrors, ceramics and more on Incollect.

Role model




Dalai Lama




Press Photo, Courtesy The Office of His Holiness the Dalai Lama

Necessary extravagance

Art and travel

Secret vice

Tequila

Hidden talent totally unrelated to design

I am a dog whisperer

Go-to color scheme

I am not a formulaic designer and honestly do not have a go-to color scheme — that would make my job too easy!

Image courtesy The Color Wheel Company
DISCOVER JENNIFER COHLER MASON'S INCOLLECT FAVORITES



KARINA GENTINETTA

Geometric Blue, Ivory, Black and Yellow Glass with Brass Inlay Commode, Spain

Karina Gentinetta




Large Enameled Light Fixture (5 Available)

German, 1940s

Craig Van Den Brulle



TOSO VETRI D'ARTE

talian Modern Diamond-Shaped Smoked Murano Glass & Brass Jewel-Like Box

Cosulich Interiors & Antiques




DESIGN INSTITUTE OF AMERICA

Brass and Glass Swivel Cocktail Table

Wells and Company
Tell us something about you that is not in your bio.
My mother was a designer and my older brother is a designer, so I guess it is in my DNA.
What excites you most about the design process?
Each new project is a blank canvas, envisioning what the space will look like when it is completed is one of the things that excites me most about the design process. But getting to really know my clients and creating unique spaces for each of them, a home that they will love for years after the project is finished is truly special.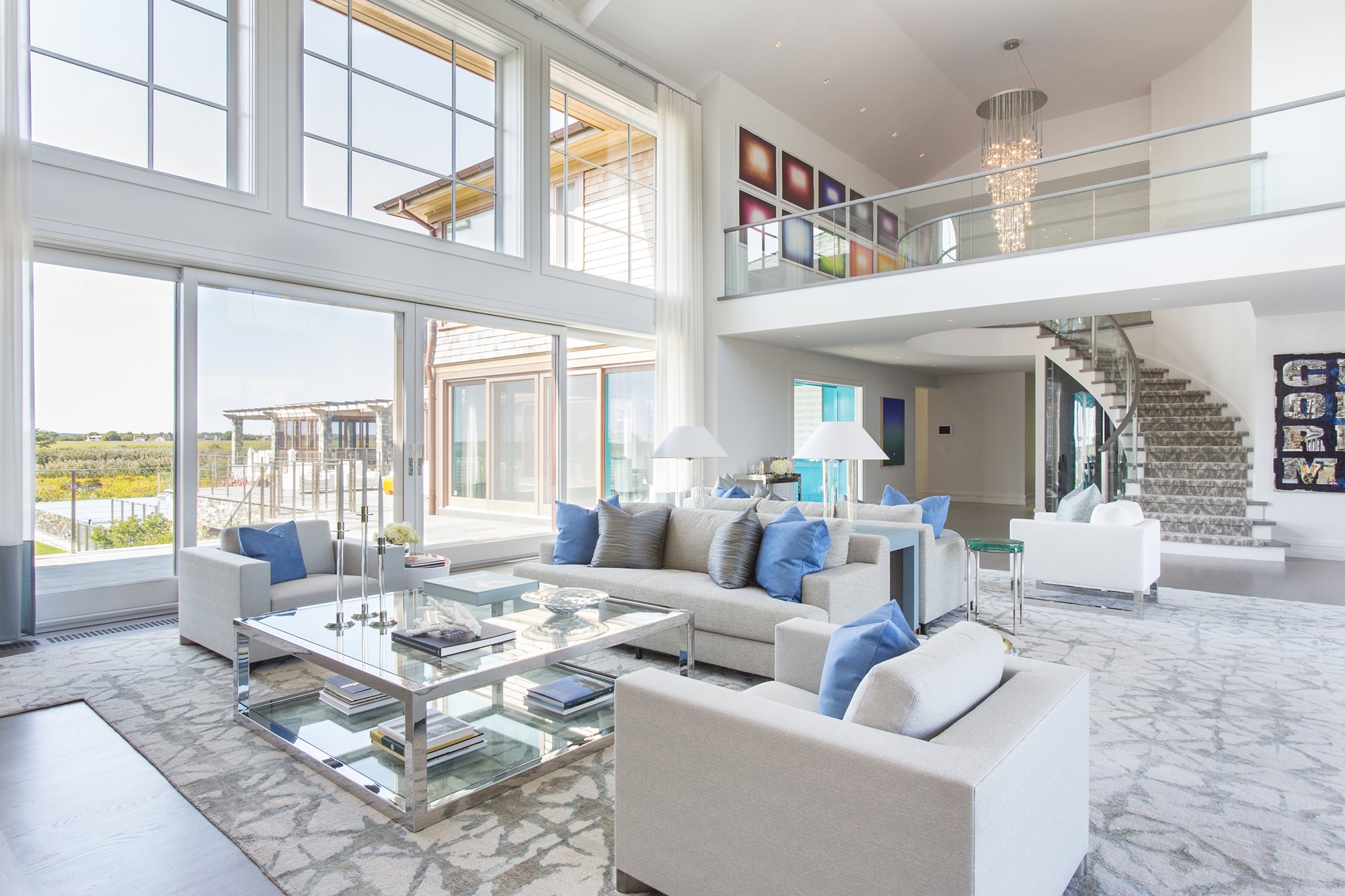 A Hamptons beach house is designed to meld seamlessly with the endless view of fields, sea and sky. Luminous and airy, with a serene palette of soft whites and silvery grays, the blue and sea glass green accents pull hues from the outdoors into the room. Jennifer chose chrome and crystal finishes to amplify the sparkling light that streams in through the double height windows. The curvy grand staircase sweeps up to a gallery wall overlooking the living room, where a series of intensely optic prints by Anish Kapoor radiate saturated hues. In the curve of the stairwell, a custom hand-blown fixture created with lighting designer Mark Figueredo sends a shower of blue tinted crystal water droplets cascading a full floor length, creating an architectural presence that balances the space with the expansive room below. Photo by Brett Beyer


SHOP JENNIFER'S INCOLLECT FAVORITES



Italian Sputnik Chandelier

Elizabeth Pash Interiors & Antiques




KARL SPRINGER

Pair of Rare Prototype Candle Holders in Lucite and Brass

Lobel Modern, Inc.



DIRECTIONAL

Vladimir Kagan Style Directional Sectional Sofa, Chaise & Pouf Having Piled Base

ModTiques LLC




VENINI – TONI ZUCCHERI

Blue Venini Glass Wall Sconces

Coolhouse
What sort of house did you grow up in?
I grew up in a townhouse on Manhattan's Upper East Side. My mother was an interior designer who was influenced by Billy Baldwin, and our home was very "Baldwinesque." It was a home that was not so much decorated as curated with wonderful furnishings, family heirlooms and other items collected by my parents who loved antiquing. It was magical.



Left:

"Interior design is not an end in itself, but the means to a way of life." — Billy Baldwin, in his famous one room apartment in New York, painted his signature Coromandel Brown lacquer. Image courtesy Billy Baldwin, The Great American Decorator. Right: Mies van der Rohe, with two of his most iconic designs, the MR dining chair and rosewood dining table with chrome legs.
Name an architect, artist or designer, living or dead, you'd love to collaborate with and why?
It would be a dream to collaborate with architect Mies van der Rohe, one of the pioneers of modern architecture. One of the principals I love is his minimalist approach to architecture and design, and especially how he used glass to blur the lines and bring the outside in. His use of an open floor plan was very progressive for his time, and it is the way many of our clients want to have their homes designed today. Van der Rohe also designed some of the most marvelous iconic furniture, which I like to incorporate in our projects.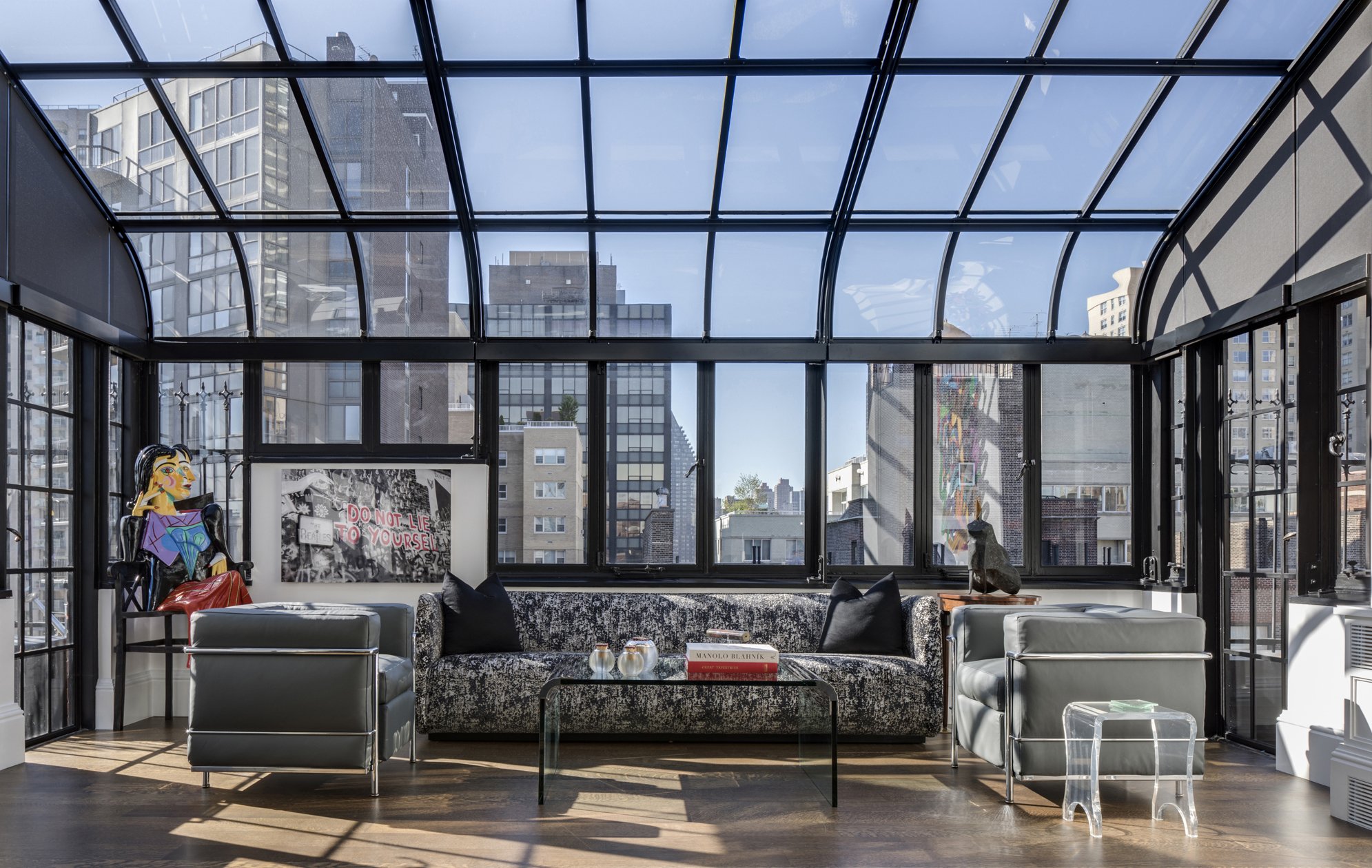 The solarium of this Sutton Place penthouse, previously an unheated space and enclosed by a dividing wall, was reimagined as a lounge space flowing from the living room. Jennifer's furniture selections complement the architecture, in a dramatically graphic black, gray and white color palette with low profiles that allow unobstructed views of the city. A pair of plush and inviting Le Courbusier LC2 armchairs sport chrome frames that play off the blackened steel window framing. The sofa is low, with a rounded shape to contrast with the linear aspects of the chairs and architecture. A vintage Pace glass waterfall coffee table and plexiglass side table both mirror the curve and material of the overhead glass, keeping the feel open and allowing light to stream through the conversation area. Limiting the color palette puts the focus not only on the penthouse views, but on the client's spectacular contemporary art collection woven throughout the residence, which includes a bronze by Henry Moore and a photograph by the client's daughter. Photo by Marco Ricca
SHOP JENNIFER'S INCOLLECT FAVORITES



FABIO LENCI

Pair of Hyaline Armchairs

Modernism Fortuna




ALICE GAVALET

Orange & Yellow

Twenty First Gallery



ANGELO LELLI (LELII) — ARREDOLUCE

Rare Floor Lamp # 12477, by Angelo Lelii for Arredoluce

Donzella




TODD MERRILL CUSTOM ORIGINALS

The Standard Tufted Sofa, USA, 2016

Todd Merrill Studio
How does a design project start for you? Is there a particular element that inspires the whole project?
We always spend time meeting with and getting to know our clients, so the design process is a very intimate one and varies from project to project. There is not usually a particular element that inspires the whole project, but if the client has existing pieces that are meaningful for them, we try to incorporate them into the design of a specific room, or rooms.
What is your favorite object in your home, and how and when did you acquire it?
It is difficult to select a favorite object in my home! One favorite is the vintage zebra rug that was in my home growing up. I inherited it from my mother.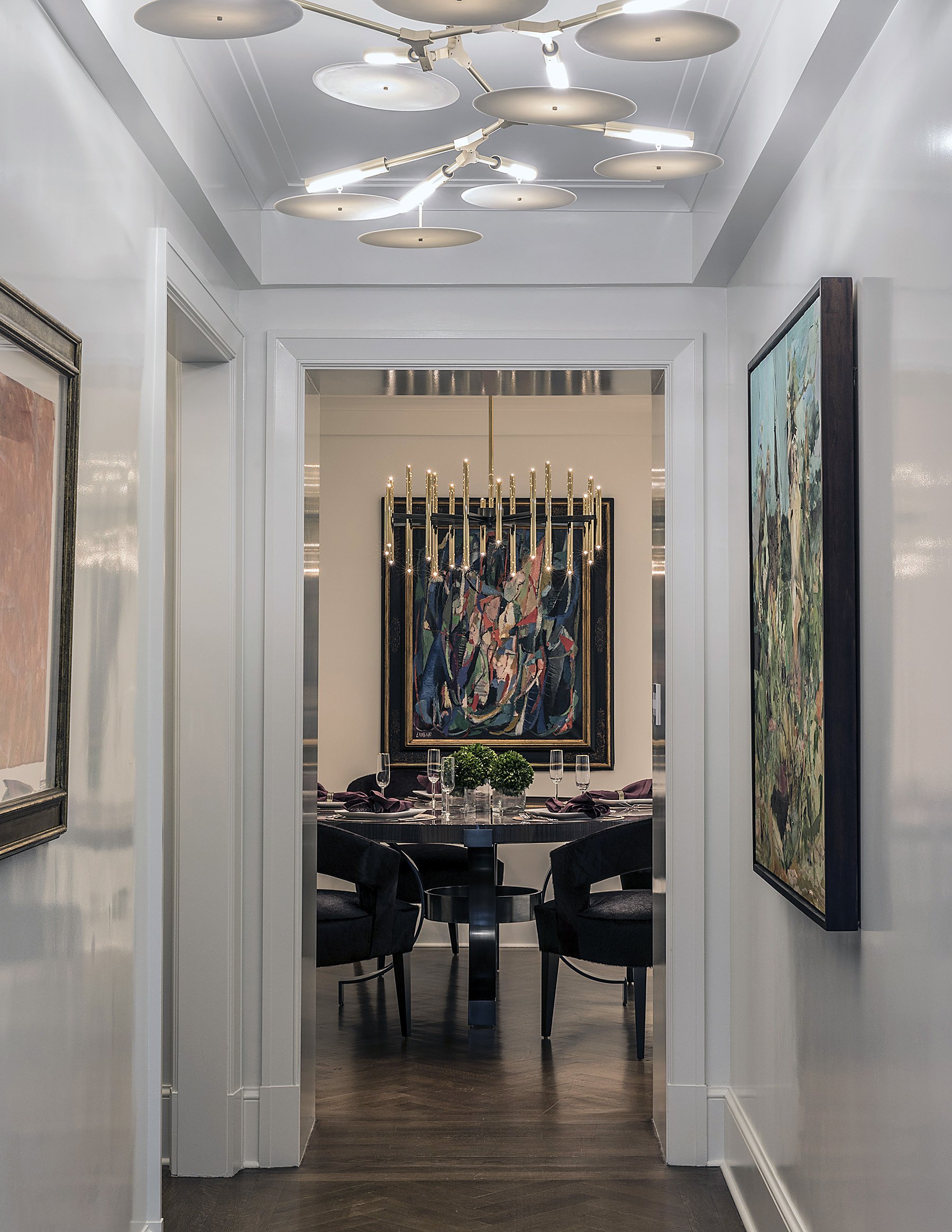 Above: In a pied-á-terre filled with modern art, Jennifer created a sense of anticipation by contrasting light and dark — a softly glowing entryway illuminated by Lindsey Adelman's Branching Disc chandelier leads into a darkly dramatic dining room. Among the clients' collection are important paintings from post-war artists, including the deeply saturated 1950s abstract painting by André Lanskoy shown directly ahead. Below: A dining room designed for evening entertainment, with muscular shapes and luxe finishes chosen to balance the furnishings with the boldly energetic artwork. Le Mistral, a 1947 oil by André Masson overlooks a chunky dining table in a koto wood top with dark silver stain, paired with chocolate brown calf hair upholstered dining chairs. Complementing the round dining table and circular back chairs, a wheel-shaped brass and steel chandelier. The dining table, chairs and chandelier are all custom from John Boone. Photos by Marco Ricca

SHOP JENNIFER'S INCOLLECT FAVORITES



LUIGI SACCARDO — MAISON JANSEN

Luigi Saccardo for Maison Jansen brushed steel
and glass dining table 1970s

Maison Cedric




MAISON JANSEN (in the style of)

Nine Feet Long Wall Mirror

Galerie Sommerlath



Cream Cone and Brass Italian Midcentury Studio Made
Eighteen-Light Chandelier

Amy Zook




KARL SPRINGER

Pair of "Onassis Chairs" in Embossed Reptile Leather 1970s

Lobel Modern, Inc.
What is your dream project?
I have two! A boutique hotel and a yacht. Or at least those are my top two dream projects!
What is your favorite part of the install process?
Accessorizing a home after the furniture has been installed is probably my favorite part of the install process. This includes placing the art. To me the art and accessories are the last elements that help to transform a space and make the big reveal that much more special.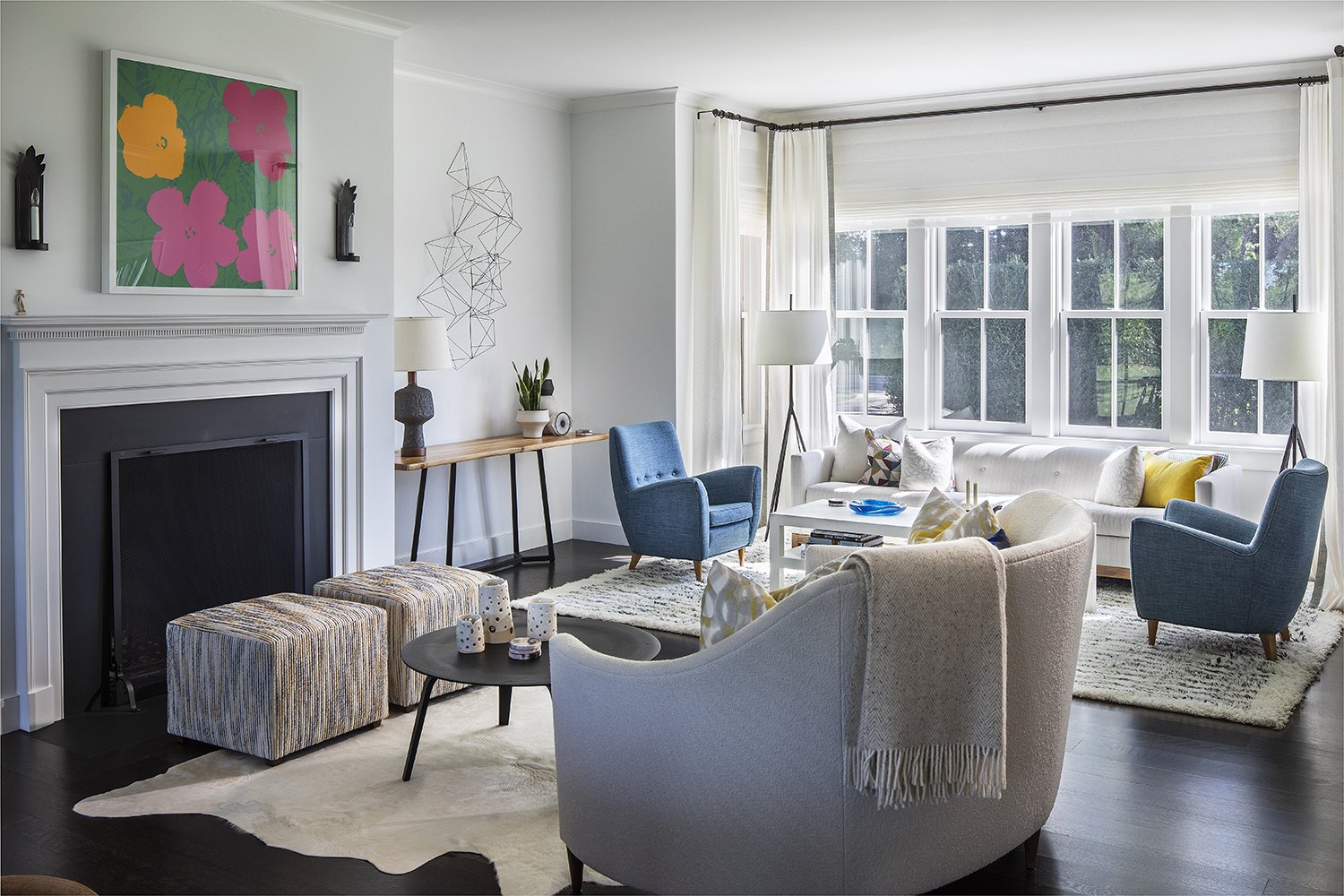 Bright, breezy and comfortable, yet still sophisticated, a Sagaponack retreat is designed to appeal to all of the senses, but texture is the key here. Jennifer's earlier background as a fashion designer has given her an expert's insight into textiles, which she combined in a rich and wide-ranging mix. Upholstery fabrics in woven, bouclé, and ribbed textures were paired with a hide rug in front of the hearth, and a shaggy Moroccan in the seating area by the window. Earthy, organic pieces such as the live-edge console and charred oak coffee table, and a collection of contemporary and mid century ceramics balance out the room. A wire wall sculpture hangs over the console table, and above the fireplace, iconic and timeless, an Andy Warhol "Flowers" serigraph. Photo by Jon Wallen
SHOP JENNIFER'S INCOLLECT FAVORITES



ACCOLAY POTTERY

Large Indigo Ceramic Vase by Accolay, Signed, France, c. 1950

Lance Thompson Inc.




GUGLIELMO VERONESI (Attributed) — BERGAMO / I.S.A., ITALY

Guglielmo Veronesi for ISA Bergamo pair of Italian Armchairs

L.A. STUDIO



Elegant Three-Seat Danish Curved Sofa, 1940s

Jasper Maison




MAISON LUNEL

French Mid-Century Floor Lamp

Albert Joseph Gallery
Do you have a signature element — something you always include when styling an interior?
A few of my signature elements are wallpapering the ceiling, which we refer to as the "fifth wall," incorporating decorative textured wall finishes and sourcing unique cabinet hardware. Designing spectacular custom statement lighting is another. We add layers and textures to ensure each of our projects is a standout.
Where have you been, or what have you seen recently that you know will influence your work?
It is not one thing or one place, but a combination of great architecture, art and a lifetime of travel that all influence my work.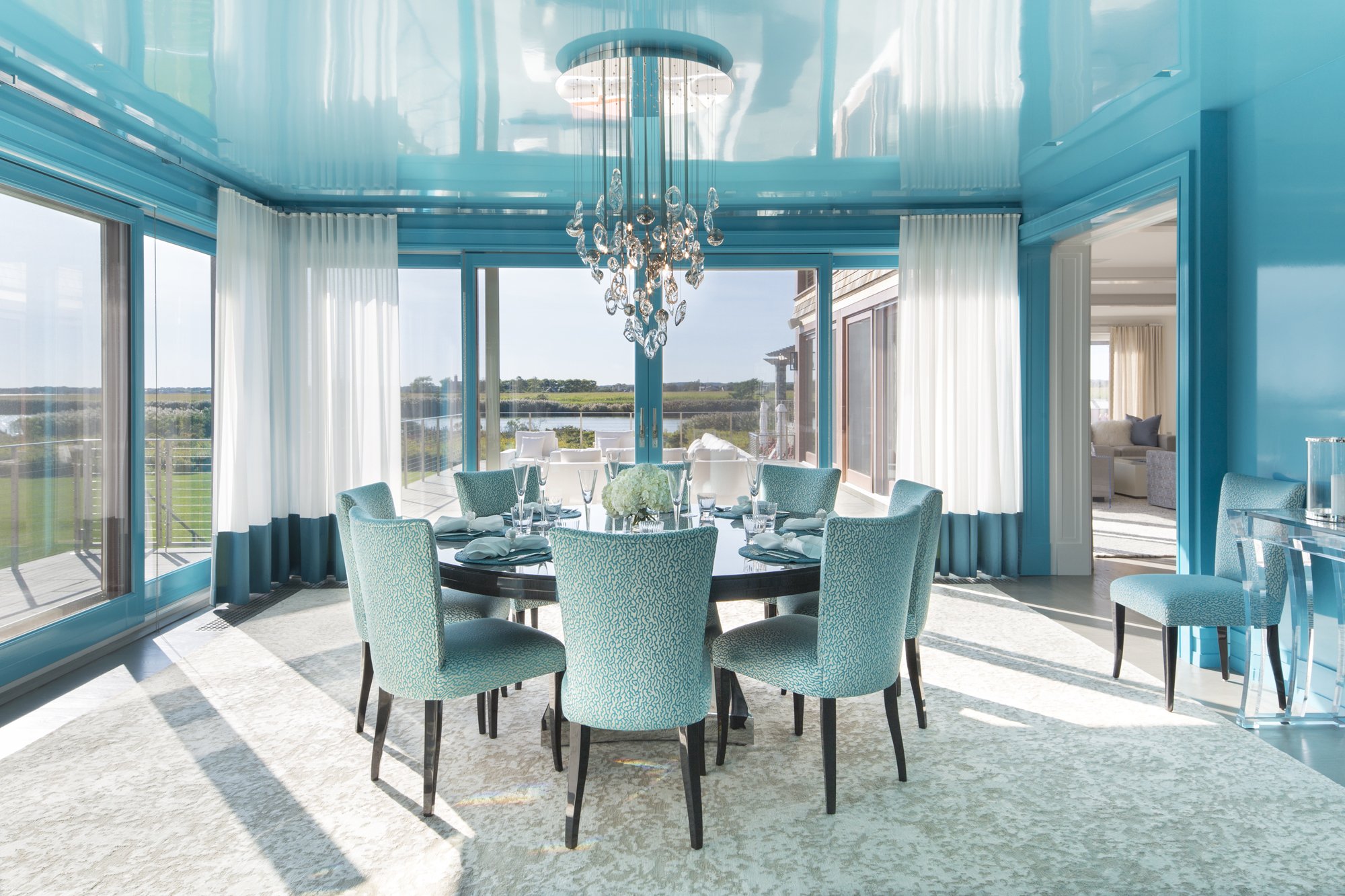 In the hamlet of Water Mill on the East End of Long Island, a dining room drenched in ultra glossy turquoise blue lacquer is made for magical evenings. Floor to ceiling windows offer wraparound views of Mecox Bay, sunsets and starry evening skies. A luxurious handwoven wool and silk rug in pale sandy tones mimics the beach, and Jennifer designed custom curtains with a wide bottom border tonally matched to the paint color to lap gently at the edges of the room, much like ocean waves. Many of the pieces were specially chosen to capture and bounce light around the space — the round dining table with a pedestal base in polished steel, selected for its mirror finish, and another, the lucite console. A stunning custom chandelier was commissioned from lighting artist Mark Figueredo, with hand blown organic glass shapes molded to resemble seashells and a reflective mirror-polished steel back plate. Photo by Brett Beyer
SHOP JENNIFER'S INCOLLECT FAVORITES



Mid-Century Modern Brass and Murano Clear Glass Drops Flush Mount Ceiling Light

D'Lightus




FRANÇOIS LEMBO

François Lembo Mirror

Elizabeth Pash Interiors & Antiques



Pair of Consoles, France, 1970s

Bernd Goeckler Antiques




GIO PONTI

Set of Five Dining Chairs for Casa E Giardino, Italy, 1942

Kabinet Hubert
If you weren't a designer, what might you be?
If I were not a designer, I might be an antiques and vintage dealer. I love to travel and shop for unique furniture, art and accessories. I would like to have a well-edited shop or online presence. So, not too far off!
Tell us what you love about Incollect and what one can expect sourcing with us?
I love to shop for unique finds for my projects. Incollect is my "go to" one-stop shopping site, and I trust that everything is authentic. Incollect makes shopping online an easy process. I always say, "if you can't get to the Paris Flea market, shop Incollect!"