Designer QnA: Former Christie's Senior Expert Richard Rabel Has Mastered the Art of Luxurious Ease
A World Of Experiences Is His Secret Sauce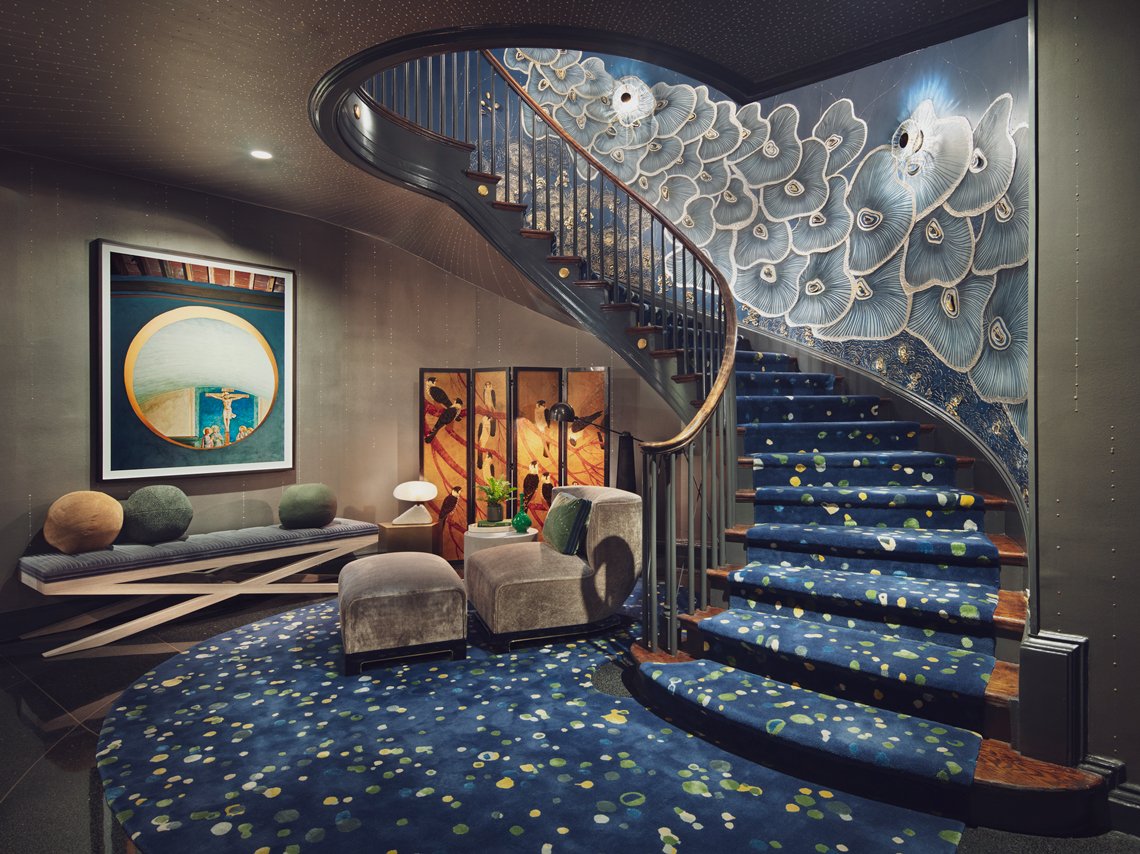 Richard Rabel wowed the crowd at Kips Bay with his grand staircase and foyer. Inspiration came to him through his childhood memories of chasing peacocks at his grandparents' property, which channeled, in turn, visions of Whistler's Peacock Room and Lord Frederick Leighton's house in London. And while there are no actual peacocks, peacock blues and greens abound, and a French 1940s lacquered four-panel screen from Maison Gerard depicts a flock of perching falcons. A plush, streamlined chair and ottoman by Achille Salvagni from Maison Gerard invites sybaritic repose. Richard admires the work of photographer Robert Polidori; he chose a powerful large-scale image from the artist's series depicting frescoes by Fra Angelico, loaned by Paul Kasmin Gallery. Like the dramatic sweep of a peacock's tail, the wall ornamentation cascades down the staircase towards the foyer. Designed by Richard with a hand-sculpted gesso process by MJ Atelier that emulates traditional bas-relief, the canvas was hand-decorated with 23-carat yellow and white gold leaf. "It took 1,600 hours to create," Richard revealed. The custom rug, which was designed by Richard with The Rug Company, adds a playful, festive accent, like swirling multicolor lights in a disco. Photo by Steve Freihon
| | |
| --- | --- |
| | |
ased in New York City, Richard Rabel Interiors + Art, Ltd. is a design studio offering residential interior design and art advising. Projects include residences in Texas, New York, Brazil, France and Portugal. With an easy-going but rigorous and hands-on approach, and acute attention to detail, the Studio has a reputation for delivering layered spaces of understated refinement and relaxed sophistication that embrace and enhance a client's personality and lifestyle. It is an eclectic modern aesthetic of clean lines, bespoke detailing and tightly curated selection of antiques, vintage and 21st century masterworks that informs all of his rooms. Richard's work has been seen in Architectural Digest, Elle Decor, House Beautiful, Forbes, The Washington Post and other national and international print and online publications. His studio was included in New York Magazine's Best of New York Design and selected by Sotheby's to design a room for their prestigious Designer Showhouse. Richard Rabel Interiors and Art, LTD. was recently tapped to design the Entry and Lower Staircase for the renowned Kips Bay Designer Show House in New York.
| | |
| --- | --- |
| | |
| | |
We caught up with Richard recently to find out more about his remarkable combination of talents, and his fascinating career trajectory. He's a military school alum who lived in seven countries by the age of 40, earned a degree in engineering, and an MBA from the University of Texas at Austin. After a stint at JP Morgan, and a move to Hong Kong for a position in investment banking, he then was hired as a consultant by a former Chilean finance minister. Fate stepped in when his employer/mentor recognized Richard's love for art and urged him to move onward, leading to a coveted position at the posh and venerable Christie's London auction house, where he rose from a trainee to Senior Vice President. The next chapter began when a Christie's client, a well-known Brazilian architect, connected the dots, recognizing that the confluence of Richard's interests and talents led to a career in design and asked Richard if he would consider working with him. Never one to shy away from a challenge, he accepted. The final step came 10 years ago, when Richard opened his own firm. Now, Richard says, he is doing what he believes he was always meant to do, and that which he truly loves.
We asked Richard to create his own curated collection of favorites on Incollect, and his choices reflect a love for clean, sculptural profiles and rich materials with subtle texture. Richard's time living and working in Brazil gave him an appreciation for Brazilian Modernism, and he admires Oscar Niemeyer's sinuous Rio Chaise, as well as Joaquim Tenreiro's light and elegant Jacaranda wood Low Bedroom Chairs, presented by Espasso. Gary Magakis creates pieces that straddle the line between furniture and art, with muscular presence and deeply toned patina. Richard picked the artist's Steel and Bronze Cantilevered Console and Ledges 2 Side Table, both from Todd Merrill Studio. Valerie Goodman Gallery offers works by contemporary studio artist Jacques Jarrige, and Richard selected the Parade Console, Togo and Eva Bronze lamps, and Sculpted Chest of Drawers, all of which embody the anthropomorphic quality Jarrige's work is known for. And, as it turns out, this art advisor and former Senior Specialist in Old Master paintings at Christie's has decidedly contemporary taste in art, and we were intrigued with the pieces that caught his expert eye. Richard shopped Incollect's fine art dealers, and was interested in one of James Hayward's "thick" paintings from Peter Blake Gallery, a Larry Poons drip painting from 1974 at Berry Campbell and one that surely must have been selected with his Kips Bay tour-de-force in mind — an abstract peacock blue and gold painting by Don Davis from Castle Antiques & Design.

Role model:

As a designer, Peter Marino. I think he is a genius. As a person, it's my building's porter. He works long hard hours, always with a smile and without pretense or entitlement.

Necessary extravagance:

A toss up between art and travel. But if I really have to choose one, it's travel. As they say in Spain, "Lo bailado nadie te lo quita".

Secret vice:

Street food. By nature I'm very curious and will try most things at least once. It enriches my life.

Hidden talent totally unrelated to design:

According to my partner, I know the words to all the songs ever written … in any language!

Go-to color scheme:

Cool and rich northern colors — think Scandinavia, Holland or Belgium (when they're not using white!).
DISCOVER RICHARD RABEL'S INCOLLECT FAVORITES



DON DAVIS

Chain Lightning, 2019

Castle Antiques & Design




ALEXANDRE LOGÉ

"Erode," Bronze Bench by Alexandre Logé

Donzella



ETIENNE KOHLMANN (attribited)

French Art Deco period chaise longue

Combray Gallery




JULIEN BARRAULT

The Helios Wall Sconce by Julien Barrault

Studio Van den Akker
Tell us something about you that is not in your bio.
I enrolled in the military school program at my University and speak 5 languages. (English, Spanish, Portuguese, Italian and French)
In addition to being an interior designer you're an art advisor. What does that mean?
It's being able to transparently and professionally advise a client about the art piece they're thinking about buying. Being able to address condition, research provenance and even price independently from the opinion of the dealer (selling the piece) is ABSOLUTELY crucial. These are the very basic hallmarks of a competent art advisor and are tools I developed at Christie's. Being an advisor is a lot more than just paraphrasing what the dealer says or beautifully coordinating an art piece with your interiors.
How does a design project start for you? Is there a particular element that inspires the whole project?
It all starts as a series of conversations in the discovery of who the client is; what they do for a living, how they live, things they appreciate, colors they gravitate towards, experiences they treasure, things they love, friends they have, etc., etc. You have to be willing to "date" and dig deep to do a great job and for the results to go beyond what the client expects.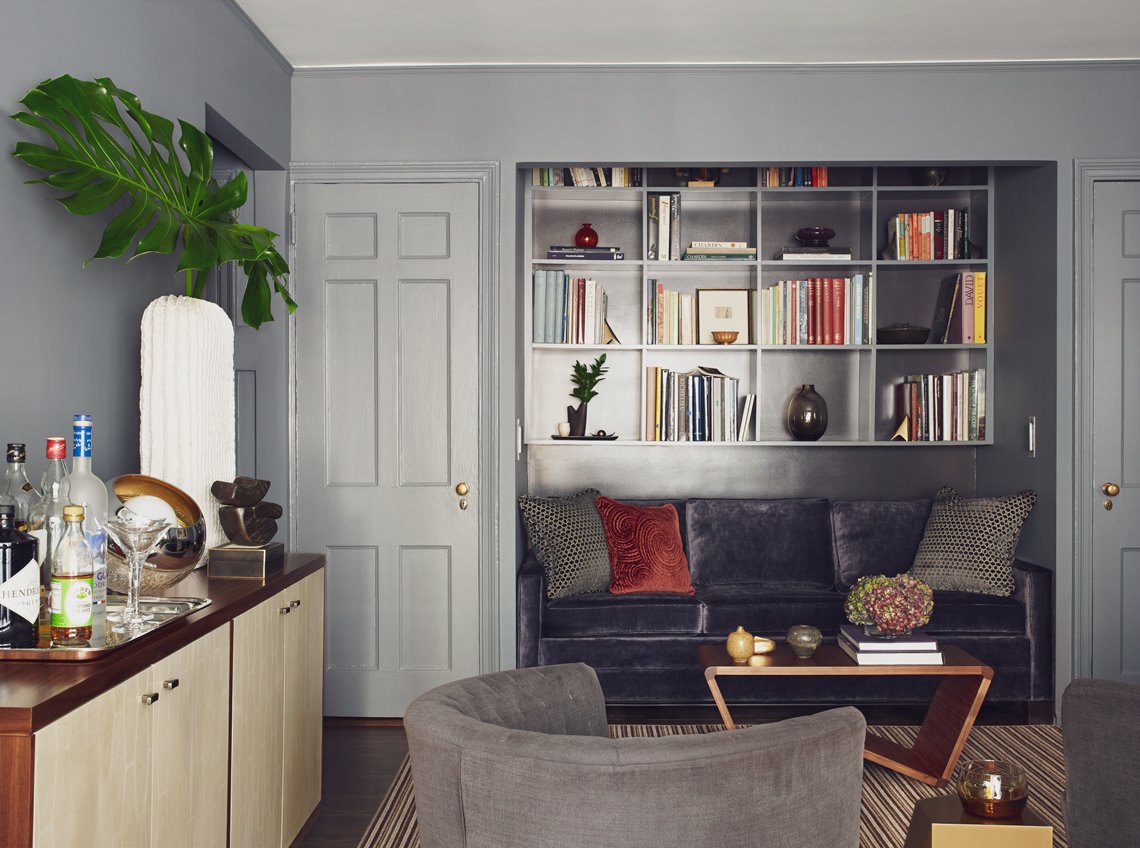 Richard's engineering background came in handy for this project — a compact (450 sq. ft.!) pied-a-terre he transformed with flawless space planning and perfectly proportioned furnishings. The clients are an art world power couple whose frequent trips to the city required a comfortable and functional space that was elegant and handsome, to be enhanced with a curated selection of artwork from their extensive collection. One of the most challenging aspects of the project was the lack of a dedicated bedroom – the main room had to serve as living room, dining room and bedroom. Each piece needed to check all the boxes for scale, function, suitability, ease of mobility and last but certainly not least, style. Richard schemed a palette of purple and gray, with black nickel and bronze accents and rich cognac tones expressed in a multitude of textures: wood, leather and straw marquetry. Seen above, a dreamy gray chosen for its richness and depth covers the doors and walls from baseboard to picture rail, creating the perception of a taller ceiling. Enclosed within a niche, divided shelves display books and bibelots; a custom made-to-measure sofa covered in lush aubergine silk velvet opens to a queen size bed. A bespoke walnut coffee table with a modern geometric profile from Dennis Miller Associates is topped with vintage ceramic vessels by Danish artist Arne Bang. Geometric patterned antique parchment doors add subtle texture and glamorous French 40s style to a custom console that serves as a bar while also providing valuable storage space. Richard's thoughtfully chosen accessories play an important part in creating this exquisitely nuanced atmosphere and serve a role in the visual manipulation of the space. On the console, there's a beautifully balanced small bronze sculpture by Zigor via Maison Gerard. An oversized ceramic vessel by Suzy Goodelman from Cocobolo Gallery with emphatic vertical ribbing directs the eye upward toward the ceiling, helping to visually expand the room. Photo by Joshua McHugh
SHOP RICHARD'S INCOLLECT FAVORITES



STUDIO GLUSTIN

Superb Pair of Cabinets by Studio Glustin

Galerie Glustin




OLE WANSCHER - FRITZ HANSEN

Ole Wanscher green velour sofa for Fritz Hansen, Denmark

Bloomberry



ARRIAU

Studio-Made "Meteoris" Tables by Arriau

Donzella




MILLY RISTVEDT

Seafoam Grid Play

Oeno Gallery
What excites you most about the design process?
In designing, it's finding solutions to the building or architectural limitations in a room. In decorating, it's designing and making site-specific pieces or discovering never before used furnishings and new art.
Do you have a signature element — something you always include when styling an interior?
My signature is generally accessorizing with one-off pieces — whether paintings and sculpture sourced from art galleries and artisans from around the world. Rarely with just decorative store bought items.
What is your favorite part of an installation?
It has to be the walkthrough and reveal. To see a client full of gratitude, happiness and wonder is really priceless and it can sometimes bring me to tears.
On the opposite end of the pied-a-terre's multi-function room, an eclectic and handsome group of furnishings, art and accessories. On the left side of the room,
One Down,
a work on paper by British artist Howard Hodgkin, hangs over a vintage 1950s walnut
George Nelson
bench. A patinated bronze pedestal displays a ceramic sculpture by Susan Bleckner-Heller (Ross Bleckner's sister). The custom round dining table, which expands to seat as many as eight, is placed in front of a straw marquetry folding screen by master craftswoman Lison de Caunes. In the opposite corner, a vintage 1950s leather armchair by
Jacques Quinet
from
Maison Gerard
is accompanied by a petite sculptural side table; behind the chair, a faceted ceramic piece stands atop another patinated bronze pedestal. Barrel-back club chairs feature low profiles that harmonize with the other pieces in the room, keeping the view open. To ground the room, a rug with slender stripes running lengthwise towards the balcony extends the visual plane.
Photo by Joshua McHugh
SHOP RICHARD'S INCOLLECT FAVORITES



JEAN-MICHEL FRANK (attributed)

Four panel Folding Screen with Fan Pattern
in "Marqueterie de Paille"

Lebreton




JACQUES QUINET (attributed)

Pair of Armchairs attributed to Jacques Quinet (1918-1992) ,
France, 1950s

Bernd Goeckler Antiques



GEORGE NELSON – HERMAN MILLER

George Nelson Slat Bench for Herman Miller, US, 1950s

Original in Berlin




NELL BLAIR WALDEN BLAINE

Nell Blaine "Untitled" Abstract Mixed-Media
on Paper in Frame, USA, 1940s

Lost City Arts
| | |
| --- | --- |
| | |
| | |
Name an architect, artist or designer, living or dead, you'd love to collaborate with.
Émile-Jacques Ruhlmann. He is arguably the Master of Art Deco whose exquisite designs, to this day, epitomize modern interior design luxury.
Any saucy stories from your years at Christie's?
There are so many stories I could write a book. Holding and inspecting a fully authenticated, signed Rembrandt painting, for example, and realizing it had now passed through my hands in its 350+ year trip through time, is an awesome, treasured and humbling experience. Or discovering a long-lost Van Dyck in a collection in Jacksonville Florida. Yes, Florida of all places! And then, there is the more funny and ludicrous story of traveling first class by plane to Paris with a prized artwork in the seat next to me and having a 6-man security posse meet me ON the plane as the plane doors open on arrival and whisking me through international immigration at Charles de Gaulle as if I were the Queen of England. It was exhilarating, and frankly, utterly so ridiculous. But that's the art world for you!
If you could live in another time, which would it be and why?
I would add another caveat — "and be filthy rich." If that were the case, living in Rome or Naples in the Baroque 17th century would have been amazing. Paris between the wars would have also been fabulous. New York in the late 50s and early 60s. Art and design were at an inflection point from one style to another during all 3 periods and that created energy, enthusiasm and an incredible joie de vivre.


Left: A Chinese altar table with Jørgen Møller M-Stools are a chic mix in the entryway, joined by a large deeply framed bullseye mirror. Danish ceramic vessels are grouped atop the altar table, and on the right of the doorway, a photograph by Max Hirshfeld titled

Museum,

from his

Looking At Looking

series. Right: A melange of textures supply plenty of interest in the combination living and dining area. In a corner by the windows, a custom round shagreen table for two is coupled with sculptural chairs by Giorgetti. The cabinet is a custom design with distinctly art deco lines and a coquille d'oeuf lacquer finish by Mark de la Vega. A handsome cognac leather chair, a 1925 design by Émile-Jacques Ruhlmann,

is flanked by a

Gary Magakis

side table from

Todd Merrill Studio.

To the left of the cabinet, a pair of drawings with intricate Baroque frames: a figure drawing by Guido Cadorin from the 1940s, and below, a 17th century colored drawing by portraitist Ottavio Leoni. Richard layers artwork and accessories from all of history to create a comprehensive aesthetic that is rich and varied. An ottoman covered in zebra hide sports a zebra mane fringe and serves as a coffee table. Layered rugs define the seating area, with a sisal rug as the base and a geometric print cowhide rug by Kyle Bunting on top. Photos by Joshua McHugh
SHOP RICHARD'S INCOLLECT FAVORITES



Chinese Altar Table, 19th Century

Robert Burge 20th Century Photographs




FRANCK EVENNOU

Mirror by Franck Evennou, France, 2019

Bernd Goeckler Antiques



ANDRÉ SORNAY (attributed)

French Art Deco Mahogany, Walnut and Rosewood Bergere

Gary Rubinstein Antiques




Samuel Marx Style Parchment Clad Cabinet

De Angelis
What is your favorite object in your home, and how and when did you acquire it?
A set of 5 antique "silver" coins I was conned into thinking they were of incredible value. I was 19 and in NYC for fun. Coming out slightly inebriated from the Hard Rock in Times Square, I was approached by a well-dressed man who had "just found an envelope with 5 antique silver coins" but didn't have the time to deliver them for the reward to the Park Avenue address noted on the envelope. He wanted 200 dollars in exchange for the envelope. By the grace of a higher being, I only had $20 but my college buddy had $60, so we gave the man all our money (in hopes of making a killing with the reward) and he gave us the envelope — and even put us in a cab since we no longer had a dime to our name. When we arrived at the Park Avenue address, I asked the doorman for Ms. So and So. He looked at my cornfed face and said, "Kid you've been conned. Welcome to New York". A priceless lesson learned on the effects of alcohol, greed and trusting a situation too good to be true.
If you weren't a designer, what might you be?
I'm an engineer by diploma, a banker, an art specialist and an interior designer by trade. Being an interior designer was always in the cards but for one reason or another it didn't start that way … but unknowingly, I've always been preparing for this role. All of the developed skills in my toolbox are now crucial to my practice. I'm lucky and happy this is how it worked out.
What is your dream project?
A residential or boutique hotel project with a truly unlimited budget and a fully trusting client. You did say "dream" project!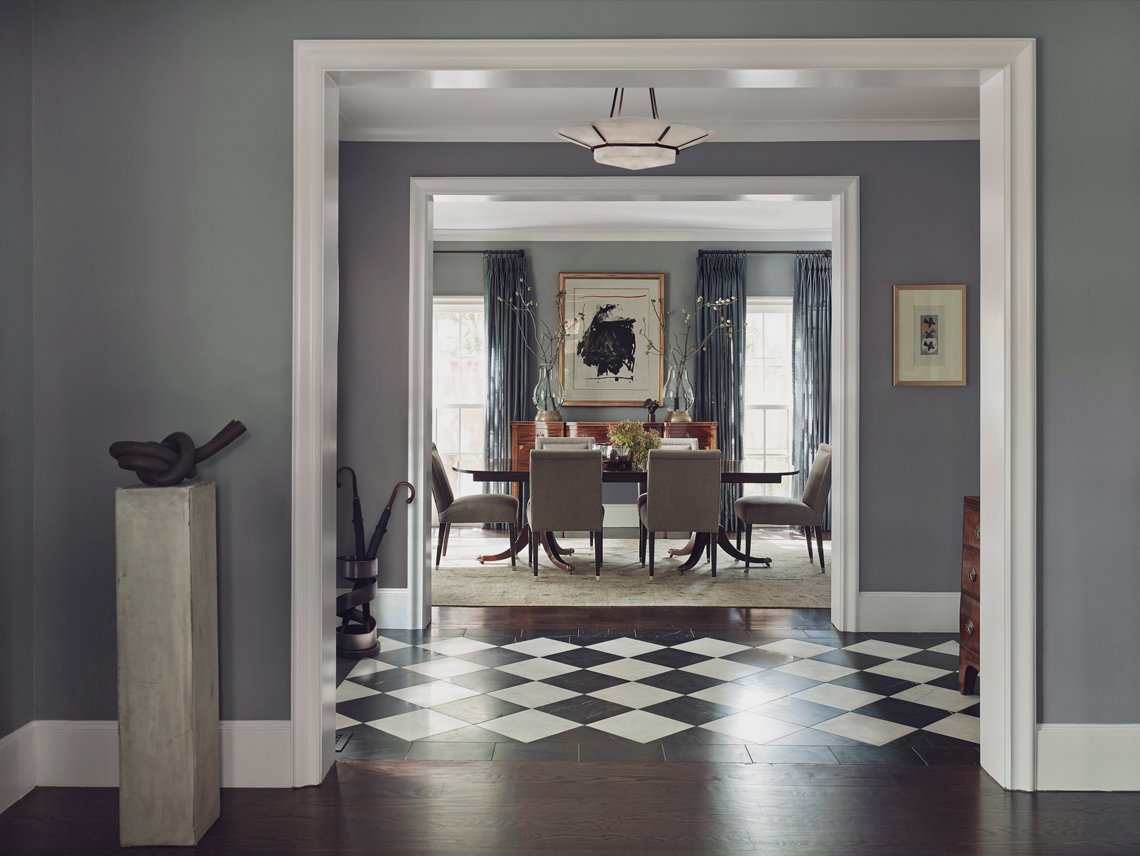 The owners of a 1939 Georgian Revival house in the upscale Highland Park section of Dallas engaged Richard for dual roles. First, as design consultant to work alongside their architect in reconfiguring and expanding the house, ensuring continuity and appropriateness for execution of the design directive. Then, as interior designer and decorator, creating lighter, more contemporary rooms that would set off both their inherited antiques and newly acquired modern artworks and sculpture. A view across the vestibule and into the dining room reveals clean-lined, more luminous spaces that enhance the cool contemporary colors Richard selected to contrast with the rich mahogany tones of 18th-century furnishings. To propel the decor forward to a more modern aesthetic, Richard hung a bold work on paper by Robert Motherwell, replaced a very traditional deep red medallion rug with a hand-knotted Afghan rug in subtle tones, and replaced "brown wood" Sheraton-style dining chairs with simpler-profiled upholstered chairs covered in plush mohair. Photo by Stephen Karlisch
SHOP RICHARD'S INCOLLECT FAVORITES



JUDITH LINDBLOOM

Long Haul Refugee

Lawrence Fine Art




TINATIN KILABERIDZE

Dining Chairs or Side Chairs in Walnut by Tinatin Kilaberidze

Valerie Goodman Gallery



ALEXANDRE VOSSION

DREAM Chandelier




PERRIN & PERRIN

Strange Fruit I

Galerie Negropontes
Where have you been, or what have you seen recently that you know will influence your work?
Having been selected to do a space at Kips Bay in NY this year allowed me to spend much time in the House — looking, observing and taking in a lot of different great ideas from my peers. What exactly will influence my future work is a trade secret!
| | |
| --- | --- |
| | |
| | |
How do your clients push you to think outside of the box and challenge you?
While I do get hired for my point of view, at the end of the story, it's not I that is going to live in the space. My interiors always reflect the personality of the owner. So if a client, for example, wants a urinal in their private bathroom or insists on keeping Louis XV chairs in their modern apartment, there will be a discussion. There is only so much I can insist otherwise without getting too bent out of shape. As a professional designer it's my job, in the words of Tim Gunn of Project Runway, to "make it work."
Tell us what you love about Incollect and what one can expect sourcing with us.
Having a marketplace where you can access a variety of furnishing, accessories and art all in one place is a HUGE time saver. And it's not only the quantity, but also the breadth of styles that is of great value.
VIEW ALL PROJECTS BY RICHARD RABEL INTERIORS AND ART ON INCOLLECT