It All Started with a Painting…East End Avenue Residence by Amy Lau Design
| | |
| --- | --- |
| | |
| | Amy Lau. Photography by Mark Seliger. |
The East End Avenue Residence represents a thoughtfully curated interior where both surrounding views of Manhattan and the East River create the perfect framework to balance and enhance the clients' collections of art and design in their home.
This space is ever-evolving, as the clients enjoy bringing new art into their collection and working with Amy to harmoniously incorporate each special piece, while maintaining an inspired balance throughout their home. The project features close collaboration with various artists and artisans on commissioned pieces that enhance the sophisticated interiors.
In this, the third residence for a special client, (see the link here), Amy Lau once again found inspiration from the exterior surroundings, as well as from a painting in the owners' collection that had lain in wait, unused. . . until now.



Left: Genesis: the midcentury abstract painting that inspired the home's color palette. It hangs above a midcentury Gio Ponti for M. Singer & Sons cabinet in walnut with unusual asymmetrical knobs. A sculptural bronze and agate lamp by Belgian designer Willy Daro and a selection of modern ceramics top the cabinet. Right: In the bath, an assemblage of handmade art tiles by Franco Pecchioli for Alchemy Materials, a curated commission by Amy Lau, pays homage to the inspiration painting in both color and form with rich tones of turquoise, emerald green, gold, and platinum.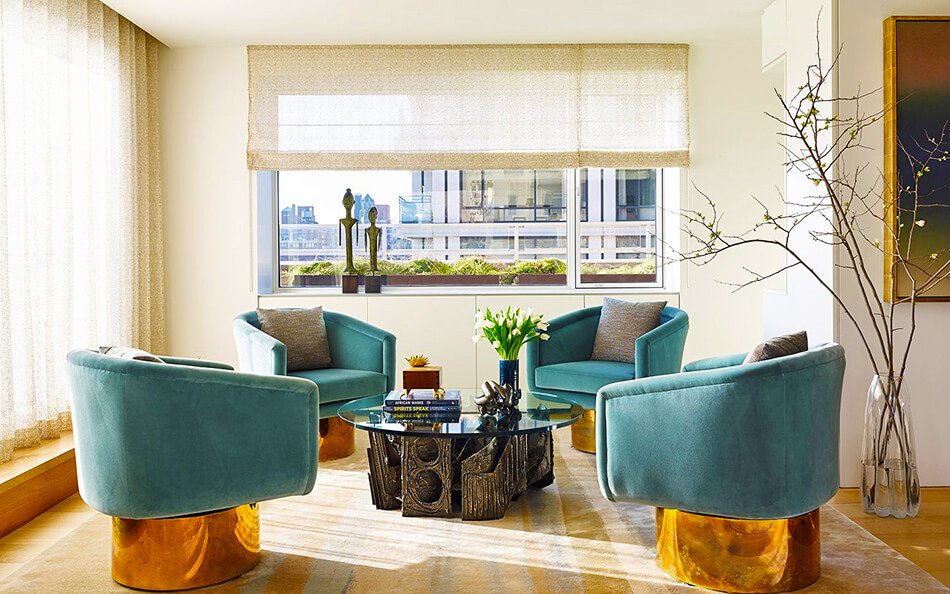 A Brutalist-style coffee table by midcentury design master Paul Evans is surrounded by a quartet of vintage 1970s Leon Rosen for Pace swivel tub chairs upholstered in a rich turquoise velvet — a tone pulled from the inspiration painting – with bases refinished in brass. The rug is one of a pair of curated custom commissions for this residence by Amy Lau with Fort Street Studio, which produced both pieces in Dandong wild silk, with color palette and design by Amy.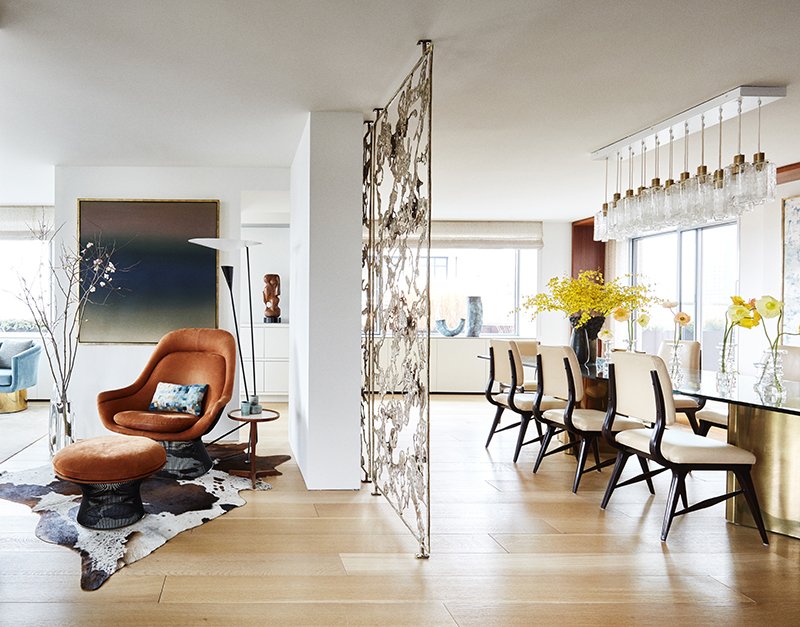 A tour de force custom cast bronze screen by Silas Seandel, another curated commission by Amy Lau, divides the dining area and a reading alcove. In the alcove, a vintage mid-century Warren Platner for Knoll lounge chair and ottoman are placed on a cowhide rug, whose biomorphic shape and pattern echo similar forms in the screen's design. A 1952 design by Michel Buffet, now a midcentury icon, the floor lamp is constructed with a black diffuser and white reflector to form a sculptural and refined pairing. The cashmere and wool needle-felted pillow is one of a group produced as a curated commission by Amy in collaboration with textile artist Lauren Sanders. The ombre-effect painting is by American painter Sydney Butchkes. At right, an expansive vintage 1960s chandelier by Kalmar illuminates the dining area. The dining table is a pair of vintage triquetra-shaped brass finish Mastercraft pedestals with a custom crafted glass top. The sculptural dining chairs are by Italian architect/designer Carlo de Carli.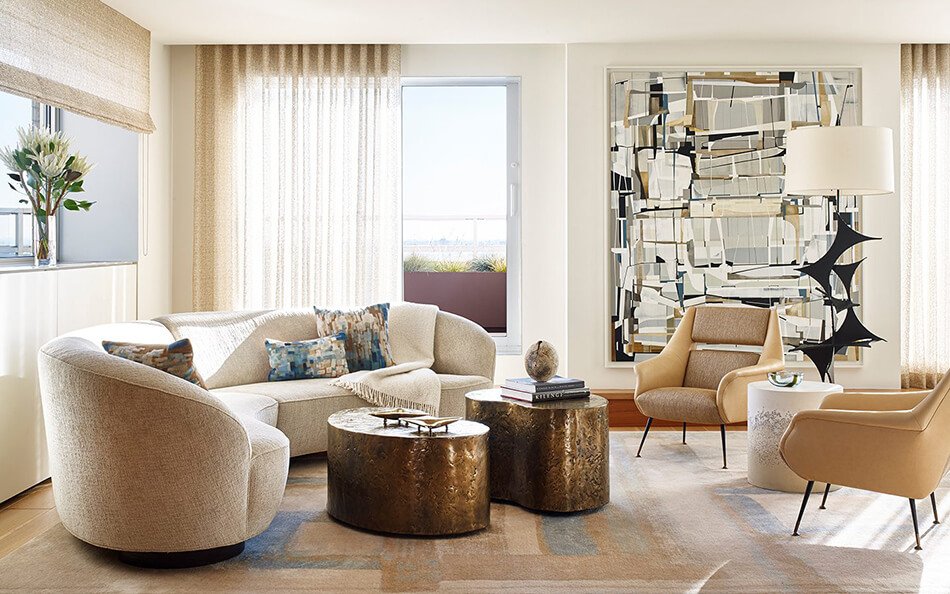 A Brutalist-style floor lamp punctuates the neutral-toned living room with its stark sculptural form. An abstract painting at right is by Irish-born contemporary artist James Kennedy. The sofa is by Vladimir Kagan, accented with more pillows from the collaboration with Lauren Sanders, and the lounge chairs are mid-century Italian. A pair of custom bronze biomorphic-shaped coffee tables that fit together as one, or can be used separately, are by Silas Seandel. The Chinese wild silk rug is the second of the pair in a curated commission with Fort Street Studio; its wide swaths of watercolor tints coordinate with the subdued tones in the upholstery.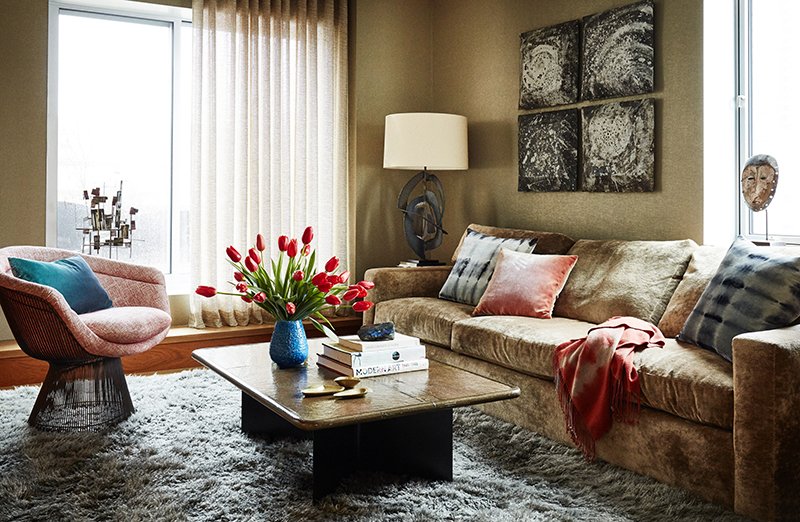 The study is filled with plush and inviting tactile delights: a sumptuous sofa, wheaty-textured curtains and blinds, and a cloud-like rug. The ceramic artwork is by Japanese-born Brooklyn-based artist Shizue Imai, its oxide and drip glaze techniques in harmony with the rug. A Brutalist torch-cut table lamp by Harry Balmer is a sculptural accent, along with a mask from the clients' extensive collection of African pieces. The vintage 1970s coffee table is by Dutch designer Paul Kingma, and the lounge chair is by Warren Platner.
To view the entire project click here