Kontra: A Design Think Tank at the Crossroads of the World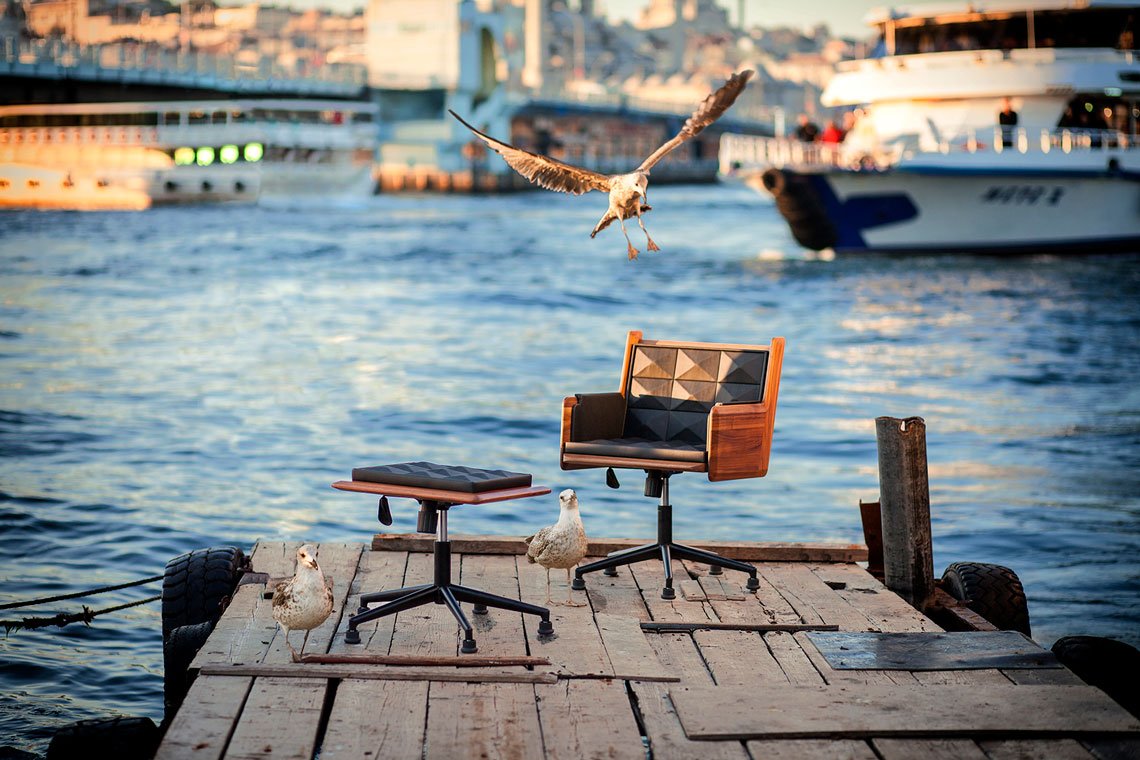 Kontra's interpretation of the lounge chair. The lounge chair consists of a solid plywood body, leather upholstery and a metal base with a bronze/brass finish.
Kontra: A Design Think Tank at the Crossroads of the World
Kontra is both a boutique brand and an interior design firm. Which came first, and how do these two businesses interact?
Since I finished my education in interior architecture, it has been my desire to be selective and work with a client base that truly appreciates the value we bring to the table. With Kontra, I managed to execute this desire. We take on a limited number of projects, developing our understanding through progressive assimilation. And when we couldn't find furniture that spoke the same language as our design, we started to design furniture compatible with the space and design.
You are based in Istanbul. Is there something specifically Turkish about your designs, such as materials or forms?
Cities that bring together and transform different civilizations contain all the characteristics of the civilizations they belong to, as well as the main lines of the general historical flow. These cities represent the intersection points where the spirit of space and the spirit of time meet. Istanbul is perhaps the most privileged and unique city in this category. In the course of human history's movement towards modernity/globalization, few cities have experienced all the features of this path as deeply as Istanbul. All the lines of past civilizations met in this city, and modernity experienced the most dynamic and colorful adventure with the confrontation of the past in a geo-cultural environment in the center of this city. We believe that just as the interaction between opposites ensures continuity in the universe, they are the parts that make up the harmony that naturally occurs, as it has in Istanbul. We shape our designs with the mastery and craftsmanship of Turkish craftsmen.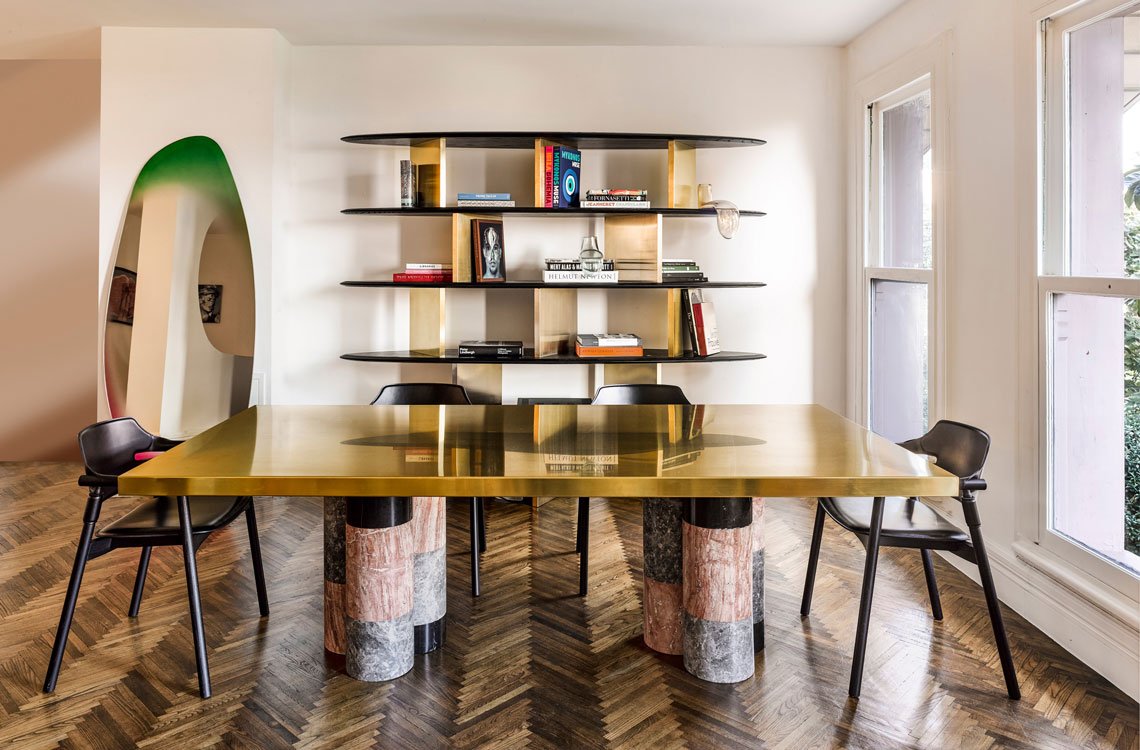 | | | |
| --- | --- | --- |
| | | |
Kontra's Surfer bookshelf with stained oak shelves and titanium partitions. Thoughts are much like waves, we can't stop them from coming but we can choose which ones to read.
Harmony is an important idea for your designs and design process. Can you explain what that means to you?
We have a design manifesto that upholds the idea that the opposites should complement each other to strike a balance. It expresses our reaction to the identical interior arrangements and fabrication works that we encounter in the design world. We base our design philosophy on the balance in space and believe that contrasts should complement each other. The most important element that creates a good quality design is the harmony and integrity created by the coming together of contrasting elements. That's why we try to create a balance with materials, colors, textures and forms of use in our projects.



The Newton vase. It's a decorative accessory that you can use as you desire. A vase, or bookshelf add-on… it's all up to your imagination!
You describe Kontra as a 'think tank' — what are the important ideas you are working on that inform your approach to design?
Finding original ideas and their reflection in architecture is our starting point. To achieve this goal, we attach great importance to a democratic working environment in our office setup. Projects develop through continuous collaboration and evolution, incorporating the unique point of view that each individual stakeholder brings. Everyone on the team has different experiences, and at the same time, everyone has an equal say. Each team member presents their ideas, and we make an evaluation. Thus, we support different points of view that in turn, pave the way for innovation. Inspirations can come from many different places; writing, sketches or a movie can start these ideas. Then we have a workflow where the root of the idea starts and spreads and evolves into a holistic structure.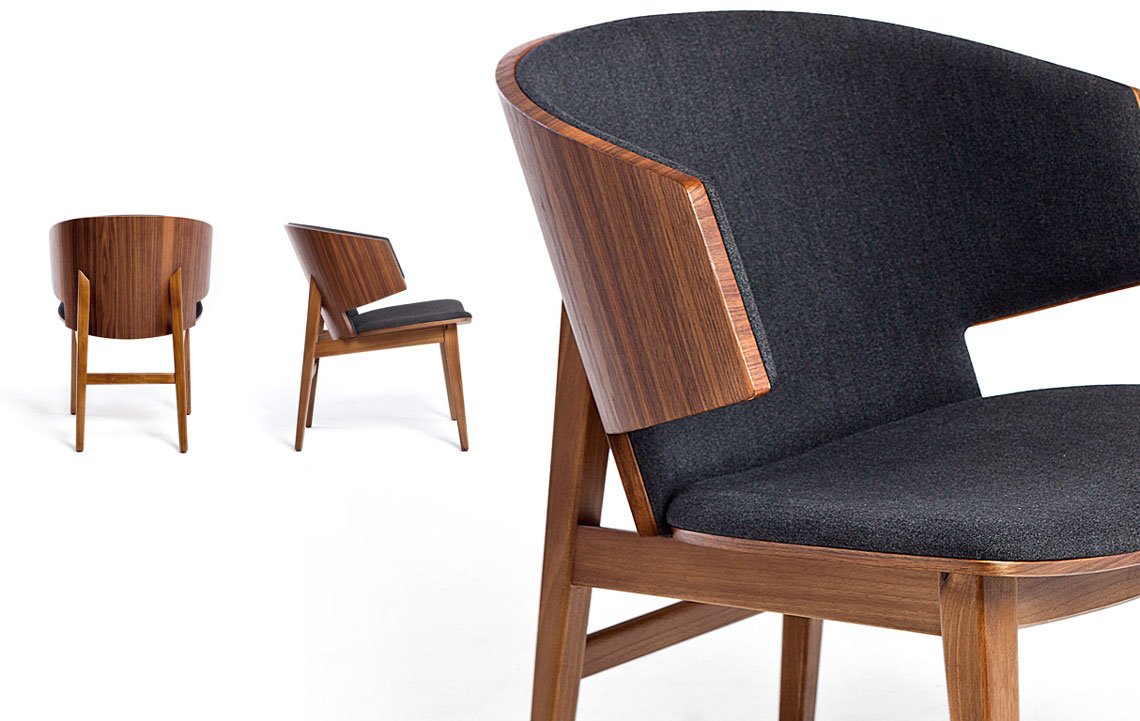 Sarr is a cozy state of the chair; with a solid walnut/oak body and cashmere/leather upholstery this chair provides maximum comfort. Dining chair, office chair or comfortable dining chair — you choose.
What is distinctive and important about the way we live today, and are there specific products in your line that are intended to try to meet the challenges of life in the 21st century?
I guess we can say aesthetic experiences that enhance comfort. We can show 'Office Chair' as an example. It is exclusively designed for the user to sit alert but in comfort, taking into consideration busy schedules and long working hours. It is minimal but tough, presenting an elegant and aesthetically pleasing stance.
Metal is an important material for you. Is that a cultural or an aesthetic choice?
Anatolian geography has historically given Turkish craftsmen the perfect materials for the production of works that make use of precious and semi-precious metals with handwork. This is why we love the use of metal both structurally and decoratively. We can consider it a contemporary approach to traditional craftsmanship. Metal is a limitless substance that you can shape as you wish, and we think that it nurtures creativity. Therefore we can say it is in our design palette both as a cultural and an aesthetic choice.



Darwin added wheels to the office chair in the 19th century. In the 1970s ergonomics was added to design criteria. Today, it is the key element for those who spend long hours in the office.
You have designed several quite innovative chairs that seem to blend genres and defy categorization for example your lounge chair on wheels, which is made of solid walnut and oak, with cashmere and leather upholstery. It could be used in a living room, a dining room, or a bedroom. What is the thinking here about interior spaces and the furniture we need today?
I can't think of a place where this chair wouldn't be able to adapt. We argue that multifunctional, adaptable, and timeless pieces are much more valuable. The concept of furniture may differ from person to person. The most important criteria here are your needs and your wishes. Being a maximalist and curating each area in detail with different furniture, or minimalist and minimal, but precise use of furniture is a detail that only the individual can know. Do not be afraid and be brave. You can bring two opposite pieces together, you can achieve harmony with a single chair.
| | |
| --- | --- |
| | |
| | Kontra's Cube Chair, with its distinctive profile and wicker back, channels design influences from Thonet and the Wiener Werkstätte design movement. |
The Cube chair is also innovative, mixing old and new ideas and varied materials. How did that design come about?
We can define The Cube chair as a design that combines Art Deco elements by modernizing them. It can be used both indoors and outdoors with minor material changes. A design that excites us has emerged with the traditional knitting art rattan detailed plastic threads used on the back and the contrasting fabric of the seating unit. Nostalgic and modern, The Cube emerged with its curved form in contrast to the massive appearance of the metal skeleton.
Are you working on a new line of furniture? When can we expect to see it?
We moved from our office where we have been for many years to our new office in Arnavutköy, Beşiktaş. Arnavutköy was an old Greek village in which vineyards and orchards are located; the groves on the hills belonged to the Sultan. It is known that it remained a well-kept, beautiful, lively Greek village for a long time. We started by using a historical three-story old house as our new office. In addition, within the first half of 2023, we will have a showroom where we can exhibit our products. We are planning to release our new product collection together with the opening of the showroom. In addition to our completely new products, we are planning to bring the updated versions of some designs that are Kontra classics.
The symbol of İstanbul. The delicate flower of eastern culture and mythology. According to the legend, it is created through lighting falling to a dewdrop. The light in Lale represents this.
| | |
| --- | --- |
| | |
| | Gold 21st century brass hand-crafted Palm Sconce wall light. |
What are your sources of design inspiration?
I think the answer to this question can be called 'exploring.' Discovering new places and experiencing new tastes are some of our primary sources of inspiration. Sometimes a basic object used can be our source of inspiration, sometimes it can be architecture, and sometimes nature itself. Reading a lot and researching different disciplines reinforces our inspiration. We always have a small notebook with us, as we do not know where and how inspiration will come. We capture ideas as they occur with keywords and quick sketches.
Are there any materials you haven't worked in that you would like to explore using?
There are two that come to mind: 1. ceramic and 2. bronze and aluminum casting materials. Ceramics have importance in Turkish culture going back eons of time. The ceramic pieces found in the excavations at Çatalhöyük have survived to the present day without deterioration, even though 8,000 years have passed. The most important feature of the ceramic remains is that they give us the first clues about human history. In this respect, ceramic is a material that always interests me. We want to study the teachings from our past with today's technology and experience. Bronze and aluminum casting material, on the other hand, is a material used in both functional objects and products such as accessories in the oldest practices. Its raw appearance is primitive, but it can produce very modern and stylish results. Playing with this material and the results that may emerge reinforces our creativity.



Left: Desk Lamp, vintage lighting by Kontra. Right: Robot Lamp, industrial style metal pendant lamp with adjustable arms.
You work with clients all over the world. What do you see as the prevailing taste or trends in international interior design right now? Where are we going?
A more sustainable design approach affects us all. A desire for uncluttered and mellow, serene, quiet but luxurious design has come to the fore. We are also starting to see pieces that highlight contrasting shapes and textures together in the same form.
In years past, the importance given to craftsmanship was very great. Over time, we started to see furniture and designs that lost the emphasis on craftsmanship and became almost disposable. We have observed for a while now that the importance given to craftsmanship has regained its former value and relevance. We're starting to see sophisticated designs that are handcrafted and well-crafted.