Moderne Gallery on Building Global Recognition for George Nakashima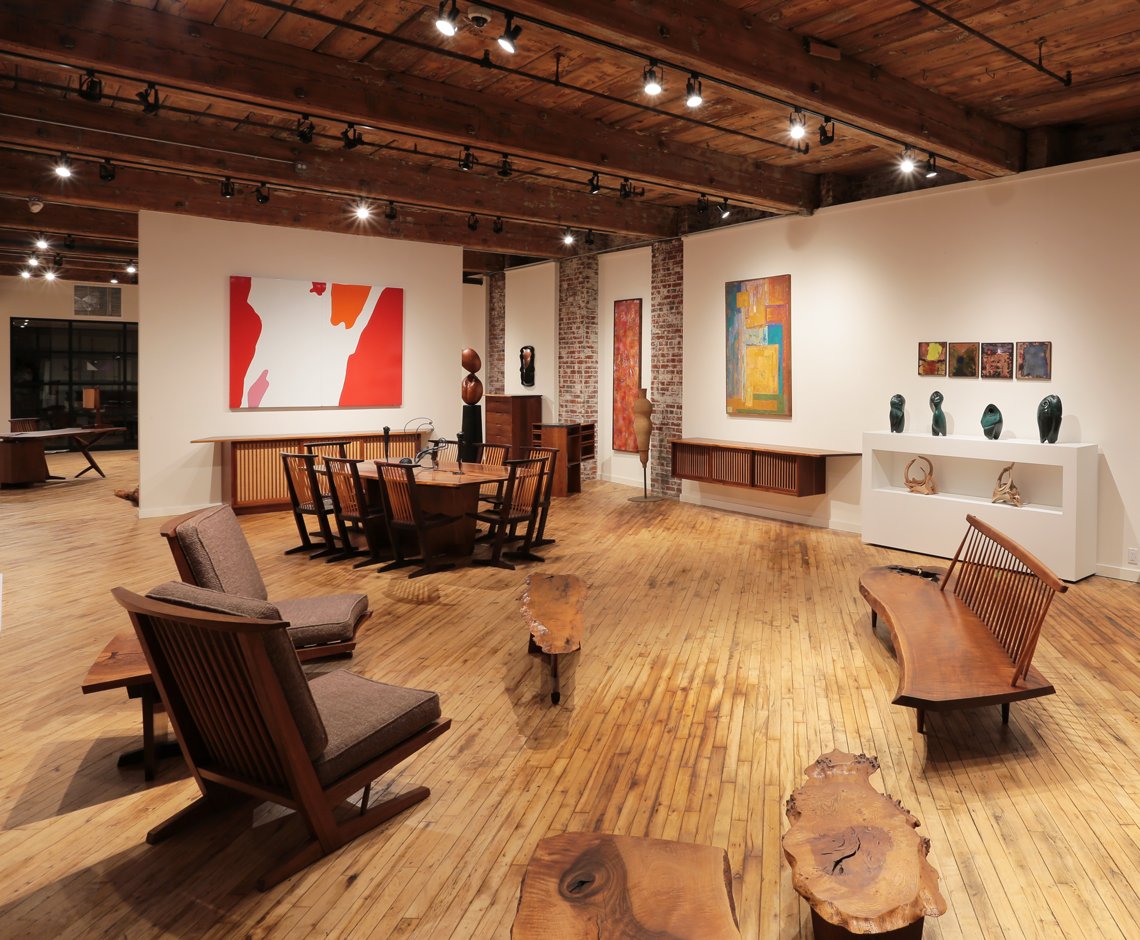 Moderne Gallery's 4,800-square-foot gallery in Philadelphia. Owner Robert Aibel is a renowned authority on George Nakashima. Image courtesy of Moderne Gallery.

by Benjamin Genocchio
George Nakashima remains one of the most famous and also enduring 20th-century modern design icons. He is synonymous with simple, natural beauty and most of all, a kind of stoic if elegant functionality. The market for Nakashima has fluctuated in price over the past decades at auction, reaching an apogee during 2006–2008 when a magnificent dining table sold at Sotheby's in New York for $822,000. Privately, Nakashima works have since sold in the millions through experienced dealers, such as Robert Aibel, owner of Moderne Gallery in Philadelphia, who remains a primary source of much of the best material. Incollect sat down with Robert, who today is one of the foremost, trusted Nakashima dealers and sells to collectors and interior designers all over the world. Robert comes from an Art Deco background originally but he fell in love with Nakashima and became a champion of American craftsman furniture.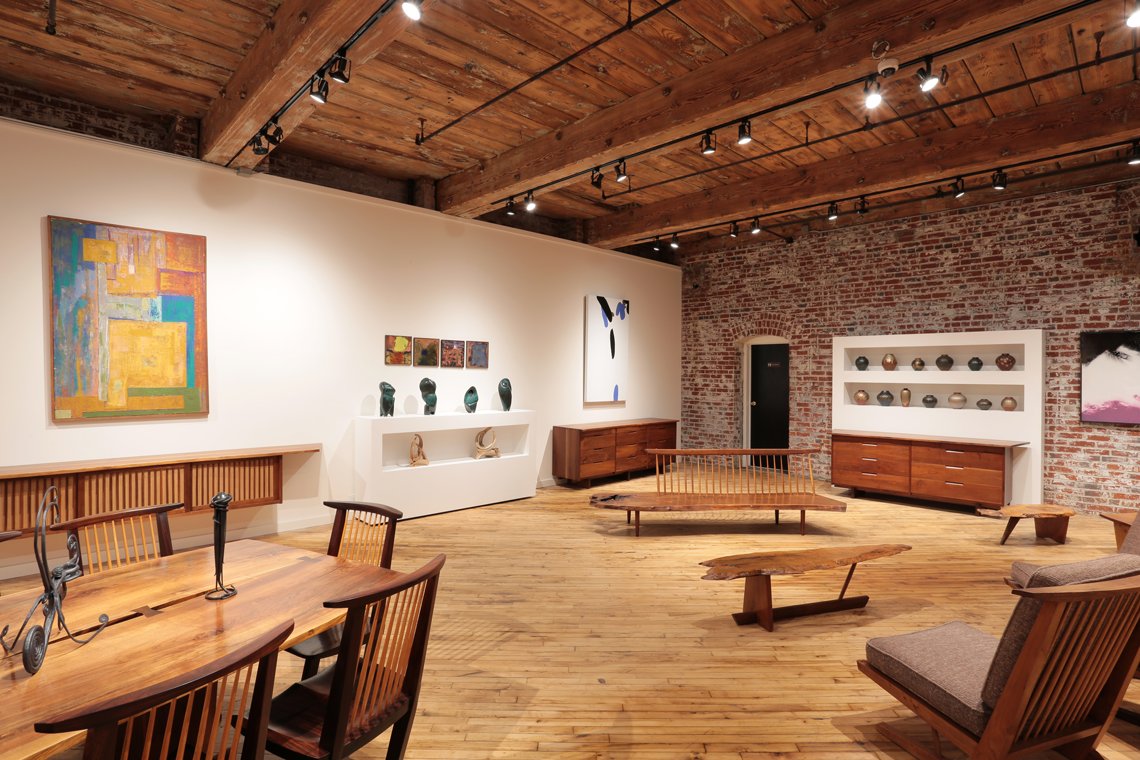 The gallery's offerings include abstract art and contemporary ceramics, which complement the Nakashima aesthetic. On the dining table in the foreground is an early wrought iron candlestick by

Albert Paley

. Image courtesy of Moderne Gallery.

…He saw his furniture as "the 2nd life of the tree."
George Nakashima is one of those artists who never seems to go out of style. What is the secret of his enduring popularity?
Robert Aibel: He always had fans and good clients, but his work was not thought to have lasting importance. In 1985, the first call that I received from someone who wanted to sell Nakashima told me that he "had some used furniture to sell." For several years, I kept hearing it referred to as used furniture — to my great dismay. I set out to change that. Fortunately, we were successful and have now had eight George Nakashima and two Mira Nakashima shows at Moderne Gallery.
He has had enduring popularity for a number of reasons:
1) The style of his work made it possible to use it in many different kinds of interiors — Asian, Folk Art, Americana, Shaker, Mid-century, Contemporary (looks great in glass and stone contemporary interiors — and warms it up), Rustic and others. Also, when collectors of contemporary fine art began to look for furniture to complement their important and valuable art collections, they turned to Nakashima. His furniture was perceived as art that added another aesthetic dimension to their spaces.
2) He was one of the great innovators of twentieth-century design. He offered a unique design approach that was like nothing that had gone before it. He brought together at least two seemingly incongruous design styles; traditional Japanese and American vernacular and merged them with a modern sensibility. In so doing, he articulated a new design vocabulary that was based on the use of free edges, sapwood, knots, crotch figuring, natural flaws in the wood, revealed joinery, butterfly joints, etc. Other woodworkers thought that he was crazy, buying up all the "useless" wood and making furniture that foregrounded the faults in the wood.
3) His appreciation for wood and respect for trees and nature was and is widely shared throughout the world. He took that appreciation to a new level by allowing the wood to "speak" for itself. He saw his furniture as "the 2nd life of the tree." Until he chose to approach design from the point of view of the tree, wood selection took a back seat to the function of the piece. Nakashima's brilliance and talent fully emerged when he was making functional art that celebrated nature. That alone led to an enduring Nakashima legacy.
Double Sliding Door Cabinet. Cherry with grilled pandanus cloth doors, free front sap edge and left and right overhangs, offered by

Moderne Gallery.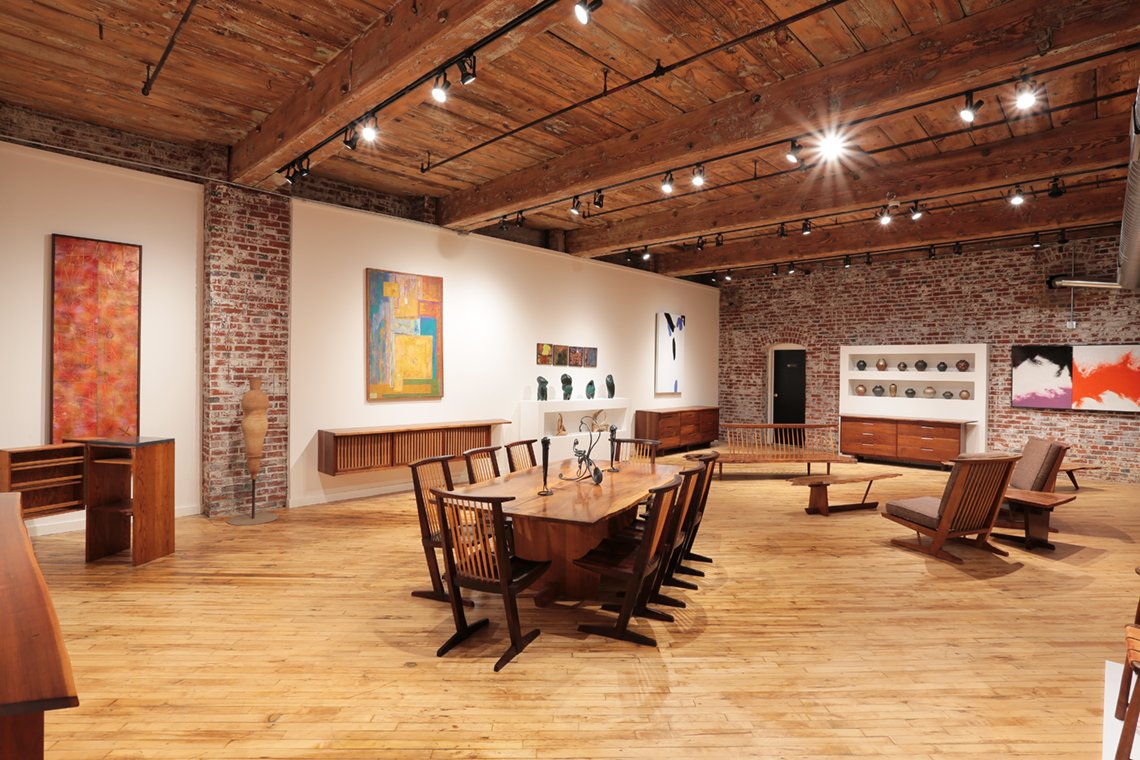 Moderne Gallery has 8 of the 24 existing rosewood Conoid chairs made by Nakashima. The gallery specializes in acquiring rare pieces for the Nakashima connoisseur. Image courtesy of Moderne Gallery.
Interior with Sled-based coffee table with live edge detail and a Long chair by George Nakashima. Interior design by Michael Gruber. Photo by Barry Halkin.

| | |
| --- | --- |
| | |
| Set of eight extremely rare East Indian Rosewood Conoid Chairs, 1971–2. George Nakashima made 34 rosewood Conoid, 10 of which were destroyed by fire. This iconic design cantilevers the seat from only two legs. Available at Moderne Gallery. | |
You have most likely seen or sold pretty much everything Nakashima ever made. Is one piece or group of pieces by him special to you?
Robert Aibel: We continue to discover very early work and later rare, custom-designed pieces by Nakashima. The early pieces give me a unique understanding of Nakashima's development and approach through time. The later, custom pieces help me to track George Nakashima's evolution as he satisfied his client's needs and preferences while remaining true to and extending his aesthetic sensibility.
You sell to collectors and interior designers all over the world. Is the global demand for Nakashima material impacting availability and prices?
Robert Aibel: Prices and demand have been consistently rising throughout the world. Nakashima has now escaped the used furniture category forever, and he is now world renowned and has been internationally recognized as one of the most important members of the 20th-century design pantheon.
I started worrying about availability about 10 years ago. I was well aware that there were a limited number of pieces made and supply would inevitably shrink. Well, that time is now here. With the worldwide interest in his work, availability is getting more limited, and prices are going up.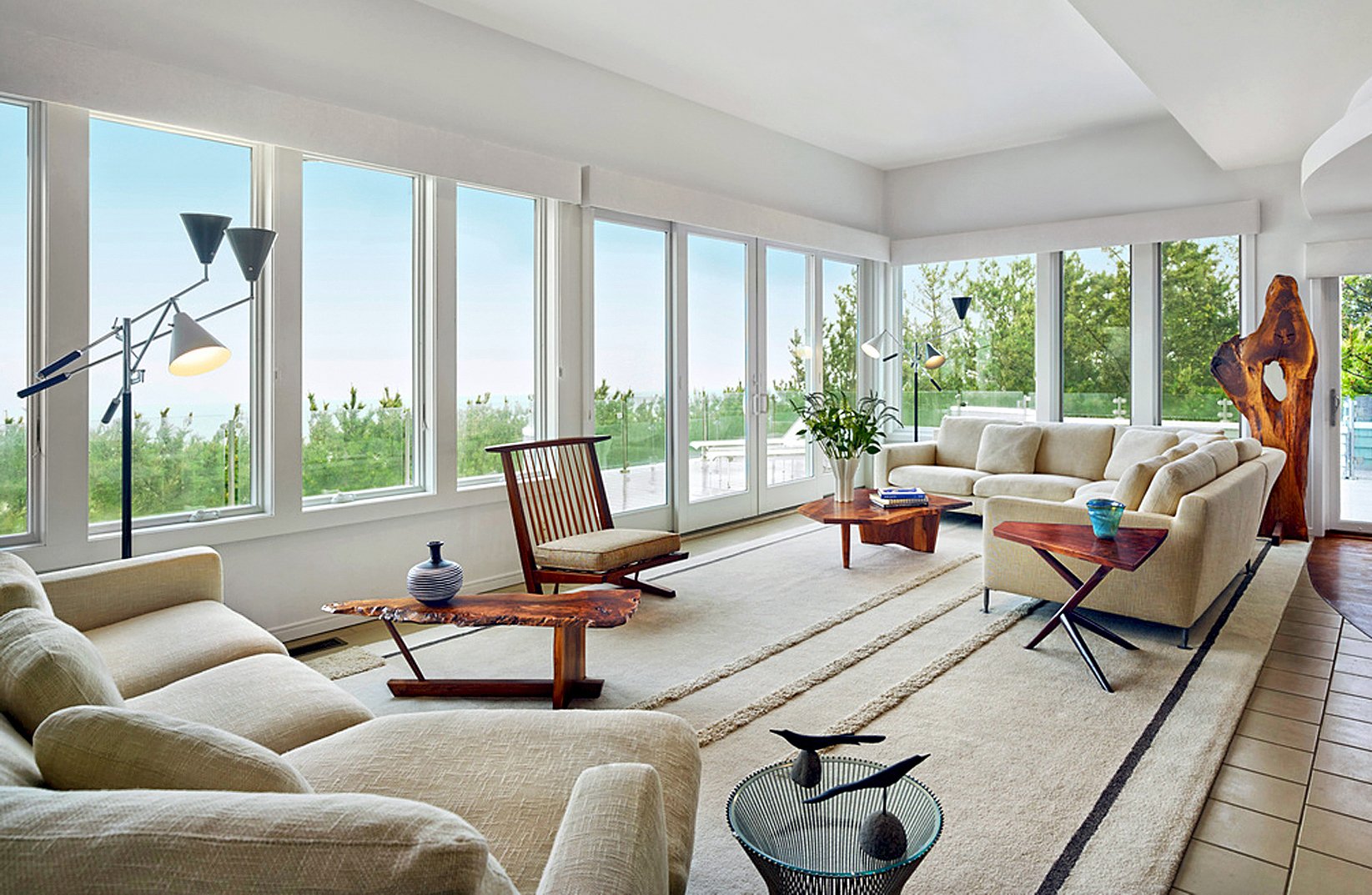 Nakashima's soulful aesthetic brings warmth to a modern interior. The owner's collection includes superb examples acquired from Moderne Gallery, including (from left) a Sled-based coffee table, Conoid chair with cushion, Conoid coffee table and a Three-leg end table. Interior design by Michael Gruber. Photo by Barry Halkin.

If you had to recommend just one book on Nakashima to a collector what would it be?
Robert Aibel: Unfortunately, with the exception of Soul of a Tree, the other two books are out of print. We always try to locate and stock copies of the other books as they all have something to offer. The one book that I recommend to every collector is Nature Form & Spirit: The Life and Legacy of George Nakashima by Mira Nakashima. However, Soul of a Tree offers a very special insight into Nakashima and his approach, as George wrote it himself.
I understand you have a background, expertise in art deco. How is this market doing and where in your view is there value to be found?
Robert Aibel: I began handling French and American art deco when I first opened the gallery in 1984, hence the French version of the word modern in our name. The greatest art deco work by the masters continues to pretty much hold its own. Much of both French and American art deco designs are quite beautiful and functional, and the use of exotic woods adds a natural beauty. This would be a good time to seek out high quality and beautiful art deco designs in beautiful woods. It's a great time to design a wonderful space at a reasonable cost with fine pieces. I still live with much of it.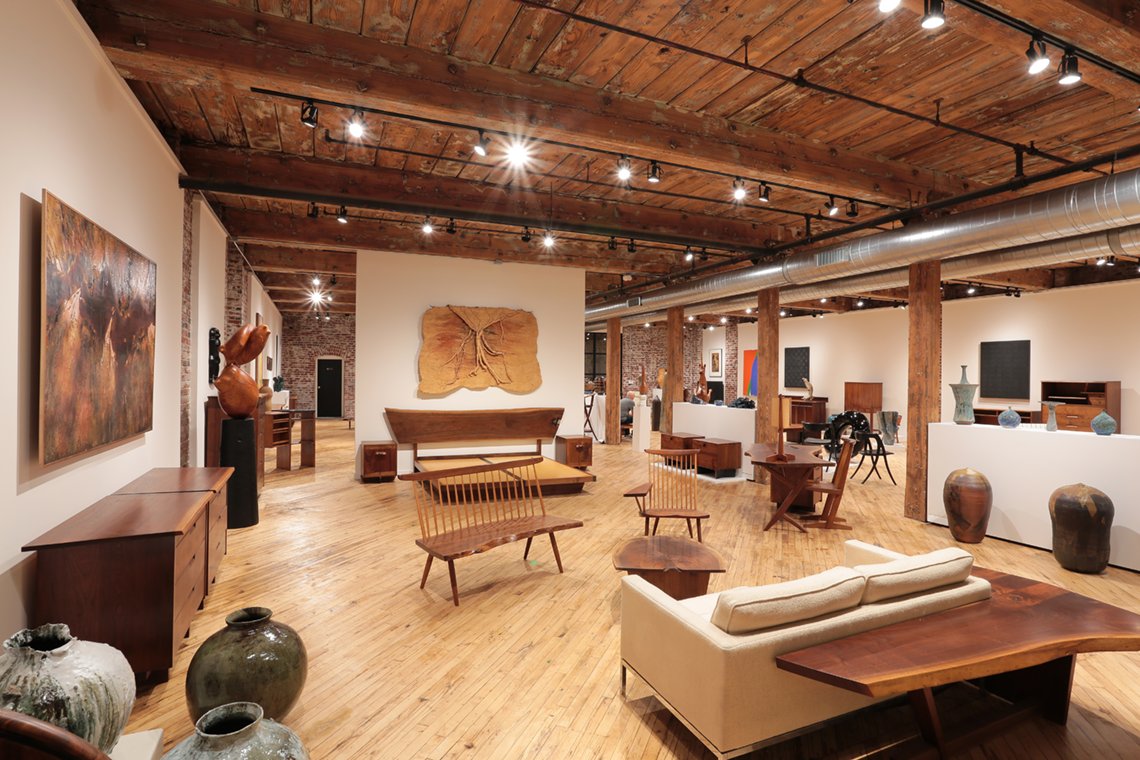 Image courtesy of Moderne Gallery.
You are well known as a champion of American craftsman furniture over and above Nakashima. Whose work are you excited about now?
Robert Aibel: I'm a huge fan of Tage Frid. I've come to understand that his influence on American Studio Furniture design and production can't be underestimated. He is the reason the Danish approach to production and design became a part of American Studio Furniture, though most people have neglected to recognize that development. Many of his students have gone on to be the bright lights of Studio Furniture.
Of course, I'm always excited by the work of Esherick, Maloof, Espenet, Castle.
Living artists' work about which I'm particularly excited — Jere Osgood (though he's not making furniture now), David Ebner, John Eric Byers — all pretty established.


Left: Tage Frid three-legged stool, 1983. Right: Vessel 1 by Estelle Harper, c. 1960. Images courtesy of Moderne Gallery.
In particular, my greatest excitement is for the youngest artist whom we currently represent, Miriam Carpenter. While working hard to establish herself, she's been included in several successful museum exhibitions. She currently has a one-woman show at the Michener Museum of Art. To my eye and in my mind, I see her becoming respected as one of the great designers and woodworkers of the 21st century — hard for a woman to do that.
I'm also particularly excited by the broad range of important studio ceramics (Peter Voulkos, Maija Grotell, Toshiko Takaezu, Estelle Halper, Ryo Toyonaga, Tanaka Tomomi, Makoto Yabe and many others) enamels (Paul Hultberg), metalwork (L. Brent Kington), and wooden wall hangings (Caprice Pierucci) that we're showing. These are great bodies of work that we are excited to present.
To find out more about Nakashima or contact Robert see below:
2220 East Allegheny Avenue, Philadelphia, PA 19134
Gallery: (215) 923-8536
Robert Aibel, Ph.D.: (215) 740-4875
Joshua Henry Aibel: (267) 625-7930