Summer's Last Gasp Reading List: 3 Amazing Design Books You Should Own
One minute it's Memorial Day weekend, with the entire summer stretching out ahead of you. Then, suddenly, it's nearly Labor Day weekend, and like the fabled grasshopper, you rush to store up summer memories and pack as much into each day as you can. And now it's over . . . but wait, there are still a few golden late summer weekends in store. And, while you might not want to actually take these to the beach (the sand! the sunscreen!), these are perfect choices for a long, leisurely session of design inspiration. We've picked some favorites, so prepare to be swept away!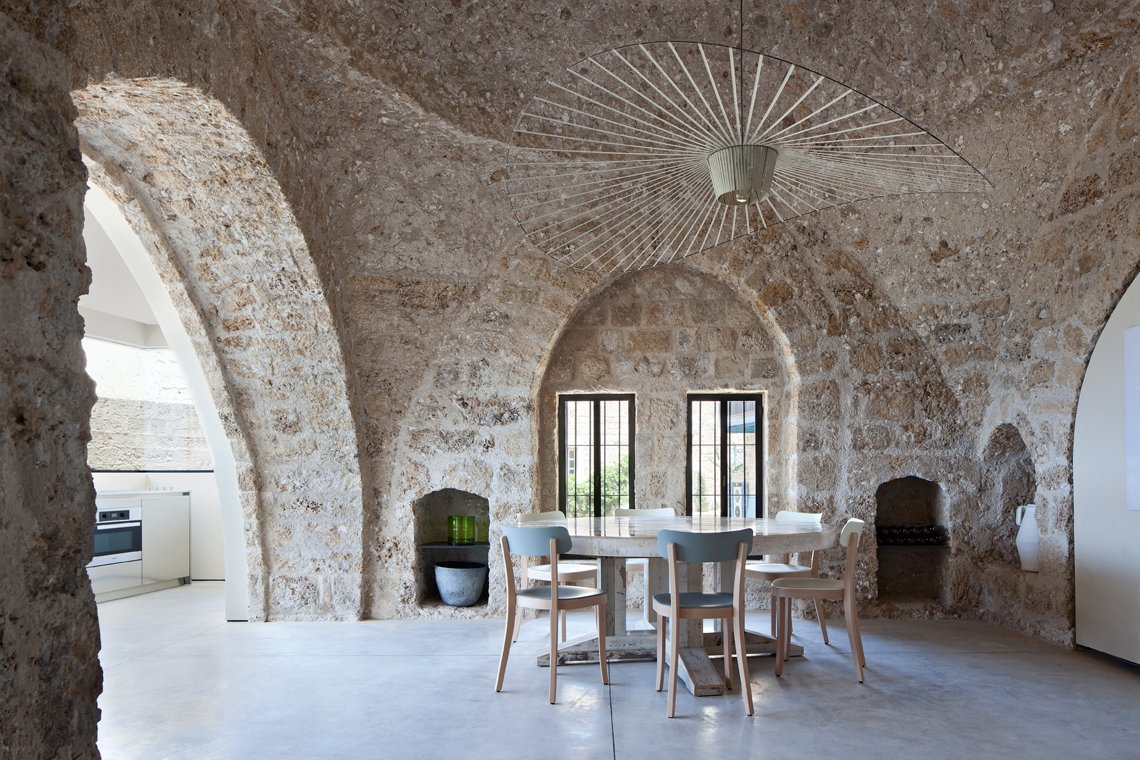 Israeli modernism meets the seventeenth century in this dining room in an Old Jaffa, Israel stone house. Photo by Amit Geron Photography

Stone Houses: Natural Forms in Historic and Modern Homes presents more than 25 stone houses, from reconstructed ruins to bold, modern creations, all built from that most timeless and enduring of materials. Romantic, rugged structures in locales from Jamaica to Croatia, from Mexico to South Africa, they show fascinating diversity within the use of a common material. All are suffused with charming warmth, while emanating the sense of dignity inherent in the elemental gravitas of the construction material. Landscapes and interiors are given much attention as well, with interiors ranging from clean-lined mid-century schemes to an elegant French chateau aesthetic. The ruins of a twelfth-century Umbrian castle, a virtual pile of rubble, were reconstructed by architect Domenico Minchilli with dramatic interiors by Martyn Lawrence Bullard, who sourced antique furnishings, tapestries and paintings to convey the sense of an ancestral home, passed from generation to generation for nine hundred years, and layered in sumptuous fur throws, rich damasks and deep-hued velvets. Designer Tracie McCloskey, of TLM Interior Designs, created a panoply of vignettes and rooms, each designed to house one or another of the owners' extensive collections and convey their passion for art and architecture. Called "Casa de los Peregrinos," the house, designed by Paul Bertelli of JLK Architects, sits on a bluff overlooking the Pacific Ocean in Orange County, California and features a three-story custom steel and stone spiral stair-and-light sculpture by Albert Paley. Interior designer Lucian Rees Roberts and architect Steve Harris's 15th-century Croatian coastal compound was little more than a series of shells when they purchased it; the interiors were crumbled ruins. Sensitive restoration utilizing local materials and craftsmen yielded exteriors seemingly untouched by time, with interiors that embrace the contrast of an antique envelope with modern and midcentury furnishings.
Each of the houses is described in detail: the site, its features and restrictions, construction challenges faced and solutions devised, materials used and how and where they were sourced, interlaced with comments from architects and designers, and anecdotes about the inhabitants.
© Stone Houses: Natural Forms in Historic and Modern Homes by Linda Leigh Paul, Rizzoli, New York 2018
Click here to purchase on Amazon, or support your local bookstore
View projects by Rees Roberts + Partners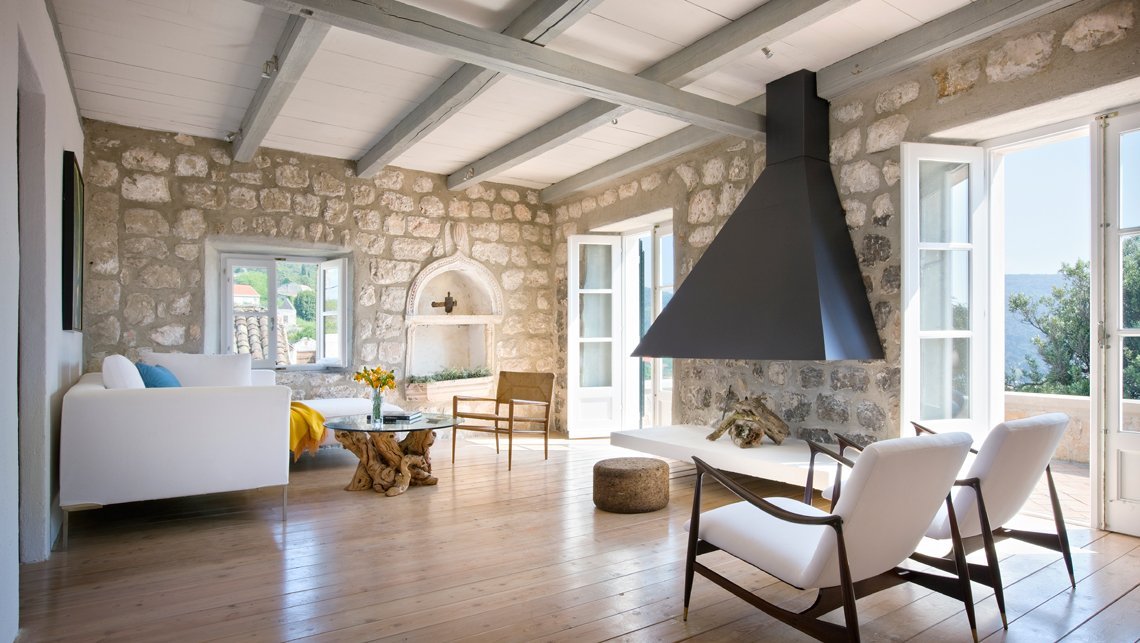 The living room in interior designer Lucian Rees Roberts and architect Steven Harris's 15th-century Croatian villa mixes rough-hewn stone walls with midcentury furnishings. Vintage 1959 Jorge Zalszupin Dinamarquesa rosewood armchairs and a sleek custom-designed fireplace contrast with the 15th-century recessed carved stone sink, which now serves as a planter. The woven rush armchair is by Mel Smilow, circa 1956. Photo by Scott Frances/OTTO Archives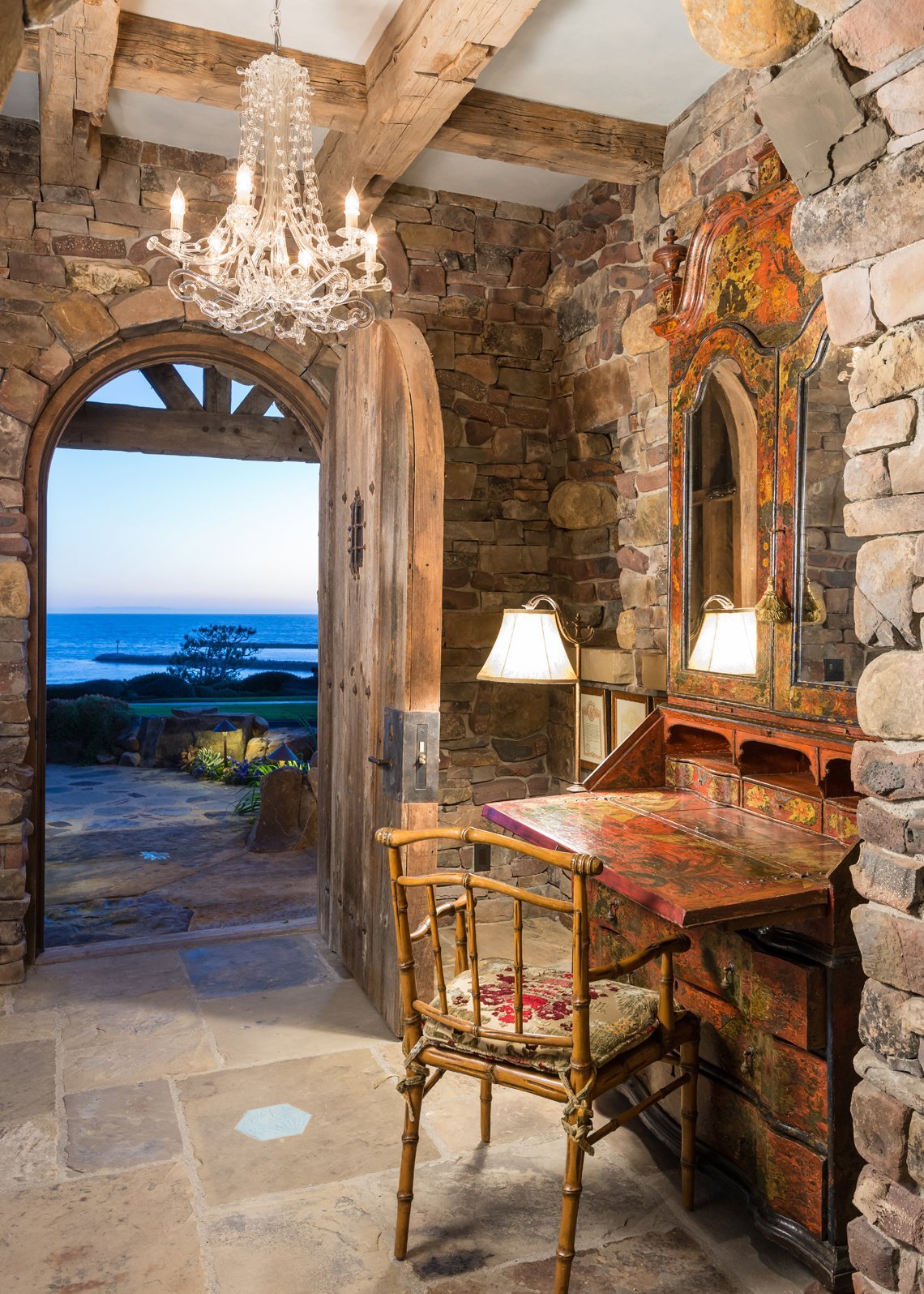 The entrance foyer of Casa de los Peregrinos overlooks the Pacific Ocean and offers a preview of the dazzling mix of aesthetic influences drawn upon for this home. The arched door is English Arts & Crafts style, which leads to interiors of timbers and stone.
A Murano crystal chandelier, antique lacquer chinoiserie desk, and vintage bamboo chair set an exotic mood. Photo by Audrey Hall Photography
The dining room in her country home is atypical of her aesthetic — Kathryn favors lighter wall colors — but she embraced the challenge to create a different look, and writes that the effect carries a Victorian flavor that seems right for the home. Two tables purchased in China are placed together to form a square, harmonious in the square room, and are paired with low-profile mid-century cane back chairs. Photo by WIlliam Abranowicz
Home as sanctuary is the theme of the elegantly serene interiors crafted by Brooklyn interior designer Kathryn Scott. Her first book, Creating Beauty: Interiors is filled with images that evoke a peaceful, meditative aura. Featured are ten residences, from a Parisian-inspired townhouse, to an elegant Central Park West penthouse, to a modern retreat in the Hudson Valley, as well as the designer's own five-story, nineteenth-century Italianate brownstone in Brooklyn Heights and her country home in upstate New York. All resonate with the "less is more" dictum, but rather than the stark, sculptural aesthetic that might be expected with such a mantra, her interiors are lush, with rich finishes, patinated surfaces, and artful juxtapositions. Kathryn is from a family that appreciated antiques and who instilled in her a love for objects that tell a story and reflect the passage of time. In her epilogue she writes, "I love the austerity of a simple room. But it must be balanced with something very rich to focus the eye and draw attention. When a sparely decorated room contains an antique piece, it is impossible not to cross the threshold, luxuriate in the space, and admire the beauty of that special piece up close . . ."
Of special note: Kathryn is married to acclaimed artist Wenda Gu, and a number of his tonal calligraphy-based paintings grace her interiors; they are stunning.
© Creating Beauty: Interiors by Kathryn Scott, Rizzoli New York, 2018.
Click here to purchase on Amazon or support your local bookstore
Join Kathryn on Thursday, September 13 at 1:30pm for a Q&A session along with with Libby Langdon, followed by a booksigning, wine and light bites at New York Design Center, 200 Lexington Avenue, Cliff Young Showroom, during the design community's annual What's New, What's Next series of events.
View projects by Kathryn Scott Design Studio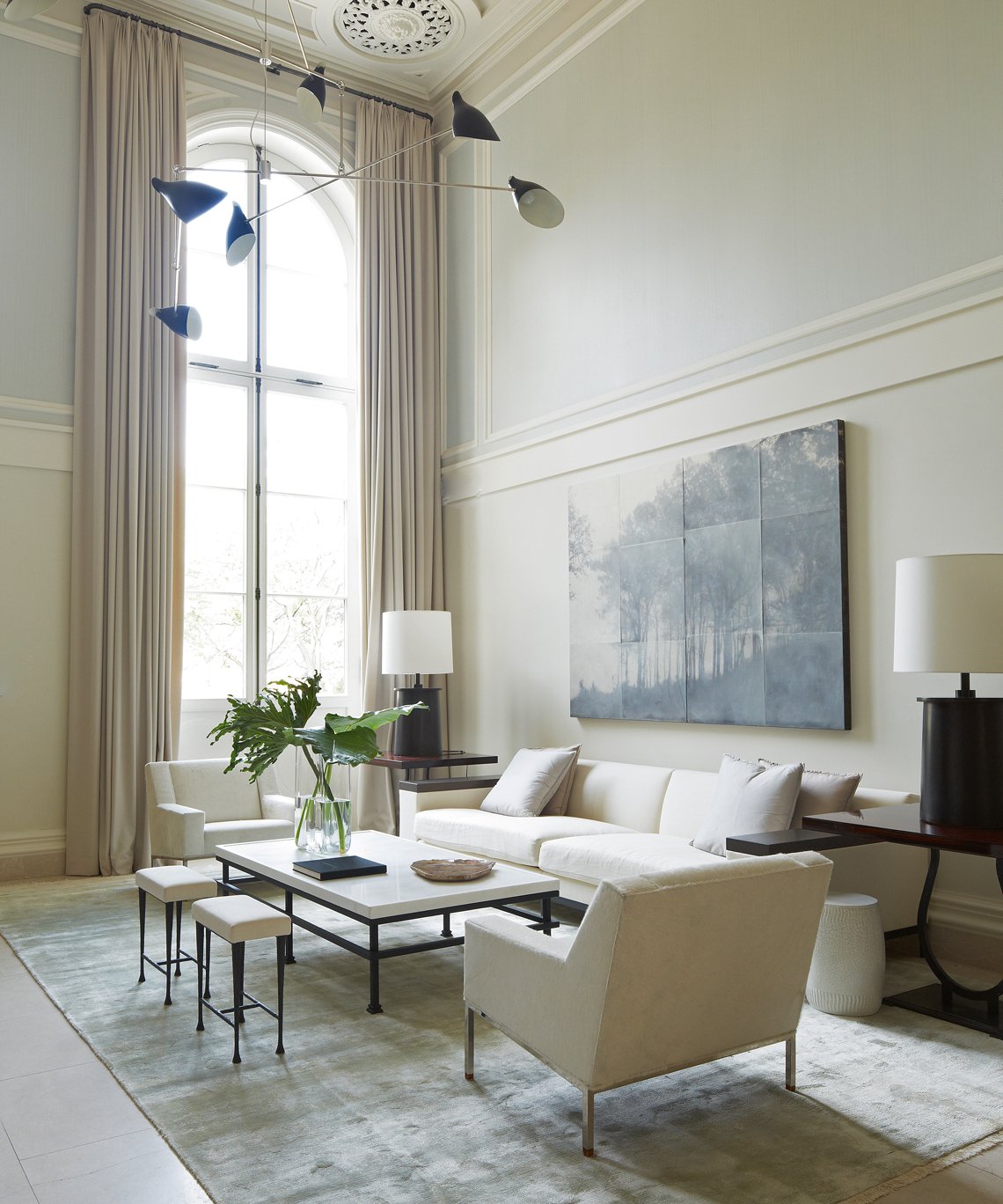 This double-height living room is a serene oasis. High-contrast pieces – the Christian Liaigre lamps and sofa, a multi-arm Hanging Mobile light fixture by David Weeks Studio, and a bespoke coffee table with black iron base and Thassos white marble top are a counterpoint for the subtle tonal variations of the dappled silk rug and dreamy landscape by Tom Brydelsky. Photo by WIlliam Abranowicz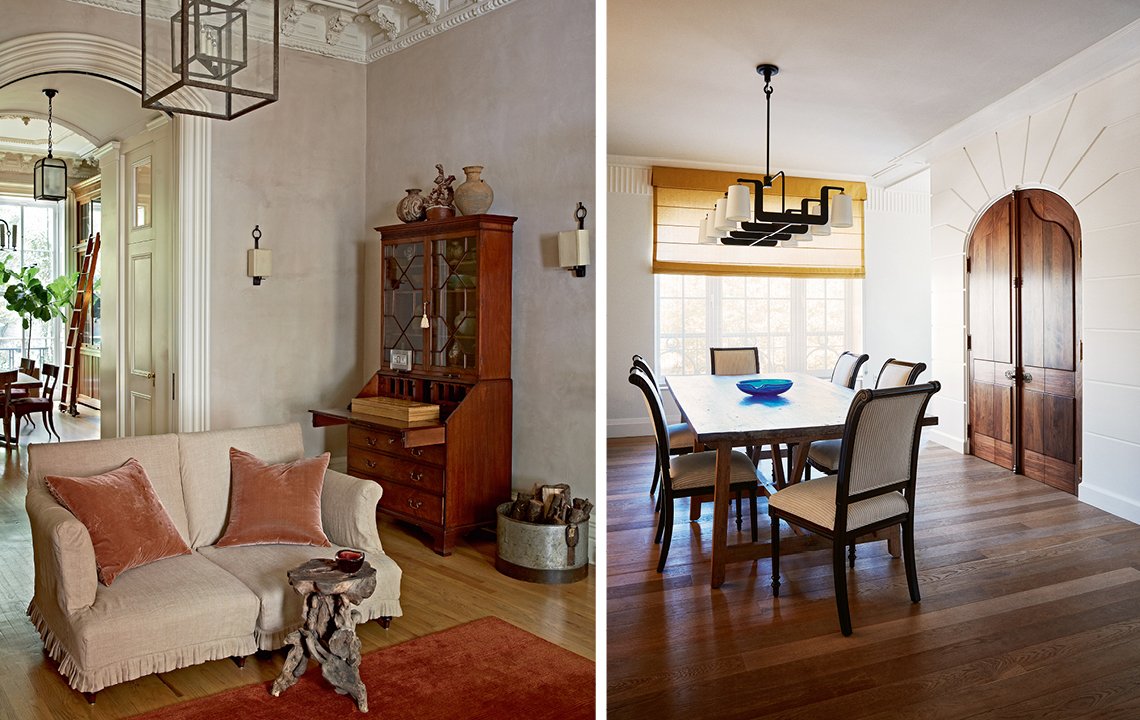 Left: Rustic and refined are combined in the designer's Brooklyn Heights home. Her grandparents' Chippendale secretary is topped by a collection of earthenware pots, silk velvet pillows contrast with a linen slipcover, and a table made from gnarled roots hosts a ruby red Steuben Glass bowl. Right: The renovation of a Brooklyn residence presented two challenges, for which Kathryn devised elegant solutions: the need for harmonious details, answered by the custom designed moldings seen here, and the need for a home office space that was at the center of family activity, which she created in a transition space behind the arched doors, with another set of matching doors behind that space to lead into the living room. The home office spans the space between the two rooms, and keeps the husband in the thick of it. Photos by WIlliam Abranowicz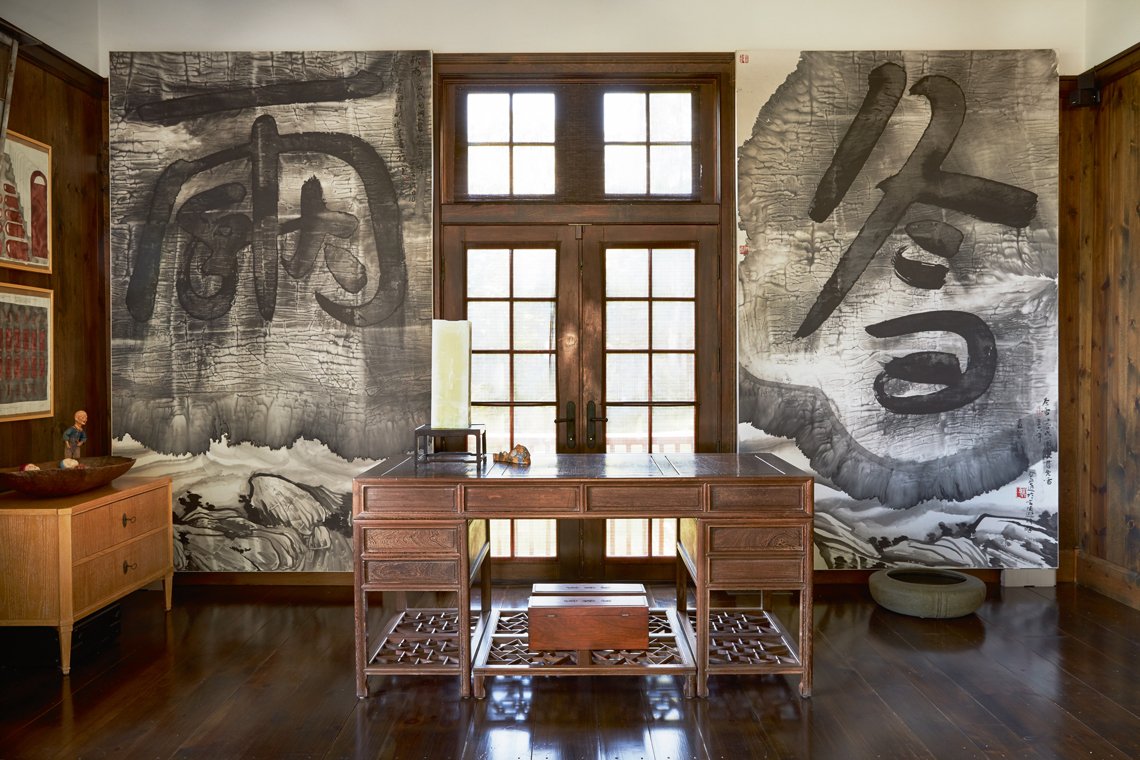 The living room in Kathryn's upstate New York retreat. A pair of calligraphy paintings by her husband, artist Wenda Gu, flank a set of French doors that lead outside. The desk was purchased in China; its style marries harmoniously with the room's details. Photo by WIlliam Abranowicz
Tichenor & Thorp's Holmby Hills residence was designed by California modernist architect Harwell Hamilton Harris. Harris began his career in the offices of Richard Neutra, and the influence of his mentor is distinct in what Brian and Raun have coined "a Case Study body with a Frank Lloyd Wright roof." The living room is furnished with a mix of mid-century pieces such as the vintage Monteverdi-Young chairs, classic contemporary forms and Asian furnishing and objects, and anchored by a deep blue rug, meant to evoke a swimming pool. The table is vintage Paul Frankl. Photo by Roger Davies
Outside In: The Gardens and Houses of Tichenor & Thorp celebrates the work of Los Angeles-based husband-and-wife architects M. Brian Tichenor and Raun Thorpe, whose projects emphasize the conversation between architecture and landscape, interior and outdoor rooms. Their design vision and inspirations are illustrated not only with spectacular photography by Roger Davies, but also with Brian Tichenor's lovely watercolors and renderings. Go-to architects for many West Coast AD100 interior designers, the homes include a Las Palmas contemporary Spanish courtyard house and gardens, a Bel Air estate and grounds with French-Norman influences, a hilltop hideaway overlooking the Pacific Ocean that evokes a Portuguese quinta, a Pasadena estate imbued with John Sloane-inspired details, a renovated Harwell Hamilton Harris house in Holmby Hills, and two luxe contemporary Manhattan apartments.
© Outside In: The Gardens and Houses of Tichenor & Thorp by M. Brian Tichenor and Raun Thorp with Judith Nasatir, The Vendome Press, New York 2017
Click here to purchase on Amazon, or support your local bookstore
View projects by Tichenor & Thorp Architects, Inc.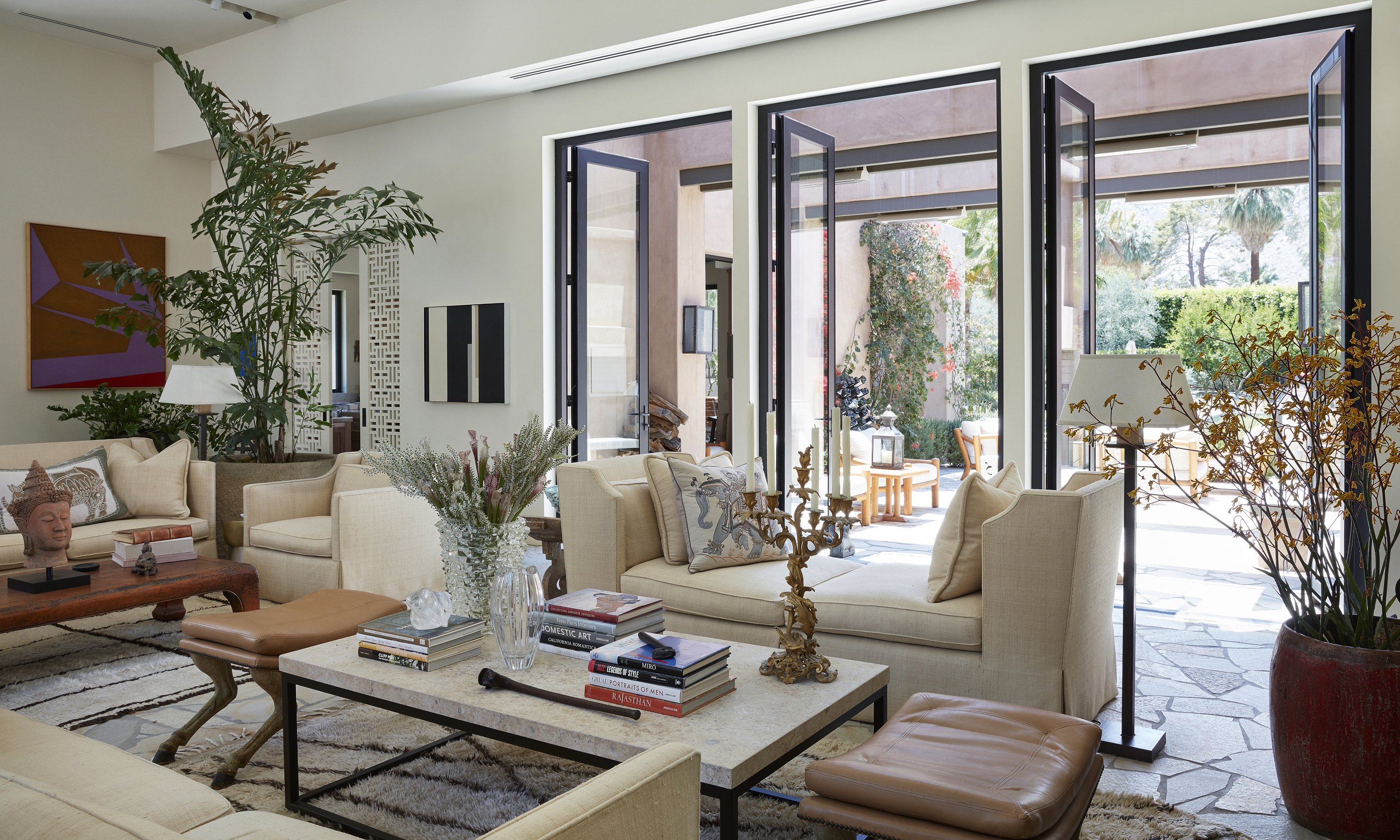 The historic Las Palmas section of Palm Springs is the setting for a creamy, luminous living room that takes ultimate advantage of Southern California's much-coveted indoor-outdoor living. Massive, bronze-framed French doors open to the patio, and a carpet of irregular quartzite paving stones spans the indoor-outdoor transition, their random shapes contrasting with the strong geometry of the structure. The homeowners have on display a significant collection of works by twentieth and twenty-first-century California artists, so walls were intentionally kept simple. Interior decoration by John Cottrell, photo by Roger Davies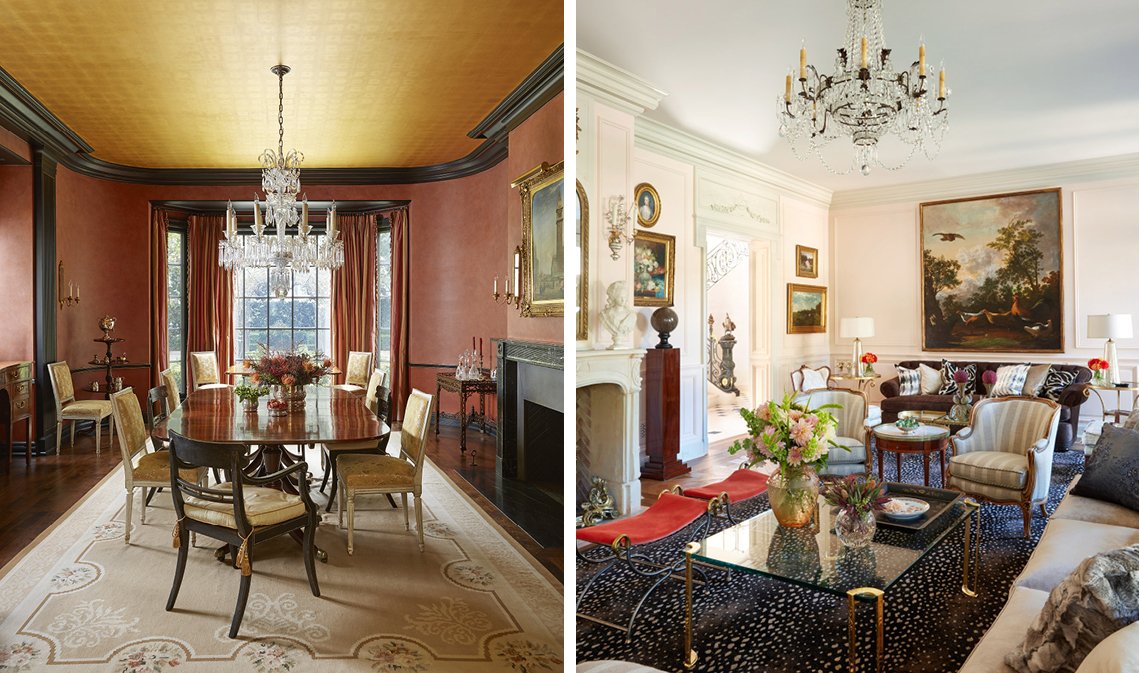 Left: A client's twin fascinations with the great Regency architect Sir John Sloane and the theories expounded in Christopher Alexander's 1977 A Pattern Language were combined and brought into focus in a Pasadena house and gardens. The interiors were one of the final decorating projects of the late acclaimed interior designer Joe Nye. Walls of terra rossa Venetian plaster combined with ebonized moldings and a ceiling of gold tea paper are a dramatic setting for dining. An antique English three-tier dumbwaiter is at the rear left corner, with a mahogany Chinese Chippendale tea table opposite. A pairs of Regency armchairs and side chairs are interspersed with Louis XVI dining chairs around an English Regency dining table. The mantel continues the Sloane theme. Right: Francophile clients in Rancho Santa Fe asked for their period rooms to be updated from eighteenth decor replete with tassels, buttons and formal seating, to a more current and modern look. The furniture plan began with a modern rug, and the wall colors were lightened, keyed to the background tones in a pair of Barbizon paintings. The coffee table is by Maison Jansen. Photos by Roger Davies.