This Week's Events: Salon Art+Design, American Art Fair, Heavy Metals at Donzella, Macklowe's New Gallery, Winslow Homer & More
SHOWS
Holiday House London
November 8-December 10, 2017
St. John's Wood, Northwest London
http://theholidayhouselondon.com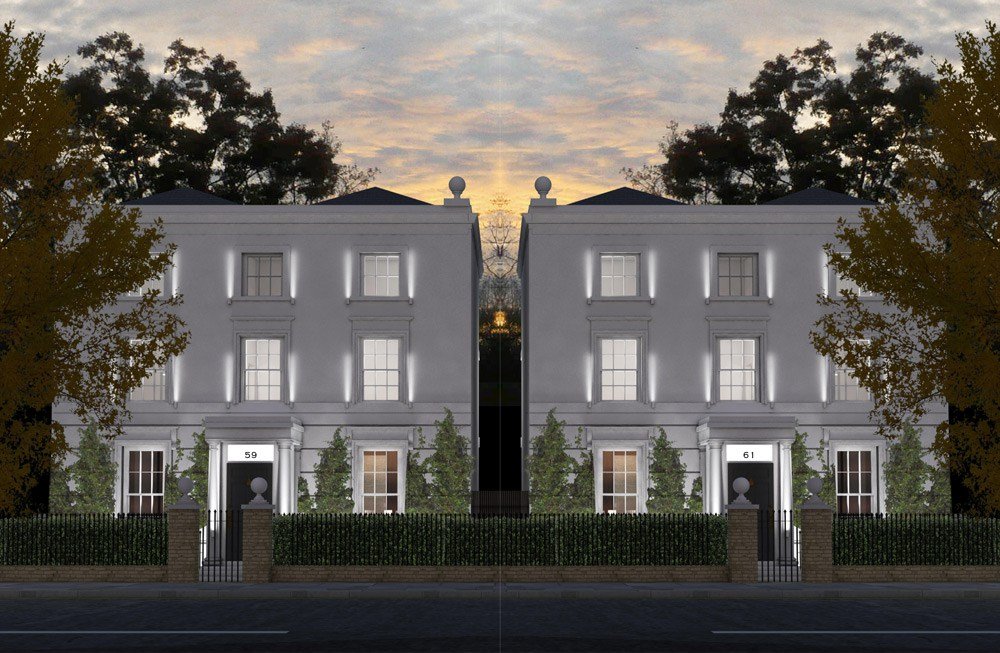 Holiday House London, Hamilton Terrace. Courtesy Holiday House London.
The inaugural Holiday House London opens this week in celebration of the tenth anniversary of Holiday House New York, opening November 15th. The former is held within two houses on one of the most exclusive streets in London. Rooms of the showhouses will be furnished by leading interior designers with the themes of holidays past or personal experiences. The designers involved represent the best interior designers in the UK. They include Fiona Barratt Interiors, Studio QD and Nicky Haslam, Patrick Lonn Design, Justin Van Breda London and Nina Campbell, Sophie Paterson Interiors and Cambria, Iggi Interior Design, Natalia Miyar Atelier and LuxDeco, Oleg Klodt Architecture and Design, Rachel Laxer Interiors, The Invisible Collection by Bismut & Bismut, Turner Pocock, Taylor Howes, and Shalini Misra to name but a few. Proceeds from Holiday House events benefit The Breast Cancer Research Foundation® (BCRF); Holiday House founder, Iris Dankner, is a breast cancer survivor and created the Holiday House to raise crucial funds for the prevention and cure of breast cancer.
The Salon Art+Design
November 9-13, 2017
Park Avenue Armory, Park and 66th, NYC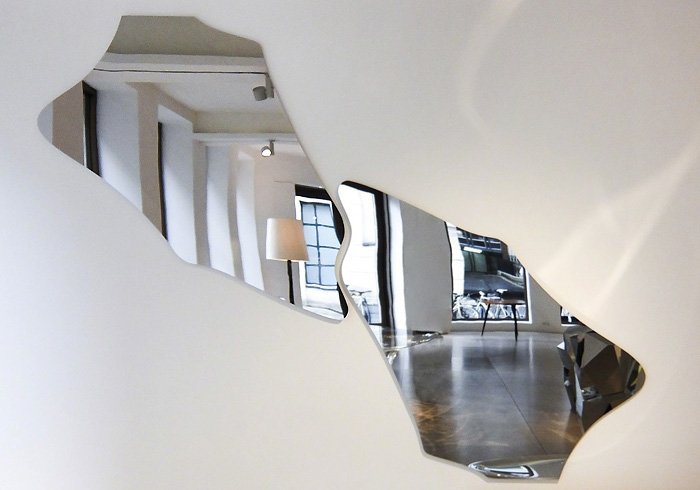 Zaha Hadid, Mirror Cloud-1, 2013. Mirror polished stainless steel, mounted on wood, 63 × 65 × 1 1/5 in. Courtesy David Gill Gallery, London.
In its six years, The Salon Art+Design has gained a reputation for high caliber exhibitors who combine styles, genres, and periods, from historic to contemporary, to create a vibrant mix of impeccable quality. This year, 56 galleries from 11 countries will exhibit a dazzling array of material. Events include Design Conversations, Designer Tours, Pop-Up exhibits and an exhibition on the jewelry of Giampiero Bodino.
For the first time in its history, Salon Art+Design has invited an interior designer to exhibit at the fair, New York's Amy Lau. Lau's installation, "Atmosphere by Amy Lau" will present a living room designed with the theme "The New Nouveau." Lau has selected works by Art Nouveau designers of the 1940s through 1960s and paired their material with the work of contemporary designers influenced by the style period. Conceived as a unified whole, the Art Nouveau theme encompasses the aesthetics of the furniture to the hand-painted murals and the upholstery.
PARIS PHOTO
November 9-12, 2017
Grand Palais, Paris
http://press.parisphoto.com/home-en
190 exhibitors, 29 countries, 4 sectors. And Karl Lagerfeld. This year, PARIS PHOTO proposes to visit the fair through the eyes of Karl Lagerfeld, the creative director of Chanel and a visionary and cultural icon who has long been fascinated by the power of images and their evocative effects. Lagerfeld has selected his favorite images at the fair, selecting from thousands of artworks. The fair itself is separated into four sections: a main area comprised of the best of photography from the 19th century to today, with solo and duo shows; a sector dedicated to large formats, series, and installation works; a book sector including publishers and book dealers; and a film and video section.
54th Annual Delaware Antiques Show
November 10-12, 2017
Chase Center on the Riverfront, Wilmington, Del.
Sixty of the country's most distinguished dealers will present the finest offerings of American antiques and decorative arts, including furniture, paintings, rugs, ceramics, silver, jewelry, and more. The Delaware Antiques Show provides a wonderful learning environment for those who are new to collecting as well as for antiques experts. This year's Honorary Chair of the Delaware Antiques Show and keynote speaker is Gil Schafer III, an award-winning architect and founder of internationally acclaimed G. P. Schafer Architect, PLLC. An Architectural Digest AD 100 member, Schafer is consistently recognized as one of the world's experts on contemporary classical architecture.
This year's loan exhibit celebrates the 25th anniversary of the Biggs Museum of American Art with a mix of regionally and nationally significant works emphasizing the arts within Delaware and the Mid-Atlantic region. If time permits while in town for the show, visit Winterthur Museum to take tours, walk the extensive grounds, and see the exhibition Treasures on Trial: The Art and Science of Detecting Fakes.
The American Art Fair
November 12-15, 2017
Bohemian National Hall
321 East 73rd Street, NYC
https://www.theamericanartfair.com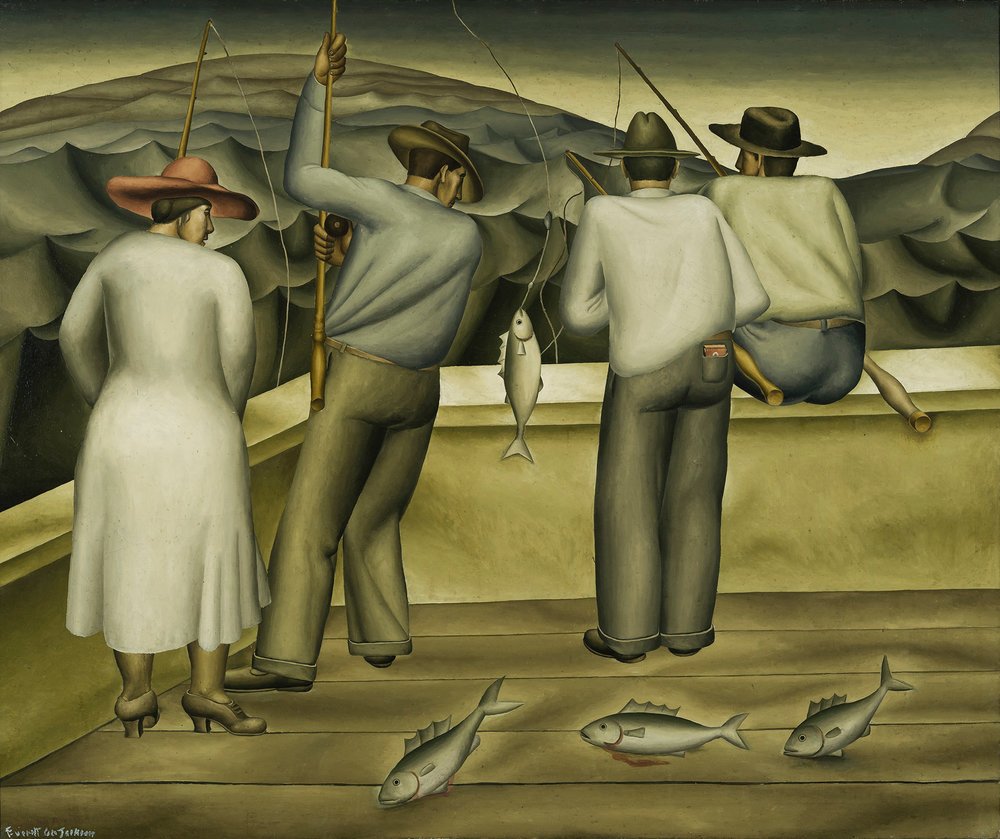 Everett Gee Jackson (1900-1955), The Fishing Barge, ca. 1933. Oil on canvas, 37 ½ x 44 ½ inches. Signed lower left; Everett Gee Jackson.
Courtesy Hirschl & Adler Galleries, NY; exhibiting at The American Art Fair.

The only fair that focuses on 19th- and 20th-century American art, this year The American Art Fair celebrates its 10th anniversary and kicks off American Art Week in New York. On view will be hundreds of landscapes, portraits, still lifes, studies, and sculpture offered by 17 premier specialists including Hirschl & Adler Galleries, Godel & Co., Taylor | Graham, Avery Galleries, Debra Force Fine Art, Driscoll Babcock Galleries, John H. Surovek Gallery, Thomas Colville Fine Art, and more.
EXHIBITIONS
Heavy Metals
November 8-December 21, 2017
Donzella LTD
17 White Street, NYC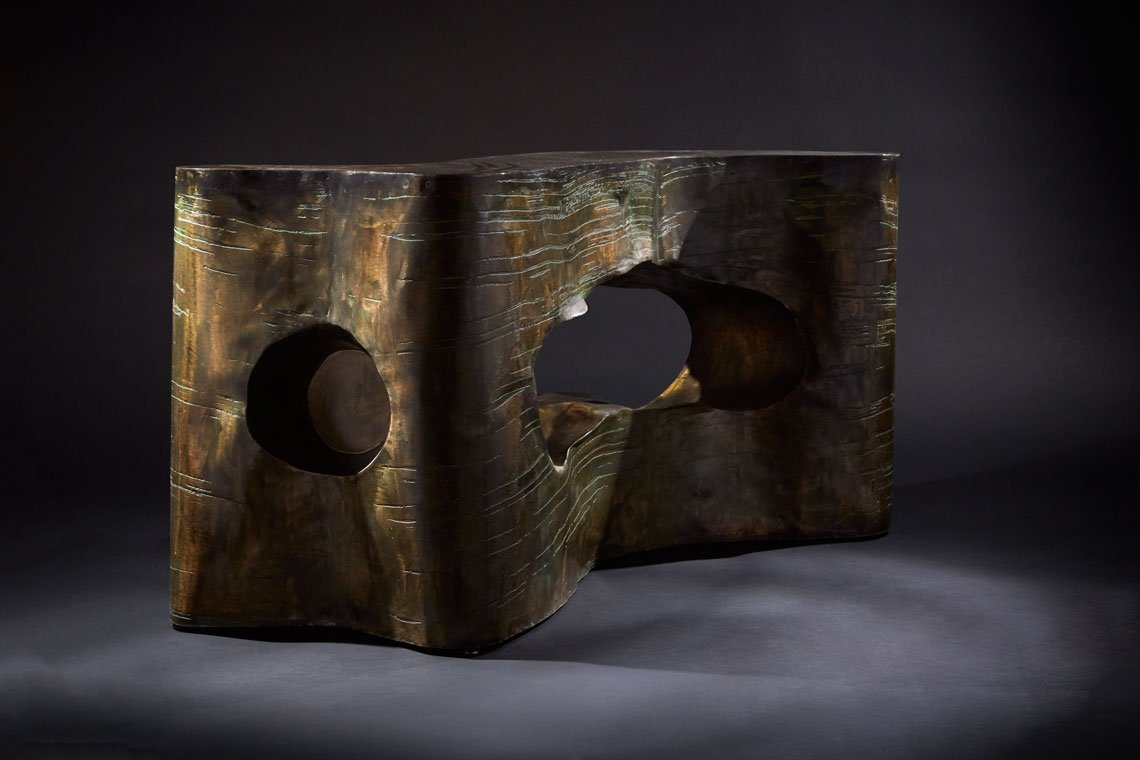 "Metamorphosis," Unique Bronze Console Table by Philip & Kelvin LaVerne. American, ca. 1965.
Donzella, specializing in post-war design and contemporary works, many created specifically for the gallery, is hosting Heavy Metals, an exhibition curated with an eye toward distinctive and imaginative uses of metals that represent the gamut of metalworking techniques: forging, hammering, casting, welding, melding, pleating, etching. Heavy Metals offers an equally dynamic breadth of solutions to the challenge of form and function, and the quest for beauty. In total, the exhibition comprises a kind of metallurgical symphony, encompassing the bold and edgy, the exquisitely refined, the whimsical, and, of course, the ironic.
Spanning a century of design history, a rich range of styles will be on view: from the hand-hammered grace of the Hagenauer Werkstätte to the sleek minimalism of Gabriella Crespi; masterworks by Philip & Kelvin LaVerne, classics by Donald Deskey, and contemporary gems by Alexandre Logé, to name a few. Along with Art Deco, Jugenstil, Minimalist, Brutalist, and Postmodern works are those that defy easy categorization, such as Claire Falkenstein's powerhouse sculptures, or Ghiora Aharoni's assemblage sculpture, which incorporates vintage & antique silver.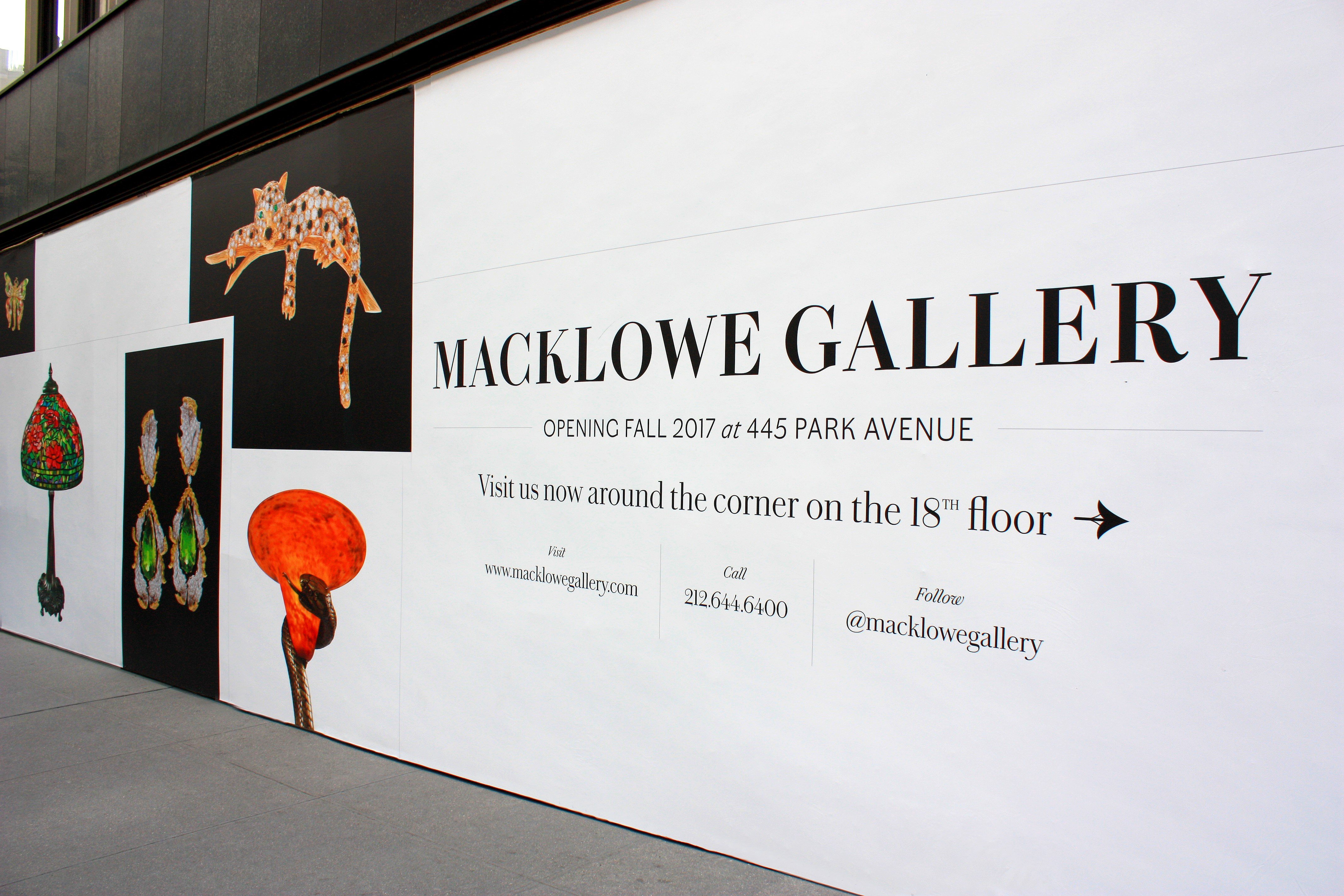 Macklowe Gallery's New Flagship Location
Opens Mid-November, 2017
57th Street & Park Avenue, NYC
http://www.macklowegallery.com
This November, Macklowe Gallery unveils its new location in the heart of midtown Manhattan. With just over 6,000 square-feet of space and 130 feet of frontage, the location increases visibility tenfold in an area that is an art and antiques hub. In addition to more than tripling the ground floor exhibition area, the new location will also feature a dedicated library for the gallery's extensive collection of books and other industry resources, as well as an expanded showroom that doubles as an event and lecture space.
The gallery is recognized for museum-quality Art Nouveau furniture and decorative arts, including the lamps and glassware of Louis Comfort Tiffany, and carefully curated Art Nouveau, Art Deco, and Mid-20th-century jewelry. Gallery president, Benjamin Macklowe, notes that the larger space will provide the opportunity to further their product offerings into later periods.
"We are very excited to be expanding. It's rare that a family business continues through to the next generation and it's exciting for me to be able to share my passion and knowledge," says Macklowe. "I'm very optimistic about the future of our industry. Beautiful things are uplifting and we all need that." He adds, "With our new gallery's increased presence, we will have the opportunity to make people aware of this beautiful material. Our business was built on people who were curious and were interested in learning about what they saw in our shop window. We now will have an even greater influx of curious onlookers who can see what's so special inside.
Art in the Open: Fifty Years of Public Art in New York
November 10, 2017-May 13, 2018
Museum of the City of New York
http://mcny.org/exhibition/art-open
Isamu Noguchi, Red Cube, 140 Broadway, ca. 1970, photo by Edmund Vincent Gillon, Museum of the City of New York (2013.3.2.1667).
Until the 1960s, most public art in New York City was limited to war memorials, civic-minded murals, or relief sculpture embodying universal values like "Fraternity" or "Wisdom." But the late 1960s brought a new era that embraced the individual artist's voice and vision in the public realm. In the years since, hundreds of innovative art works, both permanent and temporary, have been installed in the public spaces of New York, making this the most robust and vibrant environment for public art in the world.
Presented to mark the 40th anniversary of the pioneering Public Art Fund, Art in the Open highlights works that have transformed both the public spaces of the city as well as public expectation of the role and potential of art that exists outside of the traditional confines of museums and galleries. The exhibition features renderings, models, photographs, and video footage tracing the creation of public artworks by such artists as Red Grooms, Christo and Jeanne-Claude, and Kara Walker.
Carrie Mae Weems: Beacon
November 10, 2017-February 25, 2018
Edward Hopper House, Nyack, NY
http://www.edwardhopperhouse.org
Considered one of the most influential contemporary American artists, Weems is celebrated for her photography, films, and videos that address social themes focusing on race, gender, and class. For the Beacon series, Weems documented the changing landscape and culture of Beacon, NY, over the course of her year there as artist-in-residence in 2002. Like Edward Hopper's hometown of Nyack, NY, Beacon is a diverse community that has seen many changes over the years as it has evolved from a factory town to a center of arts and culture. Places of historic and cultural significance such as Dia:Beacon are featured in the photographs. Weems places herself as the subject, always standing with her back to the camera, observing - and as she says, "bearing witness, confronting something, [serving] as a guide to the viewer standing with me, [we are] witnessing something together though our experience of it might not be the same."
Coming Away: Winslow Homer and England
November 11, 2017-February 4, 2018
Worcester Art Museum, Worcester, MA
From March 1881 through November 1882, iconic American artist Winslow Homer lived in the small fishing village of Cullercoats on the northeastern coast of England—a period that was pivotal in the development of his work. This November, this crucial period in Homer's life will be explored in a new exhibition at the Worcester Art Museum. Coming Away: Winslow Homer and England will show how the landscape of England, the artists he met there, and the reviews his work received while abroad all had a profound impact on his career.
While in England, Homer engaged with the work of the country's masters, including Joseph Mallord William Turner and Sir Lawrence Alma-Tadema, as well as with paintings by regional artists from the coastal village of Cullercoats, where he established a studio.
Homer also purchased two cameras at this time, suggesting his interest in contemporary forms of picture making. Coming Away demonstrates how new influences impacted Homer's artistic development during and after his stay in England, and how this time exacerbated the tensions he felt between the traditional nature of his subject matter and the modernity of his aesthetic vision. The exhibition features 50 works by Homer, as well as paintings by his English contemporaries; the exhibition is organized in collaboration with the Milwaukee Art Museum.
On Friday, December 8 at 6pm, Dr. Sarah Burns, Ruth N. Halls Professor Emerita of Art History at Indiana University, Bloomington, will present the keynote lecture for a symposium examining Winslow Homer's time in England. A day of talks by noted scholars of American and British art will follow on Saturday, December 9, from 9:30am to 5:30pm. Registration is required and can be made by calling 508-793-4317.
Sebastião Salgado
Through November 29, 2017
Robert Klein Gallery
500 Harrison Avenue, Boston, MA
https://www.robertkleingallery.com/sebastiao-salgado
This month Robert Klein Gallery is featuring the stunning work of photographer Sebastião Salgado. Economist-turned-artist Sebastião Salgado began his photography practice after his finance role with the International Coffee Organization and the World Bank led him to travel to tea plantations in Africa. Inspired by the people he photographed during his trips, Salgado quit his finance job to continue traveling and photographing the rest of the world and its inhabitants. His works highlight global issues relating to nature, workers, and the human condition, and while he believes that his photographs alone will not be able to change the world, he uses them as a vehicle for awareness coupled with larger movements for action.