The Best of Day Three of The Spring Show Online
The Virtual Art and Antiques Show presented by Incollect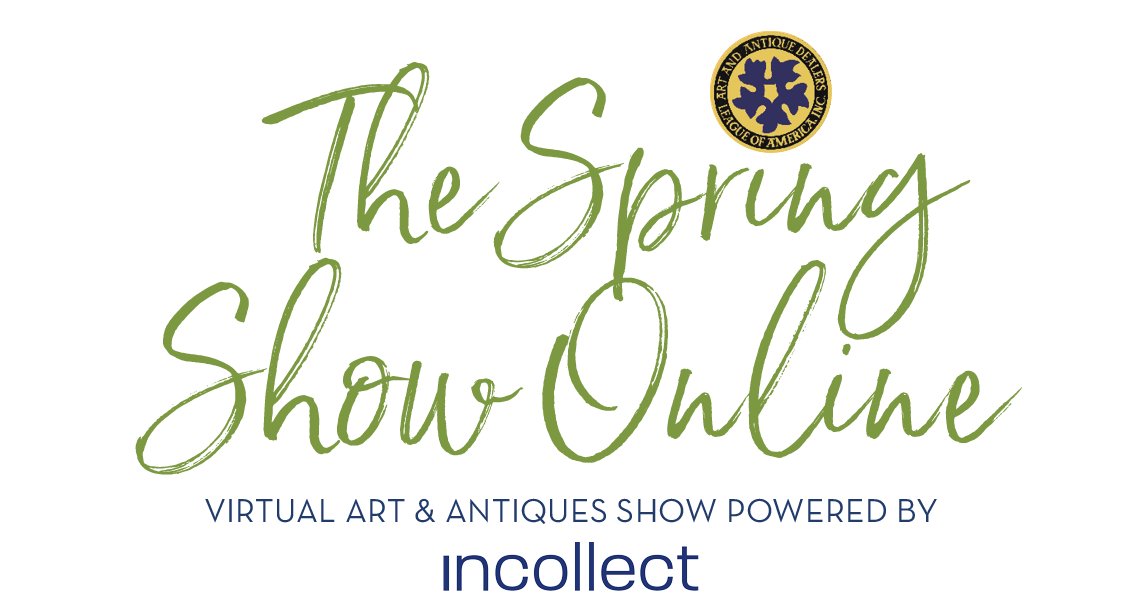 The Third Day of Spring
In response to the popularity and success of the Art and Antique Dealers League of America's (AADLA) Twelve Days of Christmas online show, the Twelve Days of Antiques have returned! Our online Spring Show features the highest quality art, antiques, jewelry and design — all available for purchase.
The fun twist on the Spring Show is that each dealer in the show will post one fresh piece each day, beginning May 7th and running through May 18th — if you don't tune in, you'll miss out!
The AADLA membership represents the best of the best in the business, and you can buy with absolute confidence. Enjoy our selections on this third day of Spring!
Pair of George III Mahogany Console Tables, ca. 1780-90.
Léon Frédéric (1856-1940), La petite Ardennaise à la robe bleue
(Young Ardennaise Girl in a Blue Dress), 1896. $75,000
Ohara Koson (1877-1945), Magnolia with Black-winged Magpie, Ōban Tate-e, 1931. $2,450
Offered by Joan B. Mirviss LTD. For further information call 212.799.4021 or email
info@mirviss.com.

Sterling silver "Melon" pitcher with ebony handle, design #7, by Georg Jensen, ca. 1907.
François Gall (1912-1987), Café Scene. Oil on canvas. $4,300
Offered by Schillay Fine Art, Inc. For further information call 212.861.8353 or email
richard@schillay.com.

Paul Gauguin (1848-1903), Manao Tupapau, 1894. Lithograph. $85,000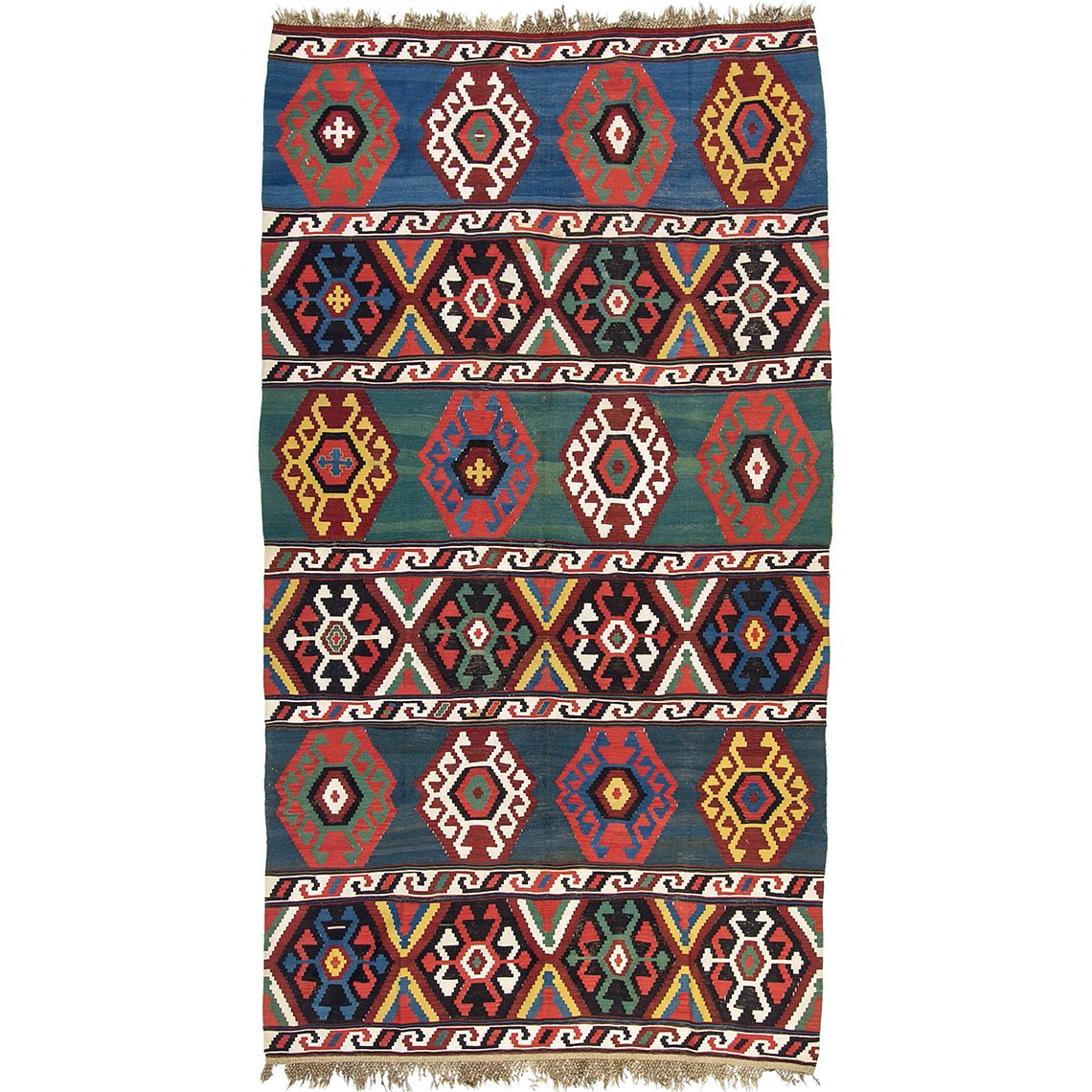 5'9" x 10'8" Antique Caucasian Kilim (flat woven) Carpet, circa 1880.
Victorian Period 18kt three-color Gold Earrings, made in England, ca. 1875. $11,000
Offered by James Robinson, Inc. For further information call 212.752.6166 or email
info@jrobinson.com.
Original design for Art Deco wallpaper collection, Printed by J. Grantil, 1928-1930, France. $1,500
Wright Morris. Gano Grain Elevator, Nebraska. Vintage silver print, 1940. $5,000
Offered by Paul M. Hertzmann, Inc. For further information call 415.626.2677 or email
susan@hertzmann.net.

Johann Berthelsen (1883–1972), Snowy Day. Oil on canvas.
Offered by Rehs Galleries. For further information call 212.355.5710 or email
howard@rehs.com.

Set of Nine Botanical Engravings of Roses by Henry Curtis, "The Beauty of the Rose", ca. 1850. $7,500
Offered by Earle D. Vandekar of Knightsbridge. For further information call 212.308.2022 or email
info@vandekar.com.

Émile-Just Bachelet (1892-1981), Duck, c. 1930. Rosewood.
Offered by Framont. For further information call 917.5626262 or 203.661.9675 or email framont@optonline.net.
Handel Peacock Feather Table Lamp, USA, ca. 1910-20.
An Important George II Brass-Inlaid Padouk Bureau Bookcase, in the manner of John Channon, ca. 1730.
Spanish School, mid-17th century, Still Life with Squash, Gourds, Stoneware,
and a Basket with Fruit and Cheese. $15,000
Offered by Robert Simon Fine Art. For further information call 212.288.9712 or email rbs@robertsimon.com.
Paul Jones (1921-1997), Rosa Nevada (Rose), 1976. $950
A rare solid Cuban mahogany armchair, the back in the form of a paper scroll. English, ca. 1740. $58,000
Antonio Pineda necklace and earrings set, cascade design. $3,700
Offered by Marcy Burns American Indian Arts. For further information call 212.439.9257 or email info@marcyburns.com.
Rama. Eastern India, Orissa, 15th century. Brass.
Queen Anne Chinoiserie Cushion Mirror, ca. 1710. $12,500
Offered by Yew Tree House Antiques. For further information call 212.249.6612 or email
ythantiques@yahoo.com.
Gorgeous Louis XVI French silver sugar bowl by Alexis Micalef, dated 1769. $4,000
Gold miniature Easter egg pendant locket, with diamond-set lily of the valley.
Fabergé, workmaster A. Hollming, St. Petersburg, ca. 1910. $14,000
Offered by A La Vieille Russie, Inc. For further information call 212.752.1727 or email
alvr@alvr.com.
May Wilson Preston (1873-1949). Art Deco watercolor, 1931. $950.
Two loom-woven tapestries, "Cikoria" (Chicory) and "Maskros" (Dandelion), by the workshop
of Märta Måås-Fjetterström, Swedish, designed 1928, produced after 1942. $1,750 each
A set of 12 George IV antique English silver dinner & soup plates, London 1826 by Robert Garrard. $110,000
Offered by S.J. Shrubsole Corp. For further information call 212.753.8920 or email
jim@shrubsole.com.

Bronze Inkwell with a Lion Rampant. Italy (Toscana). Early 17th century. Cast bronze.
Bernard Buffet (1928-1999), "Nature Morte" anemones, lamp, coffee pot, cigarettes, 1979.
Offered by Galerie Rienzo. For further information call 212.288.2226 or email madisonart@aol.com.
Man of Sorrows, Spanish, 13th century.
Offered by Engs-Dimitri Works of Art. For further information call 310.429.4190 or email
info@engsdimitri.com.

Regency mahogany writing table, ca. 1810.
Isidore Jules Bonheur (1827–1901), Coupled Hounds. Bronze.
Offered by Red Fox Fine Art. For further information call 703.851.5160 or email
tr@redfoxfineart.com.
Aldo Cipullo for Cartier gold and diamond earrings.
Offered by Brad and Vandy Reh Fine Jewelry. For further information call 203.920.1755 or email
brad@bradreh.com.

Works by Rudyard Kipling, Deluxe Edition 25 Volumes. Bound in 3/4 Blue Morocco. $5,500
Greenish-white Chinese jade ewer, 18th century. $13,500
Offered by Robyn Turner Gallery. For further information call 424.335.0105 or email robynturnr@aol.com.
George III Serpentine Mahogany Knife Boxes, English, ca. 1770.
An unusual walnut oval tilt-top table inlaid in fruitwood. Venice, Italy, ca. 1750.
Offered by L'Antiquaire & the Connoisseur. For further information call 212.517.9176 or email
info@lantiquaire.us.
Carving of Christ bound to a column, south German, ca. 1650.
Offered by European Decorative Arts Company. For further information please call 516.643.1538 or email
eurodecart@gmail.com.

Click Any Day Below to View More Featured Objects