At the Brooklyn Heights Designer Showhouse, Harry Heissmann Designs For A Dinner Party With A Ghost
put on your bunny slippers and join the party
Designer Harry Heissmann called upon his "circle of friends" to lend their talents to his exuberantly cheerful dining room, filled with bespoke creations, elegant antiques and contemporary studio design, much of which he sourced through Incollect. All interior photographs by Christopher Delaney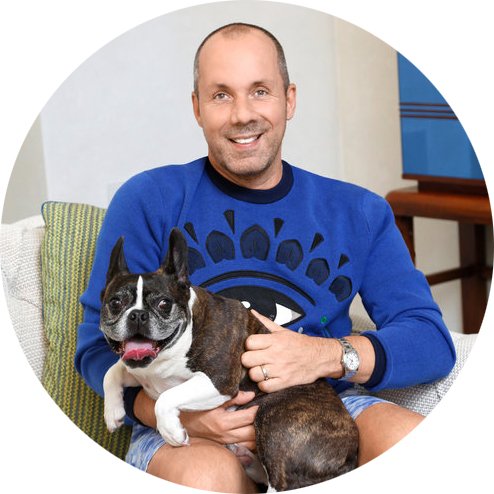 Harry Heissmann
a
nd Samson
Long-time Brooklyn Heights resident Harry Heissmann is a classically trained interior designer with a Master of Interior Design degree from the Academy of Fine Arts in Munich, and worked for interior design legend Mr. Albert Hadley for nine years, establishing his own firm in 2009. His background in traditional design serves as the foundation for any direction his client's lifestyle takes him. His projects have ranged from elegantly traditional to wildly imaginative, always polished, very personalized, and delivered with his irresistible smile and charming sense of humor.
Harry has participated in many showhouses, and always approaches the process as a collaborative celebration of talent. He mobilizes his circle of friends — artists and artisans who share his love of the unique and bespoke, and trusted purveyors of services he has worked with for years. One of the first pieces produced was the round sisal rug beneath the dining table and chairs. Musing on the sea captain purported to be the first owner of the house, nautical themes came to Harry's mind; he sketched out a pattern of radiating sardines that was executed by decorative painting and mural studio Artgroove. Vibrant sapphire-striped wallcovering from Tillett Textiles — whose casual yet sophisticated patterns were a favorite of Jacqueline Kennedy — the "Flower and Snail" pattern Harry had custom created is an archived midcentury pattern rethought in a new colorway. Shagreen "Stingray" wallcovering from Cowan & Tout covers the ceiling, adding its subtle sparkle. Harry's dear friend ceramic artist Christopher Spitzmiller came through with two never-seen-before creations: a showstopper artichoke centerpiece tureen requiring 15 hours of glazing, and a pair of art deco-inspired candlesticks in an iridescent silver lusterware glaze. He also contributed the blue and white Marble Ware pieces that fill the built-in china cabinets. Upon seeing Harry and the other designers' transformations and admiring Spitzmiller's tableware, the current owner of the house, who has relocated and put 13 Pineapple Street up for sale, remarked "maybe I should move back in."


Left: China cabinets are filled with Marble Ware pieces by Harry's friend Christopher Spitzmiller. Right: Custom papier-m

â

ché

curtain panels by artist Mark Gagnon were inspired by antique hand-carved wooden panels made for a Victorian era horse-drawn hearse carriage Harry saw in an auction catalog. The dining table and chairs, the mirror and pendant light, and the French 1940s maple and lucite tall case clock from

Newel

were sourced on Incollect.
Incollect offered to assist Harry with sourcing items for his dining room, and he furnished it with a mix of pieces that span five centuries of design glory, from 18th century Spanish walnut dining chairs to a contemporary biomorphic-form "Cloud" console that serves as the bar. Visitors to the show will see a poster displaying QR codes keyed to each listing on Incollect; they can simply wand their phones over the code for all the details.



Left: Get all the details on items in the room with Incollect's QR codes. Right: Harry mixed pieces from varied time periods and styles to create a "collected over the years" narrative. Custom hand-decorated lampshades by Marian McEvoy from KRBNYC crown a pair of French 1940s crystal and bronze doré candelabra from Newel, available on Incollect. The lady is an art deco silver-plated fire screen, also from Newel; behind the chair, a set of brass and glass fireplace tools in the style of Fontana Arte is from Quotient.
After the Showhouse concludes and the property is sold, Harry hopes to design the entire house for the new owner — after all, he's in the neighborhood!
As a longtime Brooklyn Heights resident, what does the Showhouse mean to you personally?
I said to everyone who asked that question that I loved the idea of putting on my bunny slippers and heading over to the Showhouse — I live just around the corner from it! Whenever I walked my dog Samson, I always passed this house, and imagined how it would look inside.



Left: The dining room before. Photo by Susan De Vries, courtesy Brownstoner Right: Harry's richly layered and nuanced transformation. Harry sourced these pieces on Incollect: A pentagonal oak dining table by artist Tinatin Kilaberidze from Valerie Goodman Gallery, 18th-century carved walnut dining chairs from a set of 12 offered by Carlton Hobbs, and a French provincial Renaissance style screen from Newel. Fedele Papagni's contemporary black saucer pendant light with brass-rimmed glass-lensed cutouts is from Donzella. Above the mantel, a Postmodern design mirror from Alessandro Medini for Glast Italia is available from Cosulich Interiors & Antiques.
Do you think there is such a thing as a "Brooklyn Heights style" and can you describe it?
I think the design style in my neighborhood has evolved cautiously. There is so much old world charm, coupled with a discreet attitude and great respect for the wonderful history and period architecture. However, people have become more open to modern style and to mixing styles to reflect their more casual contemporary lifestyles, so as a result there are lots of organic interiors that have been formed over the years.
For the inaugural Showhouse in 2017, you created a playful and inviting bathroom with some of your signature elements: touches of fantasy, with a fairytale-style canopied shower curtain, and flora and fauna — wallpaper with giant yellow strawberries, cicada sconces and a rattan snail magazine basket. Does your dining room design for this year's show touch upon any of those themes, or is this a completely different approach?
For this year I tried to stay true to my 'client-centric' approach. I wanted the room to look like it had been in the same family all this time, with the sea captain bringing the Spanish chairs back in the late 18th century and the family then 'modernizing' over the years.
| | |
| --- | --- |
| | |
| | Each of Harry's projects begins with a sketch and a detailed floorplan; a showhouse is no exception. |
How did the initial design plan come about — did you envision and choose from a number of schemes or was it fully visualized first and then sketched?
I always start with a floorplan, so after I was assigned the Dining Room I came up with the layout pretty quickly and did the floorplan.
Did you create your room around an imaginary dinner party, and if so, who is in attendance?
That a great question — I love it! I loved the idea of the pentagonal table as a perfect shape for conversation. And I wanted to say goodbye to the cliché that you always have to have 6 guests. The table is big enough, though, to have more people at it if you'd like. The more I read about the house and its neighbors, the more I have become intrigued by the stories surrounding it. I would have Truman Capote at the table, the ghost that is said to live in the house, someone super chic like [legendary model] Carmen Dell'Orefice, you and me.
Did the room come together exactly as you expected, or did you have to work around any roadblocks?
When I saw the rendering of the room done I knew it was going to look exactly as I expected it, but better. I love how in showhouses, everyone steps up to the plate and makes things happen. I think by asking friends to make items specifically for the room, it became very personal. It's also very livable and in my humble opinion, doesn't look like a showhouse. There are always roadblocks and challenges — just like in every job you work on. But with a wink of the eye, I always say there are no problems, only solutions.
The pieces you selected span a broad spectrum of periods and styles and create a nuanced portrait of fine design, from a 17th century French Provincial Renaissance style leather screen and the 18th century Spanish dining chairs to contemporary studio artist pieces. You chose a pentagonal form oak dining table and biomorphic form console table. French 40s style is represented, along with art deco. Can you verbalize your intent with this mix? Are these some of your particular favorite design periods?
I really don't have a period I don't like and I do love the mix, always! I tried to achieve that 'organic, collected over the years' atmosphere, thinking of the history of the house and imagining what successive owners might have acquired.



In this cheerful room, the clouds have silver linings — the "Cloud" console table by French artist Jacques Jarrige in glossy white lacquer and silver leaf interior is perfect as a bar. A bottle of Beefeaters gin awaits a visit from Harry's mentor and friend Mr. Albert Hadley (pictured at right) and the pineapple ice bucket is a sly reference to the Showhouse address, 13 Pineapple Street. Above the bar, hammered nickel plates shimmer in a wall hanging by sculptor and jewelry designer Robert Lee Morris. The bar/console is from Valerie Goodman Gallery and the wall hanging is from Newel; both available through Incollect.
You have often mentioned Albert Hadley, your employer, mentor and friend, as a source of continuing inspiration. What do you think he would say about your room?
Oh, he would not stop talking about the custom Tillett fabric on the walls and I know he would say: "You're completely mad — but it works!"
And, there's a bottle of his favorite gin in the bar in case he comes by.
You sourced much of your material through Incollect. What was that experience like?
I love Incollect and everyone was so helpful in making it all happen. They are really with the times and the idea of visitors being able to scan a barcode and send themselves a tear sheet of a product was very appealing. Another great feature is the 'location' option so one can select items that don't have to be shipped from across the country.
If you could take home one thing from your room, what would it be?
Wow, really? The artichoke centerpiece Christopher Spitzmiller made. It is the chicest centerpiece!
The Brooklyn Heights Designer Showhouse at 13 Pineapple Street, Brooklyn NY 11201 is open Wednesday through Sunday, 11am – 7pm, and Thursday from 11am – 8pm; closed Monday and Tuesday. The Showhouse will run from September 27 through November 3, 2019.
Proceeds support the work of the Brooklyn Heights Association, pioneers of the idea of a historic district. The Association strives to balance historic preservation with 21st century ideals.