Designer QnA: Bruce Bierman on the thrill of a completed punch list and intuitive design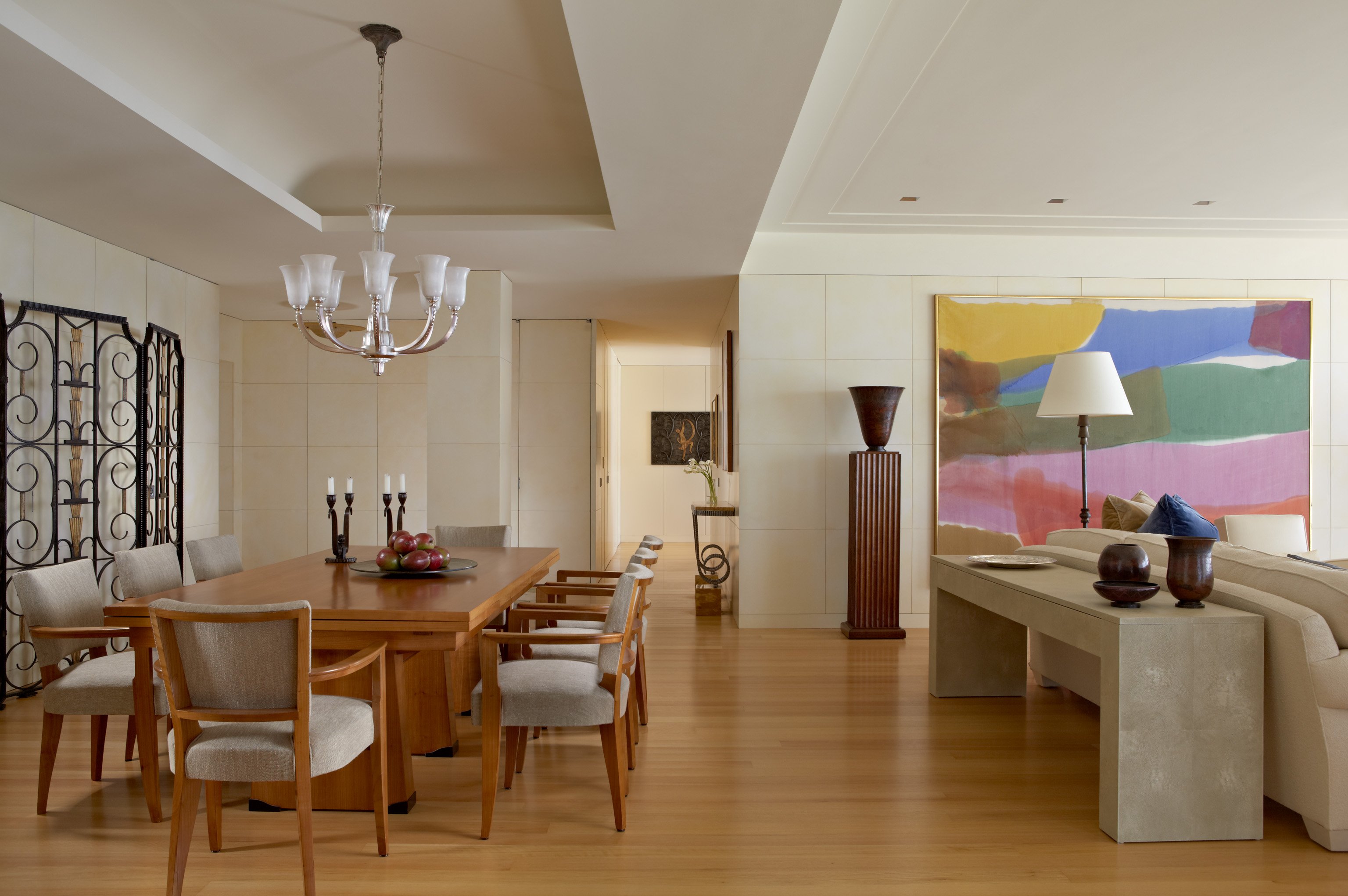 Impeccable Art Deco furnishings and a glorious 1954 color field painting by Morris Lewis evoke a sense of understated luxury in this apartment in The Breakers Palm Beach. Bruce Bierman jokes that the BBD stands for "Basically Beige Design," and that palette is utilized here, in part, to reference the sandy tones of the beach just outside the windows. But parchment paneled walls are also a direct link to the Art Deco period, and here, they support the elegantly streamlined profiles of a dining table and chairs by Paul Dupré-Lafon, a pedestal by Jean-Michel Frank, and a set of vintage Deco gates in wrought iron and parcel-gilt by Edgar Brandt. The silvered bronze chandelier is by Simonet Frères. Photo by Sargent Architectural Photography.
| | |
| --- | --- |
| | |
| | Bruce Bierman |
Bruce Bierman Design Inc. specializes in residential and commercial design. Trained in architecture as well as the fine arts at the Rhode Island School of Design, Bruce Bierman brings a unique perspective to each of his design projects. He combines practical knowledge with a refined aesthetic, which has become the hallmark of his work. The firm was founded in 1984. With a staff of thirteen, the designs and projects are produced worldwide. A member of the Interior Design Hall of Fame, Bierman's work has received extensive acclaim from his peers as well as from the design press. Articles on his work have appeared in Architectural Digest, Elle Décor, House & Garden, House Beautiful, Interior Design and The New York Times Magazine.
Bruce's hallmarks are modern, clean interiors with rigorous dedication to comfort, function and appropriateness, with an equally rigorous dedication to sensual pleasure and luxury. His interiors are logical and intuitive designs, created for the way that his clients actually live, so that the rooms serve a purpose, are well-loved and well-used.
With both client projects and his personal preferences in mind, Bruce shopped the offerings on Incollect, and his choices reflect his love for furniture with streamlined silhouettes, including sofas from Gigi Radice and Mattia Bonnetti, and sleek dining chairs from Paolo Buffa and Guiseppe Scapinelli. His picks reveal a penchant for bold lighting, with midcentury favorites from Stilnovo and 70s-era designs by Florian Schulz, along with some eye-popping custom stunners from Bourgeois Bohéme Atelier. And then, there's Bruce's true love, Art Deco – and among his favorites are wrought iron pieces by Raymond Subes and a bespoke French Art Deco inspired sideboard from Iliad Design, featuring book matched veneer and hand-carved legs. Look for pieces like these in the elegant interiors of Bruce Bierman Design, and follow the link below to shop the look.
DISCOVER BRUCE BIERMAN'S INCOLLECT FAVORITES



RAYMOND SUBES

Pair of forged Iron Gates

ILIAD




PAOLO BUFFA

Set of 6 Dining Chairs by Paolo Buffa

Donzella



ILIAD DESIGN

French Art Deco inspired Sideboard

ILIAD




(In the style of) GIO PONTI

Pair of Mid-Century White Glass Wall Lights with Gold Plated Embellishment

Blithewold Home
---
Role Model:

Miranda Priestly from The Devil Wears Prada

Necessary extravagance:

Dogs

Secret vice:

Dulce de Leche ice cream




Hidden talent totally unrelated to design:

Roller skating

Go-to color scheme:

BBD — Basically Beige Design!
---
Tell us something about you that is not in your bio.
My love of travel! My husband and I have traveled all around the world, but we always end up in Paris. No city is more beautiful or more romantic than the city of light. We love the shopping, the flea markets, museums, walking all over, and of course the food!
What excites you most about the design process?
The look on the client's face on move-in day — "Is this really our home?" The excitement and looks on their faces makes it all worthwhile. Also, that first meeting with the client. Many clients say something similar — that they want their home to be beautiful, but not intimidating; comfortable, but elegant. The fun part is discovering what they actually mean, and then giving them more than they could have imagined.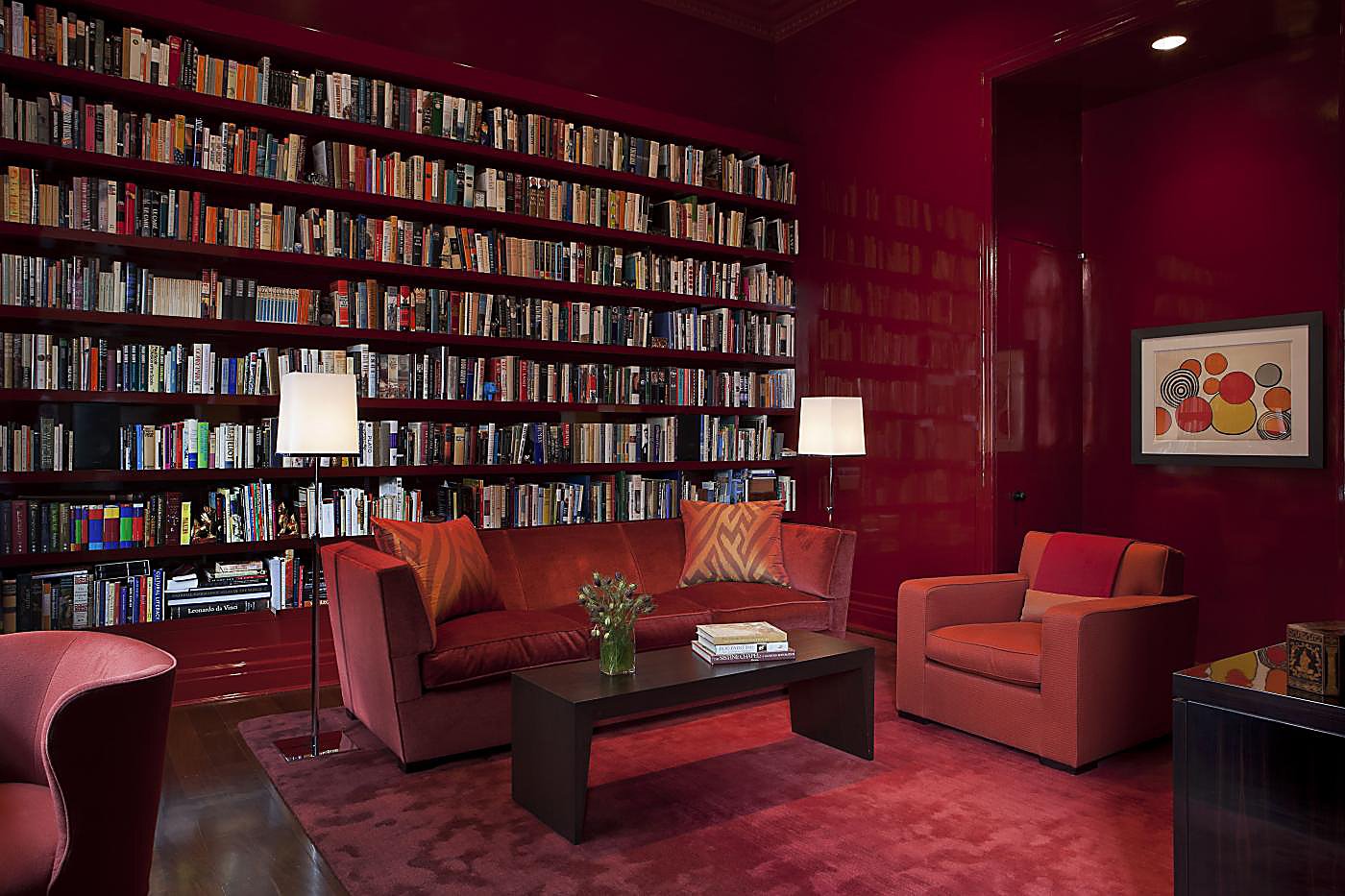 An envelope of color: A new twist on the ever-popular red library — the walls, shelves and even the ceiling are lacquered in deep red, tempered by more red in the rug and upholstered pieces, which in effect, turns the saturated tone into a neutral, albeit a neutral with luscious depth and richness. The books themselves become a large-scale artwork, so accessories can be kept to a minimum, a strategy for simplicity that makes this room work so well. Photo by Eric Piasecki

SHOP BRUCE'S INCOLLECT FAVORITES



HANS BERGSTRÖM

Floor Lamps by Hans Bergstrom for Ateljé Lyktan

Collage 20th Century Classics




(In the style of) OSVALDO BORSANI

Italian Mid Century Sculpted Table

L'Art De Vivre



Italian Red Vase from Murano

MA+39




ALEXANDER CALDER

Les Fleurs

RoGallery
| | |
| --- | --- |
| | |
| | Richard Neutra's Scheimer House, Tarzana, CA. Photo via Plastolux |
Name an architect, artist or designer, living or dead, you'd love to collaborate with and why?
Richard Neutra, for his minimal spaces that have maximum impact. He represents the epitome of what I would call intuitive design; everything has a logic to it.
How do clients push you to think outside of the box and challenge you?
The challenge is making something beautiful from something ordinary, and most first time clients do not realize what is possible. I was trained as an architect at RISD, so I have no hesitation about moving walls and re-configuring a space to make it more functional as well as beautiful.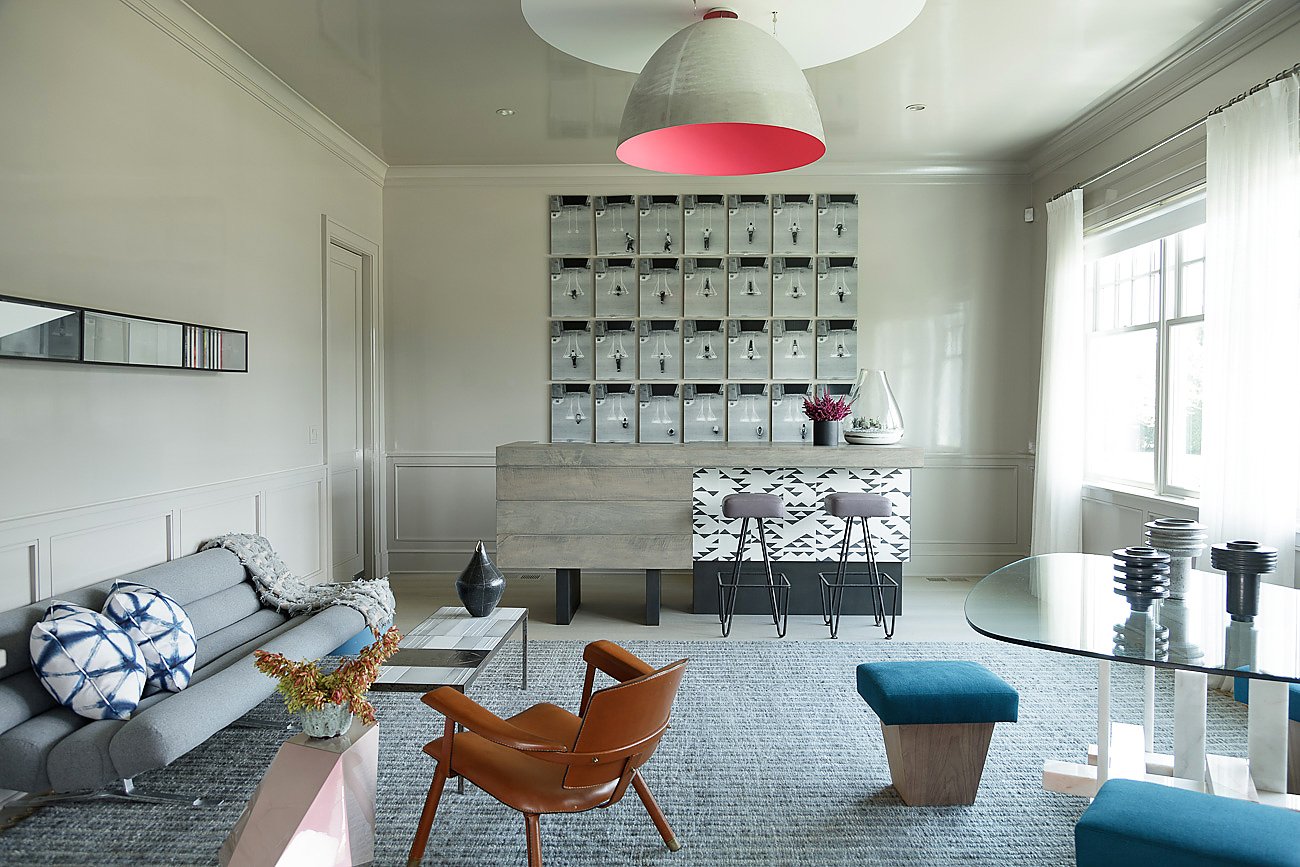 In an eco-chic Hamptons home, the seldom-used formal dining room was repurposed to become a festive and fun home bar and lounge. After more than 20 versions of the design were considered, this playful mix has the perfect ambiance and has become the clients' favorite room. The rare vintage 1966 Kingston sofa is by British furniture designer William Plunkett. Part of a modular suite named The Plunkett Plan, the pieces were batch produced in limited quantities with strict quality control standards, adding to both their desirability and scarcity. The sofa is joined by a 1960s coffee table by French ceramic artist Roger Capron. Mood lighting sets the tone with a fluorescent pink-lined dome ceiling light by Ingo Maurer. A rare Jacques Adnet armchair circa 1950, with original leather upholstery, is paired with a contemporary iridescent fiberglass Emerald side table by Achille Salvagni. Vintage midcentury Frederic Weinberg wrought iron barstools tuck up to a custom bar designed by Bruce Bierman Design, constructed of bleached and greyed walnut with cement tile, with a base of blackened steel. The photo sequence hanging behind the bar, reminiscent of Muybridge's classic motion studies, is by Robin Rhode. Photo by Axel Dupeux
SHOP BRUCE'S INCOLLECT FAVORITES



FREDERICK WEINBERG

Pair of Unusual Bar Stools by Frederick Weinburg

NYC Modern




Impressive Copper Chandelier with Performated Shades and Tropic Wood Details

Lomomomo



JACQUES ADNET

Pair of armchairs

Regis Royant Gallery




ROGER CAPRON

A Fine French 1960s Metal Base and Ceramic Top Coffee Table

Conjeaud & Chappey LLC
| | |
| --- | --- |
| | |
| | Mahogany and lemonwood veneer Art Deco secretary cabinet, offered by Blend Interiors . |
How does a design project start for you? Is there a particular element that you always start with that inspires the whole project?
Everything evolves from the client's wish-list along with the space — determining solutions that exceed their expectations. And each project is different. We recently worked on a project that combined two penthouse apartments, but the finished apartment reads as one magnificent apartment.
What is your favorite object in your home, and how and when did you acquire it?
An art deco desk that my husband and I bought in Paris on one of our first trips to Paris together. As a dealer himself, he wanted to pay the asking price, but I wanted a bargain. In the end, we got both!


Left: Bruce punctuated a clean, contemporary-style Chelsea loft with a ruby Mies van der Rohe daybed, Cedric Hartman floor lamp, mobile-style chandelier by David Weeks, and artwork that pays homage to Mondrian. Photo by Peter Margonelli Right: A glamorous Biltmore Palm Beach aerie features neutral beachy tones elevated by luxe finishes to showcase the owners' collection of modern art. Here, a work by Tom Wesselman is paired with maquettes by British sculptor Lynn Chadwick. The firm's signature finishing touch — books on nineteenth-century dog painting by Bruce's husband, William Secord, are stacked on the coffee table.

SHOP BRUCE'S INCOLLECT FAVORITES



TOM WESSELMAN

Large Tom Wesselmann Lithograph, Signed Limited Edition

objects20c




LEREBOURS BESPOKE

Custom Six-Arm Brass Fixture in the Stilnovo Style

Lerebours Antiques



KONEKT

'Pyramid' Sideboard with Walnut, Parchment and Brass

Konekt




HUBERT LE GALL

Coup D'oeil Petillant

Twenty First Gallery
What is your dream project?
Our current projects, which include homes New York, Greenwich, Aspen, Philadelphia and Palm Beach. These are dream jobs!
What is your favorite part of the install process?
Seeing it all come together and the Punch List complete!
An open fireplace with beach stones adds warmth to the cool contemporary architecture of this Palm Beach 30th floor penthouse. The richly-toned 19th-century dog painting from William Secord Gallery glows in the firelight, much as it would have when it was first painted. The painting and the great dark pool of a coffee table give gravity to the sea of warm neutral shades, and absorb the light that bounces throughout. Art Deco style is once again in evidence here, with low and gently curved seating profiles. Photo by Sargent Architectural Photography
SHOP BRUCE'S INCOLLECT FAVORITES



Pair of Cast Iron Greyhound Dog Statues

Adesso




JORGE ZALSZUPIN

Square 1960s Brazilian Jacaranda Andorinha Coffee Tables

Adesso



RAYMOND SUBES (Attributed)

Brushed iron base bench

Galerie Andre Hayat




ERCOLE BAROVIER

Barovier and Toso Cordonato D'oro Large Vase

NYC Modern
Do you have a signature element — something you always include when styling an interior?
Books on nineteenth century dog painting, all written by my husband, William Secord.
What makes a good room?
Creating a comfortable and functional space that invites clients to spend more time than they expected there. We don't design precious rooms that are only meant to be seen and not used.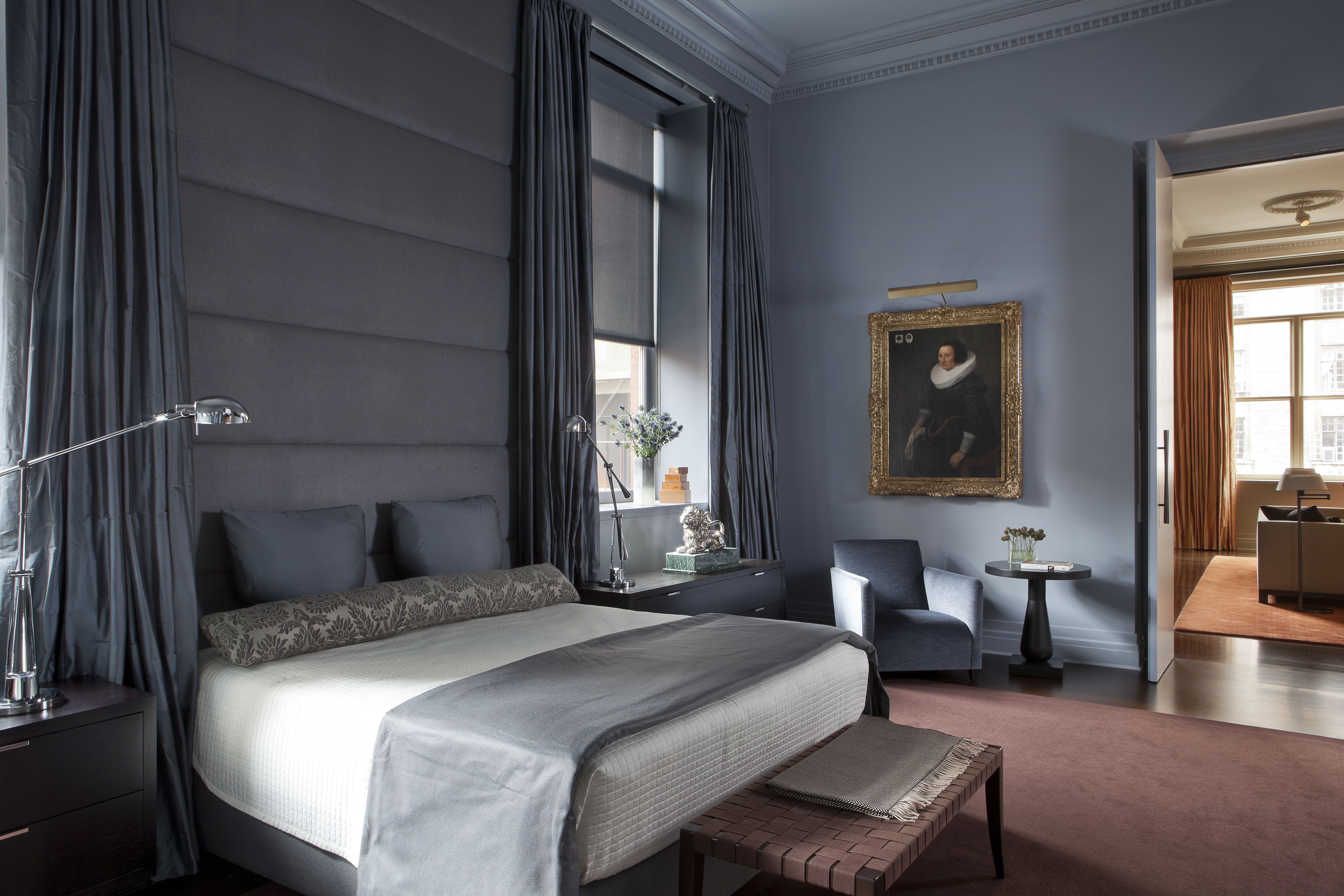 Drenched in richly subdued tones of periwinkle, gray and plum, the bedroom of a loft-like Chelsea apartment goes against type: no white gallery walls or steel windows here, but the subtle sheen of silk taffeta curtains and a cosseting floor-to-ceiling padded headboard. An elaborately framed painting from the Dutch Golden Age looks fresher and more interesting as displayed here, the sole antique piece in the room. Photo by Eric Piasecki
SHOP BRUCE'S INCOLLECT FAVORITES



Paolo Buffa

Paolo Buffa Nightstands

Orange Los Angeles




CARLOS SOLANO-GRANDA

Crescent Bench in Brass

Stamford Modern



CHARLOTTE PERRIAND

French Jumo 600 Desk Lamp by Charlotte Perriand, 1940s

Spirit Gallery




LANCE THOMPSON

The Pedestal Table
Hand Blackened Patina, Cast Base and Forged Edges

Lance Thompson Inc./The Gallery at 200 Lex
What have you learned about human nature and how people live that you use in your design approach?
Everyone asks for the same thing — to have beautiful rooms that are also comfortable and inviting. I always want my designs to be intuitive and easy to live with, serene and calm.
Tell us what you love about Incollect and what one can expect sourcing with us.
A wide range of furniture and furnishings along with imaginative and helpful articles. We are able to source so many amazing pieces of furniture beyond the client's expectations!