Of Mud and Magic — The Allure of Contemporary Studio Ceramics
Part 1 of a 3-Part series exploring some of the most sought-after makers of this once humble art form
Of Mud and Magic — The Allure of Contemporary Studio Ceramics
Part 1 of a 3-part series exploring some of the most
sought-after makers of this once humble art form
by Benjamin Genocchio
Mud is one of the oldest human art materials — we have been making things in clay for thousands of years, initially as containers and votive objects and gradually, with increasing sophistication, for decorative or ornamental rather than strictly utilitarian uses. But in the late 19th century mavericks like the Post-Impressionist painter and sculptor Paul Gauguin in Europe, and George Ohr in rural America—sometimes referred to as "America's First Art Potter" — began to see the potential of ceramics beyond decoration or ornament, as a mode of sculpture.
Major visual artists of the 20th century, such as Pablo Picasso, worked extensively in ceramics and often in collectible series which helped further to promote ceramics as sculpture. It also spearheaded a breakdown in formal distinctions between visual art, craft and design and encouraged the appreciation of ceramic makers as artists, like Ohr, as well as so many others including Peter Voulkos, Claude Conover, Toshiko Takaezu, Betty Woodman, Jean Besnard, Hans Coper, Estelle Halper and Lucie Rie.
Today ceramic makers rarely concern themselves with category questions, and the work they make runs the gamut from abstract to figurative to installations. Ceramics is an established subject of art school curricula and contemporary artists working in ceramics belong to important commercial galleries and are represented in major museum collections. Grayson Perry, Kathy Butterly, Thomas Schutte, Tal R, Takuro Kuwata and Robert Arneson are among the celebrated ones.
Collectors have begun to pay attention as well. Antoine Vignault from OAK Oneofakind Gallery has a passion for ceramics as sculpture and has watched this market evolve. "Over the past ten years, a certain push has been developing from art galleries and auction houses with dedicated shows and sales of ceramics. This enthusiasm is still limited, but you have to hurry because prices will go up — I see the openness and a growing interest on the part of contemporary art collectors and not only decorators."
OAK Oneofakind Gallery
Pierre Casenove
"Constant experimentation is one of the amazing qualities of the work of Pierre Casenove" says dealer Antoine Vignault, speaking about the French ceramist born in 1943 who is well known for his vase/sculptures inspired by primitive art, myths, and the inherent spirituality of nature. Everything is handmade and fired in his workshop in the Jura mountains of eastern France. His pieces are unique, with an emphasis on formal simplicity and chance, glazed or enameled sandstone or ceramic washed with engobe, which is an underglaze tinted with a colorant. The objects are fired at high temperatures over a few days in Japanese wood-fired ovens, which he builds himself, to allow for random surface textures from the smoke and the ashes.
Moderne Gallery
Ryo Toyonaga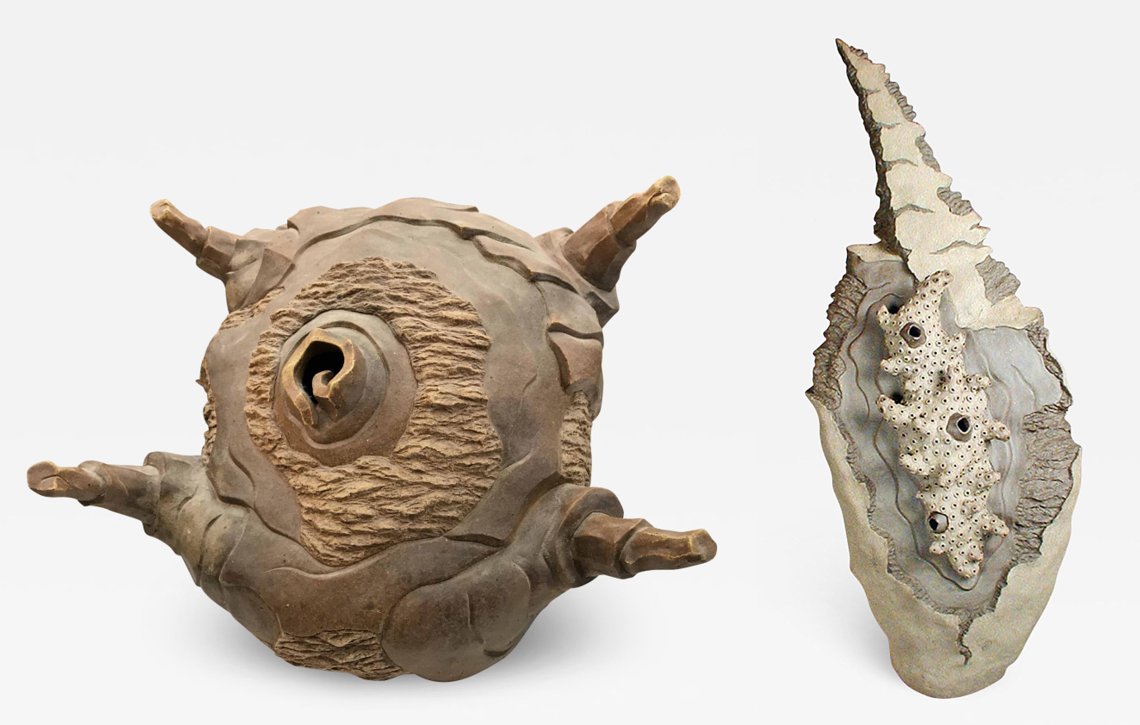 Ryo Toyonaga treats ceramics as a sculptural art form, or more specifically, uses clay as a medium through which to explore and express personal aesthetic goals. Moving from Japan to the U.S in 1986, he has worked in clay but has produced drawings as well as sculptures in wax, papier-mache, bronze and aluminum casting. He draws all his inspiration from the unconscious mind, with no preparatory drawings or designs, which accounts for the amorphous nature of his frequently unglazed sculptural forms. His sculptures are "an improvisation of sorts," says Robert Aibel. "Each aspect of the sculpture is enacted (not decided upon) in the moment, so that they are living expressions of his unconscious mind at the very instant that he's working on them."
Donzella
Dena Zemsky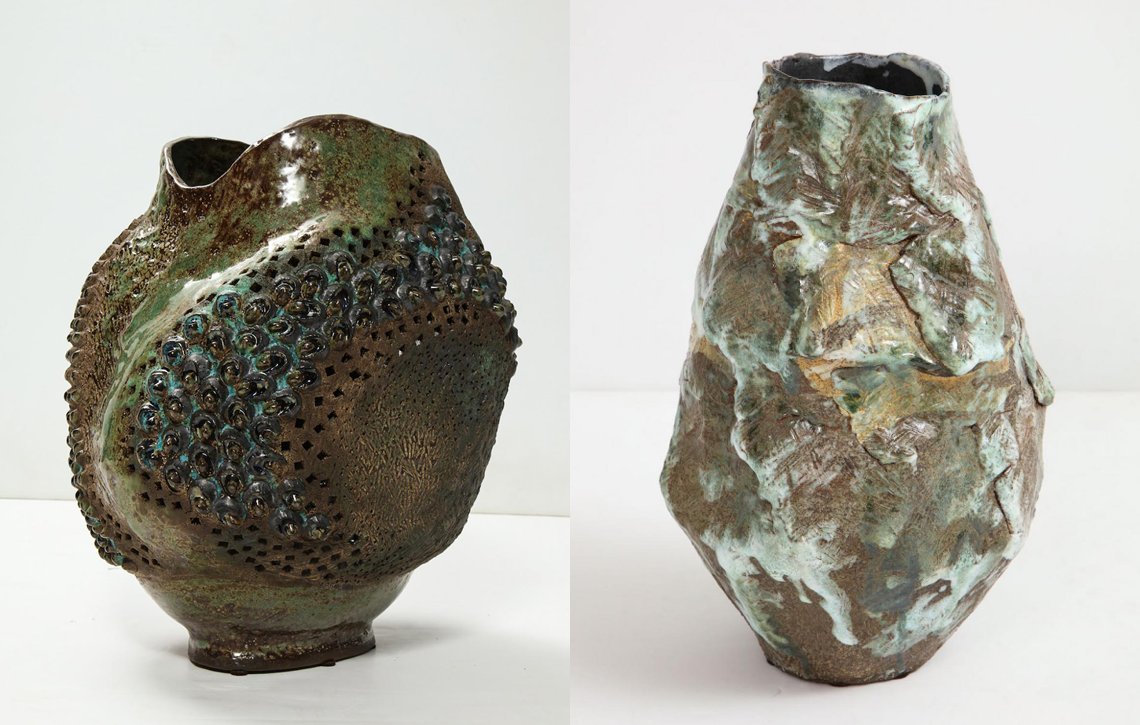 "It's clear to me from looking at Dena Zemsky's work that her strongest influence is nature itself, but she goes far beyond that," says Paul Donzella about her hand built, somewhat brutalist ceramics in irregular forms (resembling bowls, vases or cups) made of glazed ceramics with incised lines and patterned holes or relief decoration. Her vessels demonstrate not only tremendous technical skill but strong attention to singular coloration as the result of a deft manipulation of her overlapping glazes. "Somehow she manages to avoid making them appear busy," says Donzella. "Instead there is a clean and mature feeling to her work."
William Edwards Studio
William Edwards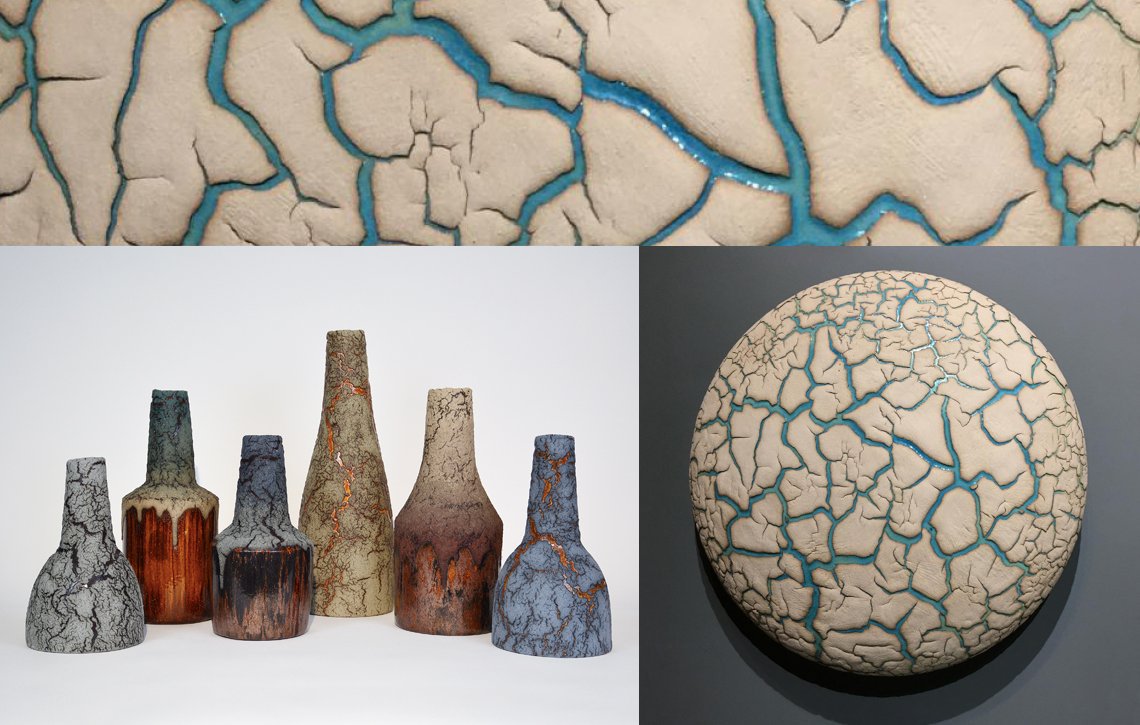 "Alchemy and chance play a big role in my work," says Edwards, who is based in the Moreno Valley outside Los Angeles. Glazes and surface texture are highlighted with the shape and form secondary in his painterly ceramic artwork. "In the kiln, my brush strokes are transformed, expanded and often even obliterated by atmosphere and a chemical reaction. What is left is a window of chaotic patterns of irregularity and imperfection, a result of a vast set of unique circumstances." This is less abstraction in clay than a formalism in which the process is the driving element in the product. Chance and imagination are the key ingredients along with intuition and experience.
The real turning point in the United States, "was when ceramics became an aspect of dealer booths at Art Basel Miami about 5 years ago," says Robert Aibel from Moderne Gallery. "Design Miami was meant to be the show at which ceramics were shown and sold, but art galleries at Art Basel Miami became aware of the increasing interest of their clients in ceramics. Some dealers began to present ceramics as art and sculpture thereby justifying higher prices as out of the category of accessories."
Paul Donzella agrees with Aibel and Vingault and is furthermore baffled that it has taken so long for ceramics to achieve more mainstream market success. "It's been amazing to see the rise in interest in ceramics over these past years, as it is long overdue. It's crazy that it has taken so long for studio ceramics to garner real interest from both interior designers and collectors. It seems that now that people's eyes and interests have tuned into these objects, there is a real hunger for them!"
Unique pieces of ceramic sculpture remain especially sought after by art collectors, Vignault says, especially those who know how to appreciate "both the know-how and the technique of the great ceramists" and what he describes as "the magic touch" of the artist, defined by him as "the vibration of the hand of the artist who tells the story of the piece and gives it its incomparable soul." For Vignault there is something magical about the way in which mud, a prosaic material, can be transformed.
Kasper Contemporary
Michael Boroniec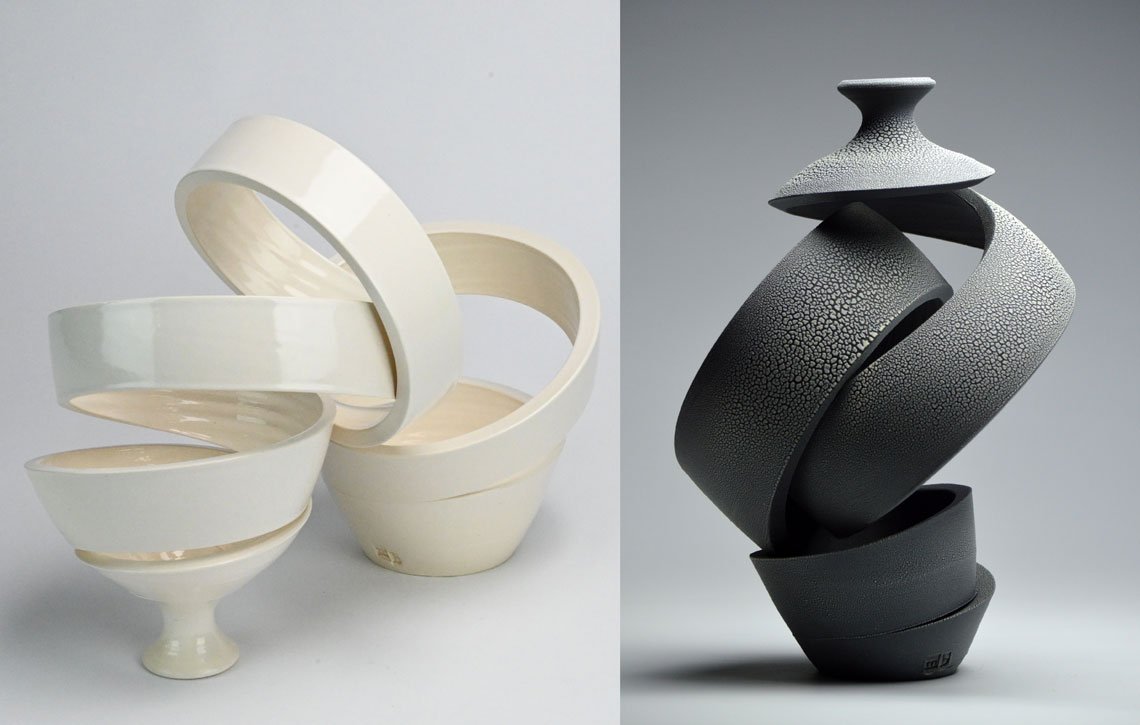 Michael Boroniec's "Spatial Spiral" series is a marvelous illustration of just how creative artists have become in contemporary ceramics. Each piece in the series starts out as something simple, a familiar and a functional form (usually a vessel) which Boroniec "skillfully slices and deconstructs into weightless, airy, abstract structures," Deanne Shashoua from the gallery explains. "The works' twisted hollow curves seem to defy gravity with their large spatial voids." Some of them extend out completely forward or backward into a perfect arch, others appear to mimic movement. Boroniec's ceramic sculpture is as much about beauty and technique as a sense of wonder.

Maison Parisienne
Juliette Clovis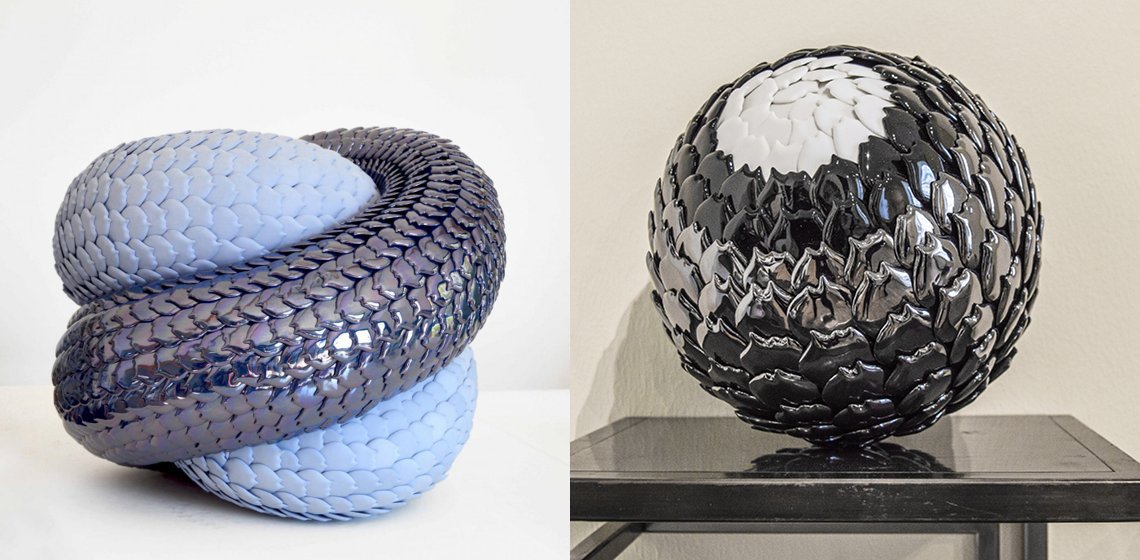 Born in 1978, French artist Juliette Clovis has achieved a mastery of fine, traditional ceramic-making techniques. She also has her own unique creative vision inspired by botanical subjects, though it is not uncommon for her singular, mysterious, biomorphic forms to be covered in hundreds of little scales (handmade with ceramics or porcelain and enamel) resembling coiled snakes sleeping. It is this very ambiguity of intention in design that makes her ceramics so fascinating, so much so that Florence Guillier-Bernard, founder of Maison Parisienne, has described her work as "seeming to exist in the ambiguous space between natural and artificial, combining their striking beauty with an underlying impression of menacing danger." What is organic and what is manmade in the work of Juliette Clovis blurs into one.
Galerie Carole Decombe
Isabelle Sicart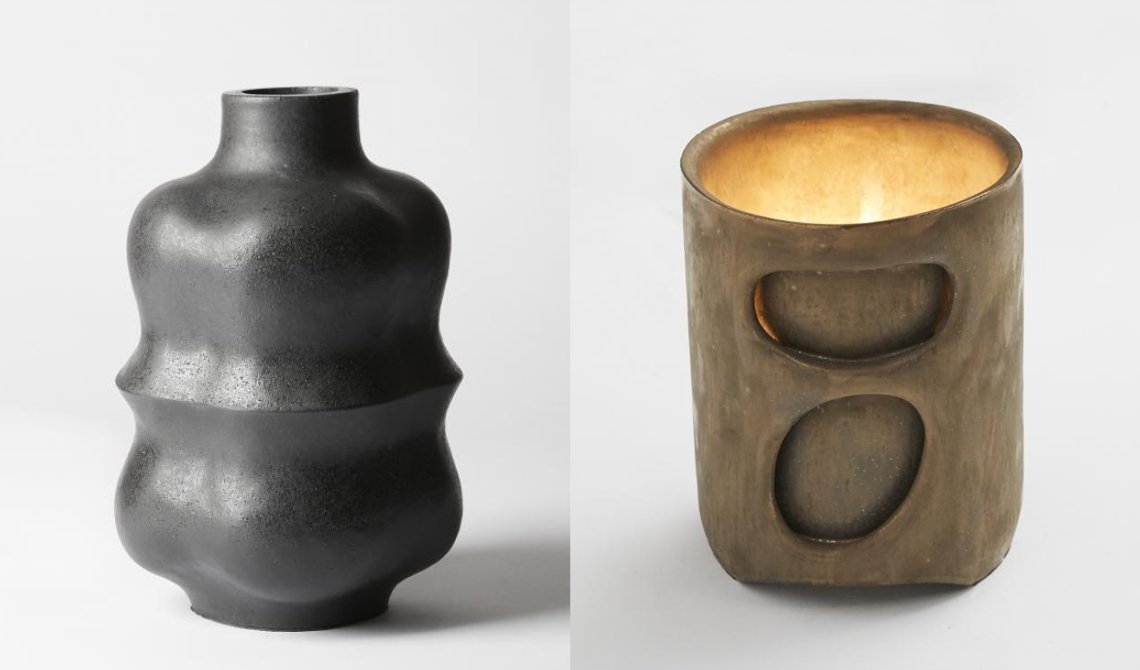 Isabelle Sicart lives and works in Paris, where, after studying ceramics at the Graduate School of Applied Arts, she joined Lalique in 1991. Since 2004 she has been making her own ceramic objects, both unique pieces as sculpture as well as more functional designs that "combine precision and softness", says Cecile Jeandel, a director at the gallery, "much influenced by the habitat and style and interiors of the Mediterranean world, where the colors white and black prevail." She works primarily with clay but on occasion also with stone and metal and there is something minimal and elementary about her ceramics which are often sensuous, smooth and pleasing to sight and touch. She has worked with designer Emmanuel Levet Stenne to create table collections.
Todd Merrill
Maarten Vrolijk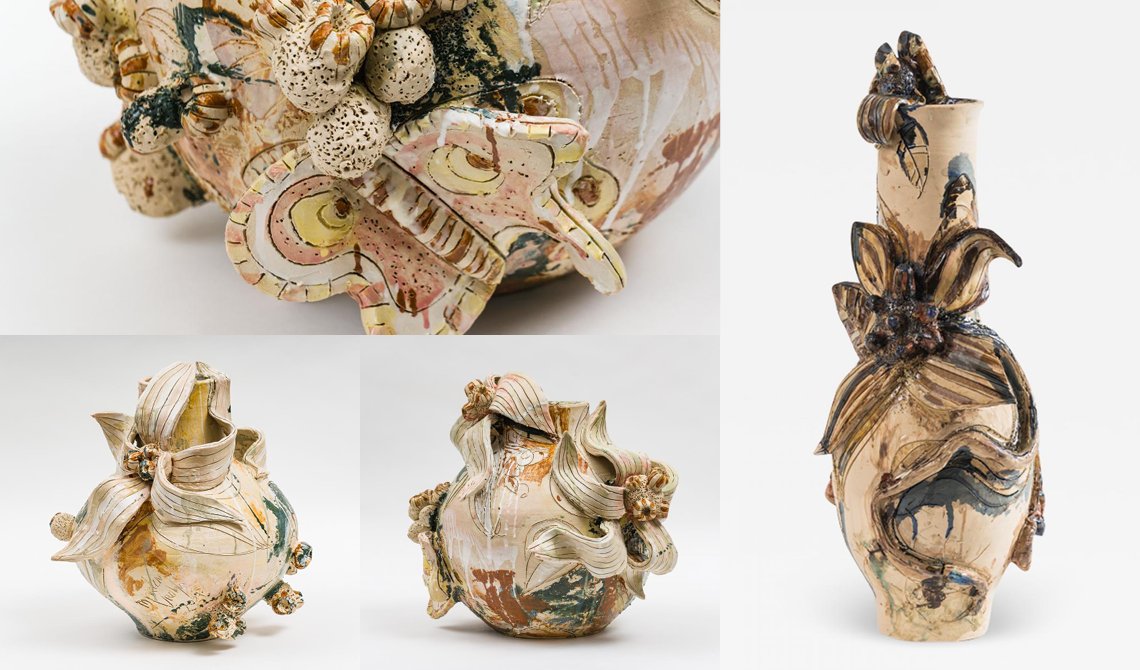 Expressive color defines the work of Amsterdam-based artist and designer Maarten Vrolijk who is equally adept at making objects and vessels with glass as with glazed ceramics. In each instance, a loose, painterly use of color predominates as he hand scores, then hand paints his effusive ceramics, which frequently make references to floral arrangements, botanical themes or sometimes animal forms. His ceramics are messy, organic, even alive, with a beguiling energy, sensuality and fluidity.
Deanne Shashoua from Kasper Contemporary in New York believes the interest in ceramics is twofold, partly because "design has grown into an exciting category within collecting," along with the fact that "collectors have become more aware and interested in technique, materials and process," she says. She sees collectors including more 3D items such as ceramic sculpture, furniture and lighting as part of a curatorial and decorating process. "They appreciate the risk and deftness of hand that goes into creating these tactile, one-of-a-kind works," she says.
Commissions have also become an important part of the market. Maison Parisienne was one of the first art galleries in France to specialize in showing ceramics as art and today work with many interior designers who want to integrate ceramics into their interior design. "We recently collaborated with a London-based interior designer on a Scandinavian project that required custom ceramic and metal sculptures by Caroline Wagenaar, says Florence Guillier-Bernard, founder of Maison Parisienne. "For another collaboration with an interior designer, we provided porcelain and hemp sculptures by Bénédicte Vallet for a seaside home in the Hamptons."
Shashoua also works with design clients on commissions and notes a relaxation of rules in interiors, more adventurous interiors as part of this process. "Contemporary designers such as Kelly Wearstler have shown there are no rules anymore when it comes to interior design. Anything goes — mixing aesthetics, materials, design and color are all acceptable now. I believe it's the same with collecting art and design. Go with your gut, buy what you like, work within your budget, mix it up!"
Heritage International Art Gallery
Natalia Khlebtsevich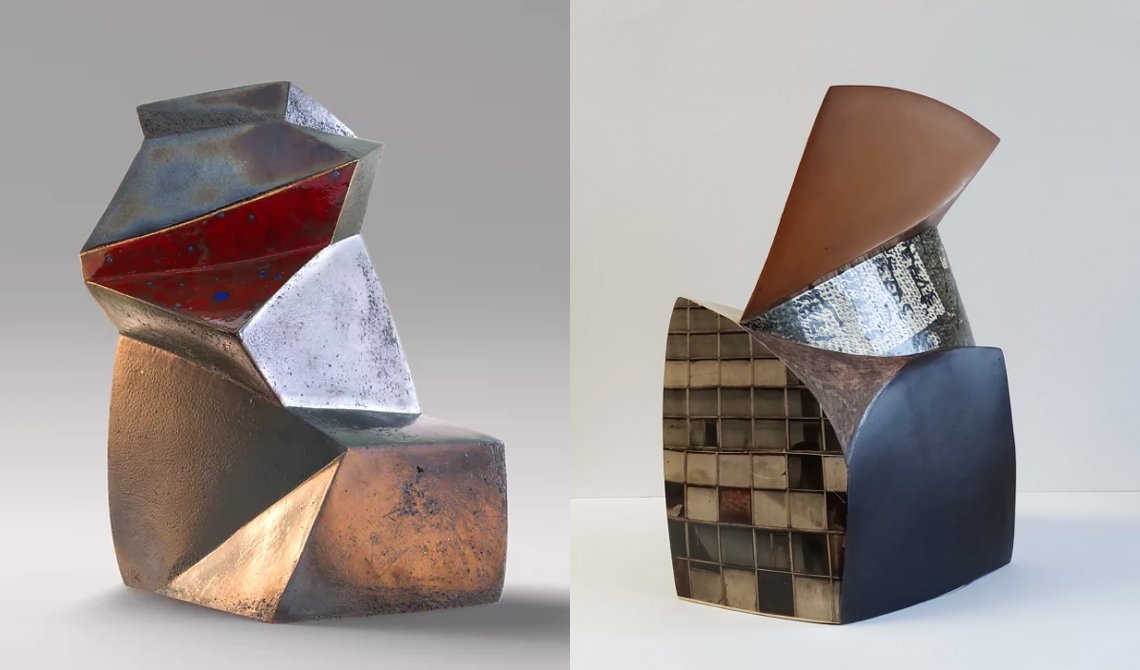 Natalia Khlebtsevich incorporates ceramics into her art, including chamotte, glaze, overglaze decals, and fired painting. Her sculptures are rigorously abstract in form and in content, generally geometric with a noticeable resemblance to monumental forms by Vladimir Tatlin, El Lissitzy and other Russian Constructivist artists, though this may be purely coincidental given she was born, lives and works in Moscow. In 2009 and 2011 she was nominated for the prestigious Kandinsky Prize.
Vessel Gallery
Vanessa Hogge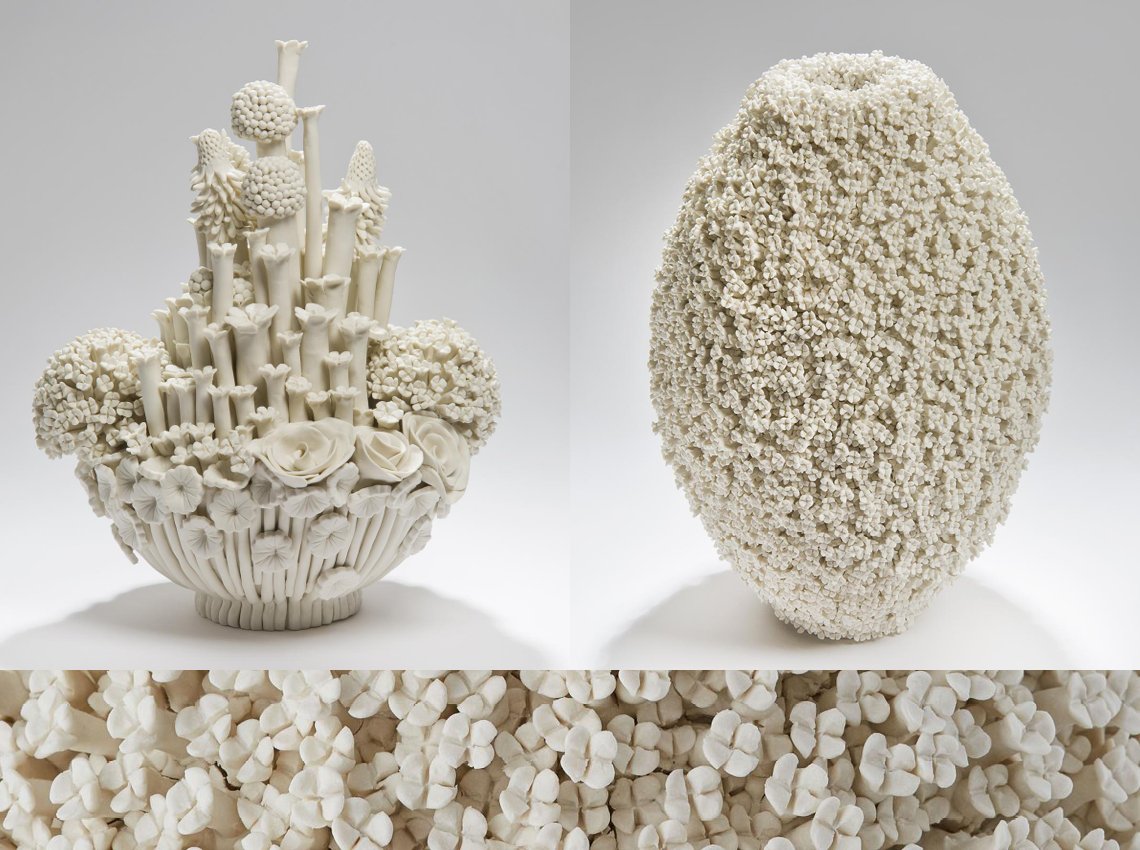 British artist Vanessa Hogge is justly admired for her unique hand-sculpted porcelain vessels covered in innumerable, individually hand-made porcelain decorative details. She works intuitively, instinctively, drawing on flowers as a source of loose inspiration. Her sculptures, sometimes functional as vases or other vessels, are intricate, delicate, as well as executed with painstaking care and precision — fired at high temperatures the porcelain is "ossified" into bright, "striking shades of white", the gallery explains.