The Winter Show Returns to the Park Avenue Armory in Style
Featuring Designer Vignettes by Bunny Williams Interiors, Stephen Sills Associates and Alex Papachristidis
The Winter Show Returns to
the Park Avenue Armory in Style
Featuring Designer Vignettes by Bunny Williams Interiors,
Stephen Sills Associates and Alex Papachristidis Interiors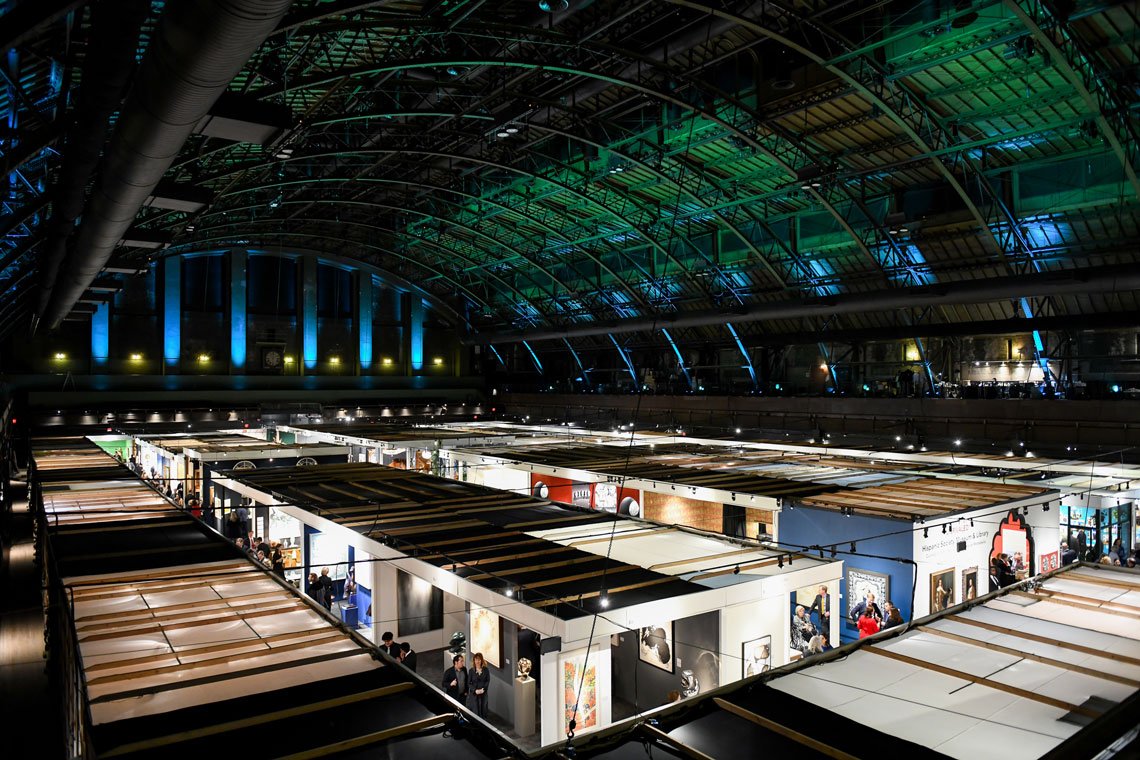 Rare and dazzling treasures await discovery at The Winter Show at the Park Avenue Armory, New York City. Photo: Zach Hilt
By Benjamin Genocchio
One of Helen Allen's earliest memories as a young girl growing up in New York is attending The Winter Show at the Park Avenue Armory with her mother. She still has a vision, she says, of a dazzling reveal of treasures from all around the world. The Show is New York's longest-running art, antiques and design fair, established in 1954 by East Side Settlement House to benefit the organization's programming which is dedicated to improving the lives of families in the Bronx and Northern Manhattan by focusing on education and workforce development. Today, Allen is the Executive Director of the Winter Show and for the 2023 edition, its 69th, she has assembled just under 70 exhibitors from Europe and the United States. There is also one gallery from Buenos Aires, Argentina, Eguiguren Gallery, the first from Latin America in recent times.
Sonia Delaunay (1884-1979), Eclipse. Rare Hand Woven wool tapestry produced by Ateliers Pinton. Edition 2/6. France.

From Portuondo, London and New York.






Left: Rare pair of chandeliers by Max Ingrand (1908–1969). Oxidized nickelled brass and partly sanded glass, Model no. 2338. Produced by Fontana Arte, Italy, c. 1960. From Portuondo, London and New York. Right: Rare Desk by Gio Ponti (1891–1971) in walnut and brass designed for the Vembi-Burroughs offices in Genoa and Turin. Produced by Giordano Chiesa, Italy, c. 1950. From Portuondo, London and New York.
"It feels like the dealers have really made a big effort this year," Allen says, as she walks through Armory overseeing the preparation of the booths. "The quality and variety of material is outstanding, at a level that surpasses previous years." She is not wrong about the variety, for the 2023 show includes among other things, a limited edition 1930 Commodore Roadster, parked at the booth of Kelly Kinzle (New Oxford, PA) and described by the gallery as "an Art Deco masterpiece by Isotta Fraschini." Priced at $1,450,000, it features a lush Lalique hood ornament and, Kinzle says, is only one of nine others ordered from Milan. "This roadster, equipped with the 'Super Sprint' package, possessed power, speed, and refined engineering, coupled with astonishing luxury coachwork by Carrozzeria Castagna."
1930 Commodore Roadster, Isotta Fraschini, body by Carrozzeria Castagna. From Kelly Kinzle, New Oxford, PA.
Every object that is presented at the fair is vetted for authenticity, date, and overall condition by a committee of more than 120 experts. Vetting maintains buyer trust and supports dealer integrity but also helps to educate buyers and visitors about what it is they are looking at. "Each year, The Winter Show offers dedicated and passionate collectors and connoisseurs the opportunity to acquire and learn about an extensive range of works from around the world," said Allen. "Dealers sell, but also educate."
Many of the dealers participating in the show have tremendous experience in their areas of expertise, and in some cases, Allen notes, have been exhibiting at the fair for decades. Hyde Park Antiques is celebrating 40 years at the show, while Macklowe Gallery is celebrating 26 years. Other galleries have been around for decades, including Adelson Galleries, A La Vielle Russie and Ralph M. Chait.
From Milord Antiques, Paul Evans, welded, polychromed and patinated steel "Skyline Dining" table. Circa 1973. Provenance: Acquired directly from the artist by the previous owner.
| | |
| --- | --- |
| | |
| Carlo Bugatti, rare oak and parchment chair in the "orientalist" style, hand painted with bird and leaf motifs. Italy, circa 1904. From Milord Antiques. | |
In addition to the booths, each year the fair invites stars from the world of design and architecture to be honored as Design Council Co-Chairs and create small installation vignettes featuring objects and artworks from show dealers. Bunny Williams Interiors, Stephen Sills Associates and Alex Papachristidis Interiors are all doing vignettes for the 2023 show that are, Allen says, "Going to be spectacular, like entering into another world!"
It is impossible to single out one booth over another given the material is so varied; the show covers 5,000 years of human creativity. But some of the more interesting displays include, at Robert Simon, a cool exhibition on historic women artists, titled "Heroines of the Brush", with artwork ranging from the Renaissance to the 20th Century. Milord Antiques from The Gallery at 200 LEX powered by Incollect (NYC) has an important suite of Bugatti furniture including a cabinet, console and mirror, and chair, along with pieces by Paul Evans and Philip and Kelvin LaVerne.
Other highlights at the 2023 show include Arader Gallery's (Philadelphia, and New York), selection of rare maps and prints, rare books, and watercolors from the 16th century onwards. Guy Regal NYC returns with a selection of marvelous Peter Lane ceramics, much sought after by interior designers for high-end interiors, as well as an elegant little side table by Philip and Kelvin LaVerne.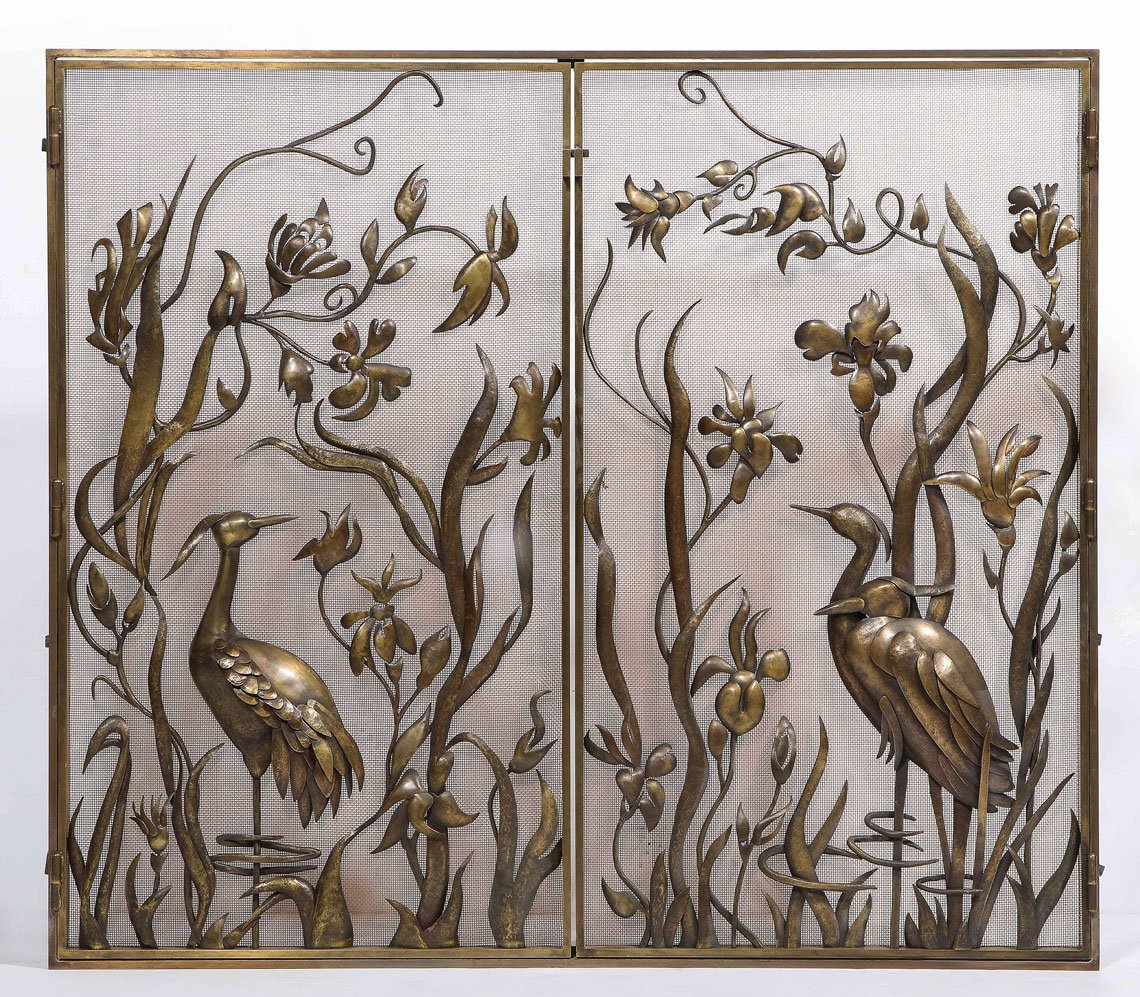 Alba & Brian Benson (American) Bronze and Iron Fire Screen, 2010. Offered by Guy Regal, New York City.
Among the individual items that stand out are a cast bronze sculpture by Auguste Rodin at Bernard Goldberg Fine Arts (New York) depicting one of the many Burghers of Calais (Pierre de Wiessant). He is also showing two important works by Lithuanian sculptor Jacques Lipchitz, "Lesson of a Disaster," 1961-1970, a bronze measuring over 11 feet tall, and "Bather," a cubist composition from 1917.



Presented by Lillian Nassau LLC, Left: Frank Lloyd Wright, Wisteria Window from the Darwin D. Martin Residence American, circa 1904. Right: Tiffany Glass & Decorating Company, Rare Favrile Glass Lava Vase with Stand, ca. 1906-07.
Nearby, an exquisite glass wisteria window by Frank Lloyd Wright at the booth of Lillian Nassau LLC (New York) from the Darwin D. Martin Residence in Buffalo, New York. They are world-renowned specialists in Tiffany Studios and Louis Comfort Tiffany, and have several important Tiffany Studios objects on view including a rare Favrile glass Lava Vase. Tambaran (New York) has fine tribal art including a spectacular 19th-century Raven Tlingit Headdress from British Columbia made of wood, pigment, human hair, and leather.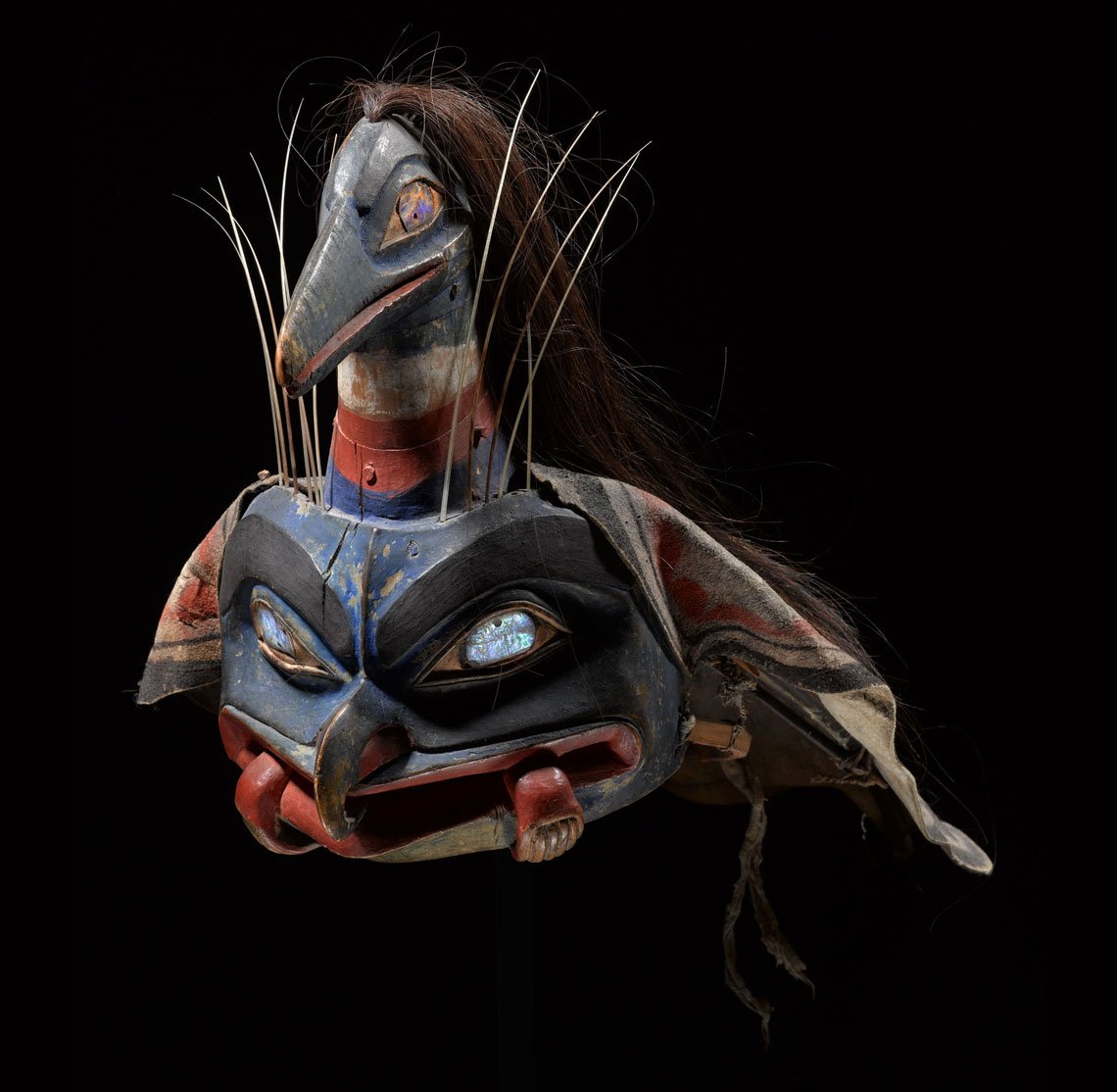 Raven Tlingit Headdress, wood, pigment, human hair, leather. 19th century, British Columbia. Offered by Tambaran.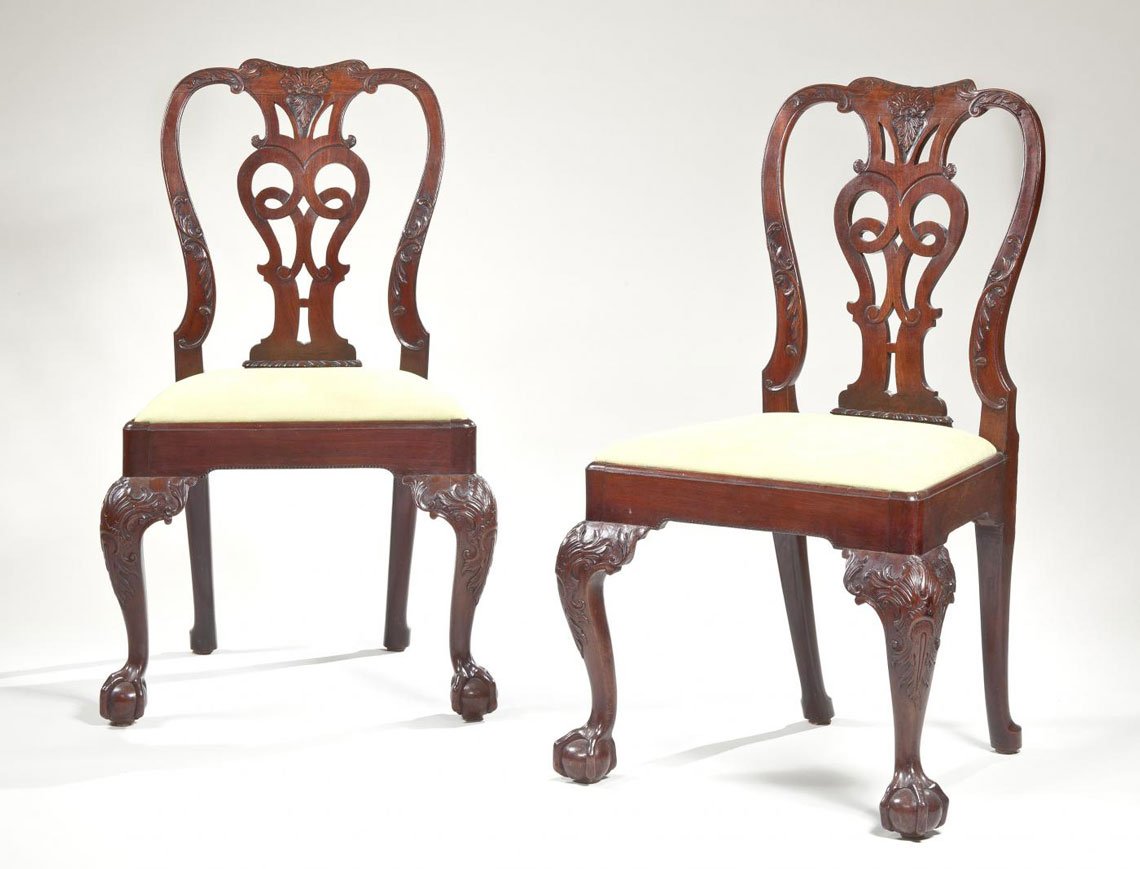 Set of 8 Mahogany George II Dining Chairs with Important Provenance, 1750, England. Offered by Clinton Howell Antiques.
Clinton Howell Antiques (New York) has a rare set of eight George II carved mahogany dining chairs attributed to Samuel Norman and created for a member of the Pakington family, c. 1740, likely for Sir Herbert Pakington's stately home Westwood Park in Worcestershire, England. Portuondo is once again mixing art and design with their usual stellar quality—this year they have tapestries by Robert Motherwell and Sonia Delaunay alongside a pair of chandeliers by Max Ingrand, and a desk made of walnut and brass by Gio Ponti.
There is something for everyone in this show, regardless of preferred taste, period, or style — a quality that makes it such fascinating viewing. Joan B. Mirviss LTD (New York) is presenting the best of 20th-century and modern Japanese ceramics, while Levy Galleries (New York) will feature, among other things, a rare Chippendale Tall Case Clock from Providence, Rhode Island. This is the first time it is being sold.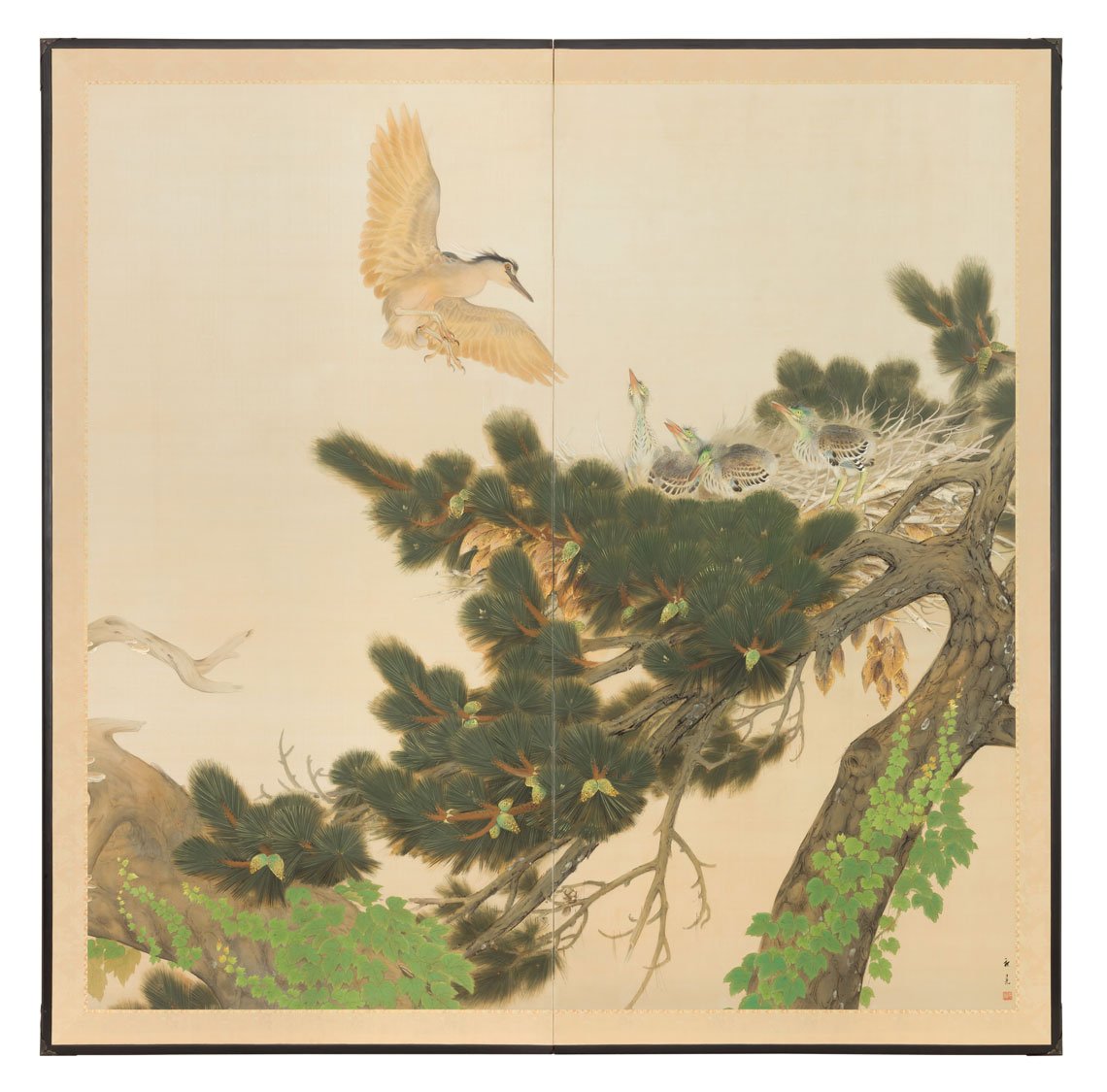 Mōri Shūkō, The Nest, 1929, Showa era, Japan. Two-panel folding screen; ink, mineral colors, and gofun (powdered shell) on silk. Offered by Thomsen Gallery.
Thomsen Gallery (New York, USA) specializing in important Japanese paintings and works of art, is bringing "The Nest" by Möri Shükö (1929), a two-panel folding screen depicting four young egrets in a mature pine tree. It is serene, tranquil and gorgeous.
For those with more modern and minimal tastes, Geoffrey Diner Gallery (Washington, D.C.) has a 1969 dining set by George Nakashima, including a table with ten chairs, commissioned by National Geographic photographer Wilbur E. 'Bill' Garrett. Today these dining sets are highly prized, rare to find complete and in such good condition, making this one of the modern design highlights of the fair.
Details:
The Winter Show runs January 20–29, 2023, at the Park Avenue Armory, 67th Street and Park Avenue, New York City. Daily admission is $40 ($30 advance purchase), which includes a copy of the Show catalog. To purchase tickets for the Opening Night Party on January 19, 2023, email events@eastsidehouse.org, call (718) 292-7392, or visit thewintershow.org.
Dates:
Opening Night Party
Thursday, January 19, 2023
5–9 PM
Daily Admission
Friday, January 20 through Sunday, January 29, 2023
Opens daily at 12 PM
Closing times vary; for detailed hours please visit thewintershow.org/tickets
Young Collectors Night
Thursday, January 26, 2023
6–9 PM
Connoisseurs Night
Friday, January 27, 2023
5:30–8 PM
Floorplan:
2023 Winter Show Exhibitors:
A La Vieille Russie, Inc., New York

Adelson Galleries, Inc., New York

Arader Galleries, Philadelphia and New York

Aronson of Amsterdam, Amsterdam

Avery Galleries, Bryn Mawr, PA

Barbara Israel Garden Antiques, New York

Bernard Goldberg Fine Arts, LLC, New York

Carolle Thibaut-Pomerantz, Paris, France

Charles Clark, Woodbury, CT

Clinton Howell Antiques, New York

Cove Landing, New York

Daniel Crouch Rare Books, London and New York

Debra Force Fine Art, New York

Didier Ltd, London

Dolan/Maxwell, Philadelphia

Doris Leslie Blau, New York

Eguiguren Arte de Hispanoamérica, Buenos Aires

European Decorative Arts Company, New York

French & Company, New York

Galerie Perrin, Paris

Geoffrey Diner Gallery, Washington, DC

Guy Regal NYC, New York

H. Blairman & Sons Ltd, London

Hill-Stone, Inc., South Dartmouth, MA

Hirschl & Adler Galleries, New York

Hyde Park Antiques, Ltd., New York

Imperial Art, Paris, France

James Robinson, Inc., New York

Joan B Mirviss LTD, New York

Jonathan Cooper, London

Kelly Kinzle, New Oxford, PA

Kentshire, New York

Keshishian, London

Koopman Rare Art, London

D9

E7

D2

E14

A13

C8

C1

E6

E12

D8

A1

E15

A2

D6

D12

C13

D10

A11

C11

B4

C5

B11

E13

D3

B9

D4

E11

C2

E4

A14

B15

C3

C14

E3

Lawrence Steigrad Fine Arts, New York

Les Enluminures, Chicago and New York and Paris

Levy Galleries, New York

Lillian Nassau LLC, New York

Lowell Libson & Jonny Yarker Ltd, London

MacConnal-Mason Gallery, London

Macklowe Gallery, Ltd., New York

Maison Gerard, New York

Michael Goedhuis, London

Michael Pashby Antiques, New York

Michele Beiny, Inc., New York

Milord Antiquités, Montreal, Canada

The Old Print Shop, Inc., New York

Patrick & Ondine Mestdagh, Brussels, Belgium

Peter Finer, London

Portuondo Gallery, London and New York

Ralph M. Chait Galleries, Inc., New York

Red Fox Fine Art, Middleburg, VA

Robert Simon Fine Art, New York

Robertaebasta, Milan, Italy; London

Rolleston Ltd, London

Ronald Phillips Ltd, London

Rountree Tryon Galleries, Petworth, UK

S. J. Shrubsole, New York

Schwarz Gallery, Philadelphia

Simon Teakle Fine Jewelry, Greenwich, CT

Steinitz Gallery, Paris

Spencer Marks, Southampton, MA

Tambaran, New York

Thistlethwaite Americana, Middleburg, VA

Thomas Colville Fine Art, Guilford, CT and New York

Thomas Heneage Art Books, London

Thomsen Gallery, New York

Véronique Bamps, Monaco

B5

A6

E1

B2

B8

D5

C9

C7

B1

D11

D1

A8

A12

E5

A3

B12

D7

E9

C10

C12

A5

E2

A9

A4

A7

A10

B10

E10

B3

E8

C4

B6

C6

B7