Bellissimo! Mid-Century Italian Design at the New York Design Center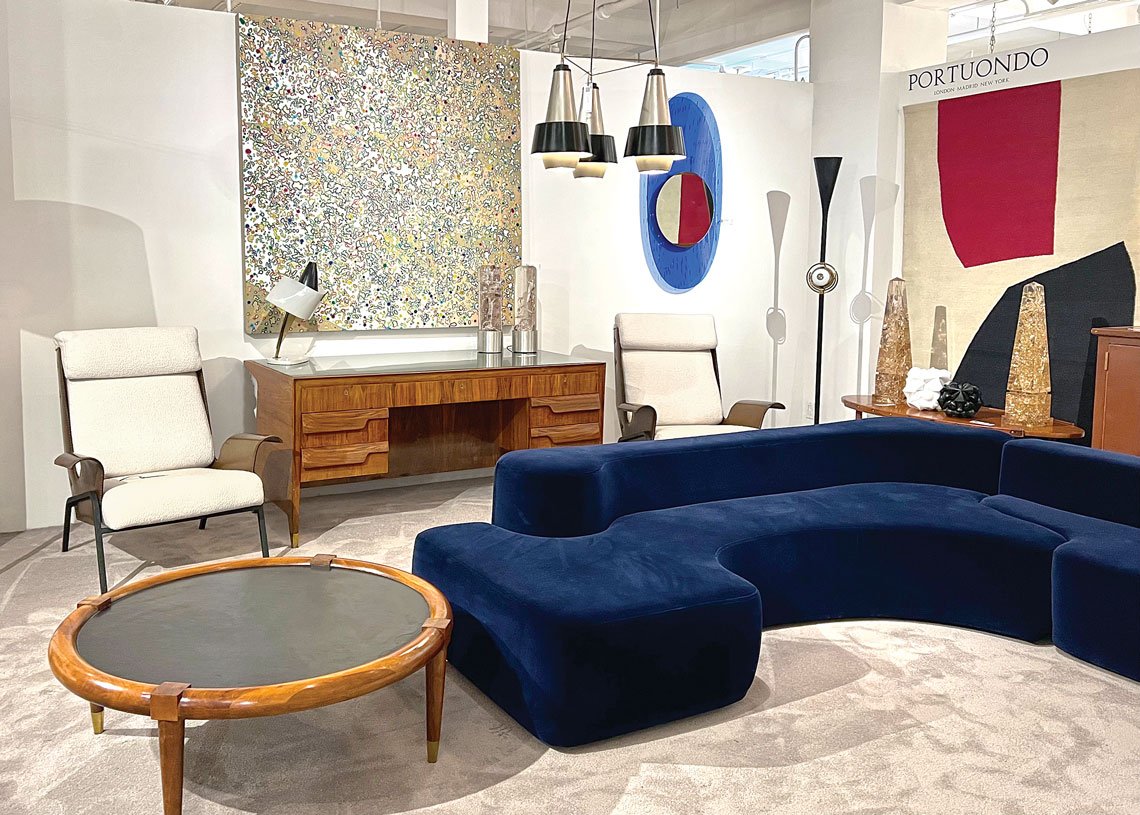 Portuondo has many significant pieces of Italian mid-century lighting and furniture. Shown here, a pair of "Alba" chairs by Gustavo Pulitzer Finali, Executive desk in walnut and brass by Gio Ponti circa 1950, rare black and white Stilnovo table lamp, Stilnovo Suspension chandelier and Angelo Lelli "Eye" floor lamp, and a puzzle shaped modular "Lara" sofa by Roberto Pamio and Renato Toso, circa 1960.
Mid-Century Italian Design at the New York Design Center
by Benjamin Genocchio
| | |
| --- | --- |
| | |
| | At Lost City Arts, a striking hourglass-shaped table lamp by Max Ingrand for Fontana Arte will add sculptural interest to a console, credenza, or desk. At 2 feet tall, it has great presence and timeless avant-garde style. |
The concept of the design fair is that, with numerous dealers clustered in one place, buyers can see the greatest range of items in the shortest possible time rather than traipsing across a city searching for showrooms. It is efficient and fun, and most especially if you are an interior designer with a client who would like a traditional shopping experience.
The NYDC located at 200 Lexington Avenue is a design fair in a building — or several design fairs — because the entire 10th floor is given over to small showrooms the size of design fair booths, presenting inventory from both dealers and interior designers. It is also open nearly every day, with an endless stream of new items keeping the displays lively and fresh.
The 55 booths on the 10th floor of the NYDC range in focus from the ultra-modern to the vintage and there is something for everyone's taste. There is so much here in fact that we decided to spend a day looking at the material around one specific style — mid-century Italian design, a category which is currently in high demand and also to be found at other showrooms around the building, including at Donzella, located on the 15th floor.
There are a number of dealers on the 10th floor with a strong concentration of wonderful mid-century Italian pieces: Fred Silberman, Milord Antiques, soyun k., Lost City Arts and Portuondo. There are strong concentrations of material around specific designers, so rather than highlight individual booths and dealers, we are grouping the material by designer. Here are some of the dealers and their exceptional items we think are worth looking out for next time you visit The Gallery at NYDC. The floor is powered by Incollect.com and everything is also available online.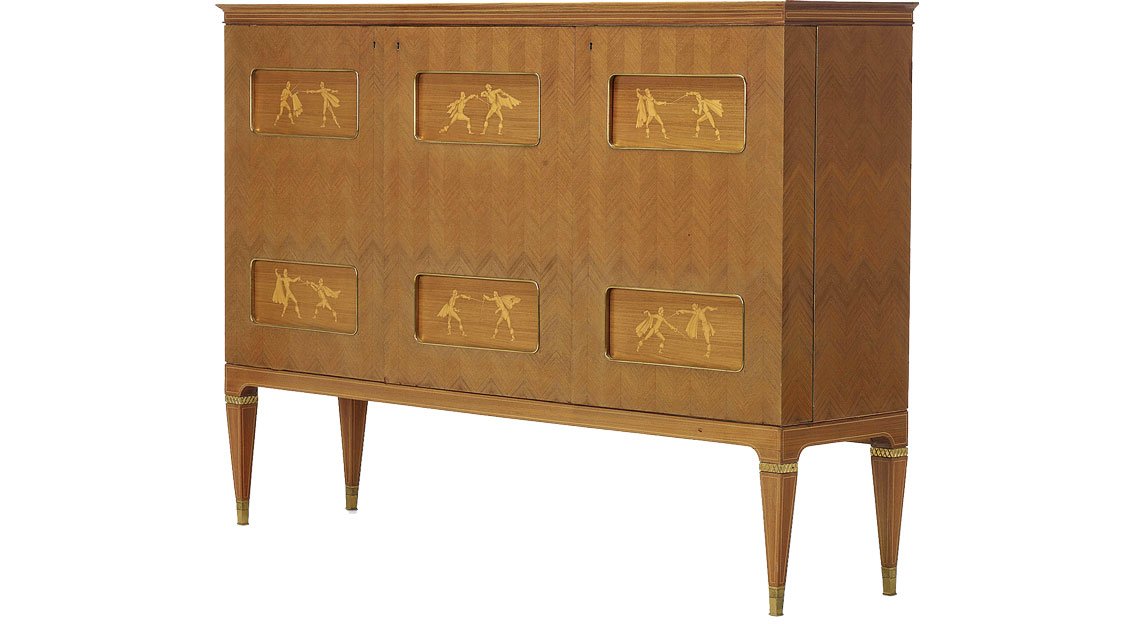 Milord Antiques is offering a magnificent mahogany and sycamore bar cabinet by Paolo Buffa. Decorated with six delicately articulated inlay fencing scenes and outfitted with movable shelves, graduated drawers and a mirrored compartment, this piece is a tour de force of fine craftsmanship.
There are almost a dozen Gio Ponti items on the 10th floor ranging from dining chairs at soyun k. to an elegant executive desk at Portuondo, lounge chairs at Babou, and design drawings at Lost City Arts.
| | |
| --- | --- |
| | |
| | Elegant Paolo Buffa center or game table in walnut with scalloped apron, églomise top in rich cinnamon brown and four pivoting drawers, each with a copper ashtray. From soyun k. |
One of the most significant and eye-catching Gio Ponti pieces on the floor is a signed Venini twelve-arm chandelier offered by Elizabeth Pash Interiors & Antiques. Made in multicolored Murano glass, it is a magical light fixture, colorful, effusive and decorative — classical in form but contemporary in mood and appearance with each arm of the chandelier featuring a clear glass flower-like bobeche. It really makes a statement.
There are also several important pieces of furniture on the floor by Paolo Buffa, a master of mid-century Italian design whose prices have been steadily rising. His rare walnut center or game table at soyun k. is adorably simple and refined, and so too is a mahogany and sycamore bar cabinet at Milord. The showstopper here is a 1948 cabinet at Silberman made of rosewood and mahogany with an inlay design of flowers and musical instruments. It was made by master artisan Giuseppe Anzani.
Fontana Arte is a brand that only continues to rise in popularity, especially after the recent retrospective exhibition devoted to the company in Venice, during the Venice Biennale de Arte. Fontana Arte designers are well represented on the 10th floor, with a wonderful selection of pieces by designers Max Ingrand and Pietro Chiesa — perhaps the two most important designers in the history of the company.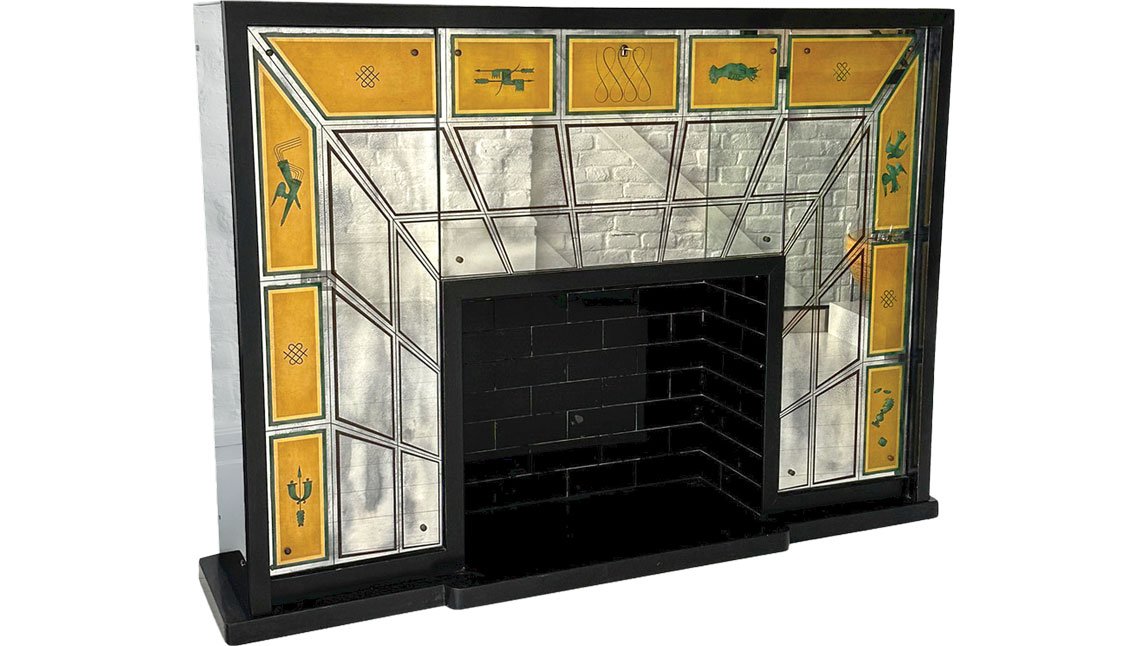 One-of-a-kind custom commission trompe l'oeil "fireplace" bar by Pietro Chiesa, circa 1935 at Portuondo. Below is a detail of the interior.
One of the most interesting, unusual and fun Fontana Arte items on the floor is a 1935 bar in the form of a realistic fireplace by Pietro Chiesa at Portuondo. It was custom commissioned for a private residence in Italy. Made of lacquered wood, etched glass, black opaline glass and brass with green interiors, it is a finely detailed piece of craftsmanship, with revolving doors and a drop-down front which opens to reveal an illuminated interior.
Elle W. Collection has a pair of Fontana Arte torchieres by Pietro Chiesa, and soyun k. and Lost City Arts both have pieces by Max Ingrand. Perhaps most striking of them is a tall hourglass-shaped brass and glass table lamp for Fontana Arte, circa 1960s, at Lost City Arts — the form is unusual, in the shape of a helix, but wonderfully proportioned. It is vintage and yet looks and feels strangely futuristic.
At soyun k. the ceiling and walls are awash in midcentury Italian lighting, with fine pieces by Pietro Chiesa and Max Ingrand for Fontana Arte, Ercole Barovier for Barovier & Toso, plus Stilnovo and Arredoluce.
Available at Fred Silberman, you'll find a great pair of shapely ink blue Gigi Radice armchairs, along with some exceptional mid-century Italian case pieces: a rosewood bar/cabinet by Vittorio Dassi (rear center) a Paolo Buffa cabinet in rosewood and mahogany with inlay designs of flowers and musical instruments, and also by Buffa, a demilune credenza with floral inlay in exotic woods.
Osvaldo Borsani is a designer who is undergoing a renaissance with collectors and his furniture is becoming increasingly harder to find. There is one magnificent piece on the floor, a credenza in mahogany produced by Arredamenti Borsani Varedo in the 1940s with exquisite bronze sculptural handles designed by Lucio Fontana. This really is an outstanding piece of furniture and a genuine collector's item.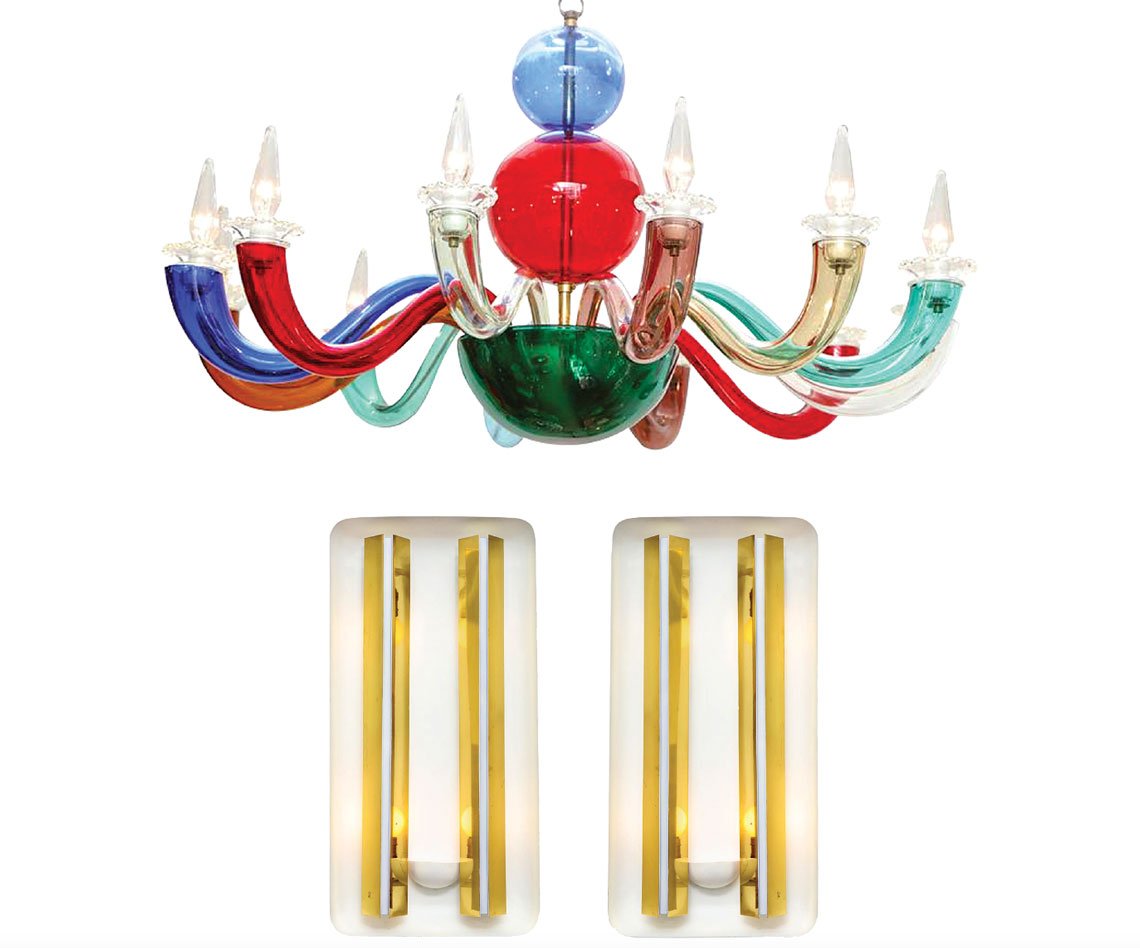 Above: Signed Gio Ponti for Venini multicolored Murano glass chandelier. 12 arms, colorful and effusive with elegant form by the undisputed master of Italian style. At Elizabeth Pash Interiors & Antiques. Below: Also by Gio Ponti, this pair of large custom commission sculptural sconces can be found at Fred Silberman. Elegant and restrained design with white enamel frames and slim brass elements from which soft light emits. Centered between the brass elements, a small display niche, which originally held porcelain figures.
With so much on offer in the booths throughout the floor, it can be difficult sometimes to take notice of an abundance of wonderful accessories, including delightful works of ceramics by a range of mid-century Italian ceramic artists. The market for ceramics has exploded in recent years and collectors have rediscovered the work of historical figures from Italy including Bruno and Guido Gambone and Marcello Fantoni. On the 10th floor, you can find examples of the work of Bruno Gambone at soyun k., and Guido Gambone and Marcello Fantoni at Milord. A rustic, free-form, primitive quality defines the work of both artists, who liked to mix sand and glass in glazes.
There are many other wonderful mid-century Italian designers represented by one or two items on the 10th floor. Robert Stilin has a glorious Carlo Mollino armchair from the RAI Auditorium, Turin, Italy, circa 1951, upholstered in orange velvet. Another standout piece is Angelo Lelli's "Eye" floor lamp made of brass, marble, perspex and painted metal from circa 1956, produced by Arredoluce and offered by Portuondo.
Lost City Arts has a selection of mid-century Italian lighting from some of the best makers: Fontana Arte, Mazzega Murano and Gaetano Scolari, to name a few. Seen at the rear against the back wall, a pair of Max Ingrand ceiling-mounted wall lights for Fontana Arte. These are rare custom pieces made in 1959 for a residence in Valenza, Italy.
Milord Antiques has a spectacular rare tromp l'oeil "Libraria" four-panel folding screen by Piero Fornasetti. The front depicts bookshelves overflowing with volumes, objets d'art and curiosities, the reverse, seen here at rear center, depicts an Italian cityscape as viewed through a series of arches. Also at Milord, a nice selection of mid-century Italian ceramics and glass from Guido Gambone, Barovier & Toso, Raymor, Dino Martens, Flavio Poli and others.