40 Innovative Womxn Designers Debut Spectacular New Works at "Evolved Resolve"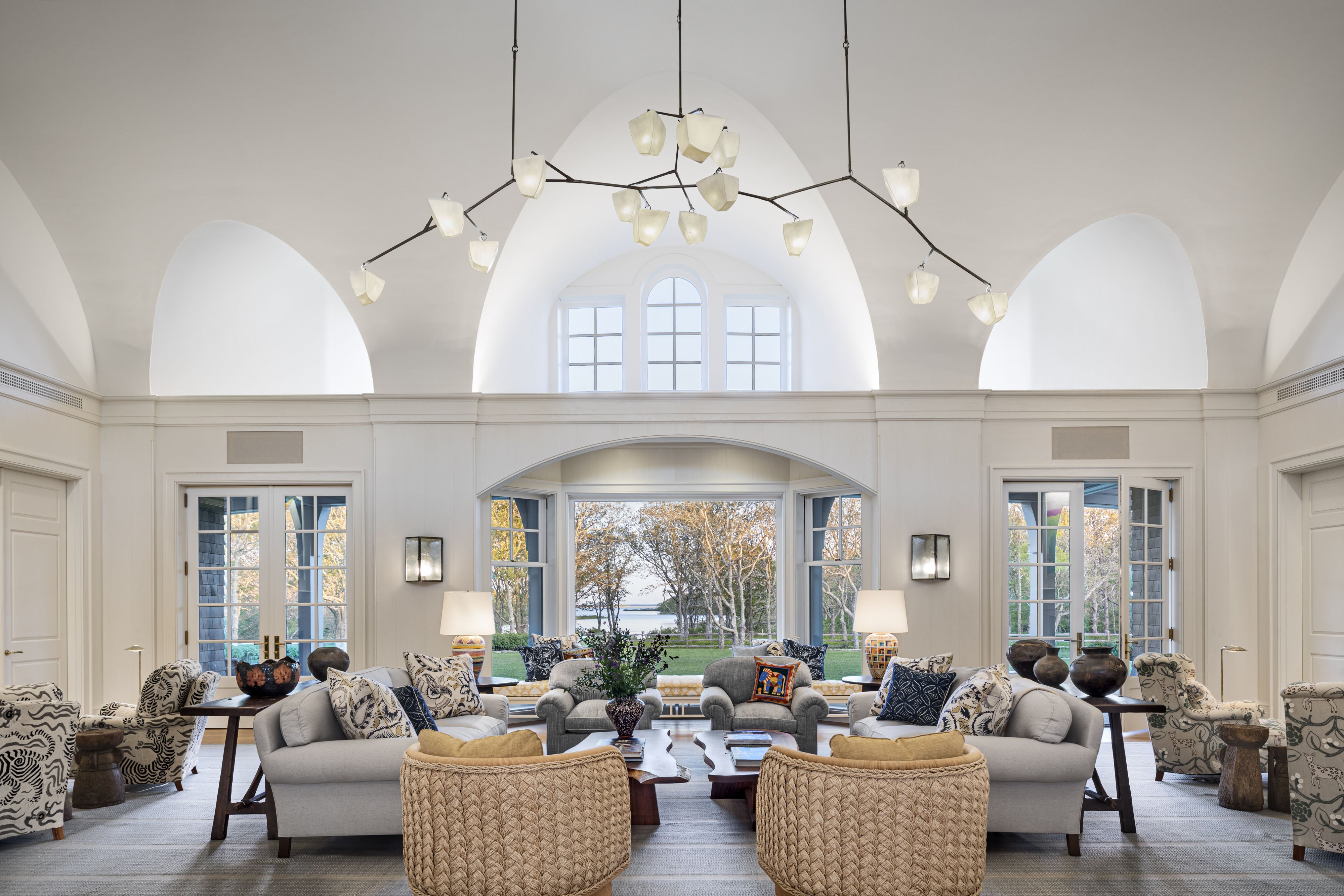 Andrea Claire Studio's monumental Cassiopeia 15 three-stem chandelier with 15 glowing hand-cast porcelain polyhedrons adds its own architectural presence in a New England home by Robert A.M. Stern Architects.
Photo by Peter Aaron/OTTO
Celebrating the unstoppable resilience and passionate expression of womxn's creativity, the Female Design Council's virtual exhibition Evolved Resolve, in conjunction with the 2020 Los Angeles Design Festival, is presented online by Incollect. Opening September 24th and running through October 23rd, the show features 40 womxn artists and designers exhibiting a stellar collection of extraordinary works across a diverse range of disciplines, including furniture, art, sculpture, lighting, jewelry and ceramics. Works are offered for sale, and visitors to the site have the opportunity to see and experience the artists' creative process through studio stills, process images and videos.
| | |
| --- | --- |
| | |
| Female Design Council founder Lora Appleton | |
Incollect is proud to partner with the Female Design Council, a professional membership organization for womxn in design that provides design career support, guidance and mentorship for womxn creators in a predominantly male industry. John Smiroldo, Founder and President of Incollect commented, "In donating and building the platform for the exhibition, and endowing one of two $2,500 inaugural grants to be awarded by the FDC to a Black female-led design studio or individual, Incollect enthusiastically endorses the FDC's mission to provide support and promote the work of this dynamic community of womxn designers."
The exhibition is curated by Female Design Council founder Lora Appleton, who shared her thoughts about creativity in the time of COVID. "In response to the critical lockdown due to Covid-19, many of our FDC members closed down their New York City and Los Angeles studios, design and art practices, showrooms, and shops. They found ways to create in makeshift corners, yards, and garages, finding unconventional means of continuing to foster their passion and craft during this most stressful time. The exhibition brings these incredible designers and artists together for a collective celebration of work, power and perseverance. We want to make it clear that the womxn design community pauses for no one."
Alyse Stone
Inspired by contemplation of her real-world experiences as a Black woman, influenced by her analytical and scientific education as a mechanical engineer and conversely, by her elaborate dreamscapes and visions, painter and sculptor Alyse Stone creates artistic statements that reflect journeys taken, both actual and virtual, and how her identity manifests in different spaces. The artist works out of her Los Angeles studio, Stone Cold Caviar. Shown below, the 2020 painting 01_Fade To Black|No 2, and Unequivocal Black Metroid | Specimen XY, a sculptural work from 2019.
Amanda Richards
These glowing, pearlescent resin sculptural light fixtures are the creation of Brooklyn-based designer Amanda Richards. Swirled with sinuous trails and puddles made from molten antique cutlery, the contrast of the lustrous, controlled form and the lacy, intricate metal is equally lovely lit or unlit. The artist took inspiration from a box of mixed pieces of dinnerware she came upon in an antique shop, all orphaned from their original sets. By melting these pieces into her hand-sculpted forms, she found a way to give these heirlooms new life.
Andrea Claire
Andrea Claire's background as an artist, architect (and surfer) and experiences working for Frank Gehry, Vito Acconci and the Rockwell Group all coalesce to inform her elegant sculptural lighting designs. She and her talented teams in Brooklyn and Los Angeles hand fabricate custom lighting fixtures, working with interior designers and architects to create the exact configuration that is perfect for the space. The polyhedron is the artist's signature shape, executed in bamboo or porcelain, and this year, a very special creation using that form was in the works. For the new chandelier Quarantine Kintsugi, the artist employed Kintsugi, the Japanese art of repairing broken pottery – or in this case, porcelain polyhedrons hand made by Nymphenburg Porcelain, shattered in a shipping disaster – by mending the pieces with a lacquer resin mixed with powdered gold.
Andreea Avram Rusu
The Cascade Chandelier by Brooklyn lighting designer Andreea Avram Rusu (shown on a bedroom ceiling) and Cascade Sconce are constructed of the Studio's signature hand blown glass disks, overlapped to reflect color, light and shadow in an infinite variety of ways. Like most of her designs, Avram Rusu engineered this fixture with modular components, so that custom color combinations and different metal finishes can be specified.
Arati Rao
For her new Travertine Collection, designer Arati Rao was inspired by the deep shadows and rich tones reflected on ancient rock formations, and the layers of the earth revealed in the many stone quarries found in the Thar Desert of Rajasthan. The cotton and recycled silk rugs are hand dyed and hand woven in India, drawing upon centuries of skilled craftsmanship, using small scale production and sustainable practices.
Beverly Morrison
Celebrating the raw beauty of clay and allowing cracks, crevices and textures to play center stage, sculptor Beverly Morrison explores eastern philosophies of imperfect beauty in her minimalistic forms and vessels. The works evoke a sense of duality: strongly sensual and at the same time, delicate; the forms both modern and ancient.
Debra Folz
Debra Folz is a furniture and object designer with a Master's degree from RISD; her designs are crafted by artisans throughout New England. Her Ribbon bedside table translates an interest in textile language and soft surfaces into a floating, wall mounted design with a hand-cast solid bronze ribbon pull that spills softly from the drawer. Available in single or double drawer configurations, in gray, ivory or black stained ash.
Elise McMahon
Elise McMahon is an artist and art educator, and the founder and designer behind her Hudson, New York studio LikeMindedObjects. As with all of her creations, the Turmeric Cloud Chair and Turmeric Cloud Ottoman were designed with the studio's contemporary, joyful aesthetic, using healthier materials and sustainable practices. The pieces are upholstered in denim dyed with actual turmeric spice, using recycled textiles as fill, rather than the typical petroleum-based foam.
Eny Lee Parker
Distinctively witty and whimsical, Eny Lee Parker's hand-built clay ceramic furniture and lighting are cheerful antidotes to the boxy geometry of a typical residence. Made in her studio in Queens, the pleasantly lumpy forms are full of charm and personality. Shown here, the Camel Lamp, Puffy Daisy Sconce and Star Stamp Ceramic Stitch Stool.
Estudio Persona
Jessie Young and Emiliana Gonzalez, both natives of Montevideo Uruguay, design handcrafted minimalist furniture and lighting in a contemporary yet timeless style at their studio in Los Angeles. Three pieces in their new Connection Collection, the Arrow Table, the Block Chair and the H Chair, derive inspiration from the stacked and interlocked forms of Carl Andre's Belgicube sculptures. An additional piece, the willowy Bow Floor Lamp, conceived as an intentional contrasting element in the collection, pays tribute to Austrian artist Florian Pumhösl's Studies of Georgian Letters.
Fanae Aaron
PARTS + ASSEMBLY is the Los Angeles-based design studio of Fanae Aaron, who uses a mix of materials to create her mosaic-like wall compositions. The pieces are architectural in feeling, with modern, geometric shapes precisely cut from glass and hand patinated mirror. All pieces are made to order and can be customized with a small shelf, a nice option for an entryway. Shown here, The Jeremy Wall Piece features an ombré effect shading from light to dark, and can be hung either vertically or horizontally.
Gabrielle Shelton
Gabrielle Shelton operates her architectural and sculptural metal fabrication studio in Williamsburg, Brooklyn. Site-specific commissions and her own line of custom library ladders, bathroom accessories and shelving are some of the pieces she's best known for. Her Steel Stair Tables, an edition of 10, are wonderfully versatile; they can be configured in pairs and used as a coffee table, or separated to become side tables, offering a multitude of surfaces for styling with accessories.
Jennie Wilde
Buried Below is a new series of hand-built sculptures by Jennie Wilde made with raw black clay. The forms are imaginary yet realistically organic, taking inspiration from the life cycle and eventual mortality inherent in the natural world. Wilde's process is one of birth and rebirth, hand building, deconstructing and and reassembling the piece to unearth the emotional essence in each piece.
Judy Ross
Well known for her frequent custom collaborations with top interior designers, Judy Ross operates her textile design studio, Judy Ross Textiles, from Union Square, NYC. Pairing contemporary design with centuries-old craft techniques, her hand-knotted Tibetan wool rugs, chain stitch embroidered wool rugs, and chain stitch embroidered wool pillows are available in a range of luscious color combinations with custom options available as well. Below, the 6x9 Petal area rug and 18x18 Spring throw pillow.

Juliana Lima Vasconcellos Studio
Inspired by a shower of confetti, Juliana Lima Vasconcellos designed the Confetti Chairs to evoke an exuberant and playful mood while keeping a spare and elegant form made entirely of circles. The series offers three versions, each with a different backrest design, constructed in hand-hammered and hand painted iron.
Kate Casey
Designer and woodworker Kate Casey operates all-female-run company Peg Woodworking in Brooklyn, NY. She drew inspiration from clean-lined Shaker and Scandinavian design and Nordic and Native American weaving for her Fireside Bench, made to order in white oak, ash or walnut, with exceptionally sturdy bridle joints and peg joint detailing. The seat is hand woven in house and made of solid braid cotton cord in a variety of patterns. A wide range of custom options is available.
Kate Duncan
Junior high woodworking shop class was the launchpad for Toronto-based Kate Duncan's career in furniture design and building. She crafts each piece by hand from solid sustainably harvested North American hardwoods, utilizing precise traditional joinery techniques. Duncan's Ribbed Dresser, shown in oxidized oak and black leather veneer contrasts clean lines with rich materials, which combined with the Art Deco-reminiscent ribbing detail, gives a quietly elegant effect. All sorts of custom options can be ordered. Also available, a magnificent Ribbed Bed with integrated nightstands.
Lani Adeoye
Merging West African craft culture and contemporary design, Lani Adeoye creates expressive furniture and lighting from Studio Lani in Lagos, Nigeria. The Studio's location is a wellspring of inspiration for the designer, with a centuries-old tradition of craft, a burgeoning design scene and the richness of her Yoruba culture ever present. Lani studied at Parsons - The New School and draws upon her diverse life experiences in Lagos, Montreal, New York City and Toronto to design pieces that are modern in voice, while evoking the timeless appeal of handicraft. Her Talking Stool and Dundun Stool are both derived from the iconic form of the West African talking drum.
Libs Elliott
Textile artist Libs Elliott designs quilts using a programming language called Processing to transform intangible strings of code to a warm, luxurious modern heirloom. The Vortex Quilt, created January 2020, is an experiment in making minimal alterations to the code for maximum visual impact, by in this case, altering only the horizontal dimensions of a traditional quilt block and mirroring those blocks. One-of-a-kind, 100% linen with cotton fill, it has a fabric sleeve for mounting.
Lisa Hunt
After studying graphic design at Pratt Institute and a 20-year career as a magazine creative director at Essence magazine, Lisa Hunt turned her talent to exploring the spatial and meditative relationships of repeat patterning with her screen-printed works on canvas and paper. Mixing scale changes and repetition within the pattern, which she embellishes with 24kt gold leaf to illuminate and add depth, the works are ethereal and mesmerizing. Shown below, Infinity Diptych, 2015, screen print on paper with metallic gold ink.
| | |
| --- | --- |
| | |
| | Photo by Allison Michael Orenstein |
Liz Collins
Liz Collins creates at the intersection of art, design, sculpture and fiber art, with a fluidity that defies categorization. Her recent work, Ball and Chain, radiates energy and movement, while engaging the eye and mind in the tradition of Op Art. It can be displayed in different configurations, with the yarn swoopy and flowing, or outstretched and structural, either of which elicits a unique interaction with the piece.
Malene Barnett
A cultural awakening to her pan-African and Caribbean heritage during her teenage years lead Malene Barnett to become an artist, passionate activist, founder of The Black Artists + Designers Guild (BADG) and authority on the cultural traditions and art of the African diaspora, which she filters through the modern Black experience and which in turn, inspires her art. In the creation of her Redemption series vessels, Malene was fully connected to her artistic legacy. Paying homage to the traditional hand-building techniques in the Yorubaland region of Nigeria, the twining strips of clay, built piece by piece, are inspired by the traditional, intricate Gele headwrap. The bold patterns and glazing method references the dye resist techniques used in Adire textiles. Architectural, sculptural and deeply evocative, Adire I (left) and I See You (right) open the door to a deeper appreciation of Black culture.
Mansi Shah
Mansi Shah is a South Asian artist living and working in Los Angeles. She is a painter, sculpture and through her Open Editions series, a creator of ceramic "things," witty objects for everyday use that are often multifunctional, as in her Bookend Vase Sharp, left, in a matte white glaze, (a Bookend Vase Soft is also available) or Interlocking Vessels, with a soft, lush gradient glaze shown at right.
| | |
| --- | --- |
| | |
| | Photo by Ryan Anderson |
Maria Moyer
Exploring nature's systems through the medium of ceramic sculpture, artist Maria Moyer describes her work as "a personal artifact in the explorative act of making." The clay records her touch, and ultimately, her experience — looking, touching and thinking — becomes the artwork. She welcomes imperfections as evidence of her presence and of the events that may occur in the kiln.
| | |
| --- | --- |
| | |
| | Courtesy of Elena Dorfman |
Mary Little
By first drawing a pattern, then cutting and sewing, and finally arranging indentations and protrusions out of blank ivory artist's canvas, Mary Little creates textile sculptures that interact with light, surface and gravity. Her latest series, titled Ennis Editions, is stretched onto wood frames, a departure from her fluid, free-hanging canvases. Mary was born on a farm in Northern Ireland, and the intricate patterns and dimensional folds and creases in the sculptures echo memories of her mother's hand knit Aran sweaters, a legacy of craft and creativity that she continues to explore.
Michele Varian
Former fashion designer and Parsons School alumni Michele Varian designs kinetic sculptural lighting and sconces that are hand built in the basement studio of her eponymous NYC design store, where she sells her own collections of textiles, wallpaper and lighting, as well as product by other designers of home goods and locally-based fine jewelry. The Mobile Eclipse chandelier (left) is a dramatic modern fixture of blackened steel with cutout shapes depicting phases of an eclipse. Shown at right, the elements in flora are the stylistic inspiration for The Fleurish Minor chandelier. Hand constructed ornaments hang like ripe fruit, curled brass stamens spring forth, and crystal droplets reflect light like raindrops on petals.
Rachel DuVall
Much like her hand-woven textile works, Rachel Duvall's woodcut prints explore texture, repetition of pattern and the subtle variations in color within the warp and weft, or in this case, the tooth of the paper and its absorption of ink. Woodcuts are known for their expressive, velvety quality and these works convey a sense of softness, that along with the modulated colorations, give them great depth.
Rebecca Claire Ford
Rebecca Claire Ford's sculptural furniture surrounds ideas of warmth, play and home. Her Window Mirror wall piece is both a functional mirror and an invitation to reflect upon memories, as well as a call to look out into the future. It evokes a sense of cheerful whimsy alternating with a sophisticated sculptural abstraction of form; a delightful dichotomy.
RxART: Lesley Vance
RxART is a nonprofit organization helping children heal through the power of visual art by transforming sterile healthcare facilities into engaging and uplifting environments. First launched in 2000, RxART has to date commissioned 60 artists to produce inspiring works for almost 40 hospitals in the U.S. Artist Lesley Vance collaborated with RxART and Cirrus Editions to create her first print, which true to her unpremeditated, gestural style of painting, is composed with bold, sweeping swaths of color.
Sadé Hooks
Sadé is a Brooklyn-based maker creating jewelry that transforms the energy contained within to strengthen and protect the wearer. The pieces gather stories, memories and feelings as they are worn, becoming contemporary heirlooms, to be treasured and kept forever. Her capsule collection of "protection" amulets references centuries-old icons and images of wisdom, strength, protection and health. Here, the Sage Necklace, hand-carved 14K white gold with a 1mm white diamond and the Mati Ring, in hand-carved yellow gold with faceted 4mm round black diamond.
Sienna Patti Gallery: Gabriella Kiss
Sienna Patti's shop and gallery in Lenox, Massachusetts is a visual feast, offering an exquisite and expertly curated collection of artist-made jewelry from around the world, along with a visiting exhibition space and research library focusing on contemporary studio craft. Works by three womxn artists represented by Sienna Patti Gallery are included in Evolved Resolve: Gabriella Kiss, Kalkidan Hoex and Mallory Weston.
Gabriella Kiss combines materials such as raw tourmaline, moonstone, brown diamond and blue chalcedony with cast wax forms in gold to create delicate figurative jewelry designs that reveal an endless fascination with nature and its awesome beauty. Below: Ant Earrings, green garnet with 18k gold, and Tourmaline Mushroom Necklace, bronze, brown diamond, 14k green gold and 18k yellow gold.
Siena Patti Gallery: Kalkidan Hoex
Adopted from Ethiopia and raised in the Netherlands, Kalkidan Hoex's jewelry series is titled The NEWtribe, which is based on her feeling of connection with other youths of mixed descent, refugees and adoptees, which she expresses through iconographic symbols based on African cultural motifs combined with references to current Western styles and trends. Two rings from the collection: The NEWtribe ring 04, in sterling silver, and The NEWtribe ring 17, in 24k gold-plated silver and tourmaline.
Siena Patti Gallery: Mallory Weston
Mallory Weston marries traditional jewelry with the fluidity of fabric to create large-scale statement pieces that are substantial in impact but lightweight and comfortable to wear. The pieces use iridescent anodized titanium and are woven or pieced in a quilt-like fashion, with intricate, decorative stitching. The Cyan Snakeskin Necklace is crafted from diamond-shaped pieces of anodized titanium arranged to mimic snakeskin; Weston's Prismatic Spikey Heart Brooch, also of anodized titanium, is stuffed to create a dimensional, almost animated effect.
Stoneleaf Retreat: Rebecca Reeve
Stoneleaf Retreat is an artist residency and creative space for women and families in Kingston, New York, founded by Helen Toomer and Eric Romano. Presented here is the work of 2018–2019 artist-in-residence photographer Rebecca Reeve, with two recent projects, Through Looking, made in the Woodstock, NY area and Joshua Tree National Park and Marjory's World, captured in Joshua Tree National Park and the Bonneville Salt Flats in Utah. Below, archival pigment prints number 1 and number 3 from the series of 5 in the project Through Looking, which continues her musings on the nature of impermanence and the circadian rhythms of life.
Yard Concept: Dina Nur Satti
Brooklyn-based ceramic artist Dina Nur Satti's roots in Sudan and Somalia inspire her explorations of the vessel as a container through which she filters ideas of personal purpose and growth, cultural storytelling and communal rituals. This newest collection draws upon traditional shapes and plant motifs found in ancient Nubian culture, which flourished in modern day northern Sudan and southern Egypt. Two of the pieces represent shapes essential to survival in the desert climate — the water storage amphorae Habba and grain pounder Zir; the other two take their inspiration from sacred plants — the lotus and acacia. They are both earthy and ancient, yet modern in form, and feature the artist's proprietary studio-developed glazes.
Yen Ha
Born in Saigon, Yen Ha is an architect, artist and writer who co-founded Front Studio, an architecture firm located in New York City. Her own experiences as an immigrant, mother, architect and artist, inhabiting a multitude of identities and a minority in each, inform her art. In her intricate female portrait drawings, she embeds manmade objects into twining, botanical motifs, a swirling configuration of symbolism and memory, shaped by time and space. Left: From her series She Is, a framed drawing on paper, She Sings Aloud Right: Chuc Mung Nam Moi-Ty2, framed drawing on paper commemorating the Year of the Rat.
Yolande Milan Batteau
An internationally recognized interdisciplinary artist for over 30 years, Yolande Milan Bateau began as a painter and got her start in design when Peter Marino Architects enlisted her to create wallcoverings for Chanel flagship stores. In addition to her personal art practice, she is the founder and principal artist of Callidus Group, a design atelier where she produces mirrors, furniture, wallcoverings and custom surfaces, working closely with architects and interior designers. Shown here are her amorphous flash-gilded expanded foam mirrors, inspired by the ancient arts of gilding and alchemy: Gold Foam Mirror (L) and Aluminum Foam Mirror (R).
Zoë Pawlak
Contemporary artist Zoë Pawlak's recent series of paintings is a study of the vessel as a metaphor for the human body and the force of energy that is contained, emanates and flows through it in the creative process. Channeling and directing that energy and tension, while at the same time practicing unshakable peace is the quest these works seek to explore. Pawlak has recently expanded her practice to include rug and mirror designs, as well as a furniture collection that features her dreamy, landscape-like paintings on the front of credenzas. Left: Secret Keeper, 2020, oil on canvas; right: The space that guides you, 2020, oil on canvas.