The Best of Day Five of The Spring Show Online
The Virtual Art and Antiques Show presented by Incollect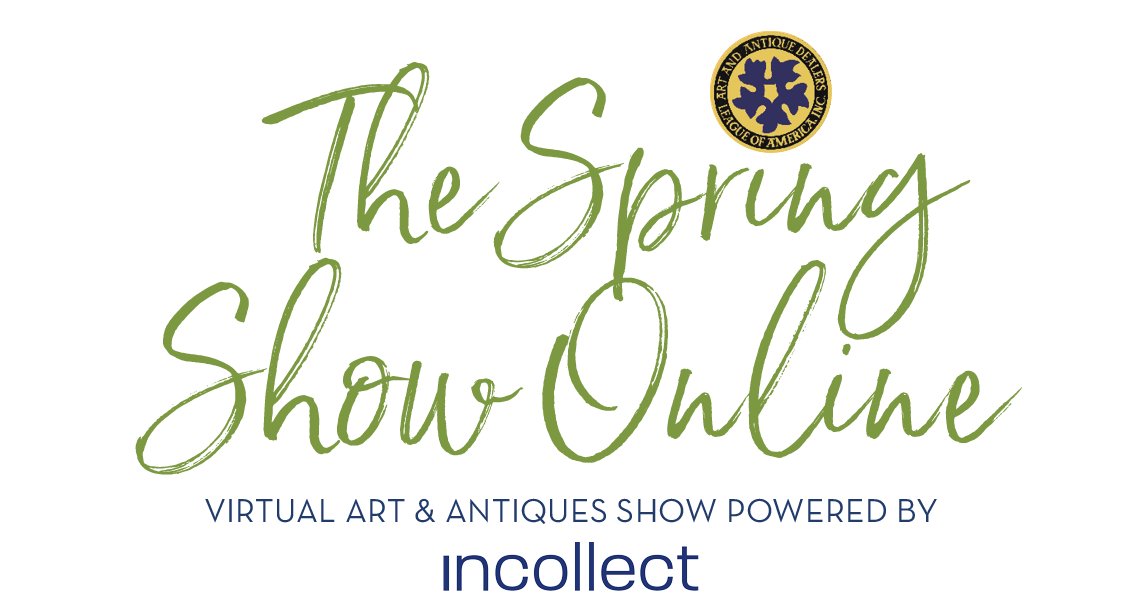 The Fifth Day of Spring
In response to the popularity and success of the Art and Antique Dealers League of America's (AADLA) Twelve Days of Christmas online show, the Twelve Days of Antiques have returned! Our online Spring Show features the highest quality art, antiques, jewelry and design — all available for purchase.
The fun twist on the Spring Show is that each dealer in the show will post one fresh piece each day, beginning May 7th and running through May 18th — if you don't tune in, you'll miss out!
The AADLA membership represents the best of the best in the business, and you can buy with absolute confidence. Enjoy our selections on this fifth day of Spring!
Veilleuse, Hochst Porcelain, German, 18th century.
Offered by Engs-Dimitri Works of Art. For further information call 310.429.4190 or email
info@engsdimitri.com.

Tiffany & Co. French diamond tennis bracelet.
Offered by Brad and Vandy Reh Fine Jewelry. For further information call 203.920.1755 or email
brad@bradreh.com.

Painting of two schoolboys, possibly attending Eton College.
English.
Late eighteenth or early nineteenth century. $29,000
Parfleche case, probably Blackfoot. $1,450
Offered by Marcy Burns American Indian Arts. For further information call 212.439.9257 or email info@marcyburns.com.
A pair of polychromed majolica lion sculptures. Montelupo, Italy, 16th century.
Offered by L'Antiquaire & the Connoisseur. For further information call 212.517.9176 or email
info@lantiquaire.us.
Lovely antique French silver and vermeil dessert service set by Paul Canaux & Cie.
By Paul Canaux, Paris circa 1892. $2,600
Pair of George Brookshaw engravings of melons. Dated 1812. $5,500
Offered by Earle D. Vandekar of Knightsbridge. For further information call 212.308.2022 or email
info@vandekar.com.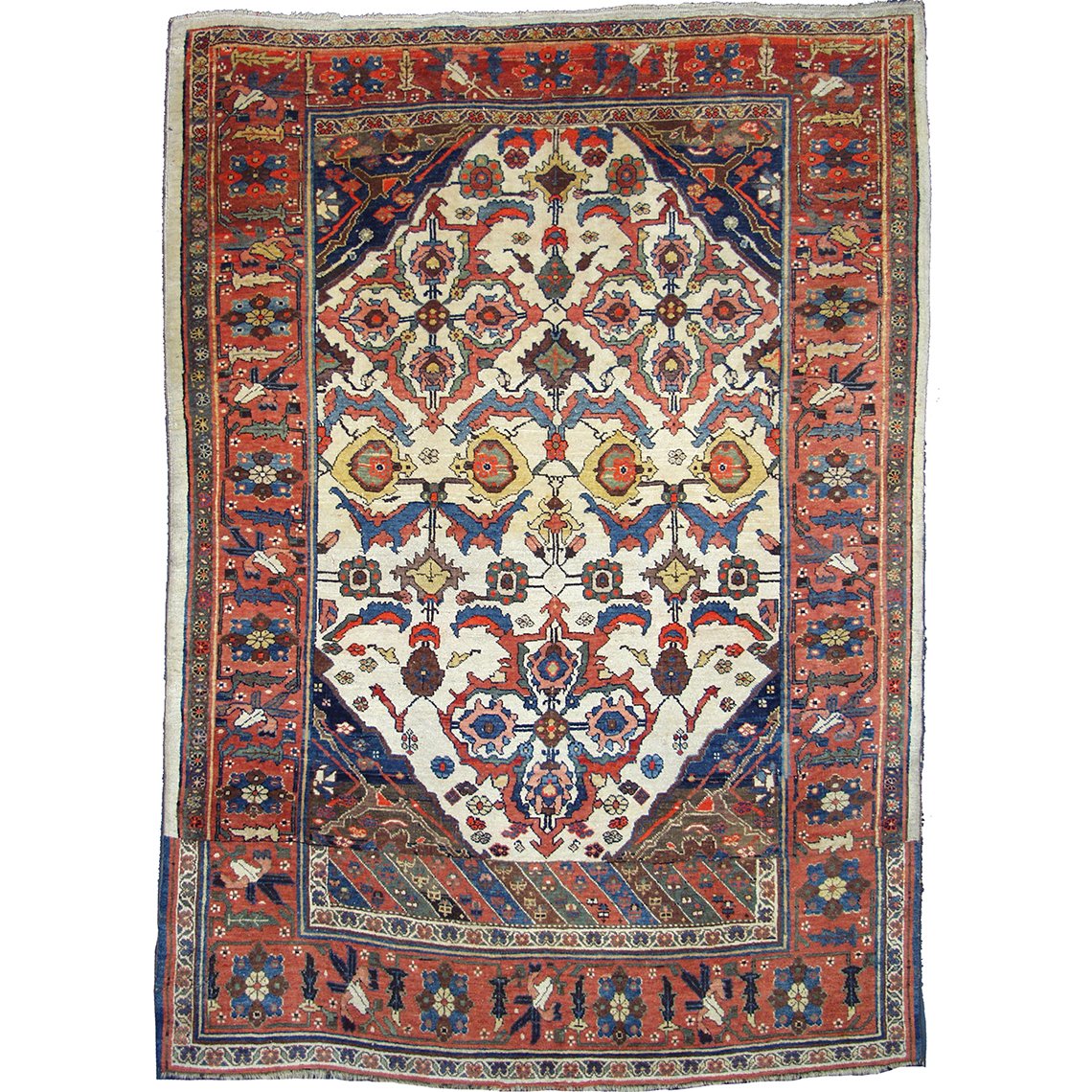 5' x 7' Antique Bidjar sampler rug or "Wagireh", Northwest Persia, ca. 1900.
Bernard Lorjou (1908-1986), Don Quixote, 1962.
Offered by Galerie Rienzo. For further information call 212.288.2226 or email madisonart@aol.com.
A pair of Yongzheng Period (1723-1735) Famille Rose rectangular jardineres. $22,500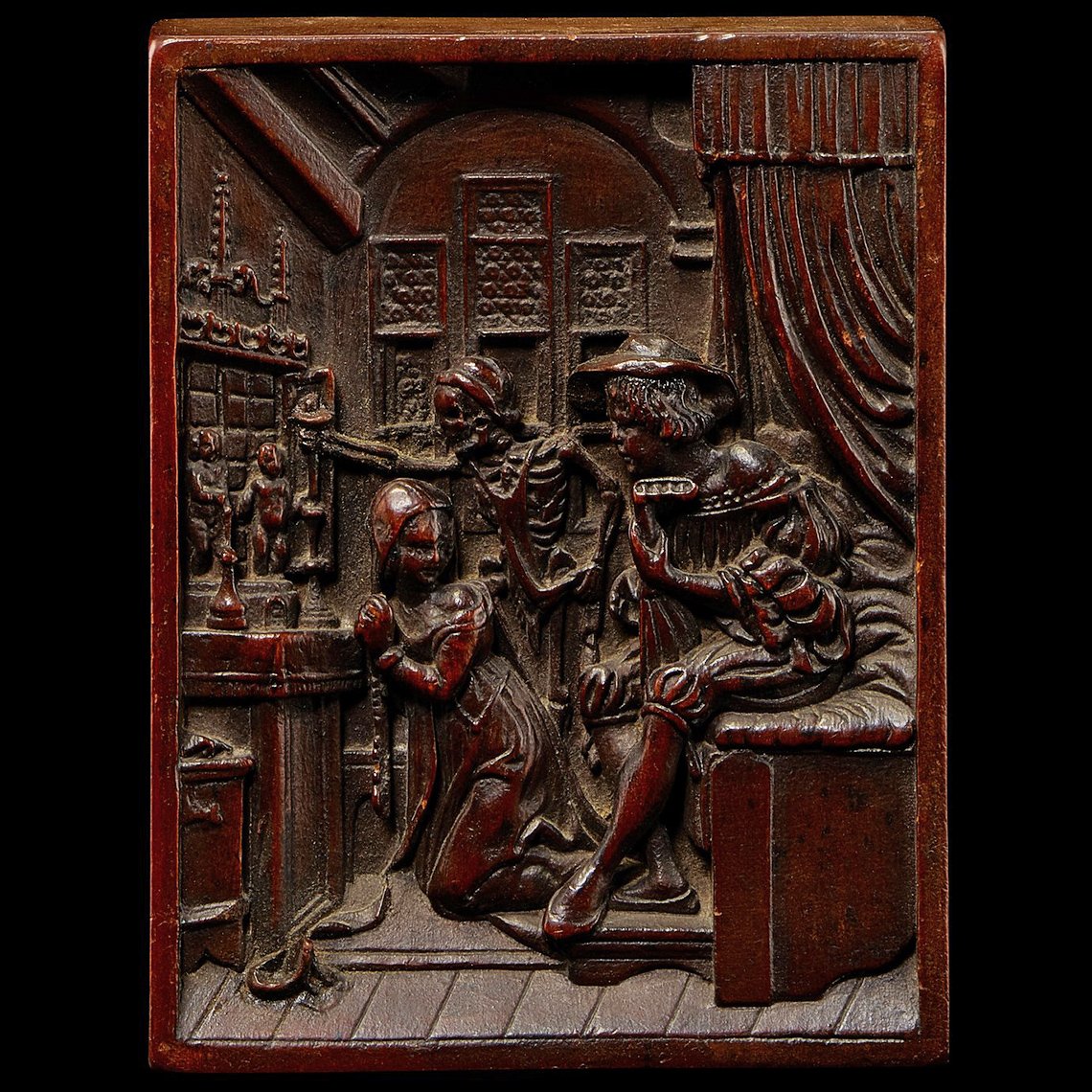 Memento Mori after Hans HOLBEIN the Younger. Germany. 2nd quarter of 16th century. Boxwood.
An extremely early Georg Jensen stemmed compote with a 1916 date stamp, design #178 by Johan Rode.
Chinese Dehua porcelain (blanc de chine) of Quanyin holding a scroll, ca. 1800. $3,800
Offered by Robyn Turner Gallery. For further information call 424.335.0105 or email robynturnr@aol.com.
Rare and large mahogany country house wine bottle carrier, England, Early 19th century.
Original design for Art Deco wallpaper collection, Printed by J Grantil, 1928-1930, France $1,800
Kawase Hasui (1883-1957), Ōban tate-e, December 1937. $4,950
Offered by Joan B. Mirviss LTD. For further information call 212.799.4021 or email
info@mirviss.com.

Rare Elizabethan or Jacobean turned fruitwood and ash three legged chair. $12,500
Offered by Yew Tree House Antiques. For further information call 212.249.6612 or email
ythantiques@yahoo.com.
Frank Weston Benson (1862-1951), Bound Home. Etching, 1918.
Offered by Framont. For further information call 917.5626262 or 203.661.9675 or email framont@optonline.net.
Basilius Besler (1561–1629), Paeonia Polyanthos Flore Rubro (Peony), 1713. $12,000
George I Period Britannia silver horse bit.
Hallmarked: Benjamin Watts and Robert Turner, London, 1716. $45,000
Offered by James Robinson, Inc. For further information call 212.752.6166 or email
info@jrobinson.com.
Félix Ziem, Sunrise over the Bacino di San Marco, signed, oil on canvas. $35,000
Offered by Robert Simon Fine Art. For further information call 212.288.9712 or email rbs@robertsimon.com.
Alex Katz (b. 1927), Carmen. Oil on board, 2008
Offered by Schillay Fine Art, Inc. For further information call 212.861.8353 or email
richard@schillay.com.

Harry Leslie Hoffman (1874–1964), Boatman, Bahamas, circa 1916-17. $4,750.
Seguy Art Nouveau butterfly prints. Paris, 1920s. $1,400 each
Greta Knutson-Tzara (1899-1983), Still Life with Flowers, 1954. $28,000
Superb circular mahogany tripod table with superb carved base circa 1750.
Edouard Léon Cortès (1882-1969), Avenue de l'Opéra, oil on canvas.
Offered by Rehs Galleries. For further information call 212.355.5710 or email
howard@rehs.com.

Swedish carved giltwood dolphin console table with white marble top and mirrored back, circa 1820.
Directoire walnut guéridon, by Jean-Pierre Dusautoy, ca. 1800.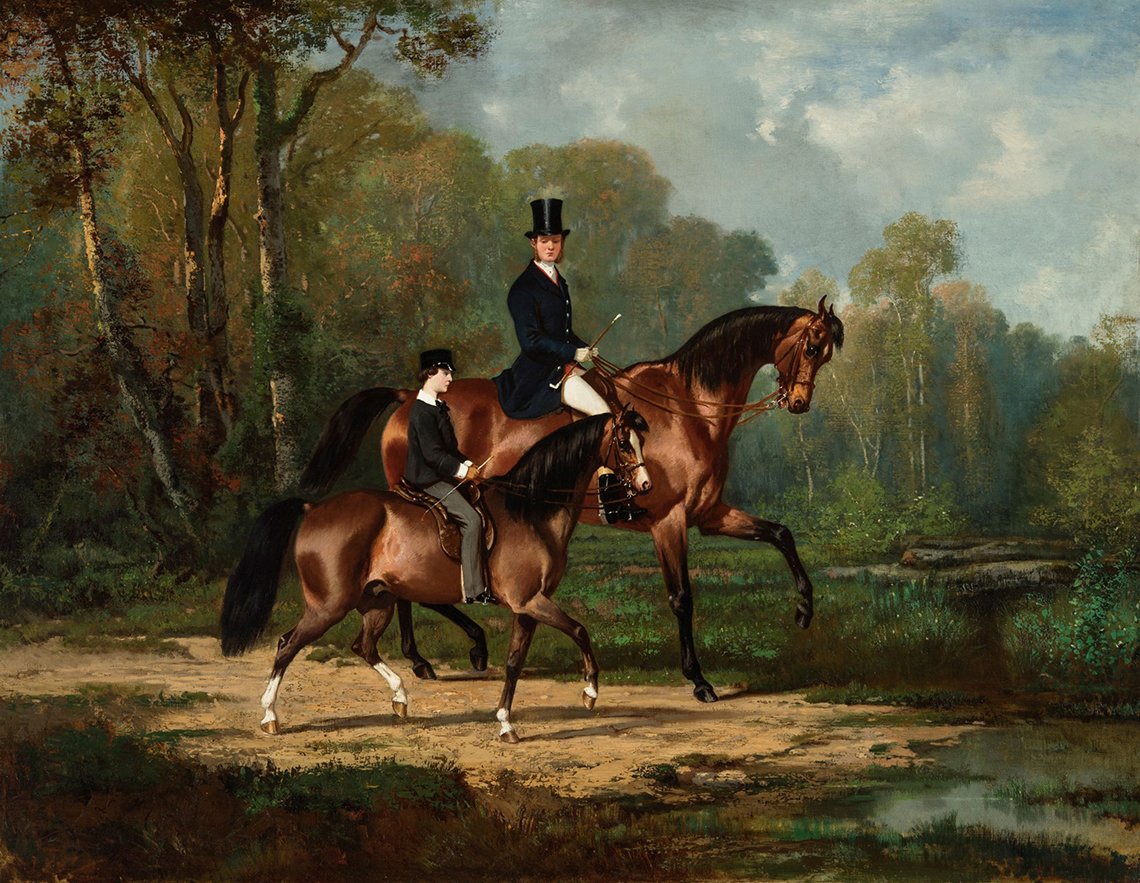 Louis Robert Heyrault (?–1880), Out Riding. Oil on canvas, dated 1859.
Offered by Red Fox Fine Art. For further information call 703.851.5160 or email
tr@redfoxfineart.com.
Rectangular Louis XVI gold box. Paris, 1779.
Offered by A La Vieille Russie, Inc. For further information call 212.752.1727 or email
alvr@alvr.com.
A rare pair of George III satinwood cutlery urns, ca. 1790.
Silk with floral and foliate design, attributed to Anna Maria Garthwaite,
English (Spitalfields), ca. 1741–1743. $5,500
A set of six antique American mixed metal Japonisme tot cups, New York ca. 1880 by Tiffany & Co. $16,500
Offered by S.J. Shrubsole Corp. For further information call 212.753.8920 or email
jim@shrubsole.com.

Hamilton Palace collectors cabinet, Flemish, ca. 1675.
Offered by European Decorative Arts Company. For further information please call 516.643.1538 or email
eurodecart@gmail.com.

Edward Weston. Nude. Vintage silver print, 1934.
Offered by Paul M. Hertzmann, Inc. For further information call 415.626.2677 or email
susan@hertzmann.net.

Lalita Maha Tripura Sundari. Mandi, style of Sajnu, ca. 1810.
Click Any Day Below to View More Featured Objects