A Look Back At 4 Standout Spaces From The 2019 Kips Bay Decorator Show House
GET YOUR KIPS BAY FIX HERE!
It's that time of year, when we would all be flocking to the Kips Bay Decorator Show House to be dazzled by the spectacular artistry from an immensely talented group of designers. And while everyone is yearning for that very special experience, we take a look back at four standouts from 2019. Plans for the 2020 Show House are uncertain at this time, with an announcement forthcoming as the situation becomes clearer. Proceeds from the Kips Bay Decorator Show House help to fund Kips Bay Boys & Girls Club's after school, summer camp and enrichment programs, a need that is ongoing. To make a donation, click here.
---
Corey Damen Jenkins & Associates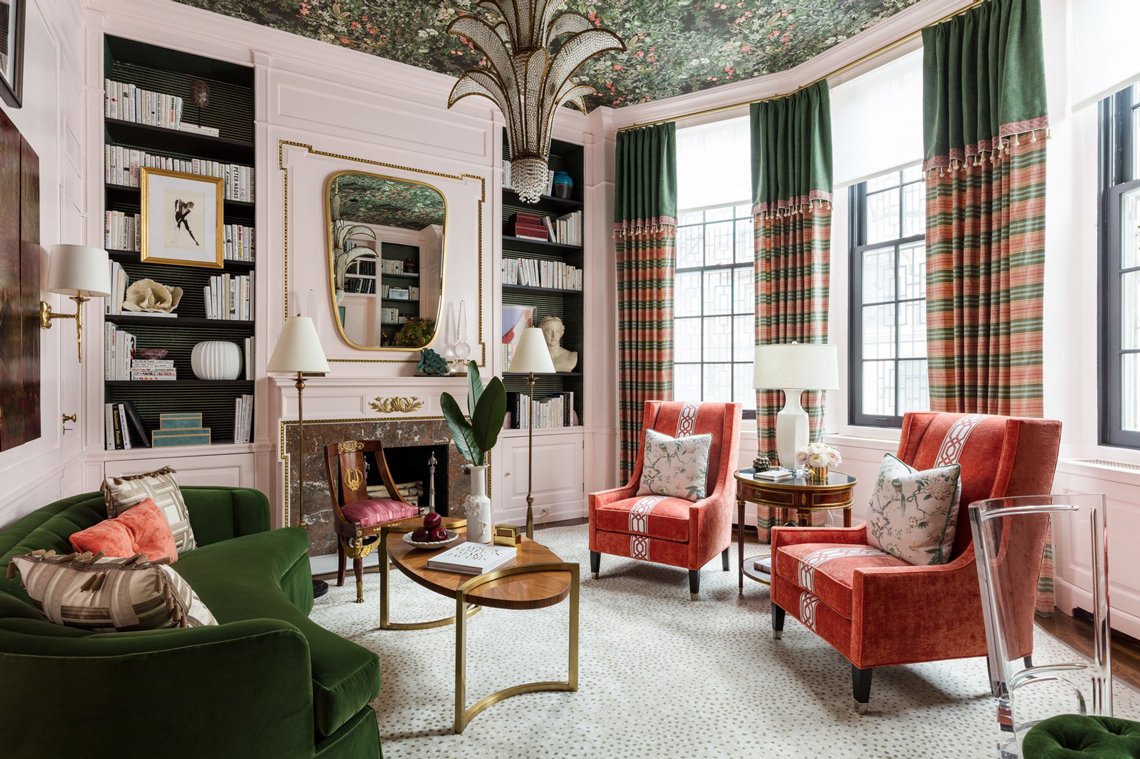 A leading light in the Detroit Renaissance, Michigan native Corey Damen Jenkins maintains his flagship Birmingham, MI studio and in 2018, expanded with the opening of a second office in New York City. With projects all over the United States and Canada, his work resists categorization; while respectful of traditional design, he combines forms and fabrics in rich, alluring environments that could be described as "restrained maximalism." Corey's mega-watt charm and charisma is backed up by his even more scintillating talent, which shines forth brilliantly in this Lady's Library. The designer "flipped the script" on the typical men's library, with its traditional plaids, paisleys, brandy snifters and cigars, and dedicated his room "To The Lady Of The House, With Love" in a tribute to the women who run the world, from the household to the Speaker of the House. Photo by Nickolas Sargent



Left: Inspired by the designer's vision of the Hanging Gardens of Babylon, the ceiling becomes a dramatic focal point, covered in Cole and Sons Woodland wallpaper, and crowned with a 1940s chandelier of cascading crystal beaded plumes from NEWEL. A couture gown by Jean Paul Gaultier was channeled for the elegant window treatments; Corey's scheme was plotted in three parts: the green "bodice," the passementerie "belt" and the striped "skirt." Custom "Snow Leopard" carpet by Stark grounds the room, an appealing foil to the densely patterned ceiling. Contrasting shapes are a recurring theme throughout: a curved sofa sits across from a pair of structured wing chairs, the coffee table features an oval top set within square frame-like legs, and a modern curved mirror is positioned inside a gilt square panel molding. Right: Across the room, famed photographer Bert Stern's The Last Sitting: Marilyn Monroe in Jackie Wig, 1962 from Guy Regal is stacked above an abstract painting, with a Louis XV-style bureau plat and crystal acrylic chair for "getting things done." Photos by Marco Ricca
---
Cullman and Kravis Associates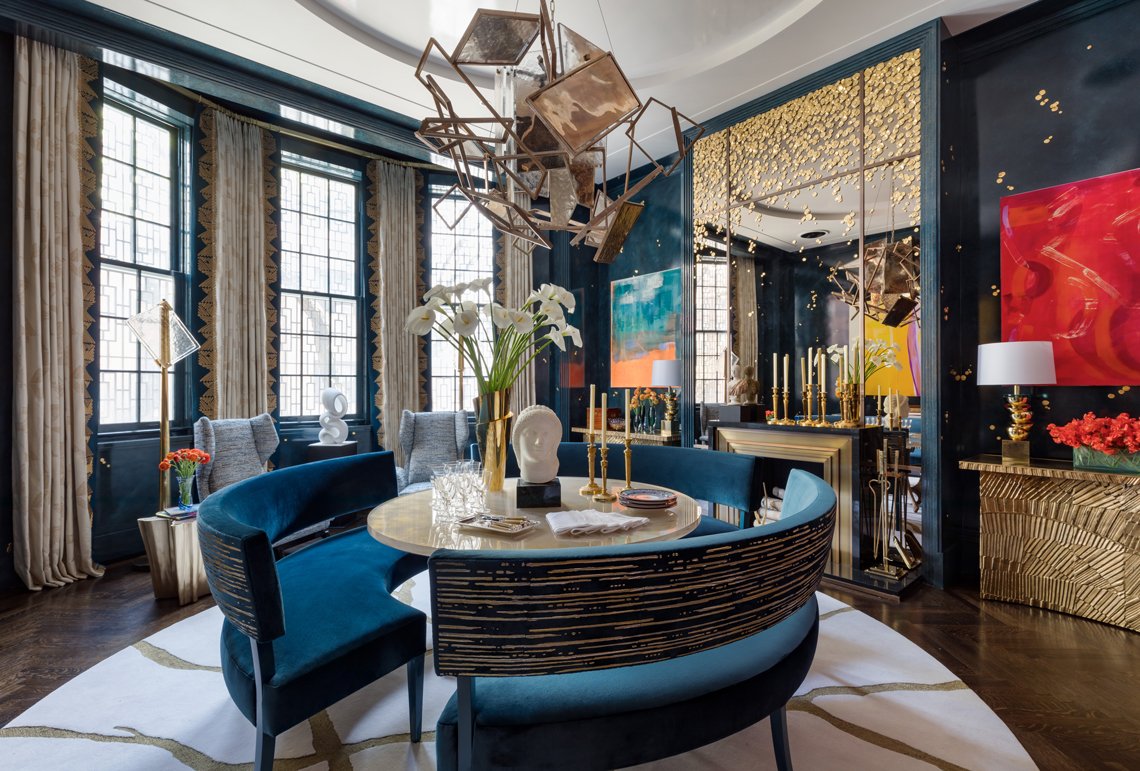 | | |
| --- | --- |
| | |
Cullman & Kravis Associates'' "Rhapsody in Blue" dining room was a team effort by four of the firm's talented designers: Lee Cavanaugh, Alyssa Urban, Katie Sutton and Dani Mazza. The innovative work of contemporary artisans and craftsmen, along with exuberant artwork and the intimacy of the dining table design distinguish the room as a twist on tradition. The scene is set amidst dramatic midnight blue walls, spangled with gold paillettes. Square and circle forms, and blue and gold hues repeat throughout to unify the design. The centerpiece of the room is the round dining table with a gilt bronze table base by Fred Brouard, from Craig Van Den Brulle, underlaid by a round Lurex-veined rug from Stark Carpet. The curved benches encircling the table were covered in a deep blue velvet with custom gold painted "spinning round" detail on the backs. A bronze and glass chandelier composed of trapezoidal shapes by Charles Burnand is echoed by a pair of brass and glass floor lamps by Roberto Rida from L'Art de Vivre. Photo by Nickolas Sargent


Left: A pair of 1950s Italian wingback armchairs with out-curved arms introduces an animated profile to the setting. Patinated bronze tree trunk-shaped, walnut root-topped side tables are artisan pieces from France. Both the chairs and the tables are from Bernd

Goec

kl

er. The console, one of a pair, is a custom design with a serpentine front of wavy gilded bands. Above it hangs a richly saturated multi-media work by Monique Van Genderen. Right:

The room's blue and gold color palette is reinforced with a stunning polished bronze and lapis lazuli sideboard by

Erwan Boulloud, on loan from Bernd Goeckler. The vibrant abstract painting is Movements (surge 2) by Los Angeles artist Yunhee Min. Photos by Nickolas Sargent

---
Eve Robinson Associates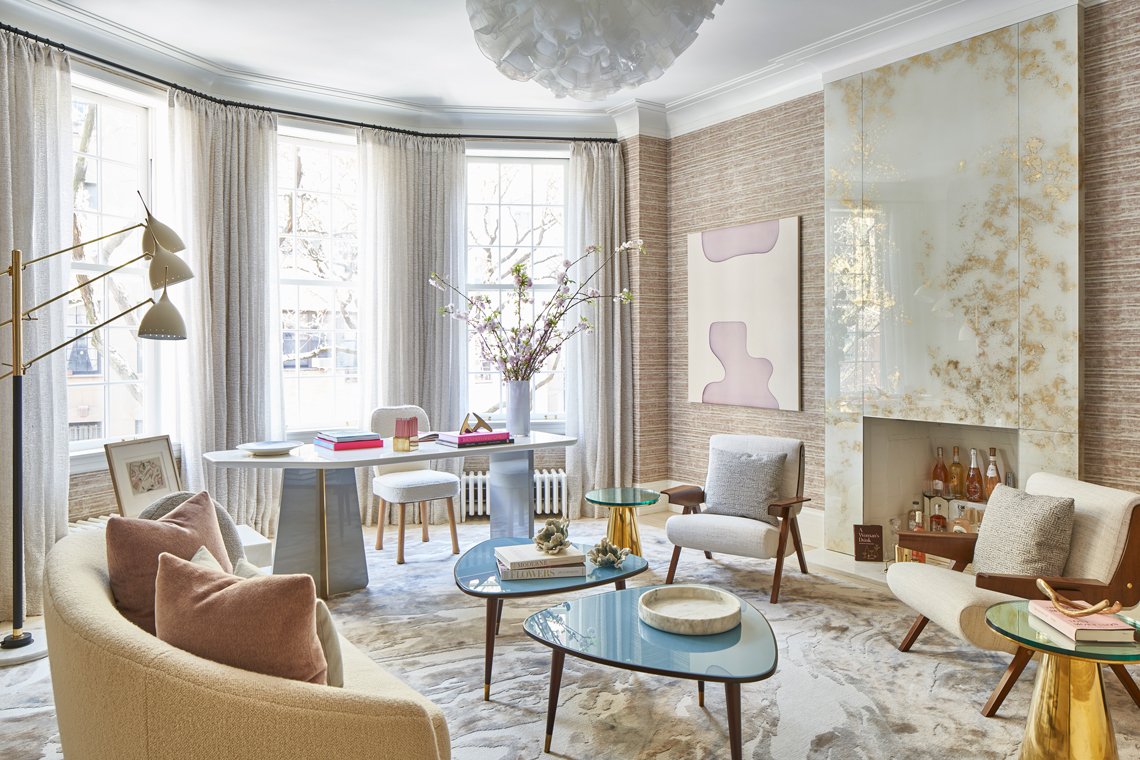 | | |
| --- | --- |
| | |
Eve Robinson Associates creates nuanced interiors that reflect the people who inhabit them, with elegant simplicity as a guiding principle. This is her 8th time participating in the Show House, evidence of her long-standing commitment to the Kips Bay Boys and Girls Club's mission. Virginia Woolf's feminist essay, A Room of One's Own, inspired Eve and her team to create a woman's sanctuary, an elegant urban she-shed, for the lady who juggles work, family and home. Soft curves and a luminous, ethereal palette reflect a woman's sensuality and femininity, Eve explains, and she goes on to add, "a desk for productivity, a seating area to entertain friends, and a place by the fire for reflection. Our room is filled with ethereal strength, form and function. It embodies the lives and achievements of our everyday heroes — women." The room flows with exceptional grace and beautifully balanced furnishings. A pair of chic vintage Gianfranco Frattini lounge chairs from Donzella is mated with a pair of brass and glass end tables on loan from Bernd Goeckler. The triangular blue glass-topped tables are vintage Osvaldo Borsani, circa 1955, and the floor lamp is a Stilnovo design from Studio Van den Akker. Eve designed the desk as a balance of durability and delicacy, the light, reflective materials and thin surface contrasting with the broad planes of the base, further celebrating the ethereal strength of her room's envisioned occupant.



Left: There's more than one way to keep warm — this fireplace was turned into a bar, with bottles of blush and gold-toned libations displayed within, and a gold leaf-patterned verre eglomisé fireplace breast by the peerless Miriam Ellner, a perfect spot for fireside chats or introspective reflection. Right: Eve designed the softly curved settee, which was inspired by a vintage piece, and paired it with a chunky marble-topped end table supported by delicate bronze legs. The pair of black-and-white photographs by New York artist Bing Wright are from his Rose series. Photos by Marco Ricca
---
Katherine Newman Design
Toronto-based Katherine Newman Design is helmed by designer Katherine Newman and architect Peter Cebulak, and the multi-disciplinary design firm encompasses architecture, interior design, landscape design and construction project management. Their Pink Dragon Study is designed to celebrate modernism expressed through old world craftsmanship, furniture as art, and timelessness, with a mix of periods and styles. "We continue to be interested in new things that look old" the designers say. European walnut paneling is "expressed as painting in marquetry" with milkwash finishes applied in abstract geometric shapes and bronze butterfly clips. A biomorphic recessed ceiling panel encircles three Rogan Gregory Fertility Form light sculptures. The color palette is a sophisticated mix of of warm and cool tones, both muted and bright, and, in an interesting coincidence, the dominant tones of saturated pink and green are the colors of dragon fruit.



Left: The Pink Dragon, inspirational muse and a nod to the tradition of craft honored in the room's design, is depicted in a stained glass wall light designed by Katherine Newman and executed by Lōna Design, the firm's custom lighting and furnishings studio. Canadian artist Brent Wadden's textile-based painting, Alignment #31, 2013 straddles the line between craft and modernism, with the process directing the piece, a opposed to concept-inspired artwork. A number of the designer's own favorites star in this vignette: a pair of glass and leather Fabio Lenci Hyaline chairs for Stendig, Italy, 1967; Fernando Mastrangelo's pink ombré Fade Drum side table, and a vintage 1947 three-legged Charlotte Perriand tabouret. A c. 1955 bench by Martin Eisler for the Brazilian modern furnishings company Forma is dressed with a cushion by Toyine Sellers. Right: A detail of the desk area, with a sculptural console by Vincenzo de Cotiis crafted in brass, antiqued silver-plated brass and recycled fiberglass, from Carpenters Workshop Gallery. At the desk is the iconic Pierre Jeanneret Senate Committee Chair, India, 1955 which comes from the designer's personal collection; the cerused oak x-base bench is vintage 1950 Frances Elkins, on loan from Donzella. Katherine and Peter cite the inclusion of this last piece as particularly relevant; interior designer Elkins' collaboration with her architect brother David Adler mirrors their own designer/architect practice model. A custom-designed suspended bookcase of bronze and stitched leather encloses a riveting work by Robert Motherwell, Open No. 57: Green and Black, 1969-70. The bookcase was constructed to offer display surfaces without interrupting the flow of the wall paneling design. A collection of Swedish Art Deco ceramics in the Argenta motif by Wilhelm Kåge lines the shelves. The sleek rosewood and bronze wall light is 1950s Italian, from Bernd Goeckler. Photos by Nickolas Sargent