Lighting Design Through the Past Two Centuries
By Benjamin Genocchio
Try to imagine interior lighting in the absence of limitless electricity. It is not easy, and yet artificial lighting has been around for millennia beginning with torches, fireplaces or oil lamps, followed by candles made from animal fat or later beeswax, which were used in Europe since at least Roman times — the Romans made the first dipped candles.
Oil lamps, candles and later gas lights were widespread in Europe and America until the late 19th century when, in 1882, Thomas Edison first harnessed electricity at his Pearl Street power station in New York. It took another three decades, until 1930, for electricity to be widely available in American homes.
The light bulb was not only safer than an open flame, but it also opened up a vast new arena for innovation — the electric lamp and light fixture, which designers today continue to reimagine and reinvent in a multitude of ways. But even before domestic electricity, lighting had long become about something more than just illumination as designers through the centuries created lighting to generate a mood or atmosphere reflective of period taste and style. Prior to 1900, a few major lighting styles in Europe include Tudor, Baroque, Victorian and Art Nouveau.
Looking at lighting through the ages provides a fascinating insight into how interior tastes have changed. Here we profile four lighting periods from the past two hundred years, beginning with the 19th century in which ideas of quality and craftsmanship predominate — not surprising, given lighting was a luxury item made to order.
The public areas of homes of the wealthy consisted initially of central chandeliers and wall sconces, as well as candelabras and oil lamps for the private rooms. By the end of the century, however, modes of mass production allowed lighting to become more accessible to a wider segment of the population. By the middle 20th century, lighting was further transformed from a luxury item to a popular domestic staple.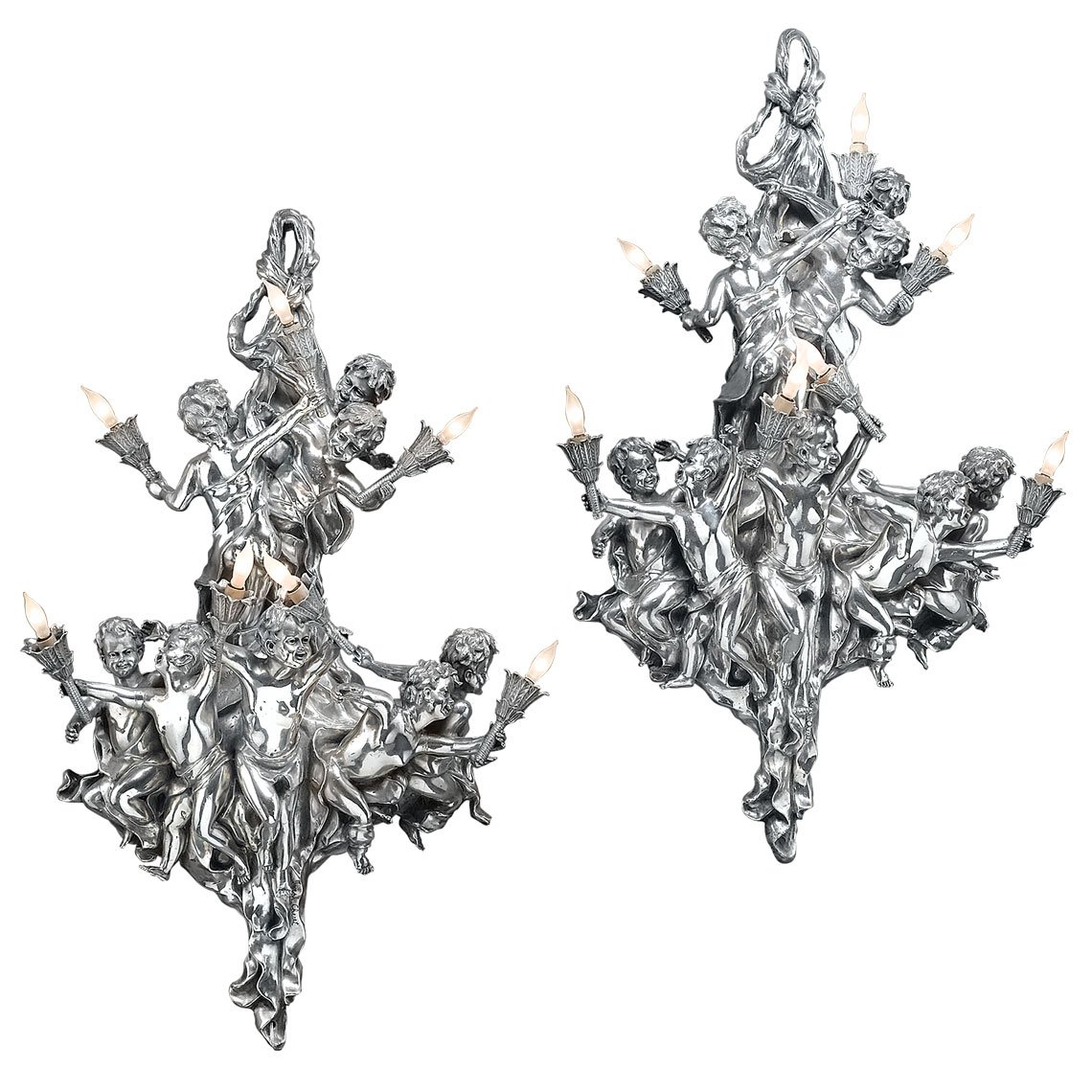 M.S. Rau, New Orleans
Silverplate Bronze Sconces, France, circa 1885
Art Nouveau was a decorative style and fine art movement popular in the final decades of the 19th and early decades of the 20th century. Classical references as well as plant, and nature themes dominate in the form of elaborate, effusive decorative schemes as in this fabulously ornate example of a pair of large French Art Nouveau era sconces made of silver-plated bronze created by Joseph Chéret, circa 1885.
Chéret was the younger brother of the French painter and Art Nouveau lithographer Jules Chéret. He began his career in sculpture, abundantly evident in these seven light sconces, each over three feet in height, which are a testament to his superb artistic craftsmanship but also prevailing tastes of the era — intricate designs of sinuous, jubilant cherubs holding torches for lights surrounded by flowing folds of fabric. They were likely created as a commission for a wealthy patron.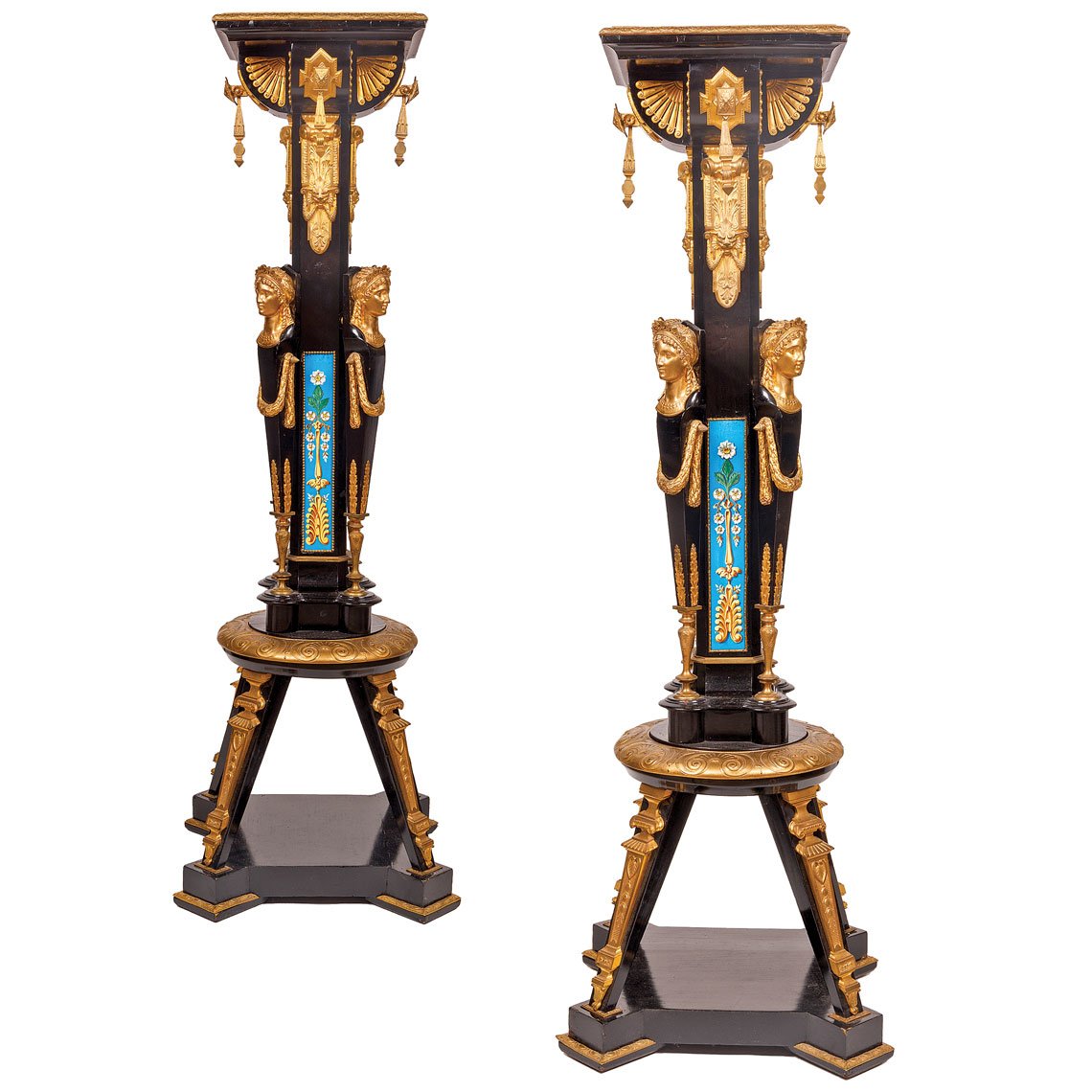 Solomon Treasure, New York
Charles-Guillame Diehl, Neo-Grec Torchères, France, circa 1870
Charles-Guillame Diehl is regarded as one of the best French cabinet makers of the 19th century but he designed lighting and other decorative objects such as this pair of Napoleon III-period torchères or pedestals inspired by Grecian antiquities. These are custom luxury items, exquisitely crafted most likely by a team of skilled artisans given the variety of techniques and materials involved with hand-chiseled ormolu (a gilding technique used to decorate furniture and also for ornaments) base mounts of caryatids, fans, and garlands created by the designer Jean Brandley offset by ebonized fruitwood forms. The elegant porcelain panels add color to these already effusive and ornate 19th-century decorative masterpieces. Diehl's pieces are today in museums like the Musée d'Orsay, Paris, the Rijksmuseum, Amsterdam, the Musée de l'Ecole de Nancy, and the Metropolitan Museum of Art, New York.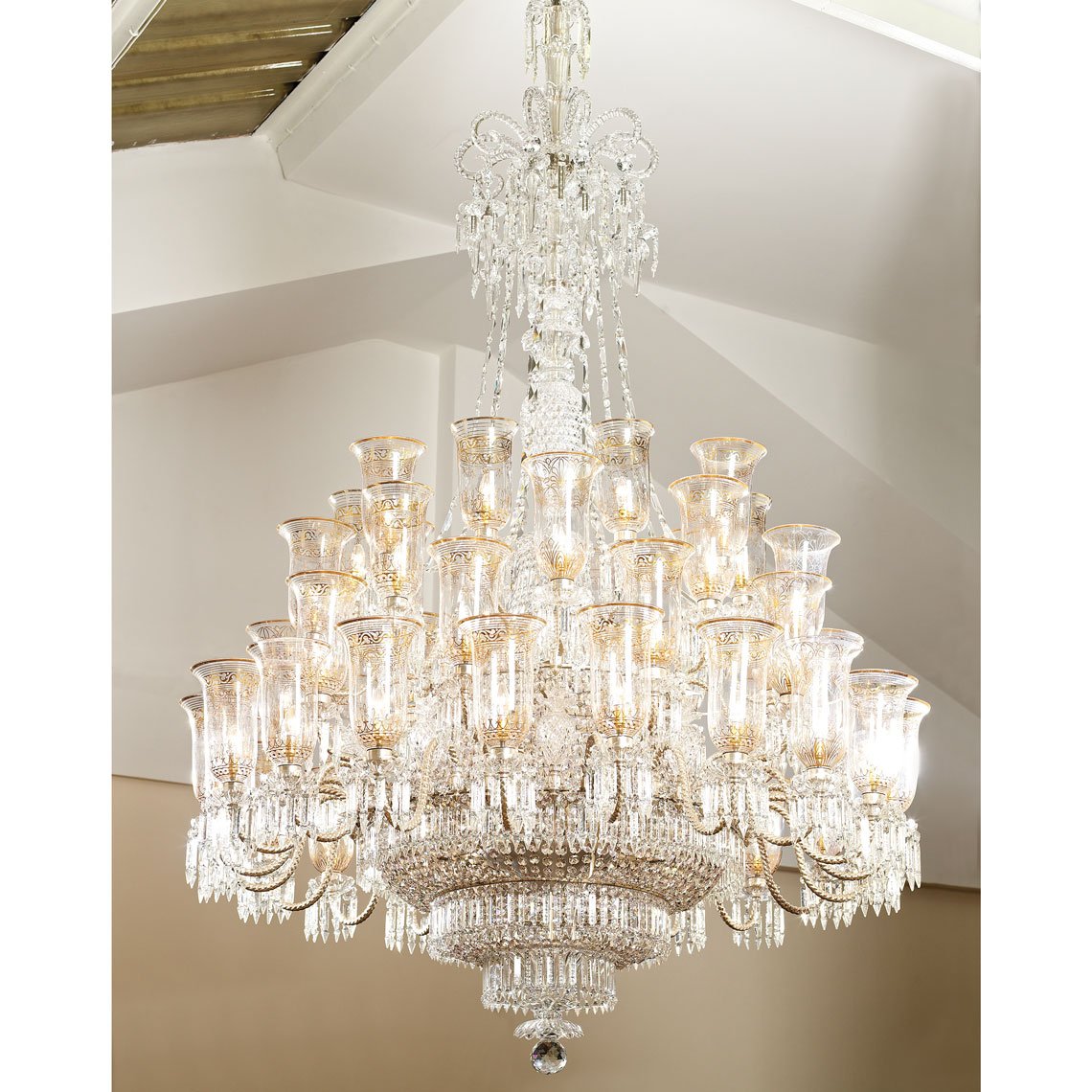 Mayfair Gallery, London
Victorian Period Cut Glass and Parcel Gilt Chandelier by F. and C. Osler, England, circa 1870
The Victorian period in England spanned 1837–1901 and during this time there were very few homes with electricity as it was expensive and so most houses were lit with gas lighting, oil lamps, and with candles. This Victorian-style cut glass and parcel gilt Chandelier by F & C Osler is a spectacular, rare, large example of English Victorian lighting. It dates from c. 1870 and is exquisitely crafted from hand-cut and parcel gilt glass by a firm, founded in 1807, that was celebrated throughout the 19th century for producing high-quality luxury glassware. Their chandeliers were popular with English royalty as well as wealthy aristocrats throughout Europe and India. This chandelier is an outstanding example, measuring over 3 meters in height with the central basket of the chandelier supporting four tiers of sixty-four lights crafted from transparent glass.
Charming Chandelier by Barovier & Toso, Murano, Italy, 1940
This charming cherry-shaped Lira ceiling light fixture by Barovier & Toso from 1940 is perfectly elegant and simple. It is sufficiently ornate and so beautifully crafted so as to look richly luxurious and old world in inspiration, harking back to 19th-century ornate glass chandeliers, but at the same time it is refined, focussed and elegant in design — it's a more modern fixture by the Murano glass maker that set the standard for taste in lighting throughout the first half of the 20th century. Everything here is made of glass, from the ceiling cup to the flowing, turned rope-like glass stems (a hallmark of the Barovier & Toso brand and frequently used as a frame for mirrors and photo frames) to the two "rostrato" glass cups suspended inside a harp shape made again of turned rope glass. Everything is held together with polished brass fittings. This is an exceptional piece of mid-century design and a model for much that followed.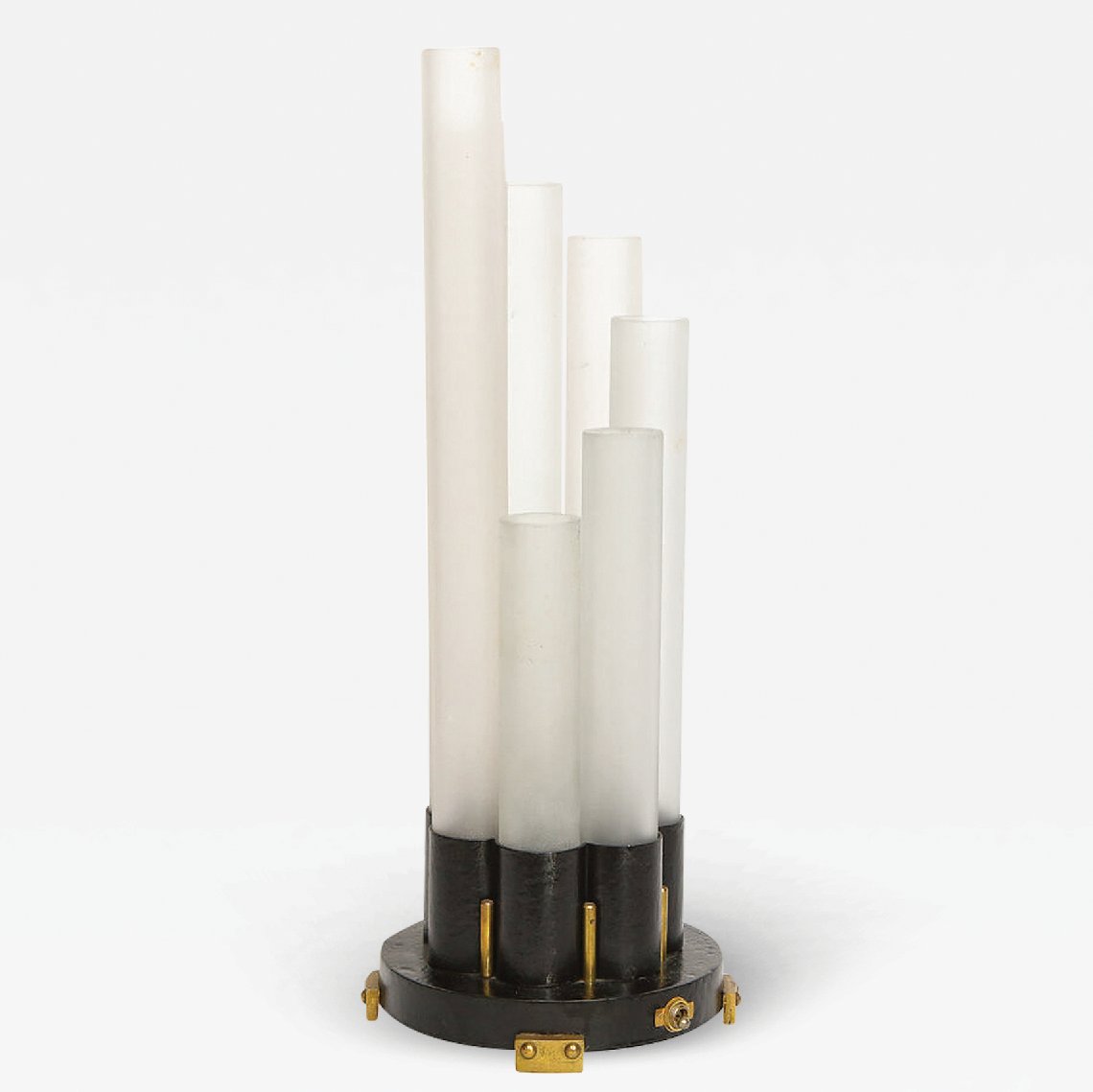 High Style Deco, New York
Walter Von Nessen, Art Deco Machine Age Uplight, United States, circa 1935
Beginning in the late 1920s, a French luxury style called Art Deco, an abbreviation for the French words Arts Décoratifs, took the European design world by storm. Art Deco designs placed emphasis on ornamentation, expensive materials, craftsmanship and classical elegance — qualities all to be admired in design, to be sure, but which made it costly and frequently custom made. American designers initially embraced Art Deco, among them the lighting designer Walter Von Nessen who created this elegant and graphic Art Deco Machine Age uplight sometime around 1935.
Milord Antiques, The Gallery at 200 LEX powered by Incollect, New York
Jacques Adnet Art Deco Lamp, France, circa 1940
This elegant nickel-plated bronze, glass and mahogany floor lamp by Jacques Adnet dates to circa 1940 and is very much in the manner of the French luxury style known as Art Deco. Not only is the craftsmanship impeccable but the form of the lamp itself takes inspiration from neoclassical standing torchieres, basically tall ornamental floor lighting stands that first emerged in France in the 17th century usually using candles as the form of illumination with the upright, fluted canopy giving the lamp a torch-like shape — the word is from the French word for 'torch'. Torchieres were designed to provide ambient or indirect lighting, given that the light source is installed within an upper reflective bowl that diffuses the light to reflect off the ceiling rather than outward.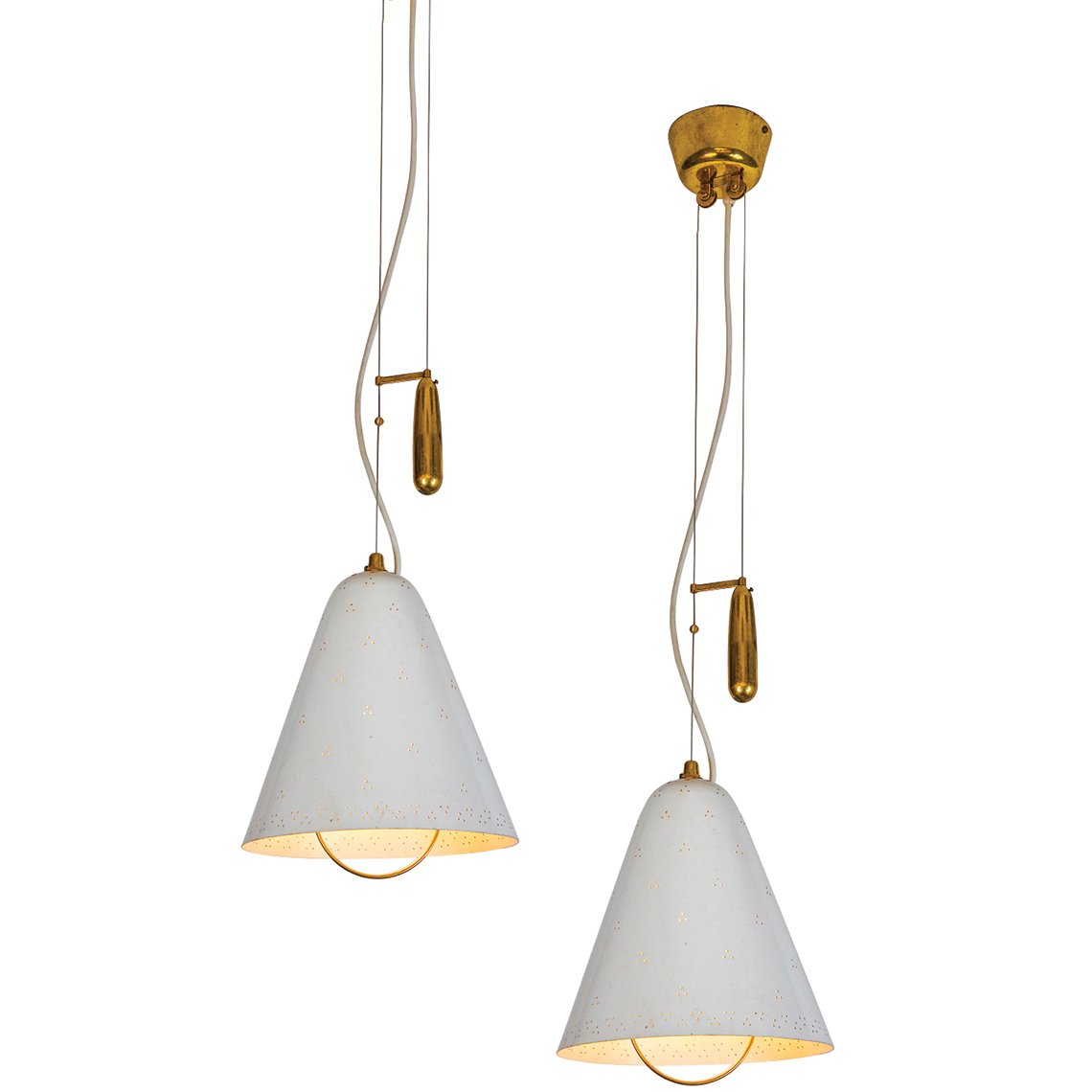 Two Enlighten, Los Angeles
Paavo Tynell 'A1942' counterweight pendants for Idman Oy, Sweden, circa 1940s
This original pair of iconic 1940s Paavo Tynell 'A1942' counterweight pendant lights produced for Idman Oy are classic examples of early modern lighting by one of the great innovators of modern lighting in the first decades of the 20th century. Tynell is credited with embracing a range of new industrial materials, and especially metal, to create affordable lighting to be mass manufactured and sold all over the world. Here we see a pair of pendants in white-painted perforated aluminum and brass which can be raised and lowered using a specially developed counterweight and pulley system.
Eric Appel, New York
Guido Gambone Table Lamp, circa 1950
Following the first flowering of modern design styles in the early decades of the 20th century and the increased use of industrial materials, there was a return to nature in the post-World War II period, in part inspired by the example of modern Scandinavian design. Ceramic lighting bases became popular as ceramics in general became an important part of the new sleek, comfortable, functional interior design style.
Guido Gambone was the preeminent ceramic artist of his generation in post-war Italy and today his ceramic artwork is highly prized among collectors. Mostly he created bottles, dishes, bowls and vases but there are many lamps on the market — some of them designed as lamp bases, others vases converted into lamps. Either way, they tend to have a unique, memorable aesthetic derived in part from his use of sand in glazes (under extreme temperature the sand melts to create pieces of molten glass) as well as his linear, graffiti-like decoration that ranges from figurative to abstract. Roger Capron and Jean Rivier in France created similar ceramic lamp bases.
Donzella, New York
Gaetano Sciolari, Italian mid-century floor lamp, circa 1950s
Angelo Gaetano Sciolari initially designed modern lighting for his family business, Sciolari Lighting, but later worked extensively and successfully for Stilnovo as an in-house designer. His work was immensely popular in the 1970s and 80s and remains so today, such as this Italian mid-century floor lamp by Stilnovo from the 1950s, made of a brass frame composed of three stems ending in a white marble base with an acid-etched textured glass shade concealing seven base bulbs. It is beautiful and functional at the same time, a sculpture that is both elegant and yet unobtrusive. Sciolari's lights always put a focus on the best form of illumination and in addition to designing lamps for Stilnovo and Stilkronen (Italy), he designed lamps for Lightolier and Progress Lighting (USA), S.A. Boulanger (Belgium), Helestra and Leola (Germany), and Lyfa (Denmark).
Portuondo, London
Angelo Lelii, Triennale Floor Lamp, circa 1960
Angelo Lelii was one of the most talented lighting designers of the post-war period in Europe. He worked extensively for Arredoluce, in Monza, outside Milan, for which he created numerous floor and ceiling lamps. One of the most famous of which is his Model 12128 Triennale floor lamp which was designed in 1947 and first exhibited at the Triennale Exposition in Milan in 1951. This is a clean-lined innovative modern lamp, with adjustable arms and lacquered metal shades that swivel, along with polished or chromed brass fittings. The shades on this item are original, along with the handles, from the 1960s.
L'Art De Vivre, New York
Max Ingrand, Frosted Glass Sconces for Fontana Arte, Italy, circa 1960
Max Ingrand remains one of the most celebrated, iconic lighting designers of the 20th century. His reputation rests on his work at Fontana Arte, where he was the creative director from 1940–1959. The 'Dahlia' chandelier, designed initially in the mid-1950s and produced up until 1979 is one of the most coveted pieces of Italian mid-century design but so, too, are his mirror lights, floor lamps, chandeliers and sconces such as this rare pair of gold-colored frosted hand-ground glass sconces made for Fontana Arte, with an underlying diffuser in white opaline glass and polished brass mounts made in Italy, circa 1960. They were likely a custom commission as Charles Fuller, at the gallery, and an expert in the subject, says "This is the only instance where I have seen these sconces in colored glass, so they may be a one-off."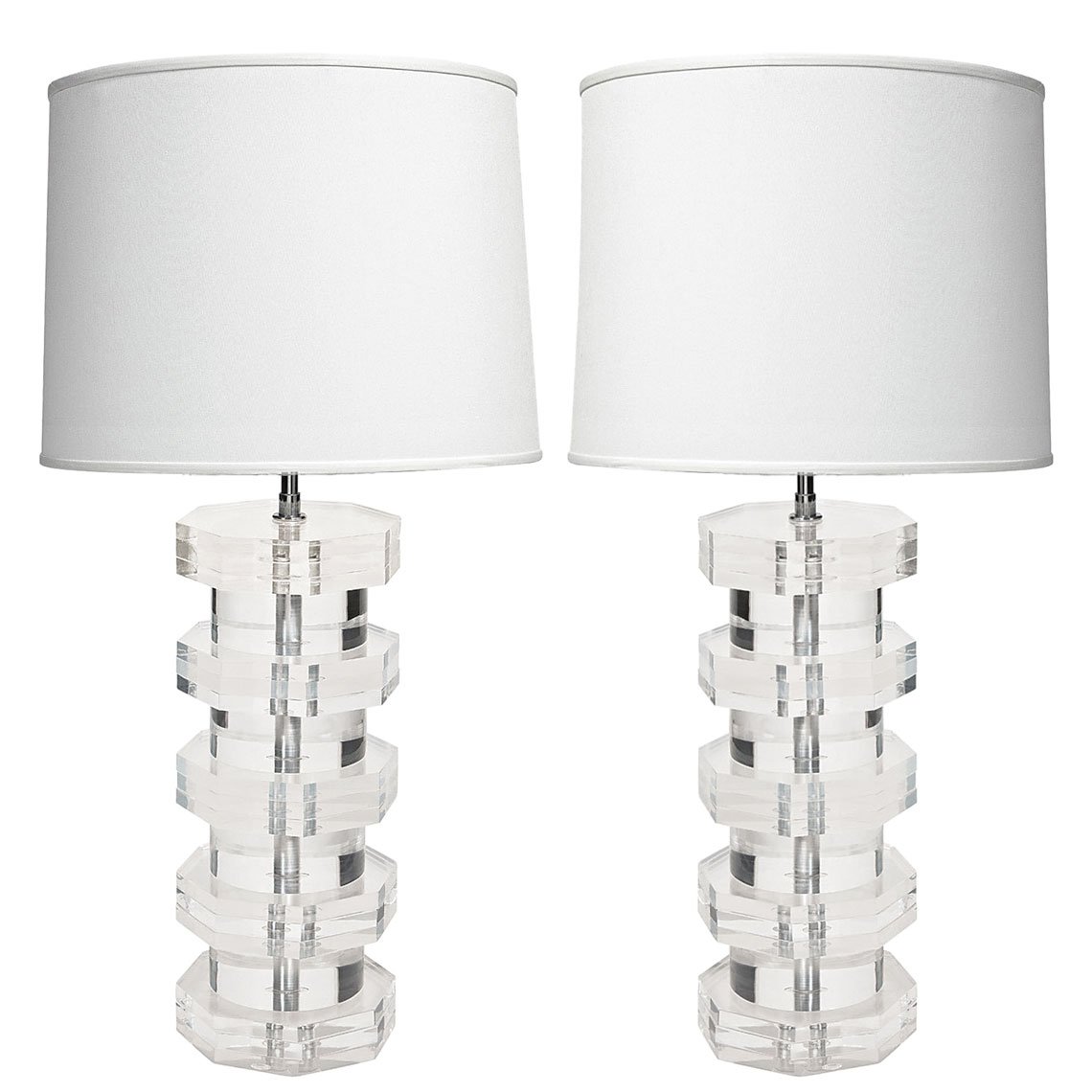 Lobel Modern, New York
Karl Springer, Pair of Octagonal Solid Lucite Table Lamps, circa 1970s
Karl Springer got his start as a designer making small objects covered in exotic skins and other materials. He had an eye for quality and restraint and everything he produced was beautifully made, as is the case with this pair of stunning large table lamps from the 1970s made of solid lucite with octagonal-shaped areas separated by cylindrical sections with chrome hardware also designed and made by him. Springer, born in Germany, was perhaps the iconic American designer of the 1970s and 1980s because of the simple elegance of his designs coupled with the perfection of his finishes and his reinterpretation of modern materials such as lucite for lamps as well as traditional materials including goatskin and shagreen for covered furniture.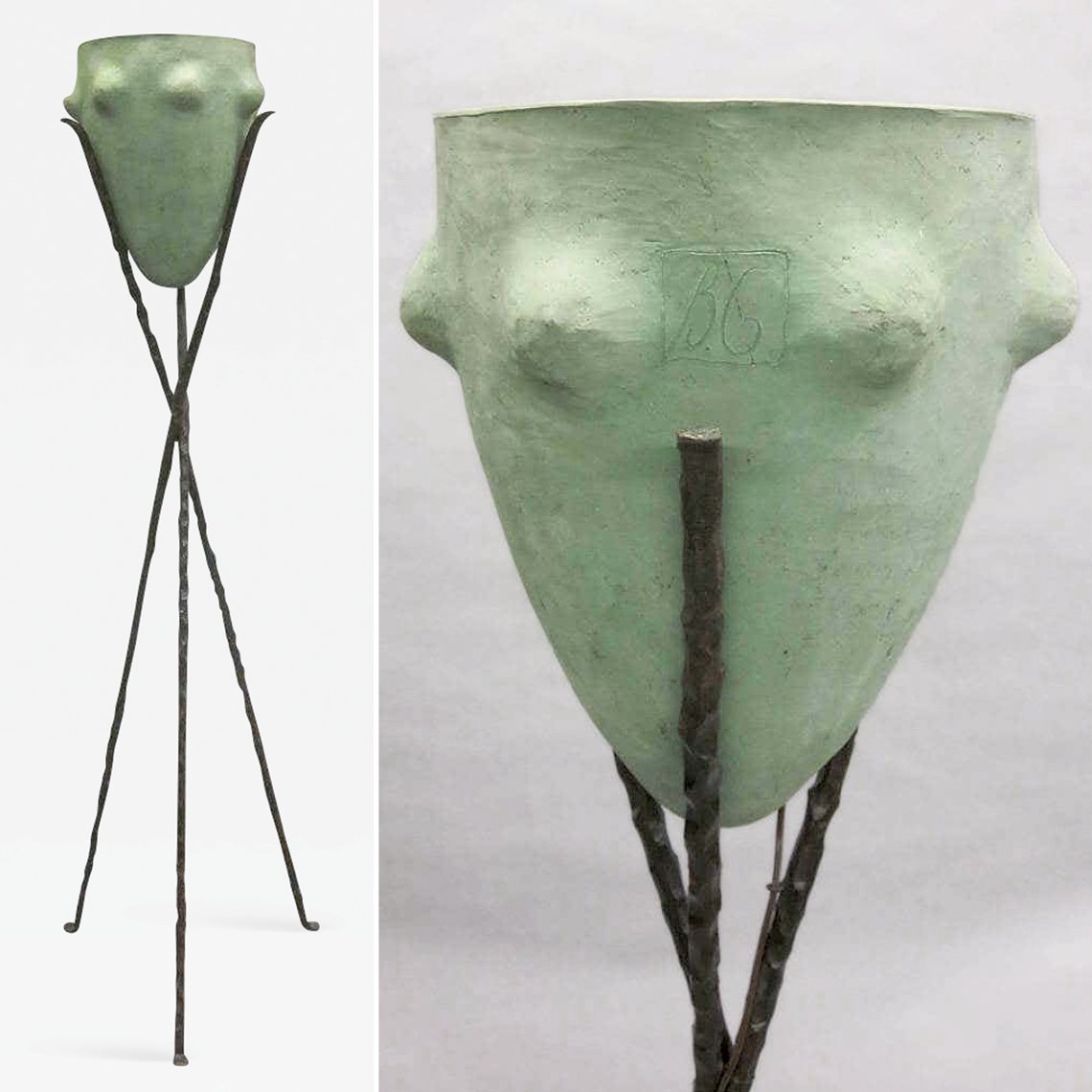 Thomas Gallery, New York
Garouste & Bonetti Floor Lamp, France 1980
Elizabeth Garouste & Mattia Bonetti were among the most successful design teams from the last decades of the 20th century. Their designs are neo-classical in inspiration, with an emphasis on a modern brutalist finish, and are rigorously original and contemporary. They designed numerous lamps, often using bronze, as in this brutalist-inspired torchiere that is hand-hammered and hand-forged with a bronzed iron tripod base set in a classic X-form with a green cast stone reflector. It is from 1980, part of the "New Barbarians" collection which was Garouste and Bonetti's first major showing. This is a rare, limited edition piece, one of five made with bronzed iron and a green stone reflector.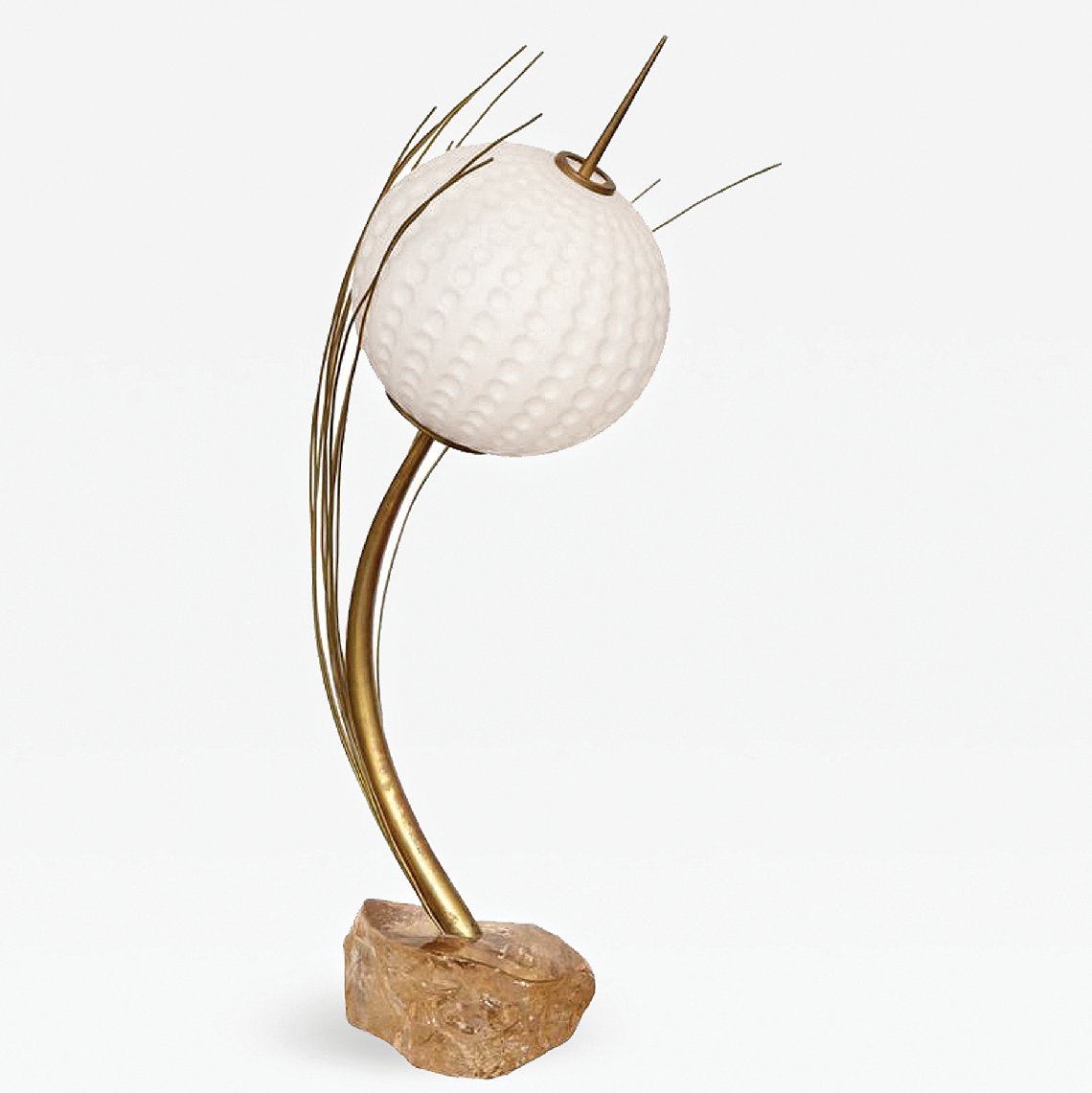 Fred Silberman, New York
Roberto Rida Large Glass Table Lamp, Italy 2010
Roberto Giulio Rida worked for Fontana Arte and today carries on with that tradition in his own work using industrial glass as the basis for his imaginative lamps which are among the most sought-after interior lighting items today. The "Soffio" Modern Large Glass Table Lamp with a Crystal Base made in Italy in 2010, takes the form of a large thistle blowing in the wind. It is made with a hand-wrought brass stem and leaves on a rough block of pale amber hand-chipped rock crystal with a blown molded white glass shade. This is a bold yet delicate, inventive, unique design for a lamp — something not so easy to achieve given centuries of lighting design.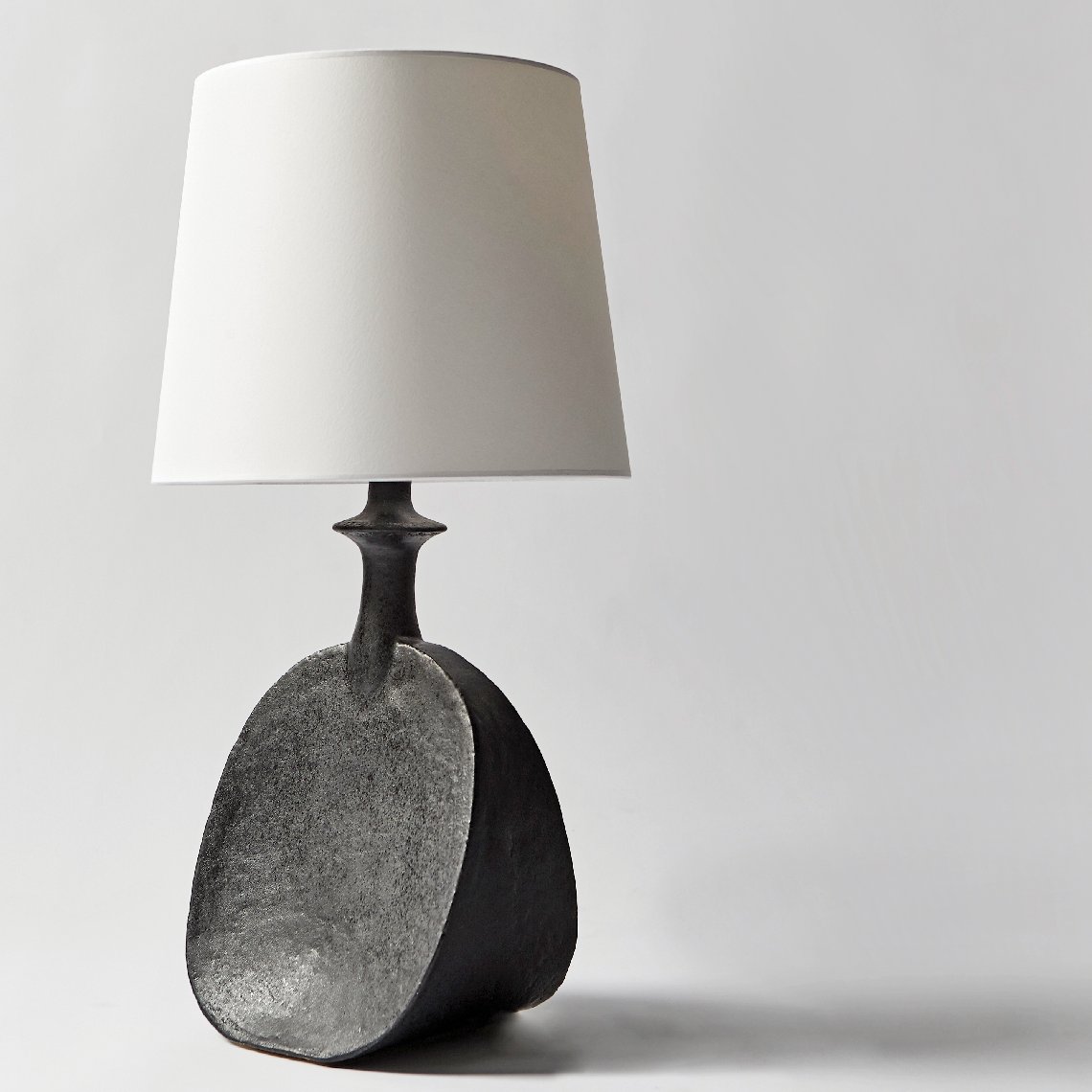 Galerie Carole Decombe, Paris
Isabelle Sicart, Capri Table Lamp, 2017
French ceramicist Isabelle Sicart works in the vein of minimal Scandinavian modern design with simple organic forms in natural materials that are soft and pleasing to the eyes and touch and make a room feel warm and inviting. Her table lamp titled "Capri", 2017, made of a matte black enameled sandstone so as to resemble bronze is first and foremost a work of exquisite minimalist sculpture, a ceramic object of classic elegance and refinement. Sensuality and simplicity combine here to create an object of striking visual power and beauty that is also supremely functional in an interior. Her pieces tend to be one of a kind, making them both special and unique.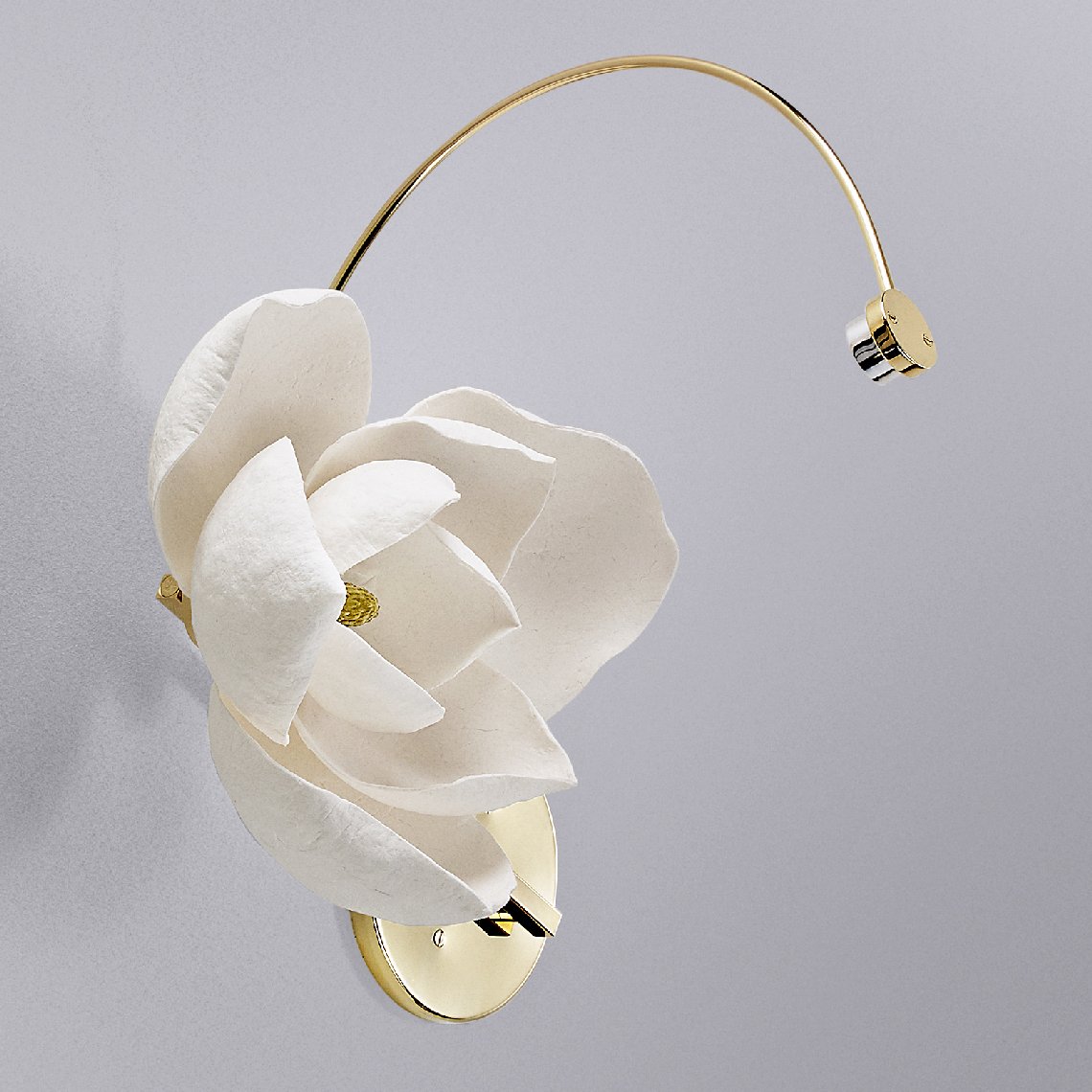 Twentieth, Los Angeles
Pelle, Lure Scones
Pelle design studio in Brooklyn, New York combines art and architecture to create elegant hand-crafted lighting and furniture. Their lighting collection grabs attention — innovative and contemporary, frequently combining ornamentation with minimalist restraint. The Lure Scones are a wonderful example of their aesthetic, their beauty and harmony derive from impeccable attention to detail and craftsmanship in addition to perfectly balanced visual geometry. Cast and hand-sculptured cotton paper flower petals are individually shaped to create a flower unfolding to full bloom. "Lure transforms a flower's transient beauty into a lasting light," the artists explain, the blossom spotlit by a suspended LED light source. Lure can be installed alone or in multiples. Warm feelings and a sense of comfort surround these lights, which seduce on all levels.
Equinoctial, New York
Alê Jordão, Neon Balls Stand Lamp
Brazilian designer Alê Jordão created his contemporary Neon ball Stand Lamp back in 2017 but it has since become a popular contemporary design accessory among a class of adventurous collectors looking to branch out from traditional lighting design. This floor lamp is made of a painted iron structure with mirror-based neon sculpture lights that dangle at alternating heights and diffuse softly colored light. "Consisting of a glass globe filled with neon lights, Alê Jordão's floor lamp stands at the very edge between art and design, interacting with its surrounding environment by casting a subtly colorful light effect around itself," says João Vicente from the gallery. Neon is somewhat of a trademark for the artist who is interested in graffiti art as inspiration for ideas and largely industrial materials as the basis from which to make his work.