Great American Folk Art at the Abby Aldrich Rockefeller Folk Art Museum Part 2 by Ronald L. Hurst
PART II
by Ronald L. Hurst
Colonial Williamsburg's Abby Aldrich Rockefeller Folk Art Museum moved into new, state-of-the-art quarters in February 2007. With 11,000 square feet of gallery space, the museum currently features eleven exhibitions drawn from its permanent collections. The folk art museum's collection is justly celebrated for its paintings, which include hundreds of single and group portraits, landscapes, and genre pictures. Along with sculpture, these were the principal focus of Mrs. Rockefeller's collecting efforts prior to her death in 1948. After the establishment of the museum in 1957, a variety of additional media was introduced. New areas of interest were developed through the leadership of the museum's staff and a number of insightful donors. Today the institution is home to strong holdings in textiles, painted furniture, pottery, weathervanes, signboards, and a wide array of decorative useful wares. Singular examples from all these areas are featured here, in the second of a two-part article, and clearly illustrate the outstanding quality of the collections at America's oldest folk art museum.
---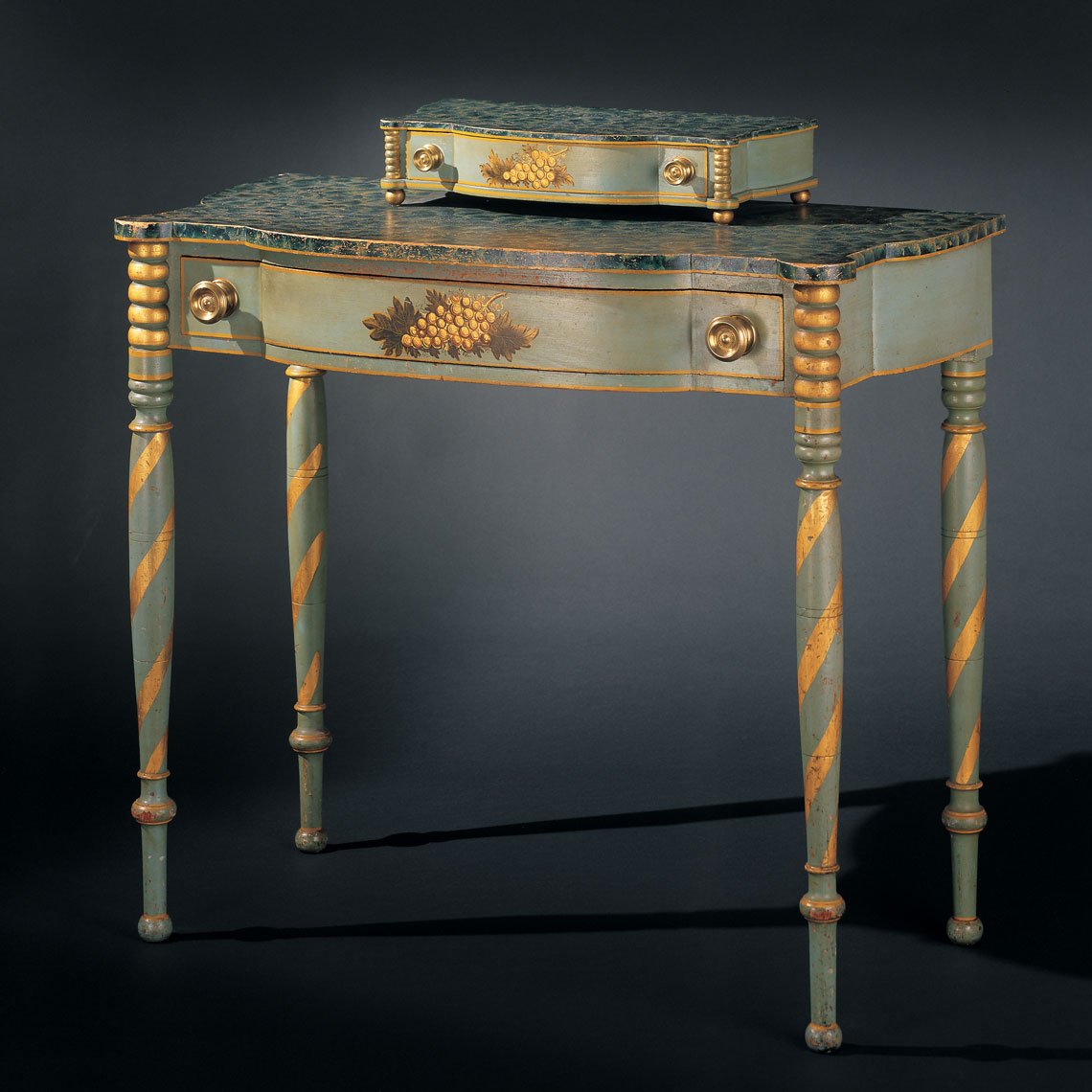 Dressing table, maker unidentified, Portsmouth, N. H., 1815–1825. White pine, basswood, and maple; original painted decoration. H. 36-1/8, W. 36-7/8, D. 18-5/16 inches. 1974.2000.2.
Paint-decorated furniture was enormously popular during the first quarter of the nineteenth century. Painters in cities and rural districts alike decorated everything from chairs to window cornices to large case furniture. This dressing table was ornamented by one of several professional painters and gilders known to have been working in Portsmouth during that period. The unidentified artisan used a soft implement such as a sponge to produce an effect akin to oyster shell veneer on the table top. He employed stencils for the clusters of grapes and then highlighted the results with freehand work. His most inspired approach was the application of gilt barber stripes on the turned legs. Nearly identical tables were available in cabinet woods such as mahogany, but the ornament sets this less expensive softwood version apart. The table was originally owned by Abraham Wendell (1785–1865), a wealthy Portsmouth merchant. It remained in the Wendell family until 1970.
---
Unidentified artist, The Old Plantation, probably South Carolina, ca. 1790-1800. Watercolor on paper. 11-11/16 x 17-7/8 inches. Gift of Abby Aldrich Rockefeller. 1935.301.3.
This is one of the earliest known depictions of an enslaved African-American community and one of the most important objects in the collection. It may illustrate a wedding ceremony, since the act of jumping over a stick or a broom is associated with African marriage traditions. Other authorities believe the picture is replete with traditions of the Yoruba people from Nigeria, signified by the barefoot dance with sticks and scarves, the cloth headdresses worn by some of the figures, the gudugudu (a drum-like instrument at the right), and the molo (an antecedent of the banjo). Behind the figures are several buildings thought to represent a plantation in South Carolina, where the picture was discovered in the 1930s. No specific site has yet been suggested or identified.

---
Thomas V. Brooks (1828-1895), Race Track Tout, Chicago, Ill., ca. 1880. White pine. 72 x 17 x 23 inches. Gift of Abby Aldrich Rockefeller. 1956.705.3.


Race track touts were popular sporting figures of the late nineteenth century, known for their hot tips on horse races and identified by their showy tailored clothes. Cigars, symbolic of a gambler's largess, were often associated with such figures. Sculptures depicting touts became popular with shopkeepers that advertised tobacco. The well-known carver Thomas Brooks move from New York City to Chicago in 1880, where he produced this figure. Like other carvers, Brooks produced a variety of forms, including Indian princesses. He was especially famous for his "leaners"; figures posed with one arm on a barrel, an oversize cigar, or a tree stump. His race track touts are rare survivals. This example holds a plug of tobacco in his left hand.

---
Snake weather vane, maker unidentified, possibly Connecticut, 1825-1850. Sheet iron. 8-3/4 x 29 x 1/2 inches. 1932.800.3.


The snake's gaping mouth, serrated teeth, and ominous tongue perpetuate the image of serpents as aggressive creatures. The handling of these features, including the twisted wire tongue, and the small eye are unusual considering that vanes were typically placed some distance from the viewer, making such details indiscernible. This example's graceful silhouette form with two coils in the tail successfully captures the sinuous, sleek nature of the animal. Sheet iron vanes were the earliest type made in America and continued to be fashioned by local smiths long after factory-made molded vanes were introduced around 1850.

---
Henry Church Jr., The Monkey Picture, Chagrin Falls, Ohio, 1895-1900. Oil on paper mounted on oilcloth. 28 x 44 inches. 1981.103.1.

Colorful and exuberant in its composition and details, this is Henry Church's most acclaimed work. The subject is unusual for its period; two monkeys have escaped from their cage and are fighting over a banana. While a policeman chases the miscreants, one of the monkeys is strangling the tiger skin, which in turn grimaces. Beyond these obvious aspects of humor are two more subtle details—the human profile at the upper edge of the watermelon slice and a tiny, similar profile on one of the strawberries. Twenty years earlier, according to family history, Church painted a still life that closely relates to The Monkey Picture. It showed a nearly identical interior, but the policeman and the monkeys are missing, and the expression on the face of the tiger skin is mute. What inspired Church to create this pleasing but unorthodox version is unknown.

---
Jug, Collin Rhodes Factory, Shaw's Creek, S.C., 1846-1853. Ash-glazed stoneware. 13-1/4 x 10 x 10 inches. 1997.900.1.

The Collin Rhodes Factory in the Edgefield district of South Carolina was one of the more successful potteries in the South during the mid-nineteenth century. This jug was made for Joel Ridgel, a prominent farmer in Lexington County. It depicts two ladies who may represent Ridgel's first wife, Rebecca Norris, and his second wife, Susannah Fox. Depictions of people on American stoneware are not common, and the ladies are even more unusual because of the elaborate, hoop-skirted gowns they wear. The images may have been influenced by current fashions illustrated in European and American ladies' publications such as Godey's Lady's Book or Harper's Magazine, popular among wealthy women.

---
William Rice (1773-1847), A. Hawley's Inn sign, Hartford, Ct., ca. 1830. Paint, gilt, mica and sand on wood with iron brackets. 46-7/8 x 56-1/4 x 3-3/4 inches. 1975.707.1.
William Rice was a skilled sign painter whose clientele extended from Hartford to southern Massachusetts. Rice frequently employed the fettered British lion and the American eagle in his works; as he did for this sign created for the inn operated by Allen Hawley near Boston, Massachusetts. The lion is typical of Rice's docile, if somewhat astonished looking cats. The eagle clutches the olive branch of peace and the lightning bolts of war beneath a shower of stars.

---
Quilt, Jemima Prentice (1773-1865), Brooklyn, New York, ca. 1860. Silk dress samples with silk ribbon tufts and silk ribbon border. 48-1/2 x 68-1/2 inches. Gift of Graham and Sally N. Lusk in memory of Eloise Prentice Lusk, 1998.609.2.
Family history records that Jemima Parmalee Prentice made this quilt from silk dress samples acquired from a kinsman's dry goods business in Brooklyn. Supporting this notion is the brown plaid rectangle to the center left, which appears in seven different colorways. In a typical quilt, the face fabric, inner batting, and backing are held together by stitches worked in decorative patterns. This small quilt is tied together with multicolored ribbons that keep the layers in place. Jemima Prentice created quilts throughout much of her life. An 1835 silk example is also in the collection. In her later years, Mrs. Prentice made and sold quilts, probably similar to this one, and used the profits to found Sunday schools in small villages on the edge of the American frontier.

---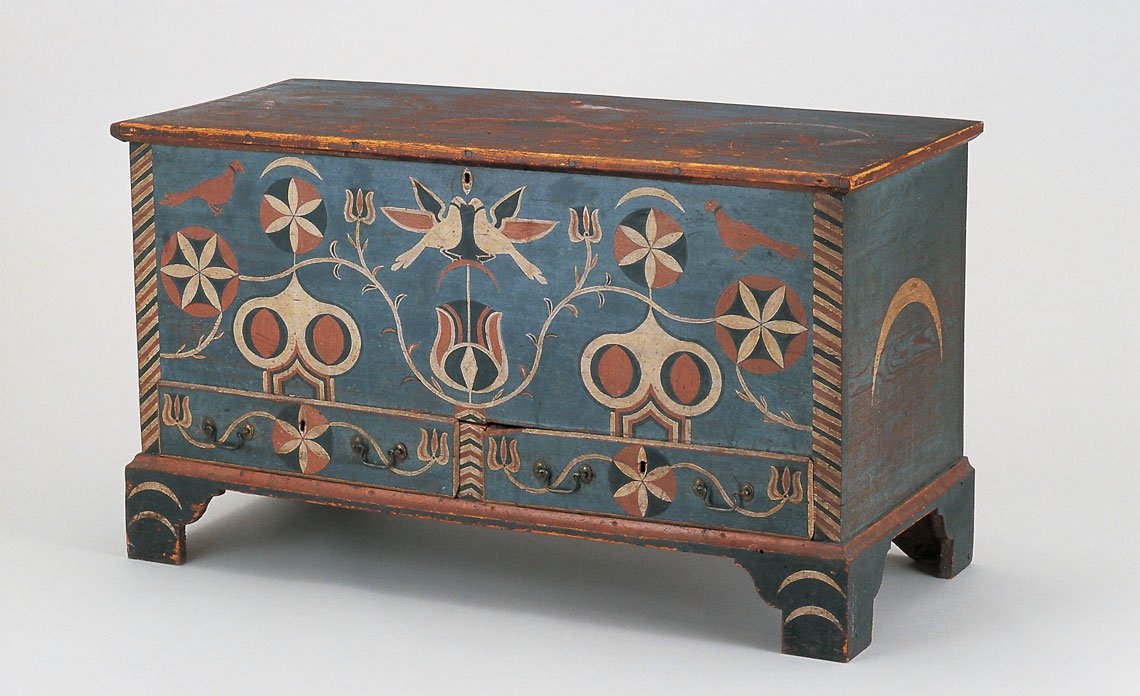 Chest with drawers, decoration attributed to Johannes Spitler (1774-1837), Shenandoah (now Page) County, Va., ca. 1800. Yellow pine and chestnut, original painted decoration. H. 27-1/2, W. 48-1/2, D. 21-3/4 inches. 1990.2000.1.
Johannes Spitler was a furniture painter who worked in the Massanutten area of Virginia's Shenandoah Valley during the late eighteenth century. Of Swiss-German extraction, he ornamented chests, tall clocks, and other furniture forms with a variety of symbolic Germanic motifs. This particular chest features vines, hearts, flowers, birds, and other elements emblematic of love, marriage, and fertility. Other works painted by Spitler are embellished with pinwheels, fylfots, fans, and even clock parts. His schemes are notable for their brilliant coloration and sharply focused images. These were usually achieved by laying out the decorative elements with templates and drawing tools, painting them in white, red, and black, and then filling in the ground with blue paint. Many of Spitler's pieces retain his paint-smeared fingerprints and even full handprints on interior surfaces.

---
For information or to visit the Abby Aldrich Rockefeller Folk Art Museum, call 1.800.HISTORY or visit www.colonialwilliamsburg.org.
---
Ronald L. Hurst is vice president of collections and museums, Colonial Williamsburg Foundation.
This article was originally published in the Summer/Autumn 2007 issue of Antiques & Fine Art magazine, a fully digitized version of which is available at www.afamag.com. AFA is affiliated with Incollect.com.