This Week's Events: American Craft in Brooklyn, Holiday House NYC, August Rodin, Edvard Munch, & More
SHOWS & SHOWHOUSES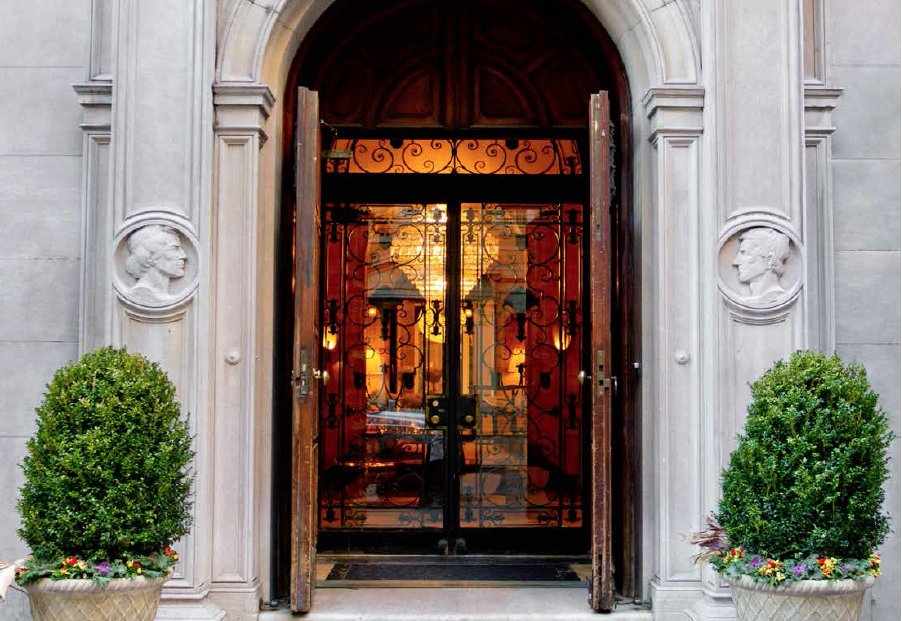 Holiday House NYC. Courtesy Holiday House.
Holiday House, NYC
November 15-December 6, 2017
The Academy Mansion
2 East 63rd Street, NYC
Holiday House is an interior design showhouse where top interior designers and lifestyle brands showcase their talents to raise critical funds for the prevention and cure of breast cancer. In 2017, Holiday House will celebrate its tenth year of showhouses with the 10th annual Holiday House NYC; the inaugural Holiday House London (November 8-December 10); and the launch of Holiday House: Ten Years of Decorating for a Cure, a beautiful coffee table book documenting Holiday House's history. View the stunning rooms decorated by twenty-two designers. The nearly month-long showhouse opens Tuesday, November 14th, with an opening night gala.
Holiday House was founded in 2008 by interior designer and breast cancer survivor Iris Dankner. Since partnering with The Breast Cancer Research Foundation, Holiday House has granted over a million dollars to this renowned charity.The showhouse is closed November 23-24.
American Fine Craft Show
November 18-19, 2017
Brooklyn Museum
200 Eastern Pkwy, Brooklyn, NY
http://americanfinecraftshowbrooklyn.com
This two-day juried event will present an extraordinary selection of handmade works in ceramics, jewelry, glass, furniture, wood, metal, mixed media, wearable and decorative fiber by 90 of the nation's finest craft artists. The show will take place in the Beaux-Arts court of the Brooklyn Museum. Concurrent special exhibitions at the museum include Rodin at the Brooklyn Museum: The Body in Bronze (opens November 17; see below); Soulful Creatures: Animal Mummies in Ancient Egypt; Proof: Francisco Goya, Sergei Eisenstein, Robert Longo; and Arts of Korea. The show is produced by An American Craftsman Galleries
EXHIBITIONS
Michelangelo: Divine Draftsman & Designer
Through February 12, 2018
The Metropolitan Museum of Art
1000 Fifth Avenue, NYC
The exhibition will trace Michelangelo's life and career, beginning with his training as a teenager in the workshop of Ghirlandaio and his earliest painting, The Torment of Saint Anthony (1487–88), and first known sculpture, Young Archer (ca. 1490). It will move on to the commission of his colossal marble sculpture David in 1501, the early planning of the Tomb of Pope Julius II, and the monumental project of painting The Last Judgment on the Sistine Ceiling. An entire gallery will be devoted to the Sistine Ceiling and will include Michelangelo's original studies for the project. Other sections will explore his portraiture and the beautiful finished drawings he created for close friends; his collaboration and friendship with Venetian artist Sebastiano del Piombo (1485/86–1547); and the drawings and poetry he created for the young nobleman Tommaso de'Cavalieri, whom he met in 1532 and who became a lifelong friend. The artist's last decades in Rome are reflected in the last part of the exhibition and will include, in addition to architectural drawings, the enormous cartoon (full-scale drawing) he prepared for the Crucifixion of Saint Peter fresco in the Vatican Palace, as well as a rare three-dimensional model for the vault of a chapel.
Divine Draftsman will present a stunning range and number of works by the artist: 133 of his drawings, 3 of his marble sculptures, his earliest painting, and his wood architectural model for a chapel vault. A substantial body of complementary works by his teachers, associates, pupils, and artists who were influenced by him or who worked in collaboration with him will also be displayed for comparison and context.
Edvard Munch: Between the Clock and the Bed
November 15, 2017-February 4, 2018
The Met Breuer
945 Madison Avenue, NYC
https://www.metmuseum.org/visit/met-breuer
Edvard Munch (Norwegian, 1863-1944), The Dance of Life, 1925. Oil on canvas, 56 5/16 x 81 ⅞ inches. Munch Museum, Oslo (EM.039).
© 2017 Artists Rights Society (ARS), New York. Photo © Munch Museum.
Edvard Munch (1863-1944) was one of the most celebrated and controversial artists of his generation. Associated with the Symbolist and Expressionist movements and their legacies, he was a prolific artist with thousands of works to his name, including paintings, prints, watercolors, sculpture, graphic art, theater design, and film.
Munch attained notoriety for his haunting depictions of human anxiety and alienation that reflected modern experience. The artist regularly revisited subjects throughout his life, exploring them anew with each variation. Between the Clock and the Bed will feature 43 compositions created over six decades, some of which have never before been seen in the United States. Arranged thematically, the exhibition will reveal changes through time and allow visitors to identify innovations in composition, treatment, and technique.
The exhibition will include many deeply personal works from Munch's own collection, now held by the Munch Museum, as well as works from institutions and private lenders from around the world. The paintings demonstrate Munch's liberated, self-assured painting style as well as his technical abilities, including bravura brushwork, innovative compositional structures, the incorporation of visceral scratches and marks on the canvas, and his exceptional use of intense, vibrant color. A fully illustrated catalogue accompanies the exhibition. The exhibition travels to the Munch Museum in Oslo in May 2018.
Rodin at the Brooklyn Museum: The Body in Bronze
November 17, 2017-April 22, 2018
Brooklyn Museum
200 Eastern Pkwy, Brooklyn, NY
https://www.brooklynmuseum.org

Rodin at the Brooklyn Museum: The Body in Bronze marks the hundredth anniversary of Auguste Rodin's death in 1917. The exhibition places Rodin's works in their historical context, examining Rodin's legacy and reputation, and exploring his sculptural practice and the bronze casting process. Highlights present the extraordinary tension in Rodin's work between the figure itself and abstract form, allowing the fluid contours, animated surfaces, and emotional presence of these bronzes to emerge fully.
Rodin heralded a new era in sculpture, and he is represented through each phase of his prolific career, including both small and monumental works related to his best-known commissions: The Gates of Hell (begun 1880), the Monument to Balzac (1891–98), and The Burghers of Calais (1884–95). Also featured are some of his sensitively rendered studies of hands as well as fragments of ancient sculptures from our collection that are similar to those that inspired Rodin.
Auguste Rodin (French, 1840–1917). Pierre de Wiessant, Monumental Nude, 1886, cast 1983. Cast by Fonderie de Coubertin, Saint-Rémy-lès-Chevreuse. Bronze, 781/4 x 443/4 x 361/2 in. (198.8 x 113.7 x 92.7 cm). Brooklyn Museum; Gift of the B. Gerald Cantor Collection, 86.310. (Photo: Justin Van Soest.)