The Best of Day Seven of The Spring Show Online
The Virtual Art and Antiques Show presented by Incollect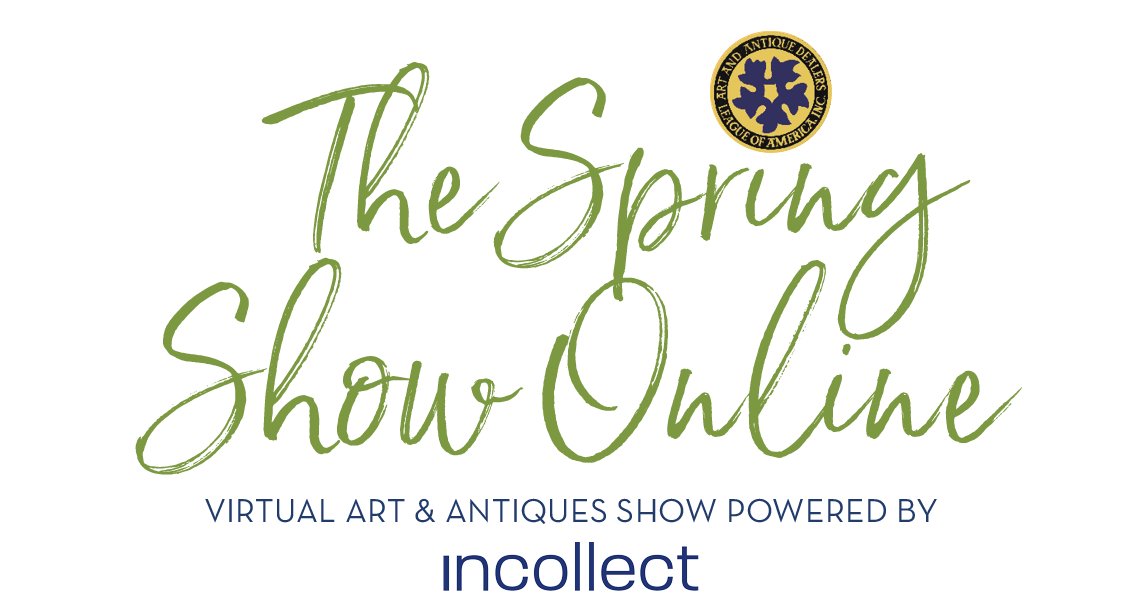 The Seventh Day of Spring
In response to the popularity and success of the Art and Antique Dealers League of America's (AADLA) Twelve Days of Christmas online show, the Twelve Days of Antiques have returned! Our online Spring Show features the highest quality art, antiques, jewelry and design — all available for purchase.
The fun twist on the Spring Show is that each dealer in the show will post one fresh piece each day, beginning May 7th and running through May 18th — if you don't tune in, you'll miss out!
The AADLA membership represents the best of the best in the business, and you can buy with absolute confidence. Enjoy our selections on this seventh day of Spring!
Catharina Elisabeth van Veeren (1812–1884), Studies of Flowers.
Watercolor. $2,800
Curtain embroidered with exotic birds and flora, English, ca. 1720-1730, crewel embroidery on fustian. $23,000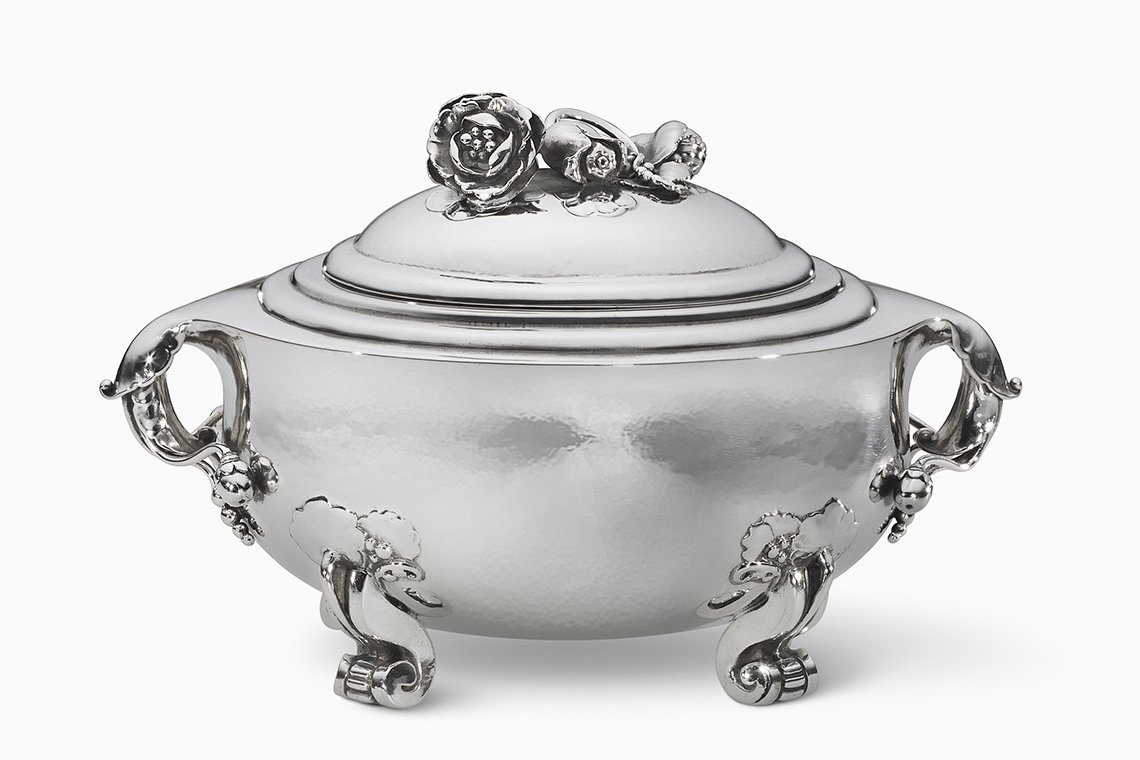 Sterling silver "Rose" bonbonnière with amazing floral details, design #262 by Georg Jensen from 1918.
Pair of Art Deco panels attributed to Ch. H. Geoffroy. French manufacture, ca. 1925. $7,000
Joseph Southall (1861-1944), Contentment, 1928. $34,000
William IV figured rosewood bookcase cabinet, English circa 1840.
Limited edition stencil print, Whale Pod by English artist Julian Meredith.
Offered by Yew Tree House Antiques. For further information call 212.249.6612 or email
ythantiques@yahoo.com.
Van Cleef & Arpels coral and Chrisoprase bracelet.
Offered by Brad and Vandy Reh Fine Jewelry. For further information call 203.920.1755 or email
brad@bradreh.com.

Western Apache or Yavapai basket with celestial images, circa 1900-1920s. $3,900
Offered by Marcy Burns American Indian Arts. For further information call 212.439.9257 or email info@marcyburns.com.
Gorgeous antique French gilt silver drageoir by Denis Garreau, Paris, ca. 1819. $3,500
Illustration to a Rasikapriya series: Krishna and Radha at a Jharokha Window Kangra,
attributed to Purkhu, ca. 1820.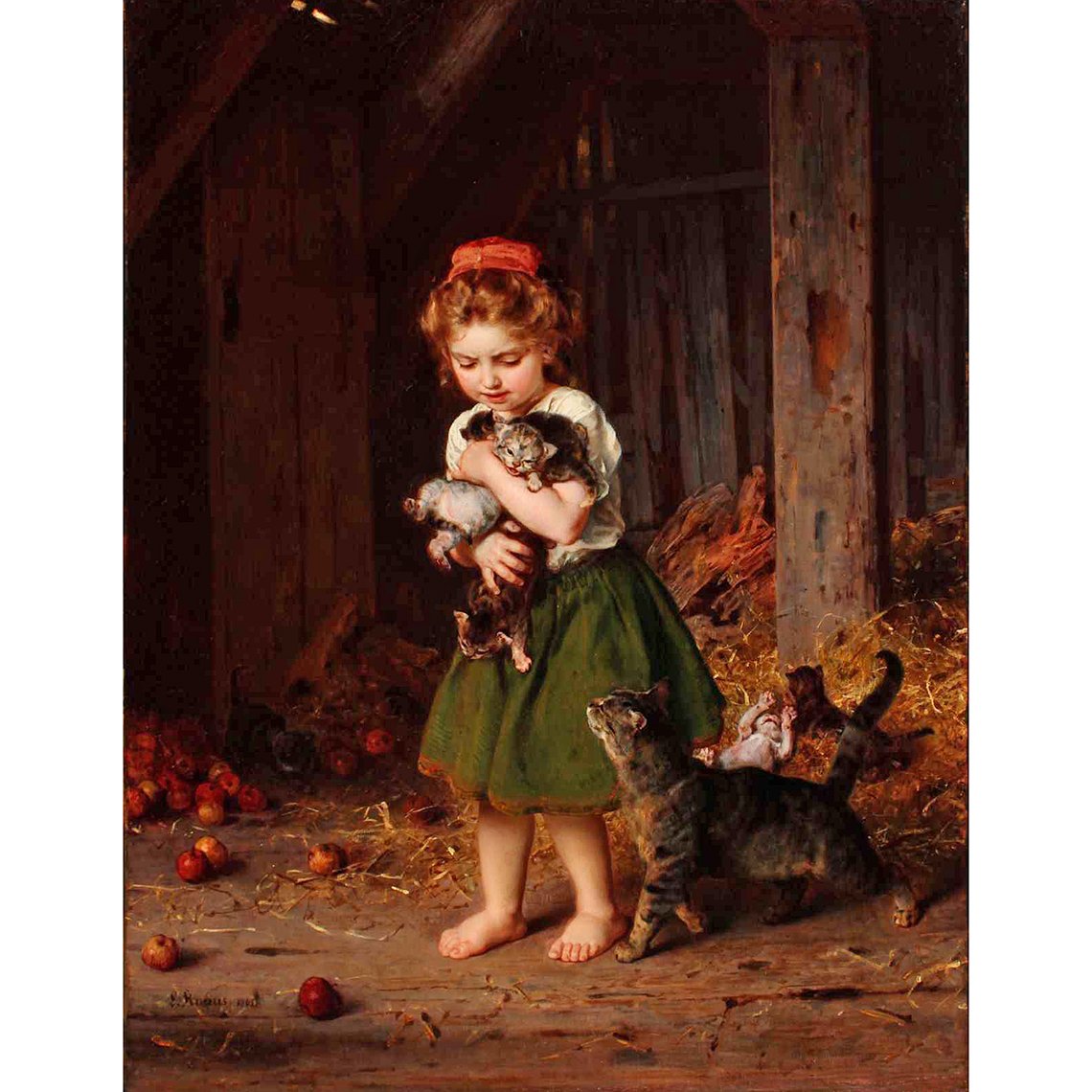 Ludwig Knaus (1829–1910), A Handful of Kittens. Oil on canvas, dated 1865.
Offered by Red Fox Fine Art. For further information call 703.851.5160 or email
tr@redfoxfineart.com.
"Modern Gothic" chair by Kimbel and Cabus, New York, ca. 1878.
John James Audubon (1785–1851), The Cougars, 1839. $550
American 14kt gold mounted Plique-à-Jour enamel heron brooch,
made by Riker Brothers, Newark, NJ, ca. 1900. $5,850
Offered by James Robinson, Inc. For further information call 212.752.6166 or email
info@jrobinson.com.
Double pink enamel and hollywood frame decorated with silver gilt swags and ribbons.
By Fabergé, workmaster Anders Nevaleinen. St. Petersburg, 1899-1908.
Offered by A La Vieille Russie, Inc. For further information call 212.752.1727 or email
alvr@alvr.com.
Takahashi Shōtei (Hiroaki) (1871-1943), Ōtanzaku tate-e, ca. 1900. $1,250
Offered by Joan B. Mirviss LTD. For further information call 212.799.4021 or email
info@mirviss.com.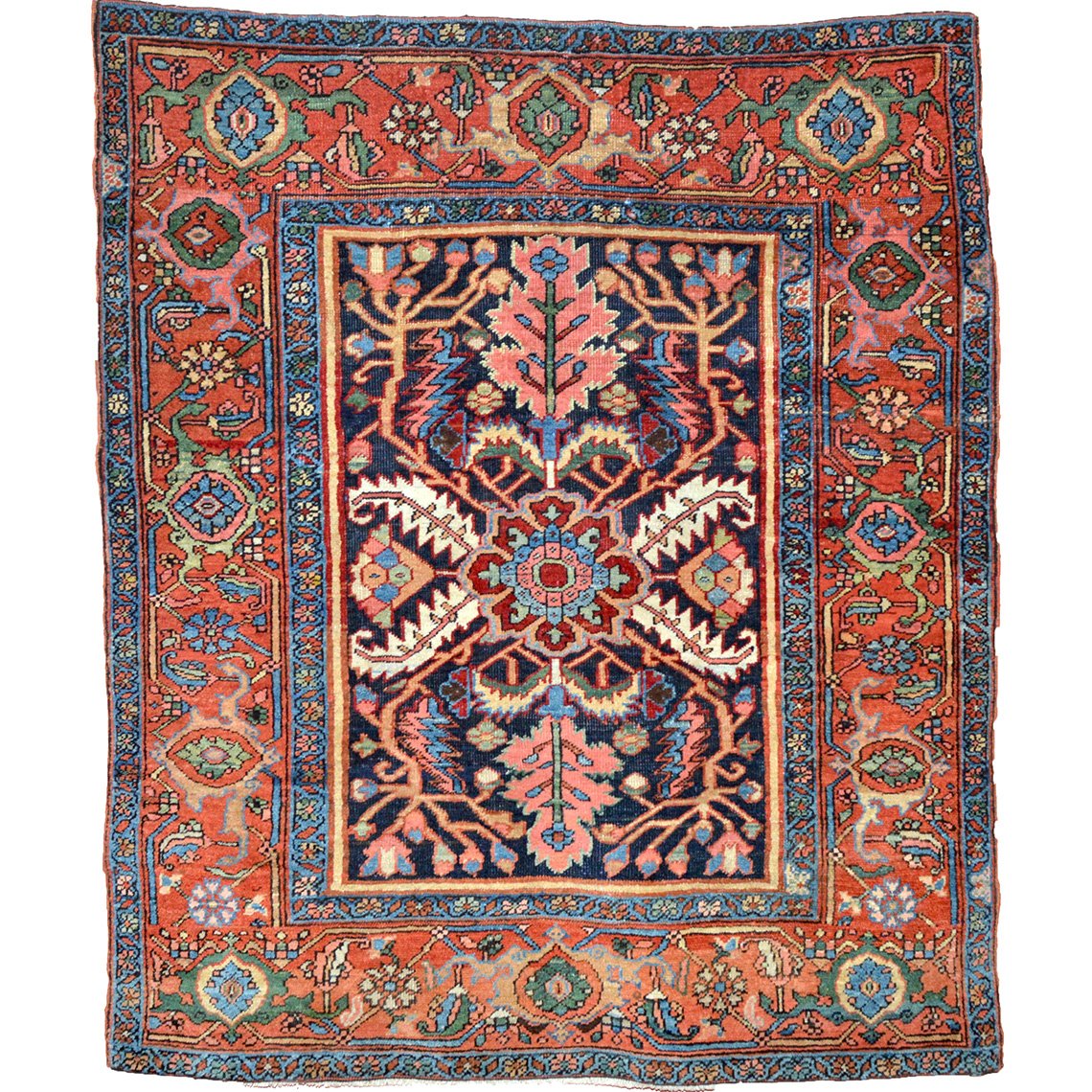 4'9" x 5'7" Antique Heriz rug, Northwest Persia, ca. 1910.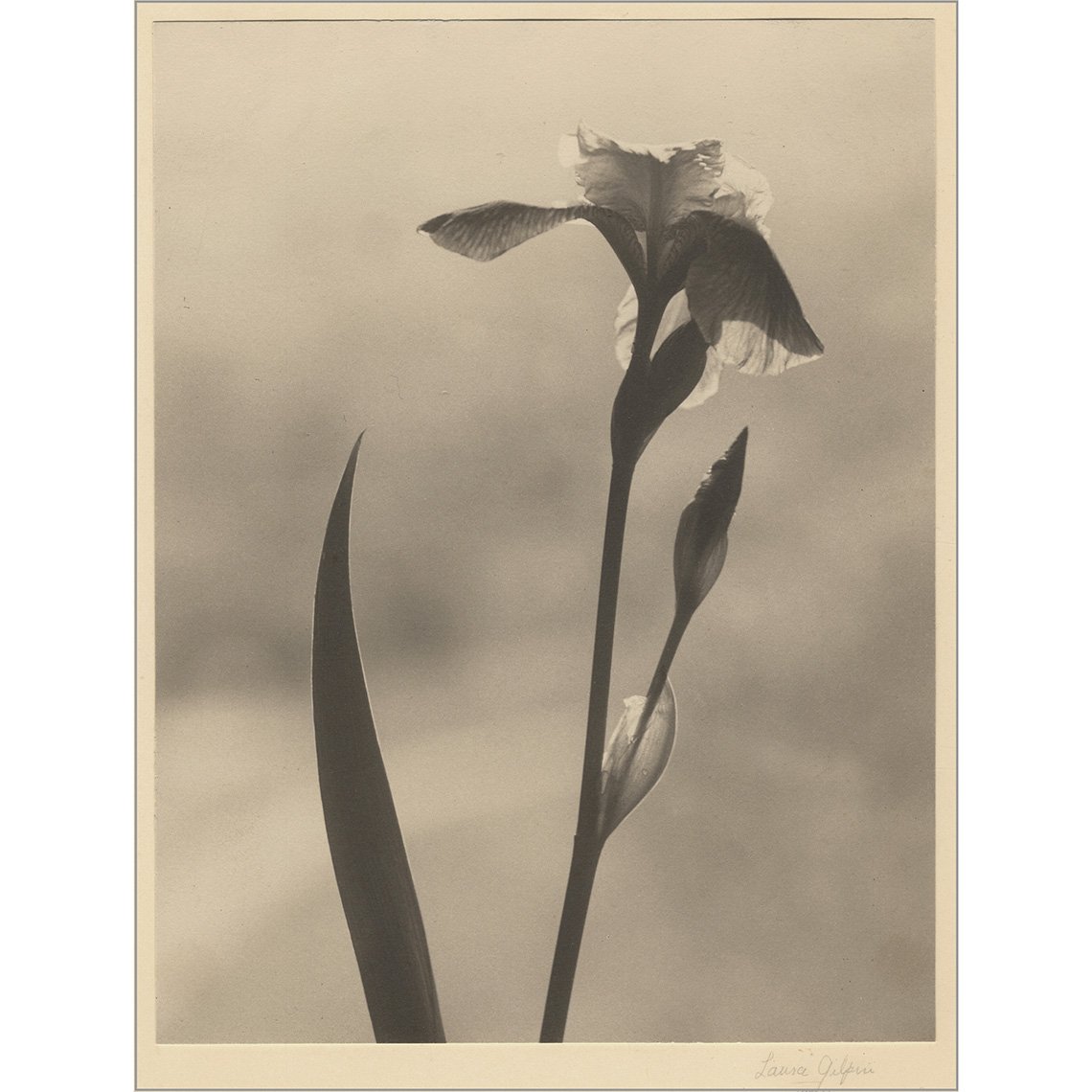 Laura Gilpin. Iris. Vintage platinum print, 1924.
Offered by Paul M. Hertzmann, Inc. For further information call 415.626.2677 or email
susan@hertzmann.net.

Magnificent and rare set of 8 patinated and gilt Regency period candlesticks, ca. 1805- 1810.
A rare large George II walnut traveling kneehole desk, ca. 1740.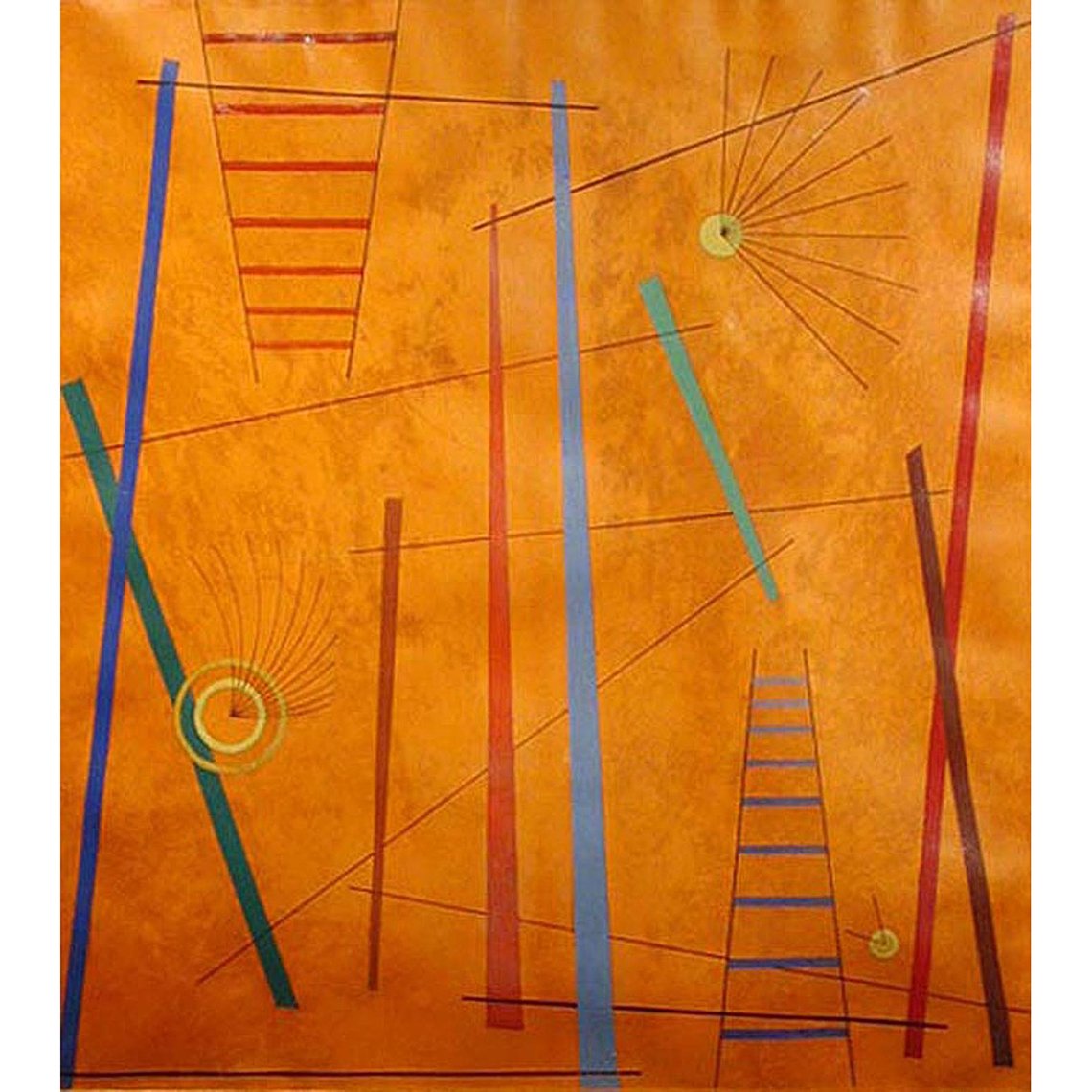 John Sennhauser (1907–1978), Organization # 23. Mixed media on parchment, 1942.
Offered by Schillay Fine Art, Inc. For further information call 212.861.8353 or email
richard@schillay.com.

English pair of small table globes. Newton & Son, London, 1840s. $9,600 pair
Ludovico Marchetti (1853 - 1909), The Knight of Lily. Oil on panel, signed and dated 1887.
Offered by Rehs Galleries. For further information call 212.355.5710 or email
howard@rehs.com.

A finely carved and gilded mirror. Piedmont, Italy, ca. 1780.
Offered by L'Antiquaire & the Connoisseur. For further information call 212.517.9176 or email
info@lantiquaire.us.
Ciborium. Spain, possibly Burgos. Late 15th Century / first quarter of the 16th century. Silver gilt; enamel.
Master of the Apollo and Daphne Legend, Rebecca at the Well, tempera and oil on panel. $125,000
Offered by Robert Simon Fine Art. For further information call 212.288.9712 or email rbs@robertsimon.com.
A superb carved and gilded German console table, ca. 1745.
Bernard Buffet (1928-1999), Château la Baume, 1997.
Offered by Galerie Rienzo. For further information call 212.288.2226 or email madisonart@aol.com.
Nevers faience jug, 1696.
Offered by Engs-Dimitri Works of Art. For further information call 310.429.4190 or email
info@engsdimitri.com.

Dutch Botanical Engraving, Hortus Indicus Malabaricus by Rheede Tot Draakestein, ca. 1678–93. $2,500
Offered by Earle D. Vandekar of Knightsbridge. For further information call 212.308.2022 or email
info@vandekar.com.

Regency lyre form rosewood and giltwood console table. English. Early nineteenth century.
Pair of 19th century bronze relief plaques; portraits in profile of Plato and Aristotle.
Offered by Framont. For further information call 917.5626262 or 203.661.9675 or email framont@optonline.net.
Rock crystal & silver-gilt nautilus-form cup, Viennese, ca. 1875.
Offered by European Decorative Arts Company. For further information please call 516.643.1538 or email
eurodecart@gmail.com.

Works by William Thackeray, 30 volumes. Bound in 3/4 blue calf, illustrated. $5,500
A Charles II antique English silver beaker. London 1665; maker's mark: RM. $18,000
Offered by S.J. Shrubsole Corp. For further information call 212.753.8920 or email
jim@shrubsole.com.

Very pale green Ming period jade seated horse elegantly resting its head on its back. $18,500
Offered by Robyn Turner Gallery. For further information call 424.335.0105 or email robynturnr@aol.com.
Click Any Day Below to View More Featured Objects