The Best of Day Eight of The Spring Show Online
The Virtual Art and Antiques Show presented by Incollect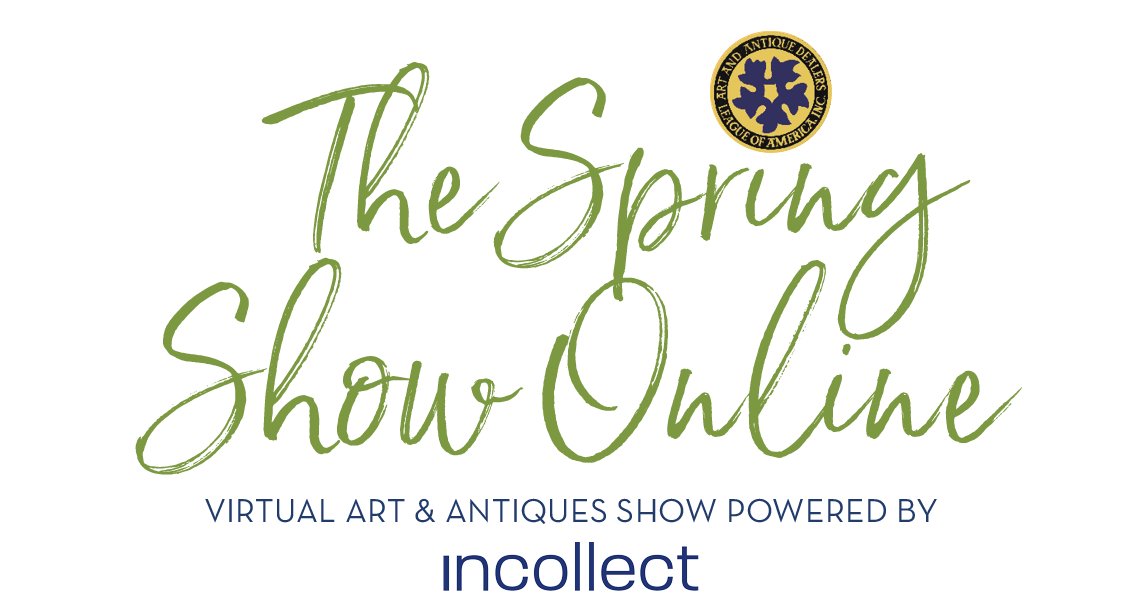 The Eighth Day of Spring
In response to the popularity and success of the Art and Antique Dealers League of America's (AADLA) Twelve Days of Christmas online show, the Twelve Days of Antiques have returned! Our online Spring Show features the highest quality art, antiques, jewelry and design — all available for purchase.
The fun twist on the Spring Show is that each dealer in the show will post one fresh piece each day, beginning May 7th and running through May 18th — if you don't tune in, you'll miss out!
The AADLA membership represents the best of the best in the business, and you can buy with absolute confidence. Enjoy our selections on this eighth day of Spring!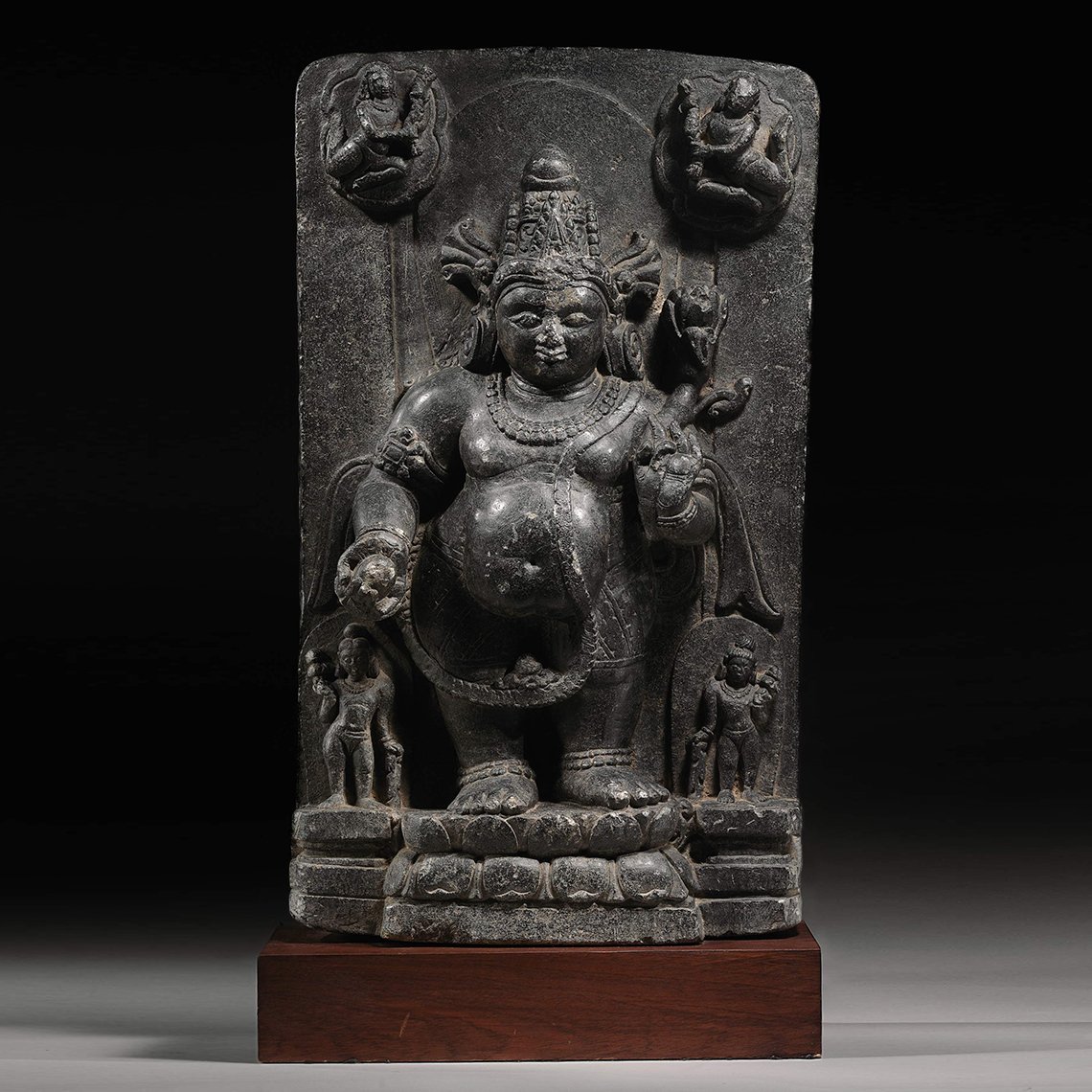 Yaksha. Northeastern India, Pala period, 10th-11th century. Black basalt.
"Chasses de Compiègne" Panoramique, The Picnic, designed by painter Carle Vernet.
Wood-block printed by Jacquemart, Paris, 1812-1815. $65,000
Christoph Daniel Schenck (1633-1691), Saint Joseph with Christ Child, ca. 1685. Carved lindenwood.
A superb Irish George II mirror, attributed to Francis and John Booker, ca. 1740.
A fine Commonwealth antique English silver porringer, London 1658 by Henry Noyes. $40,000
Offered by S.J. Shrubsole Corp. For further information call 212.753.8920 or email
jim@shrubsole.com.

Pair of 18th century French lead sphinxes, ca. 1780. $26,500
Offered by Yew Tree House Antiques. For further information call 212.249.6612 or email
ythantiques@yahoo.com.
Kawase Hasui (1883-1957), Ōban tate-e, 1941. $2,850
Offered by Joan B. Mirviss LTD. For further information call 212.799.4021 or email
info@mirviss.com.

Luca Cambiaso, The Flight into Egypt. Pen and brown ink, brown wash, and black chalk on paper. $45,000
Offered by Robert Simon Fine Art. For further information call 212.288.9712 or email rbs@robertsimon.com.
Jules Moigniez (1835-1894), Curiosity. Bronze; rich brown patina; signed J. Moigniez.
Offered by Red Fox Fine Art. For further information call 703.851.5160 or email
tr@redfoxfineart.com.
Chippendale period carved giltwood overmantle Rococo mirror, English, ca. 1755.
Two German carvings, 17th century.
Offered by Engs-Dimitri Works of Art. For further information call 310.429.4190 or email
info@engsdimitri.com.

"Les Althéas" (Hibiscus), Raoul Dufy for Bianchini-Férier, French (Lyon), 1918.
Block printed silk, 43 x 38.5 inches. $7,500
Victor Levasseur (1800-1870), Dept. De La Seine (Paris), 1847. $860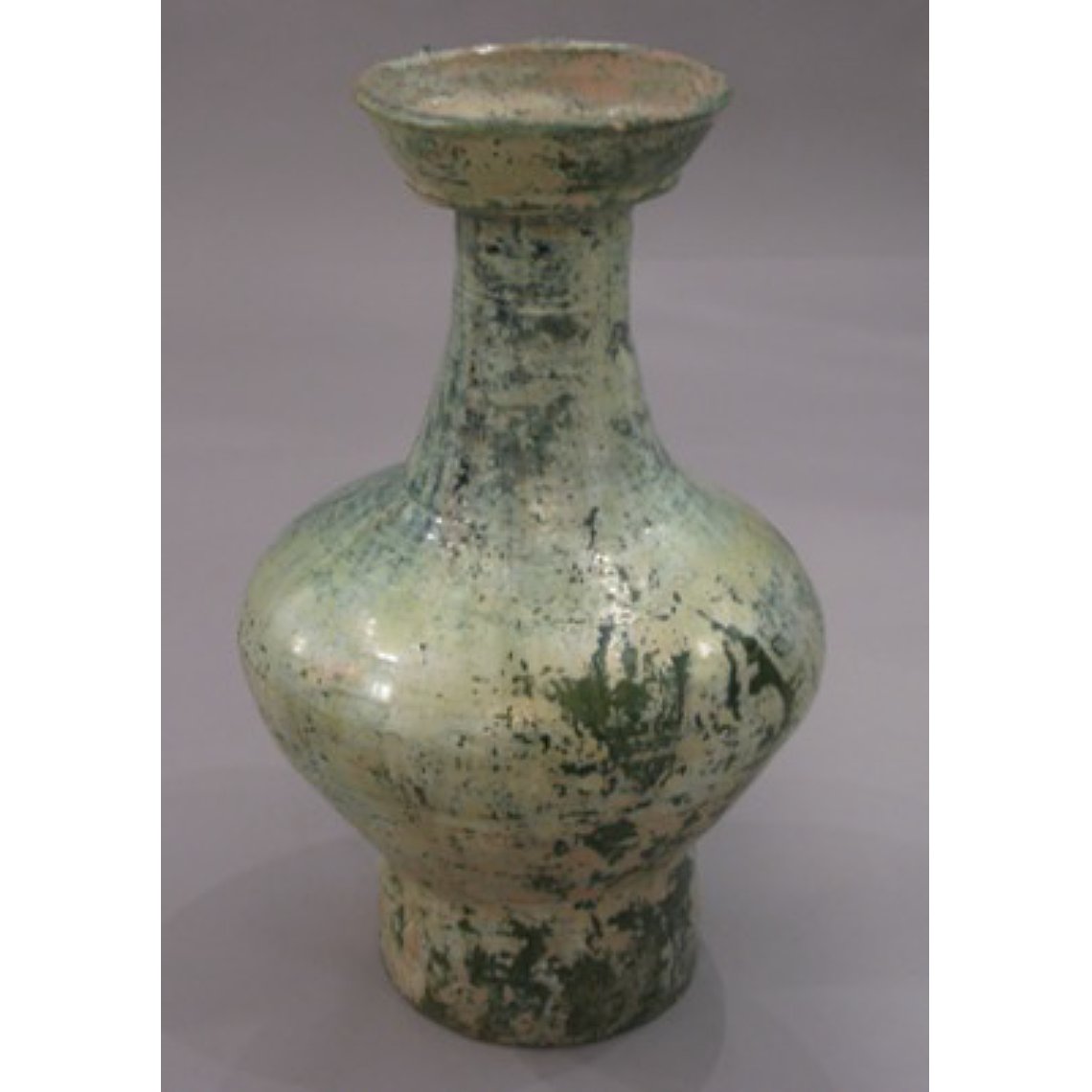 A ceramic jar with silvered green glaze and dish-shaped mouth. China, Han Dynasty, 206 B.C. - 220 A.D.
Offered by L'Antiquaire & the Connoisseur. For further information call 212.517.9176 or email
info@lantiquaire.us.
Giltwood and gilt pewter mirror set with blue glass in the Hollywood Regency taste.
Probably American. Second quarter twentieth century. $55,000
A rare 19th century Chinese blue and white candlestick, signed Bao Zhuliji. $7,800
Fabulous and signed Gillows satinwood and inlaid octagonal center table of superb quality, ca. 1790-1800.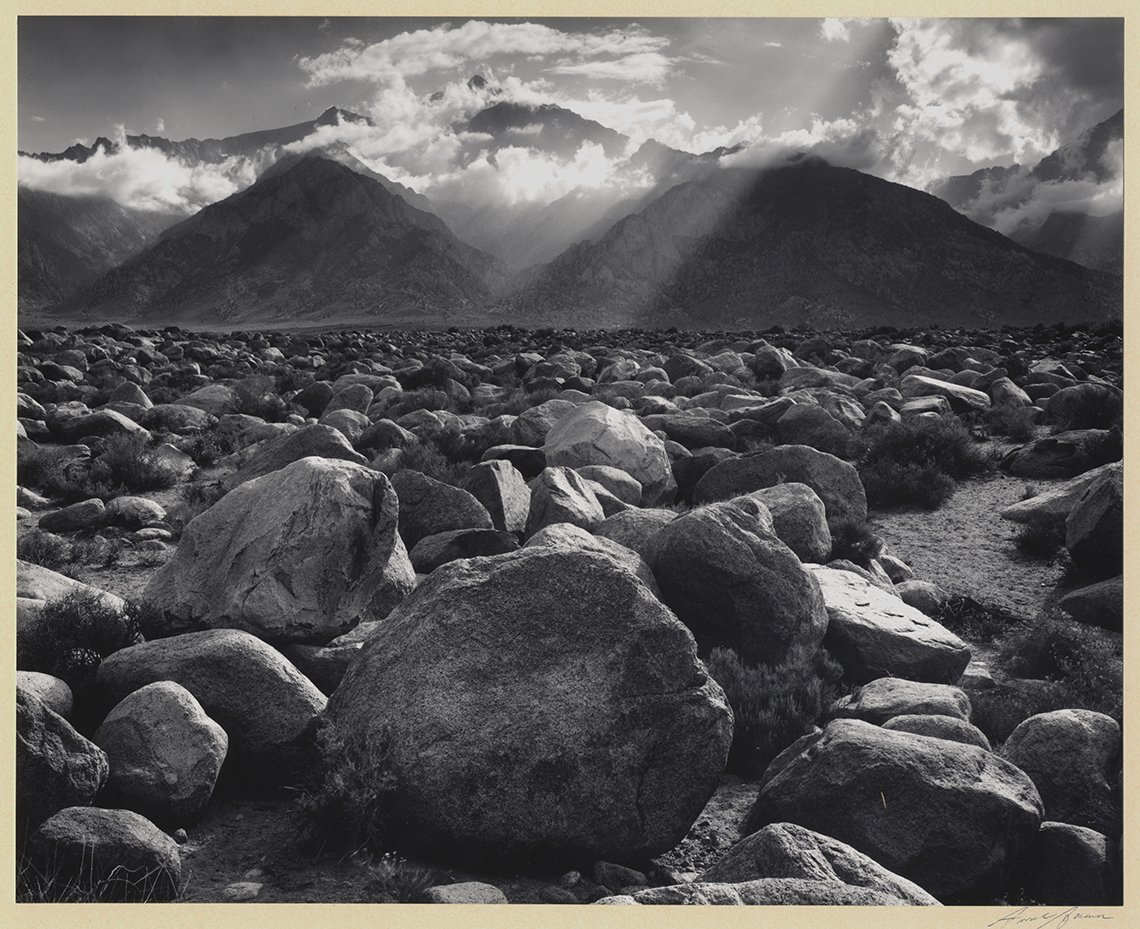 Ansel Adams. Mt. Williamson, Sierra Nevada from Manzanar, California. Silver print, 1944; printed 1959-1963.
Offered by Paul M. Hertzmann, Inc. For further information call 415.626.2677 or email
susan@hertzmann.net.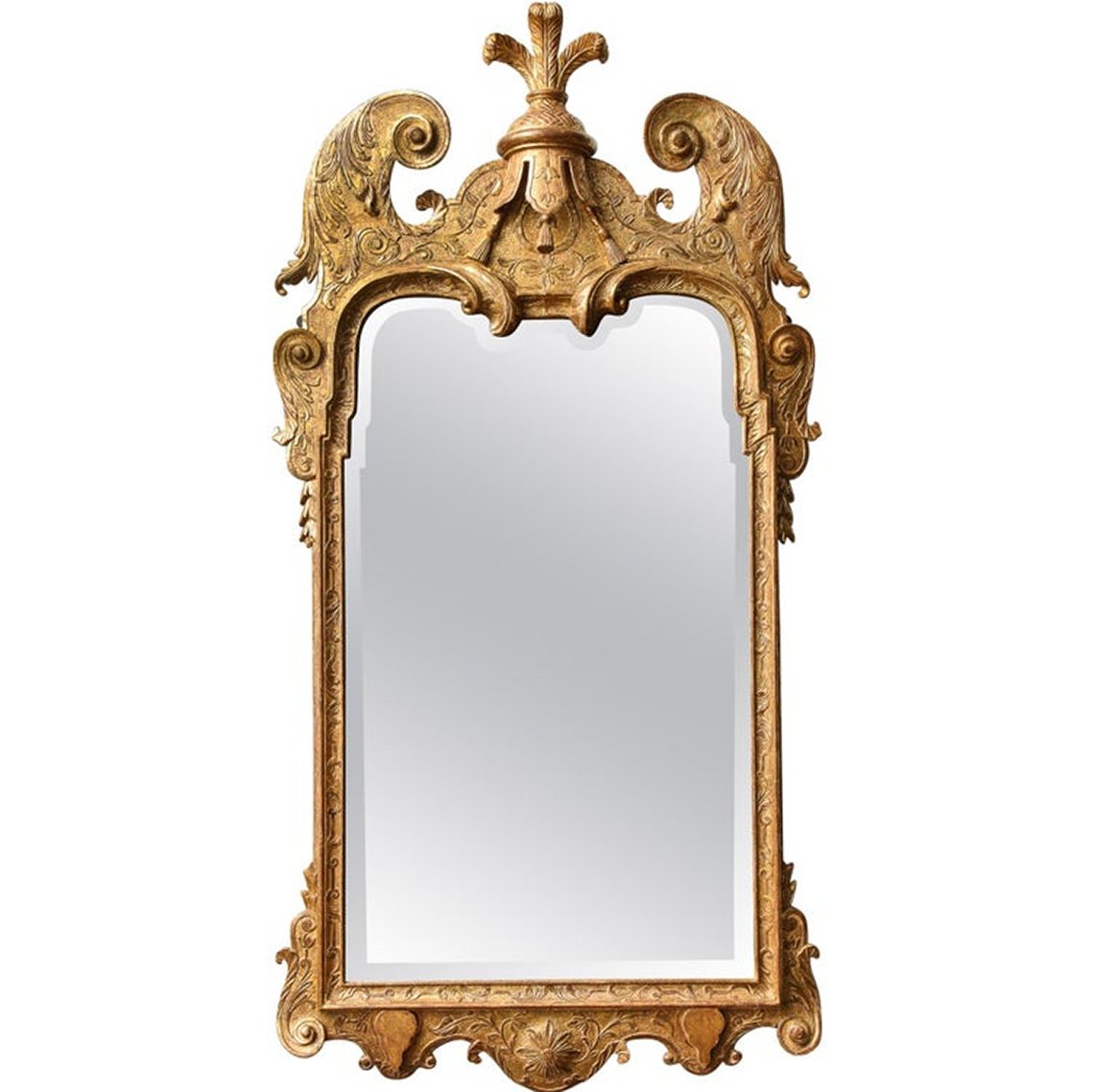 A superb baroque looking glass with original plate glass, circa 1720.
Third Republic period 18kt gold, enamel, and pearl daisy necklace, made in France, circa 1900. $9,500
Offered by James Robinson, Inc. For further information call 212.752.6166 or email
info@jrobinson.com.
Jean Jansem (1920-2013), Ballerina's rehearsal on the stage of the Opera, oil on canvas.
Offered by Galerie Rienzo. For further information call 212.288.2226 or email madisonart@aol.com.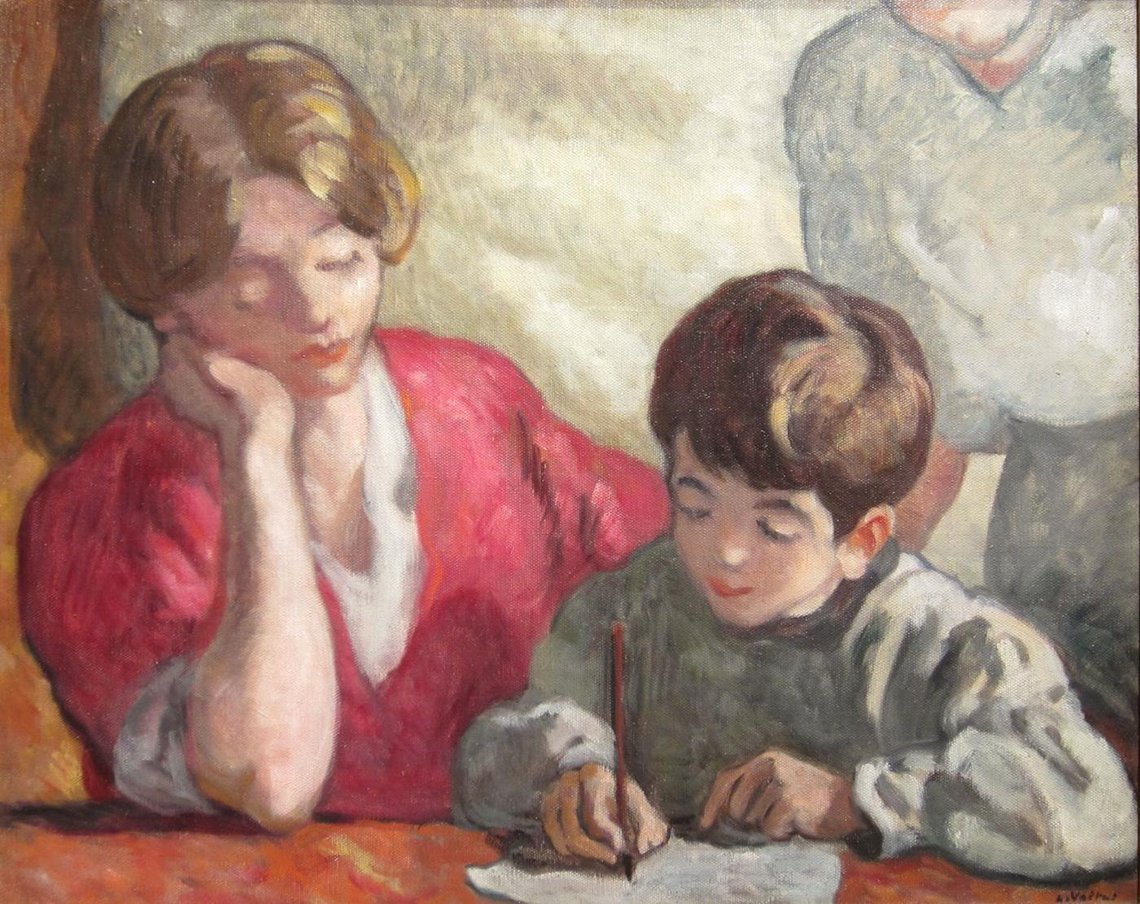 Louis Valtat (1869–1952), Portrait de famille Valtat (La Dictee). Oil on canvas, 1915.
Offered by Schillay Fine Art, Inc. For further information call 212.861.8353 or email
richard@schillay.com.

A lovely and delicate ormolu and alabaster French cartel wall clock in the Louis XVI style, circa 1880. $3,500
Hammond (b. 1976), Incendiary. Acrylic on canvas; signed. $3,900
Offered by Rehs Galleries. For further information call 212.355.5710 or email
howard@rehs.com.

Chinese botanical watercolors, Fushan, China, mid 19th century. $250 each
4'9" x 6'9" Antique Senneh rug, Northwest Persia, ca. 1890.
Stan Masters (1922-2005), Happy Days Ice Cream. Watercolor on paper.
Pair of Paris porcelain vases, ca. 1830.
Offered by European Decorative Arts Company. For further information please call 516.643.1538 or email
eurodecart@gmail.com.

Fine pair of Blue John garniture urns presented on black marble plinths.
Offered by Framont. For further information call 917.5626262 or 203.661.9675 or email framont@optonline.net.
18k gold, crystal, and enamel beetle necklace by René Lalique, 1906.
Offered by A La Vieille Russie, Inc. For further information call 212.752.1727 or email
alvr@alvr.com.
18th century Whieldon-type green-glazed sauceboats with remains of original gilt, ca. 1750-70. $3,750
Offered by Earle D. Vandekar of Knightsbridge. For further information call 212.308.2022 or email
info@vandekar.com.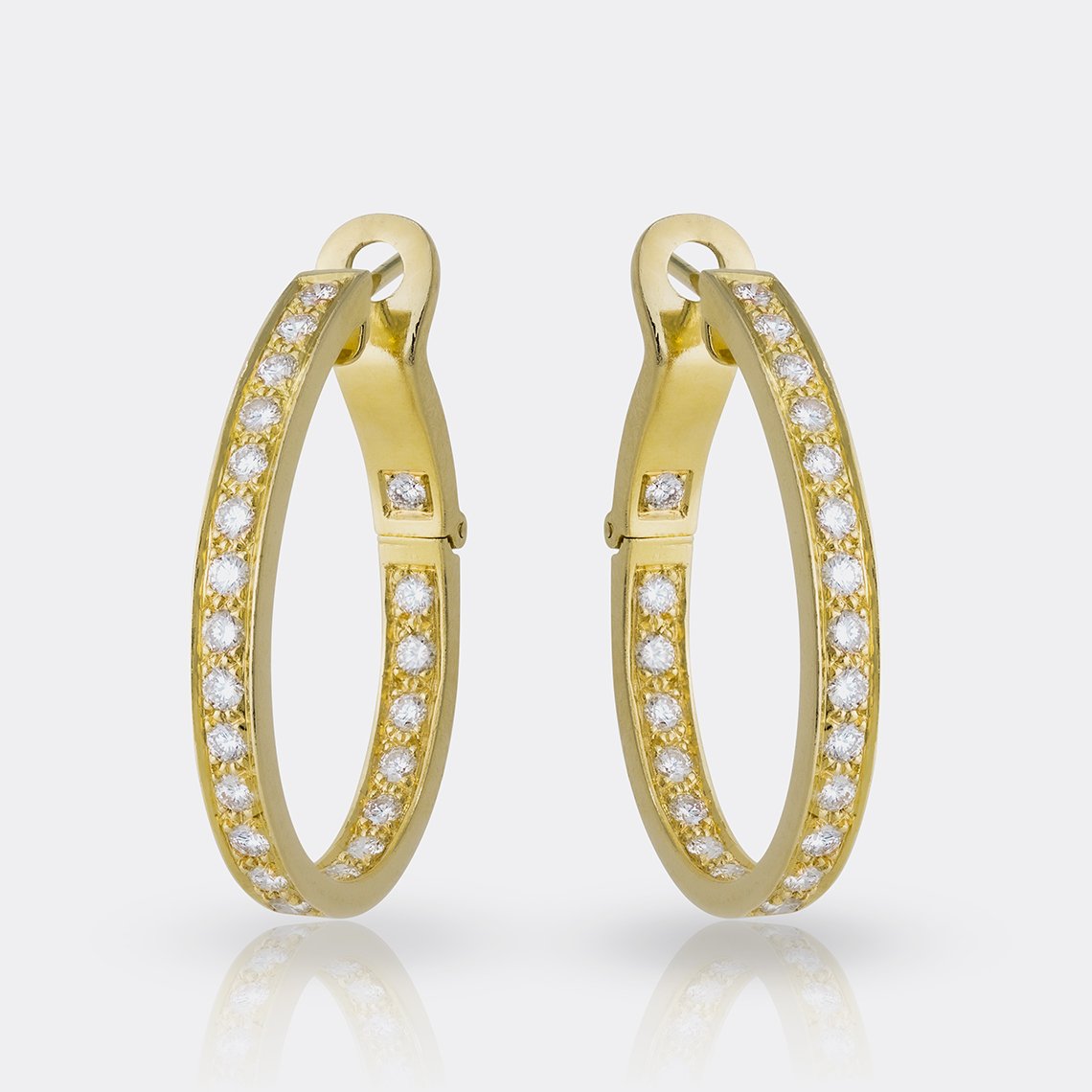 Van Cleef & Arpels gold and diamond hoop earrings.
Offered by Brad and Vandy Reh Fine Jewelry. For further information call 203.920.1755 or email
brad@bradreh.com.

Japanese miniature lacquer box and cover. Signed on underside in gold, Mitsunami. Meiji period. $2,800
Offered by Robyn Turner Gallery. For further information call 424.335.0105 or email robynturnr@aol.com.
Anatole-Alexis Fournier (active at Sèvres ca. 1878–1926), Study for a Vase with Flowers and Butterflies. Watercolor, gouache and black chalk, signed and titled: Vase d'Angers by the artist at the bottom; 1906. $4,200
Navajo (Dine) transitional blanket with Moki and traditional designs. $7,500
Offered by Marcy Burns American Indian Arts. For further information call 212.439.9257 or email info@marcyburns.com.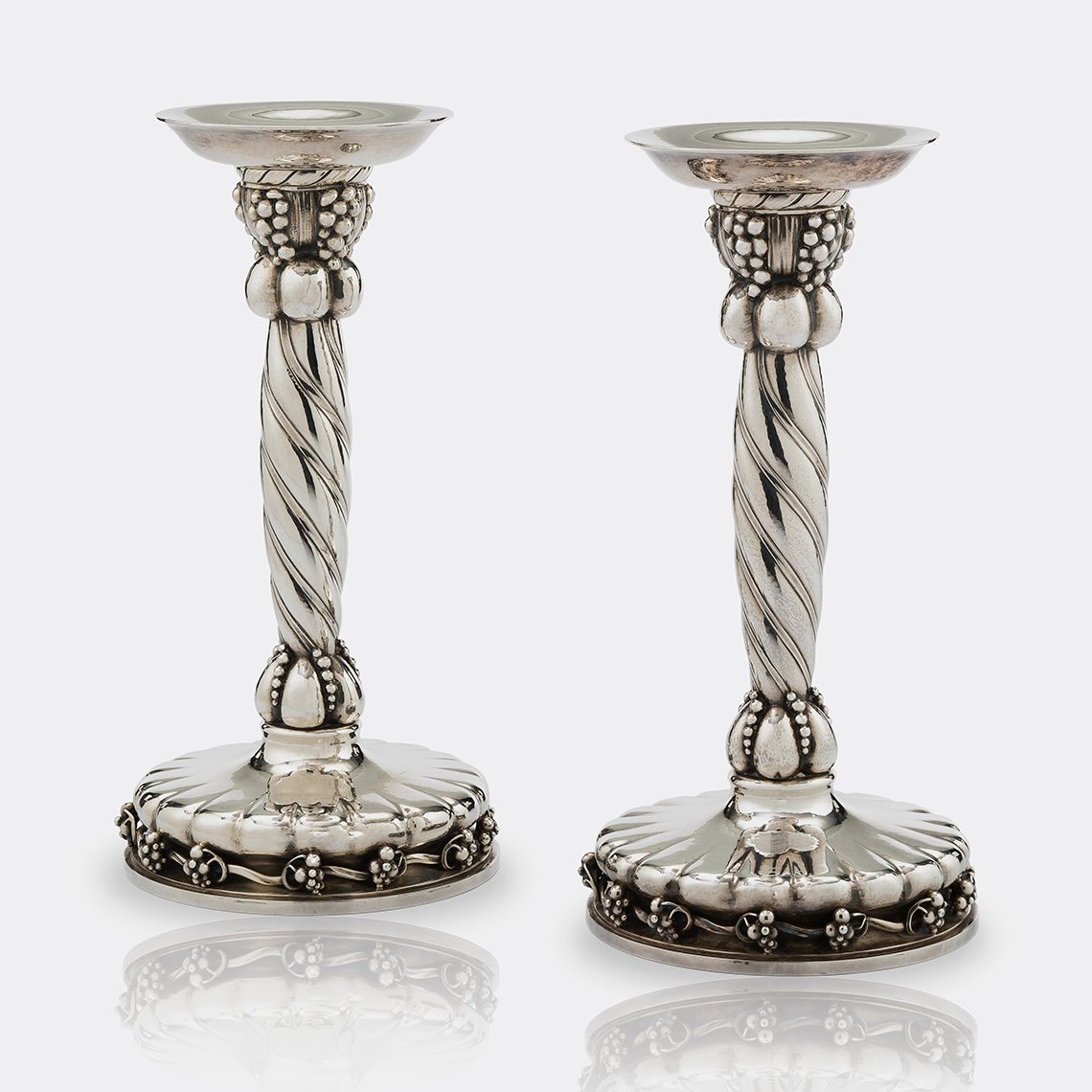 Pair of large sterling silver Georg Jensen Grape candlesticks, #264, designed in 1926.
Rudolf Swoboda (1859–1914), At the Well, 1886. $85,000
Click Any Day Below to View More Featured Objects